Do you want to wander to spooky, haunted places? Then this list of 13 haunted Kansas places is for you. These places are perfect for a Halloween excursion or to visit anytime a creepy itch scratches your back. Of course, the scratch may be literal if you're a man visiting Atchison's haunted Sallie House. So let's start the haunted Kansas tour in the state's first city, Leavenworth.
Some of these destinations have hosted me, but all opinions are my own.
1. Fort Leavenworth, the first city of haunted Kansas
Fort Leavenworth opened in 1827. So no one should be surprised that the oldest Euroamerican settlement in Kansas is one of its most haunted.
Catherine Rich haunts Fort Leavenworth National Cemetery. Her children, Mary and Ethan, fell into the Missouri River, which swept them away. Searchers failed to find them, but Catherine refused to believe the children had drowned. Instead, she searched everywhere while calling their names. At night, she carried a lantern. Eventually, she contracted pneumonia and died.
Her widowed husband Hiram returned to Indiana. But then a miracle occurred. The friendly Fox Indians had discovered the children during their winter migration. They returned to the fort the following spring. The excellent news reunited the family, but Catherine still searches for her lost children. She mainly searches near the cemetery, sometimes carrying a lantern.
The Rookery is the post's oldest building and its most haunted. The Lady in White is a young woman with unkempt hair and long fingernails. She flies through the house wearing a long white gown. At 16-18 Sumner, next door, the Lady in Black helps around the house. However, she does not like babysitters and grandmothers. After an exorcism, she floated into the place next door.
Every year, the Friends of the Frontier Army conducts its Haunted Tour. It lasts about 2 hours, and guests walk about a mile.
Roxie's reliable report: Follow the security procedures to enter the fort. Before you visit the fort, eat the bacon-wrapped meatloaf at The depot restaurant. It's haunted, too.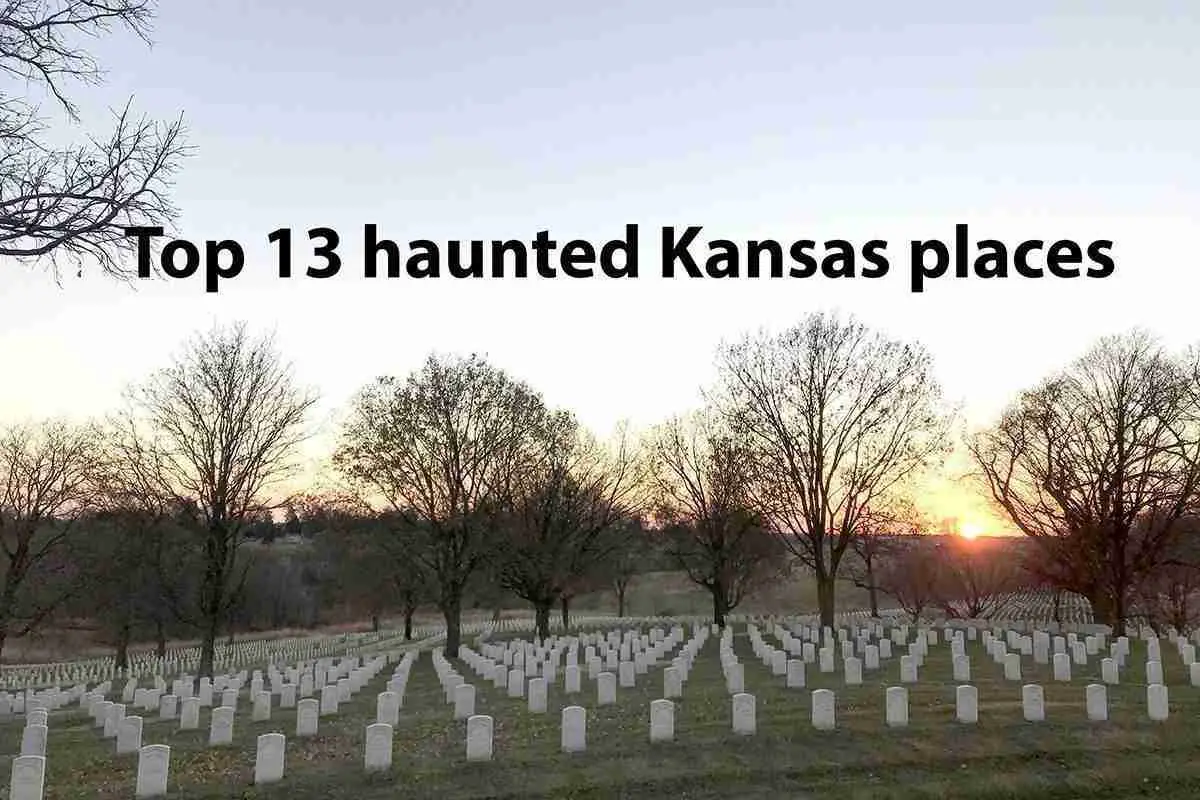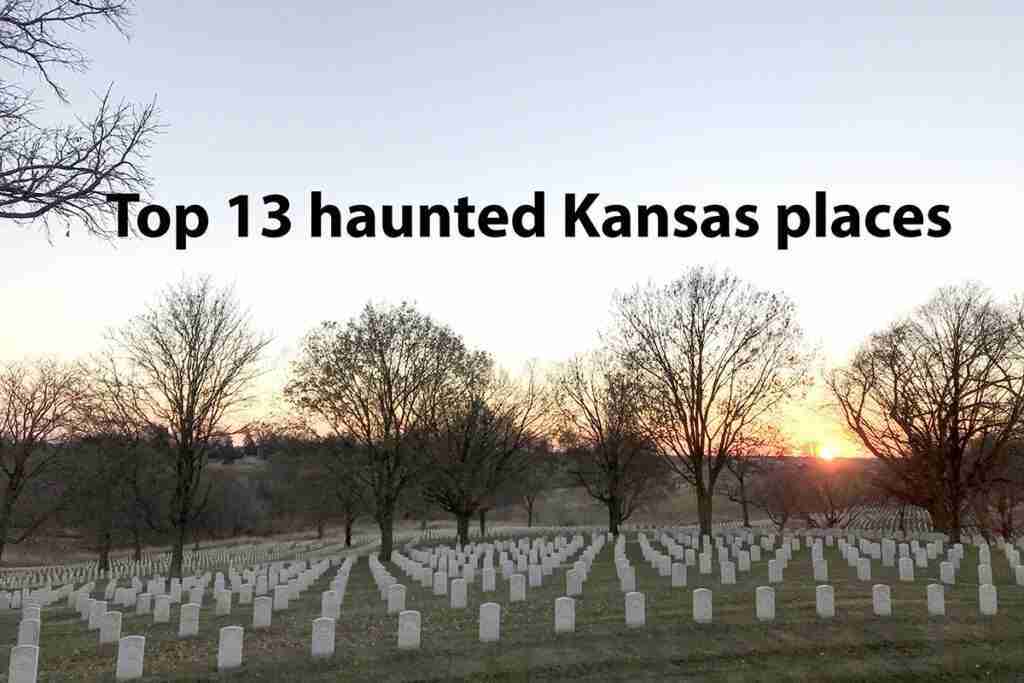 ---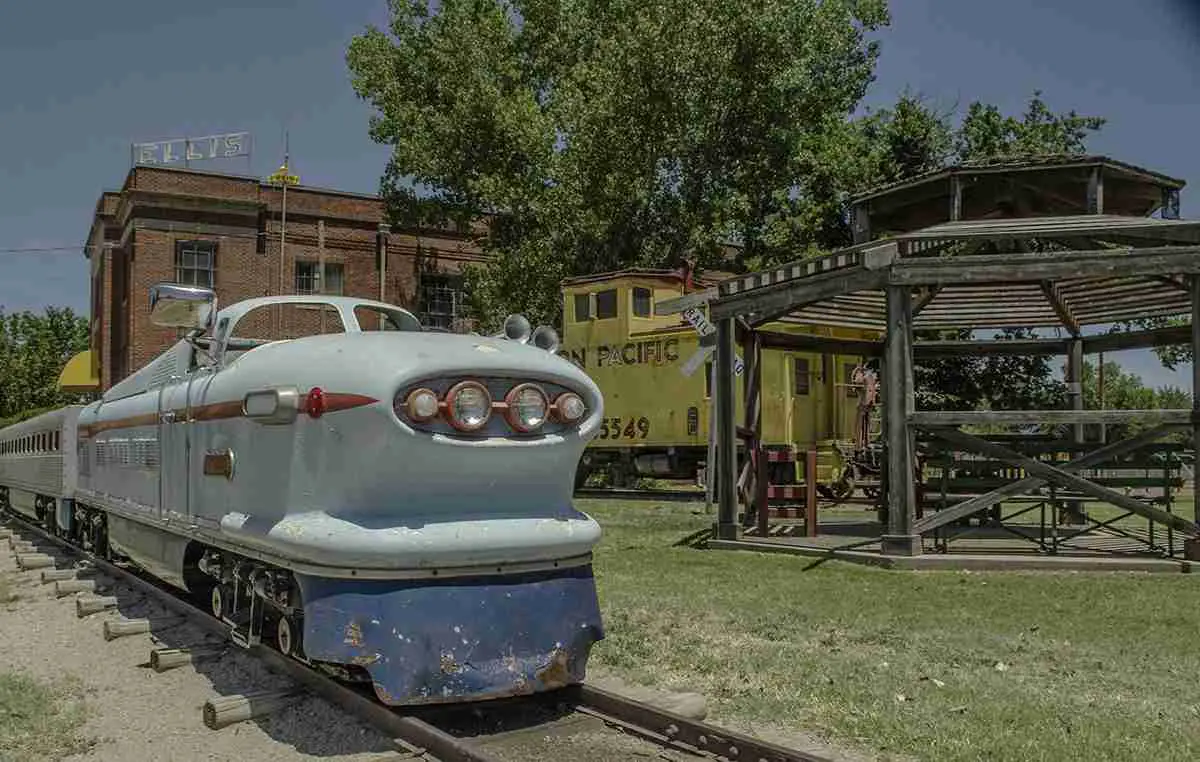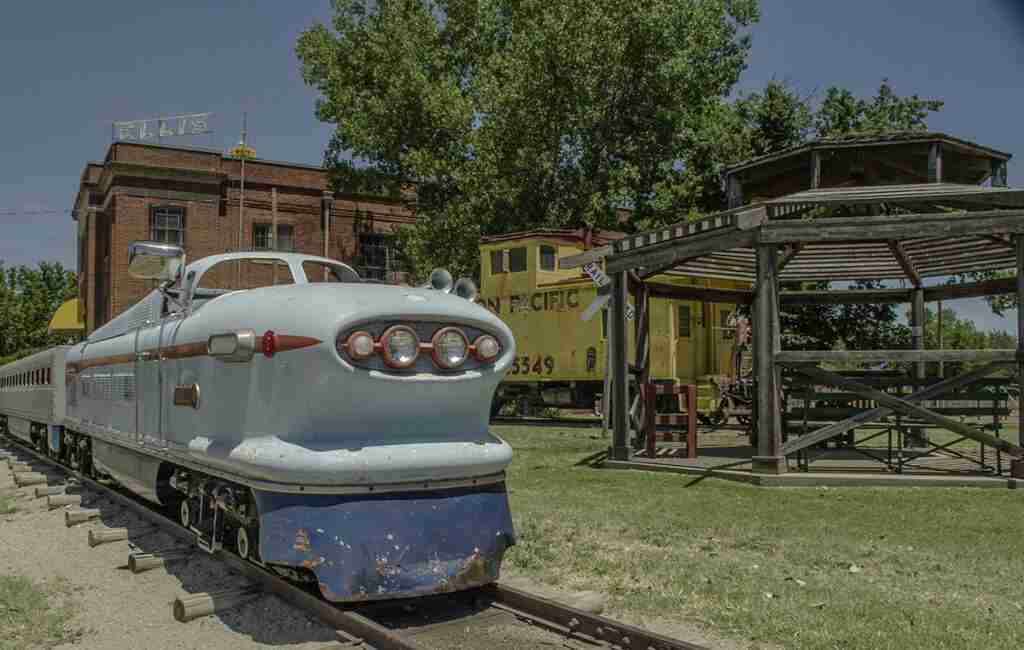 2. Ellis Railroad Museum, Ellis
The Ellis Railroad Museum contains four rooms of railroad memorabilia, including an outstanding model railroad, on its first floor. Its upper floor houses more than 1,200 dolls. If all those dolls aren't creepy enough, the museum also has a house ghost.
Earl Perkins, 42, had been working in Russell but became ill. He asked Ellis police for shelter on Sunday, June 16, 1957. However, state law required that the city house Perkins in jail. His cell was in Memorial Hall's basement, now home to the museum. That night, eight feet of water crashed into his cell and drowned him.
The officers who held the cell key were trapped and could not rescue Perkins. Other rescuers could do nothing. His only relative, a sister in Iowa, refused to accept his body.
Denied his rest in Iowa, Perkins haunts Kansas. His cell is not open to the public. However, staff and visitors hear strange noises from the basement or watch a ghostly figure move past the windows or on the grounds.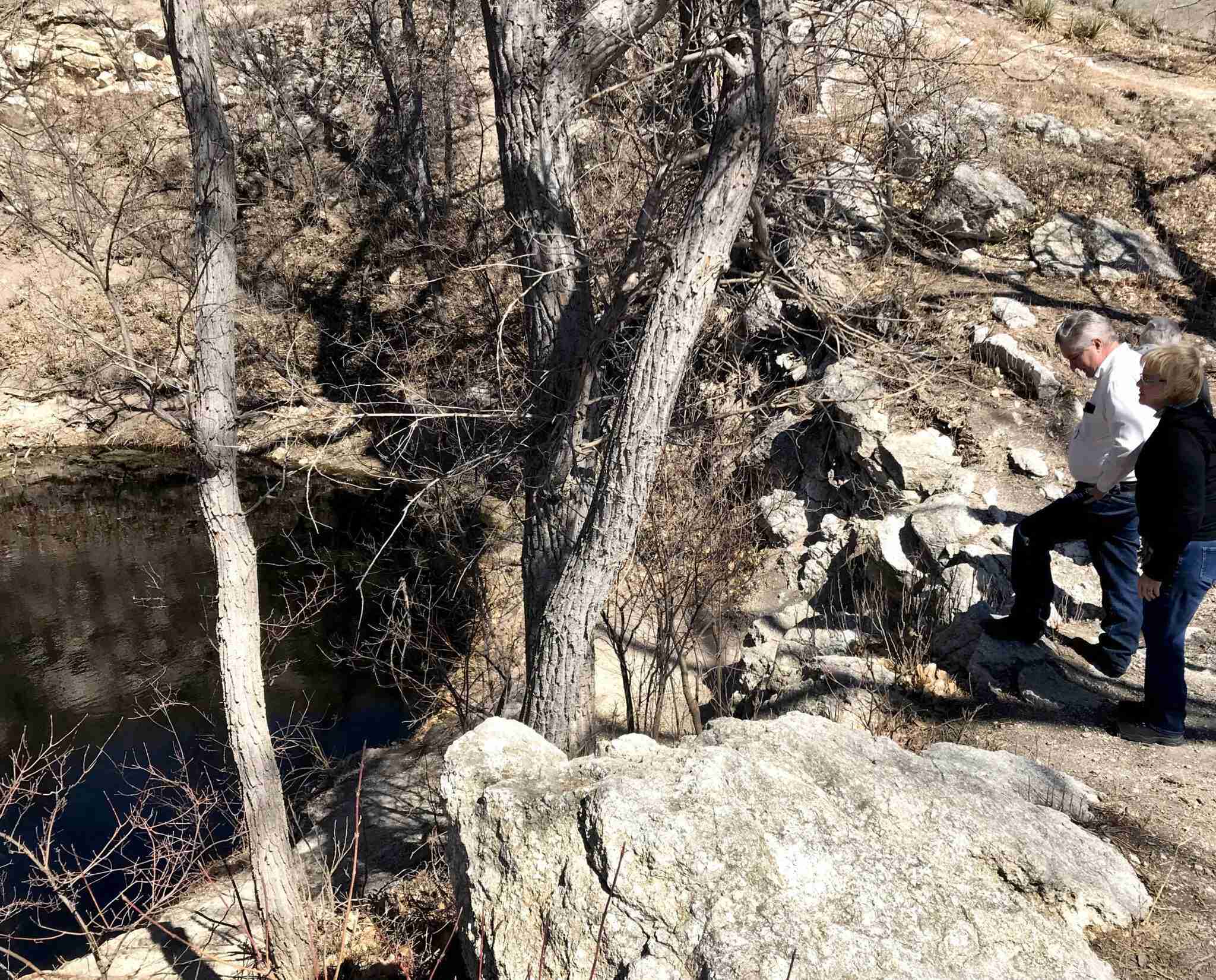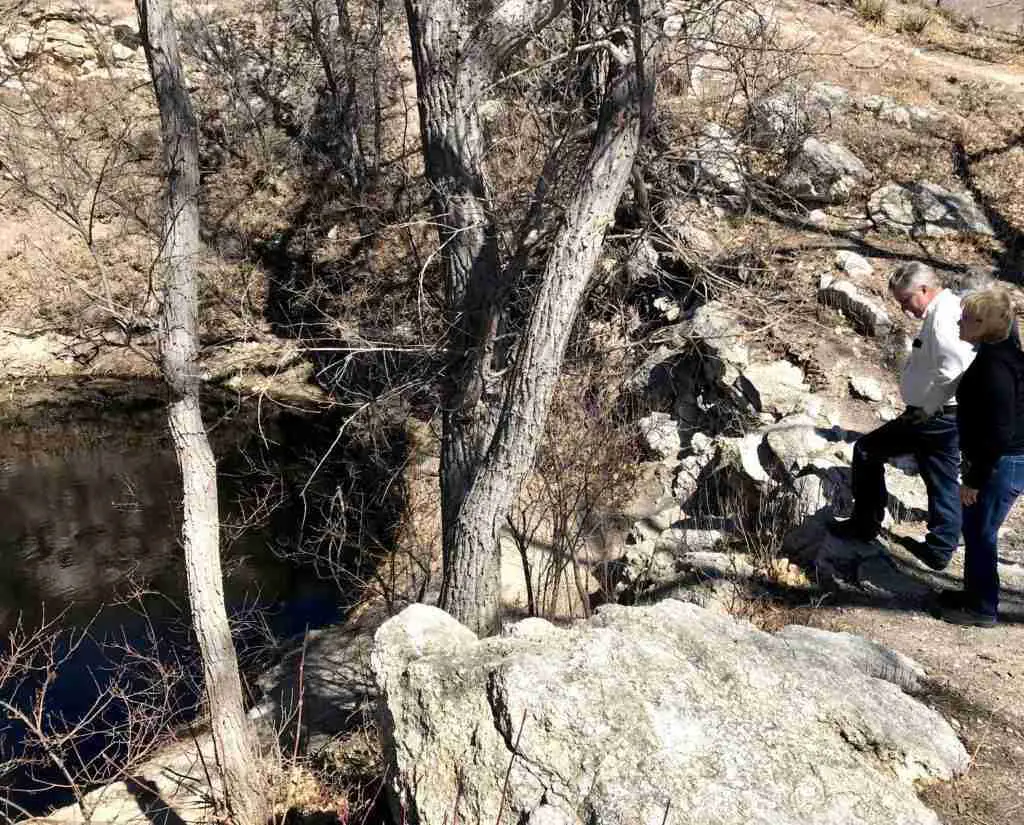 3. St. Jacobs Well, Ashland
St. Jacobs Well has never run dry, but the 84-foot wide and 58-foot deep pool has allegedly swallowed some people.
On October 27, 1924, the Dodge City Daily Globe ran a story about a vanished horse and rider. Daddy Walters went outside at 1 a.m. to smoke his pipe. He saw a man on horseback riding up to St. Jacob's edge. When the horse and rider disappeared, Walters thought the horse was getting a drink. But then he heard a terrible, blood-curdling sound, the cries of a dying horse. He rushed to see what had happened but never saw either horse or rider again.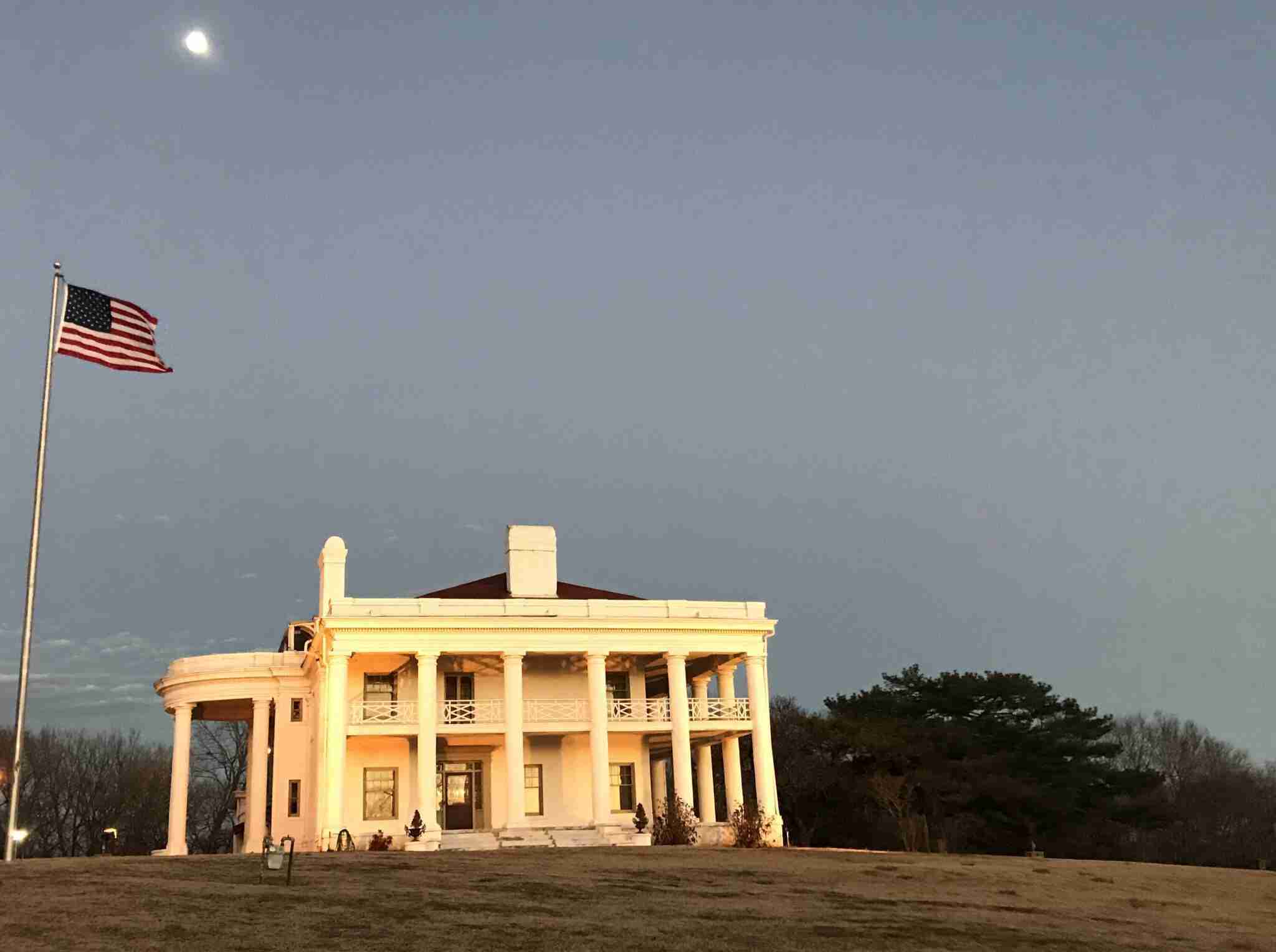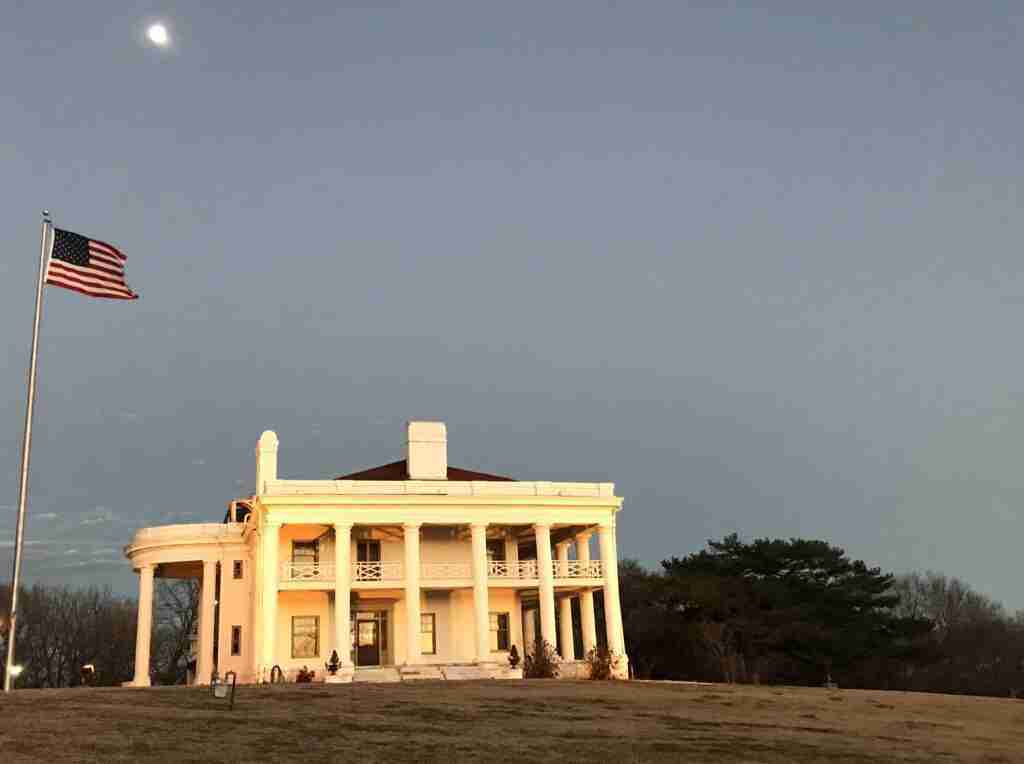 4. Brown Mansion, Coffeyville
William Pitzer (W.P.) Brown made his fortune in natural gas. He showed off his prosperity with a 16-room Neoclassic mansion atop a Coffeyville hill. However, Brown's wealth was no shield against grief. Only one of W.P. and Nancy Brown's children, Violet, survived to adulthood. One son died at birth. William died of pneumonia when he was only 4. Type 1 diabetes claimed 11-year-old Donald in 1911, 11 years before insulin's injection into humans. He died in his third-floor bedroom. His mother sealed the room after his death.
William and Nancy died two months apart in 1934. Violet inherited the house, where she liked to dance alone on the third floor. Eventually, Violet could not maintain the mansion. She sold it to the Coffeyville Historical Society and moved into a nursing home. She died there in 1973.
The house retains the Browns' furniture and decorations. Perhaps that's why they haven't stopped haunting Kansas. Violet sometimes dances on the third floor while Donald plays there. However, Nancy sometimes cries outside his bedroom. W.P. smokes his pipe in the living room and the library. Sometimes his ghost is visible, but sometimes only the pipe's aroma is apparent. Finally, their servant Charlie sits in his basement bedroom or stands by the front door. The five ghosts make the Brown Mansion a prime Kansas haunted house.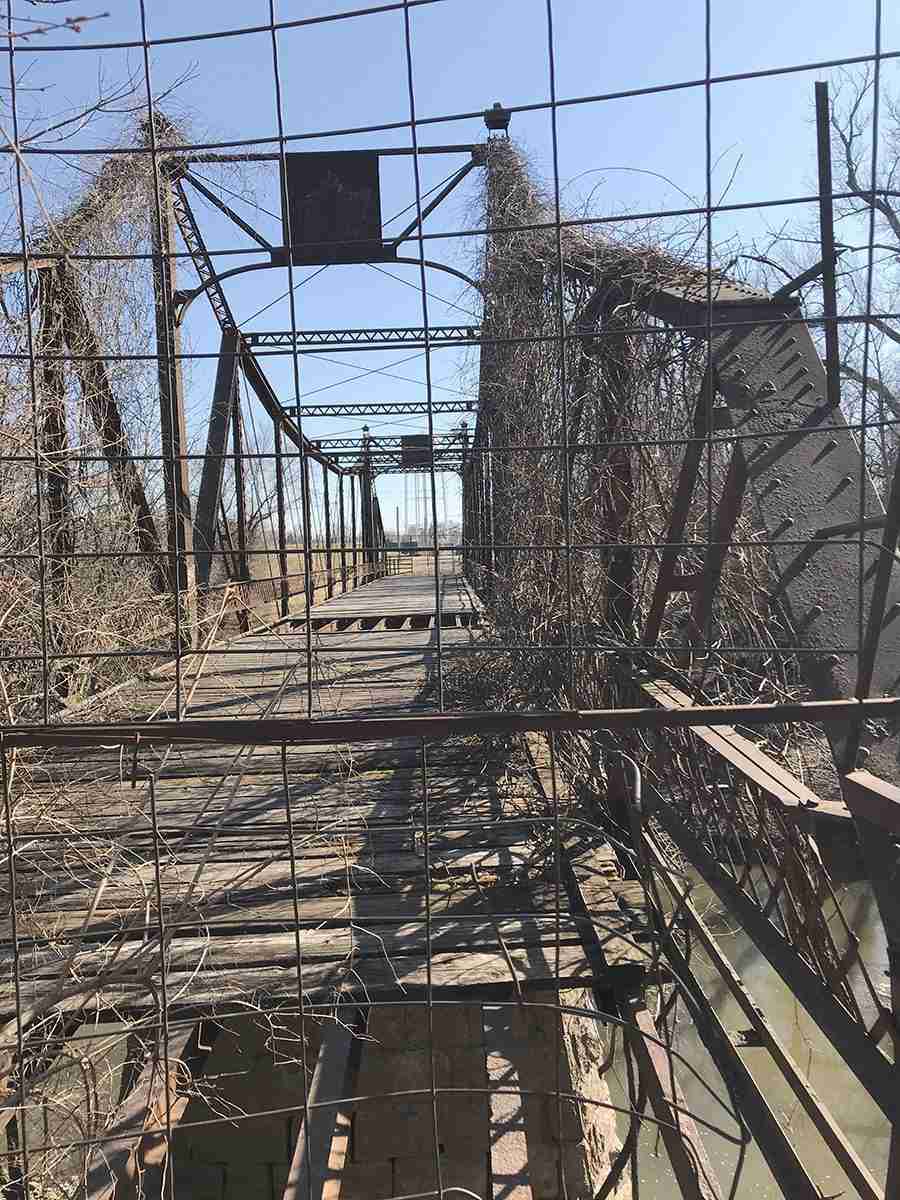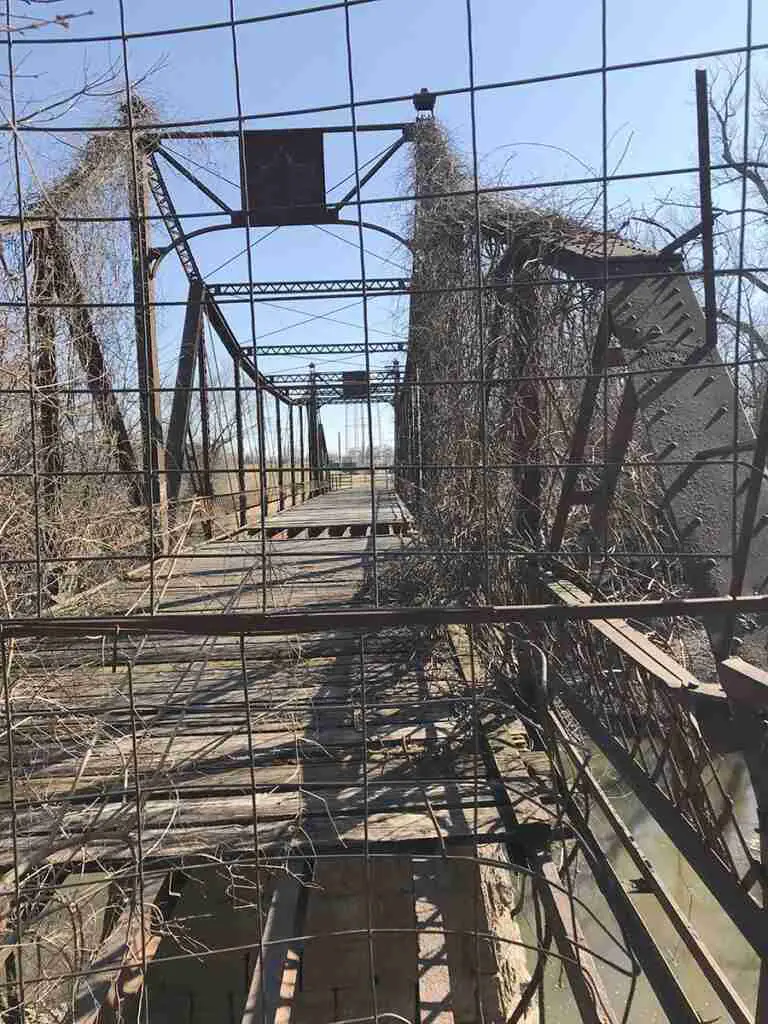 5. Osawatomie State Mental Hospital
Don't drive the road to Asylum Bridge in the dark. So many old bricks have washed away, and the potholes are hard to navigate even in daylight. And who knows what haunted Kansas beings may lurk around the spooky old mental asylum.
Asylum Bridge inspires horror even in the daytime. Many asylum patients never again crossed the bridge over the Marais des Cygnes River into the outer world. The 219-foot Reverse Parker Truss bridge is the only one in the world.
The state tore down the asylum's Old Main building long ago, but other buildings are still visible from the road.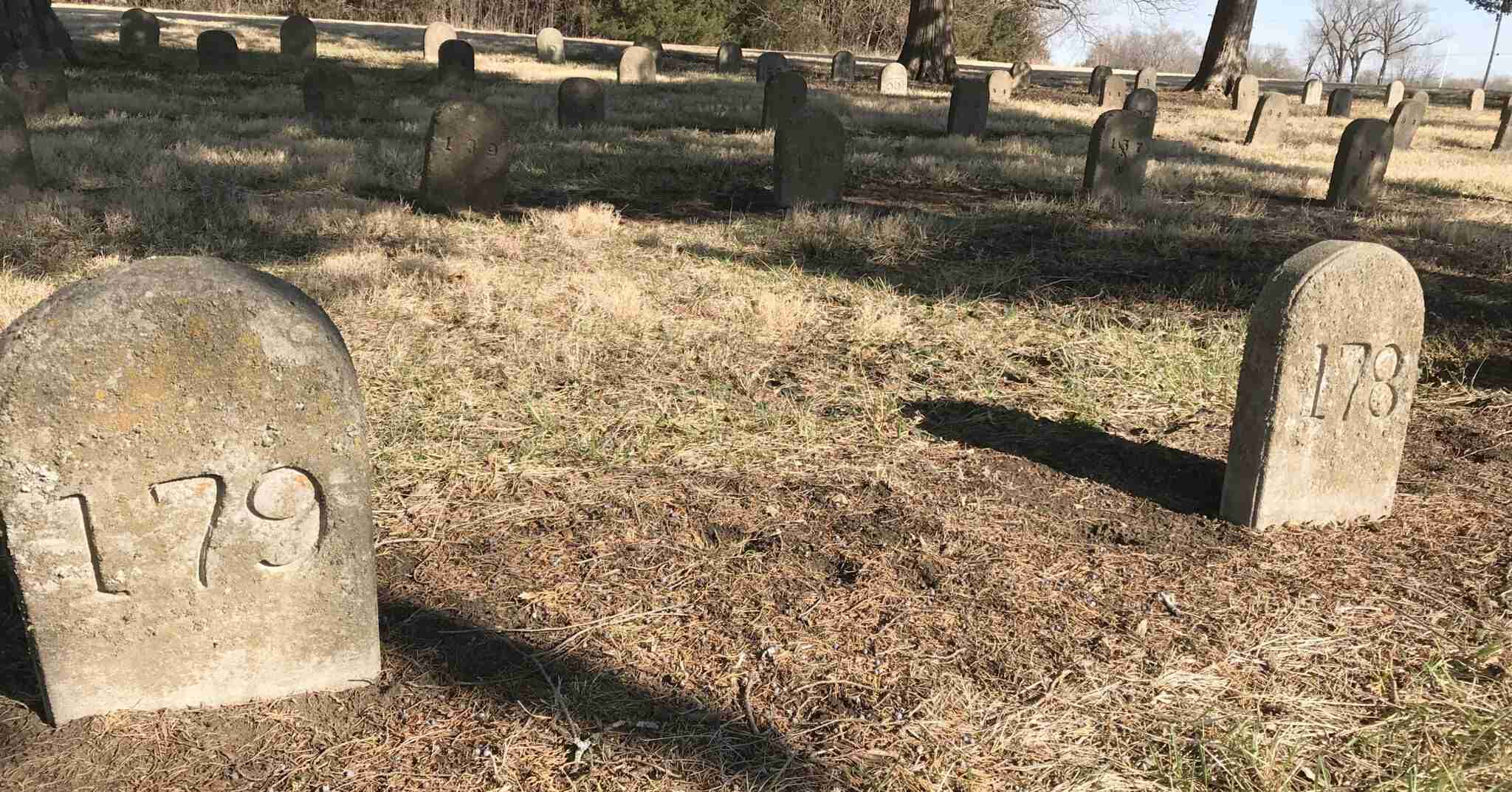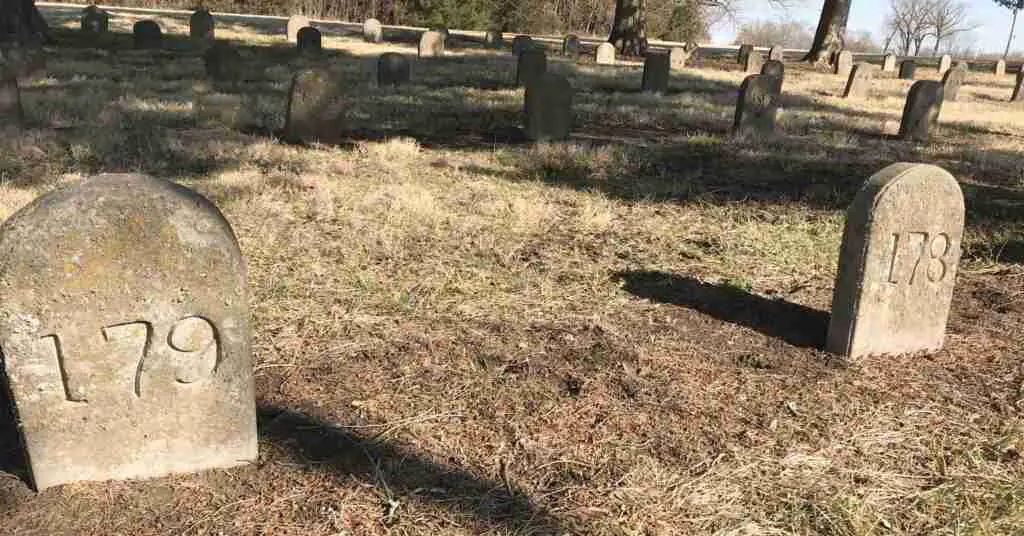 Haunted Kansas at the Osawatomie State Hospital's burial ground
Col. John Wesley Horner died in the asylum on August 16, 1874. He was the Chetopa Advance's editor when the asylum admitted him. Chetopa citizens asked the asylum to send them his body, but the telegram arrived too late. They had already buried Horner in an unmarked grave. In consequence, the Chetopans held Horner's funeral without his body. Later, the asylum moved the headstones to another site and erected the Adair Building over the bodies.
Unclaimed remains, including Horner's, rest in the hospital's burial ground. Their markers are concrete stones bearing only a number. A few families have added their loved ones' names to the grave, but most remain anonymous.
Related: Ride with history in Osawatomie.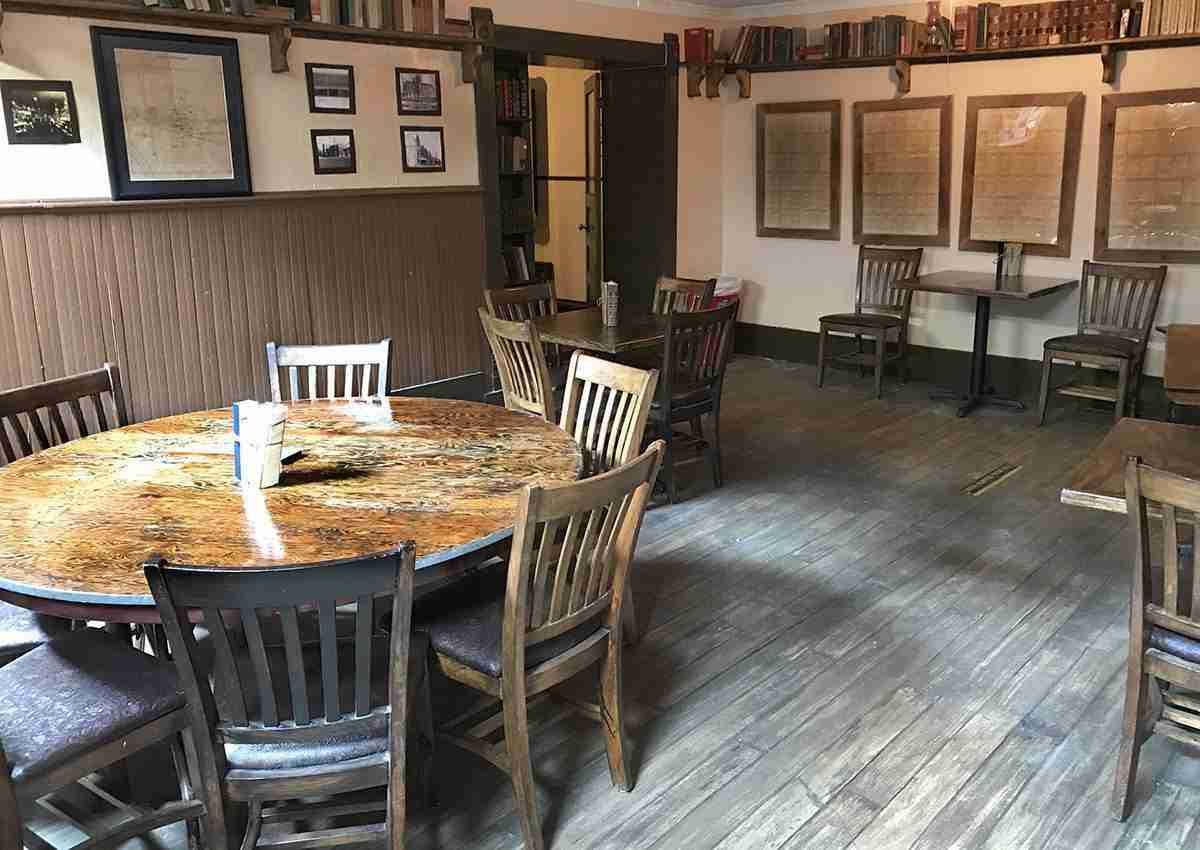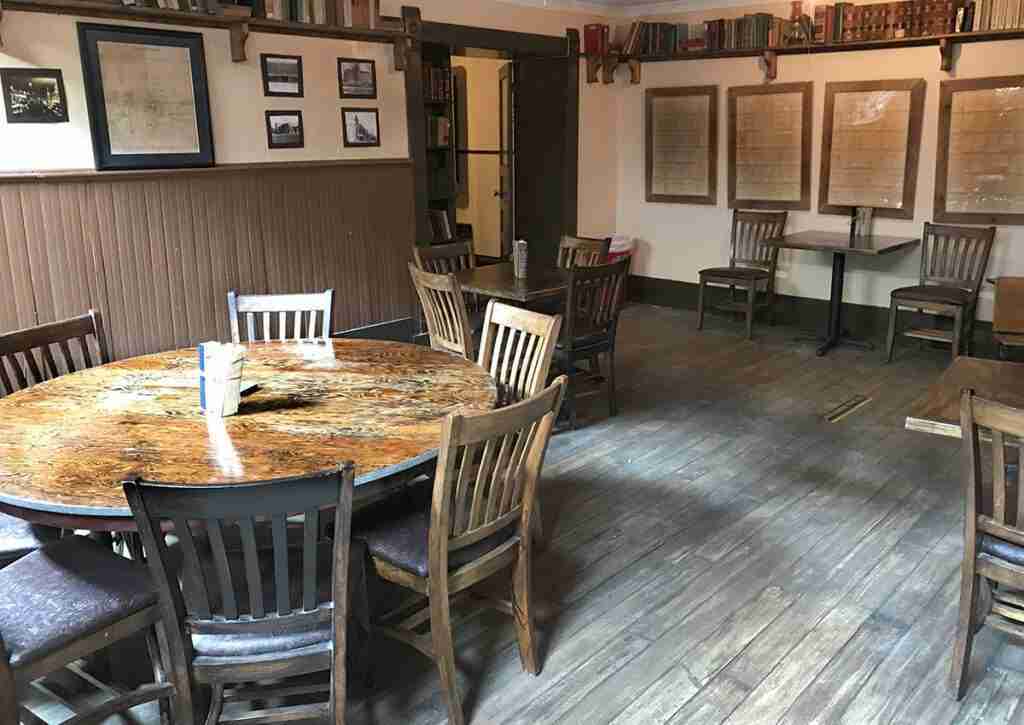 6. Underground Ellinwood
Three spirits haunt the Historic Wolf Hotel. First, "Sundown laws" required Black people to leave the jurisdictions before sundown. Ellinwood was a sundowner jurisdiction, and police shot a Black man for his failure to observe curfew. Legend says that this man is angry and harasses guests. However, no record of this death exists.
The second ghost is Bernard I. Millet, who shot himself in the hotel dining room. The third spirit who haunts this part of Kansas enjoys practical jokes. The unknown woman likes to hide items beneath the guests' pillows.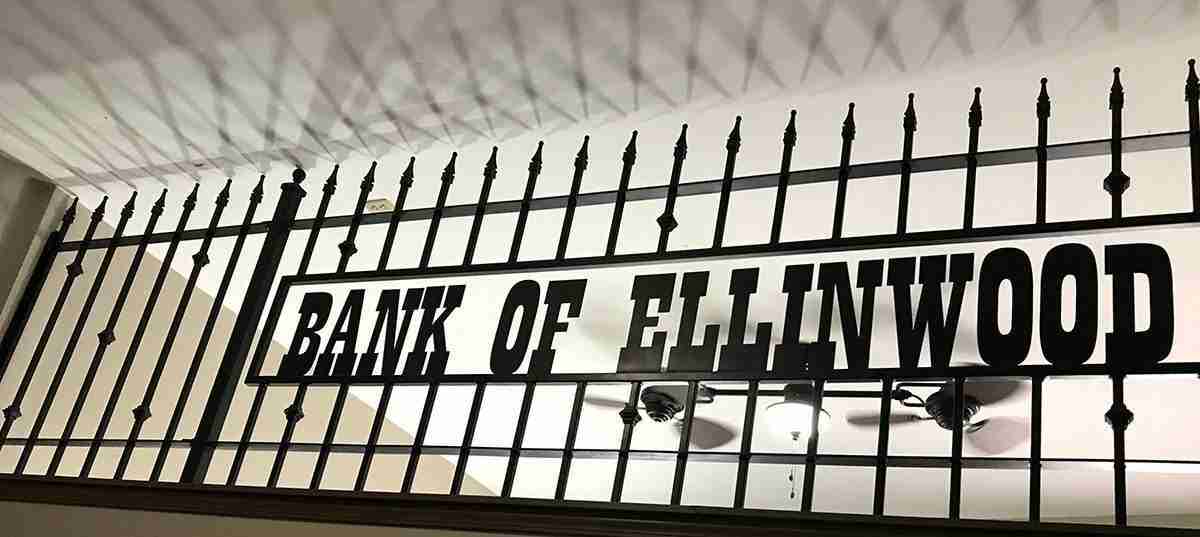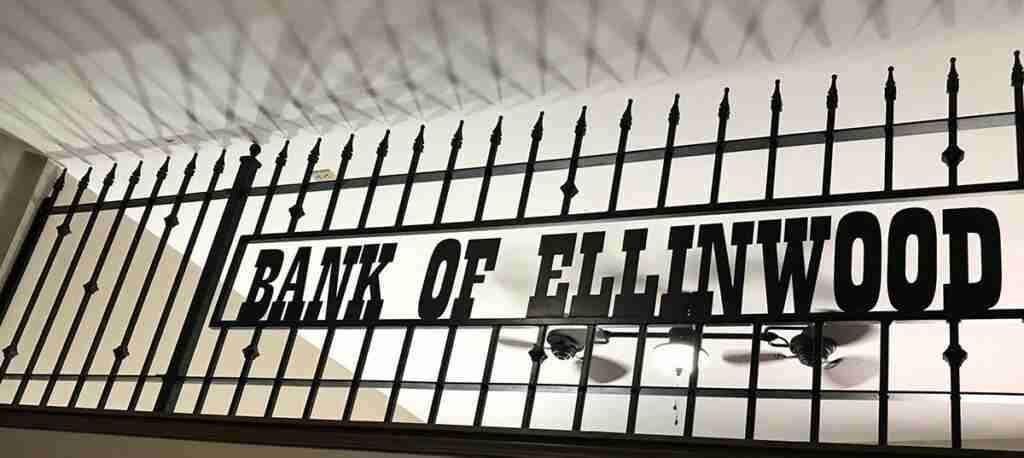 Haunted Kansas and the Bank of Ellinwood
The building was part of another tragedy. The Bank of Ellinwood rented part of the hotel. In 1908, police arrested Cashier W. Leo Bockemohle for embezzlement, and he died by suicide in their custody.
Roxie's reliable recommendation: Enjoy a haunted hotel tour.
Related: Explore neighboring Great Bend.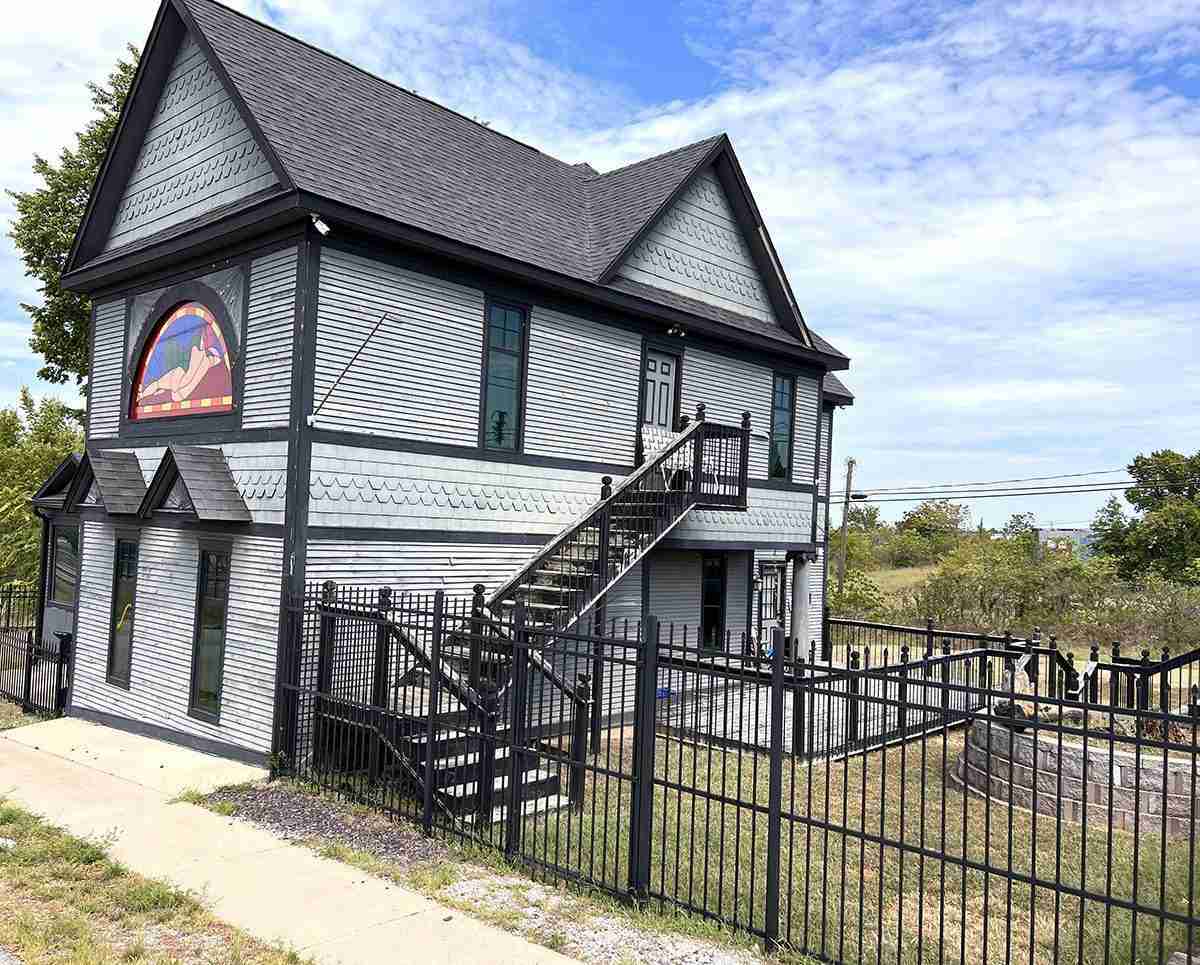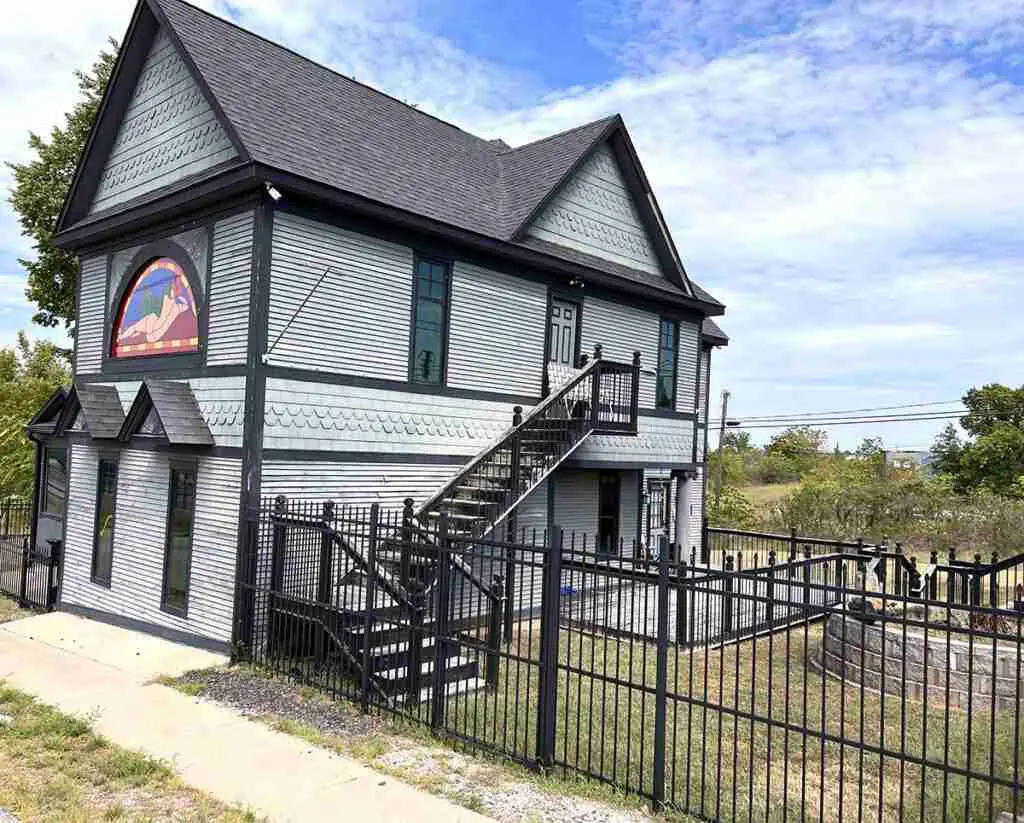 7. The murderous madam, Baxter Springs
A stained-glass window on Galena's Main Street depicts the back of a reclining nude woman. The house may be Nancy "Ma" Staffleback's brothel. More likely, the Stafflebacks lived in a crowded shack on Galena's west side. The Stafflebacks were notorious serial killers.
Their downfall came when they murdered miner, Frank Galbraith. After the gang murdered him, they shoved him into a mine shaft. A passerby discovered his body, and police raids in Galena and Joplin, Mo., hauled them into jail. Eventually, Ma, her husband Charles Wilson, and her sons Ed and George were convicted of his murder. George's wife Cora accused the family of additional killings. They may have robbed and murdered dozens.
The house was an attraction for a while, but now it's private property. Whether the house was the Staffleback's bordello or not, reports say it is a haunted part of Kansas. But the reclining nude keeps her secrets.
Related: The house is across the street from the Cars character Tow Mater, one of the top attractions along Kansas Route 66.
8. Sallie House, Atchison, one of Kansas' most haunted cities
Stay overnight at the Sallie House – if you dare. A mother brought her 6-year-old daughter Sallie to Dr. Charles Finney's office with severe appendicitis in 1906. Finney believed he had no time to wait for the anesthetic to take effect. She died with her last memories of a torturer.
Sallie never left the doctor's office, and she dislikes men. Then, in 1993, a young couple, Tony and Debra Pickman, rented the house. Fires mysteriously started. Sallie moved objects near Tony, and she scratched him. But Sallie never hurt Debra or baby Taylor.

She still scratches and bruises male visitors. Service animals avoid the nursery, and video cameras mysteriously stop working.
Roxie's reliable recommendation: Explore Haunted Atchison on the Haunted Trolley Tour each October. Atchison is one of Kansas' most haunted cities.
Related: Atchison has some of Northeast Kansas' most interesting attractions.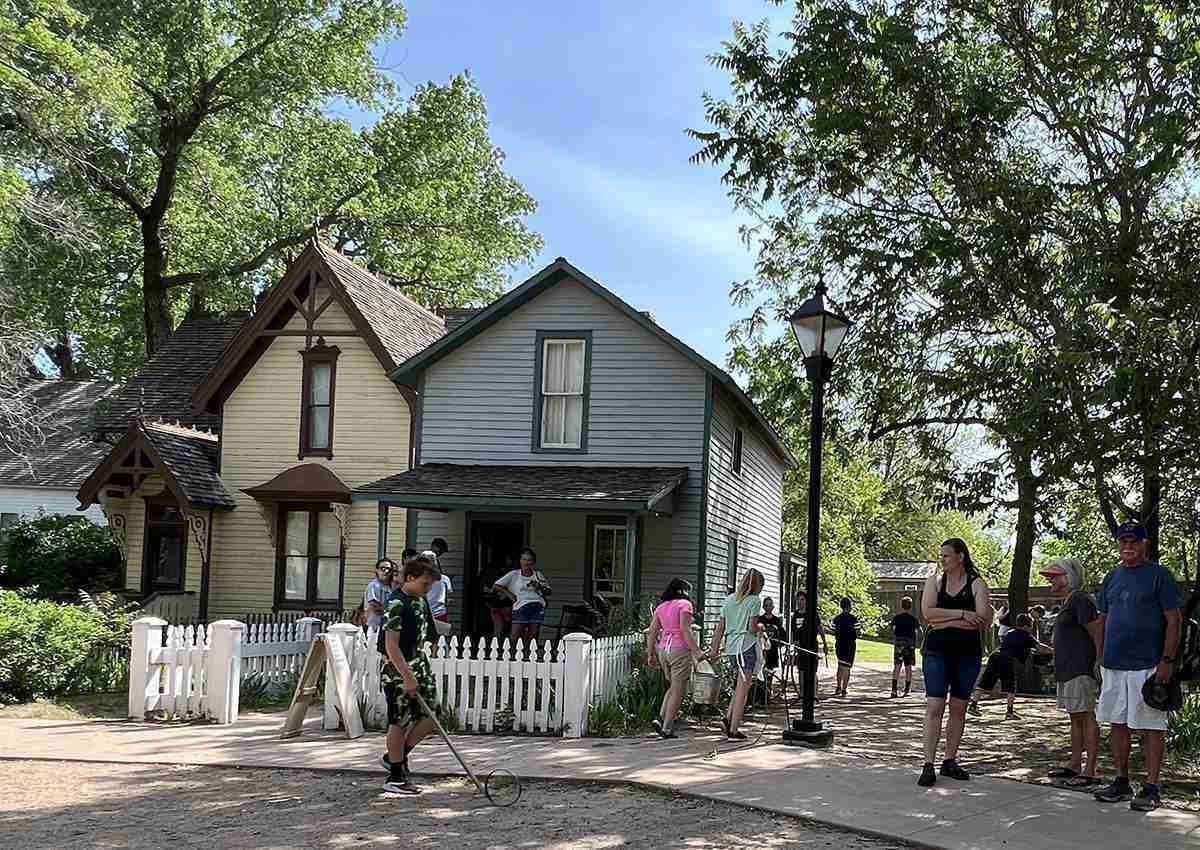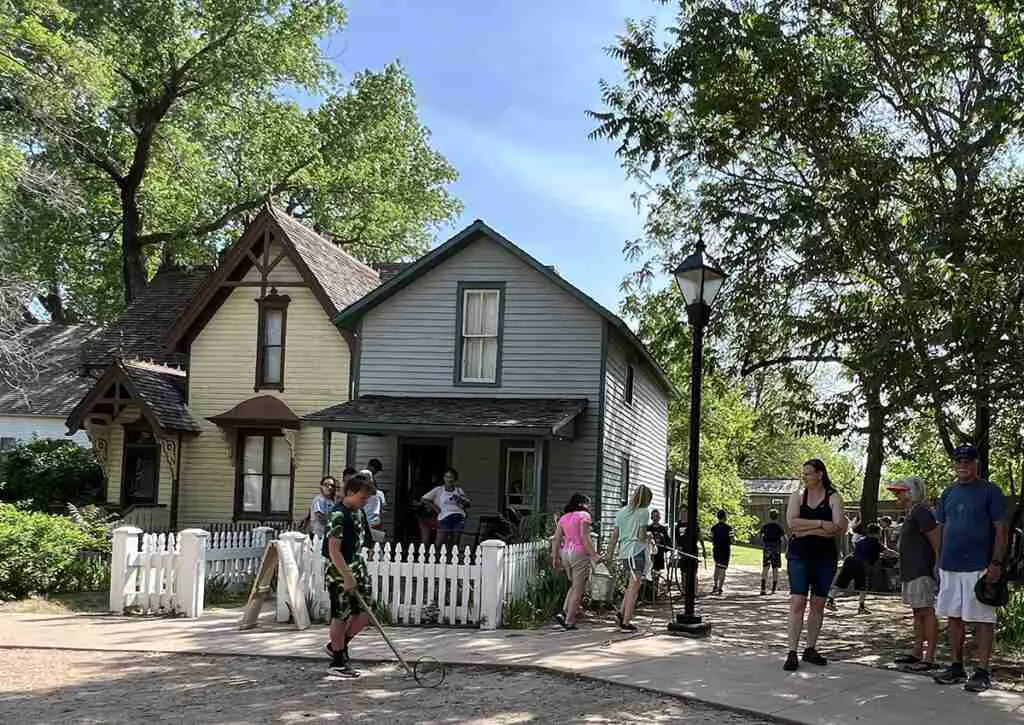 9. Eaglehurst, Old Cowtown, Wichita
Wichita Eagle Publisher Marshall Murdock lost his 4-year-old daughter Jessie to spinal meningitis in 1867. When the Old Cowtown Museum acquired the Murdock family home, "Eaglehurst," Jessie came with it. She plays around the house and haunts other Cowtown buildings. Watch for apparitions and listen for ghostly footsteps in this haunted Kansas location.
Related: Old Cowtown is one of Wichita's nine best places to visit.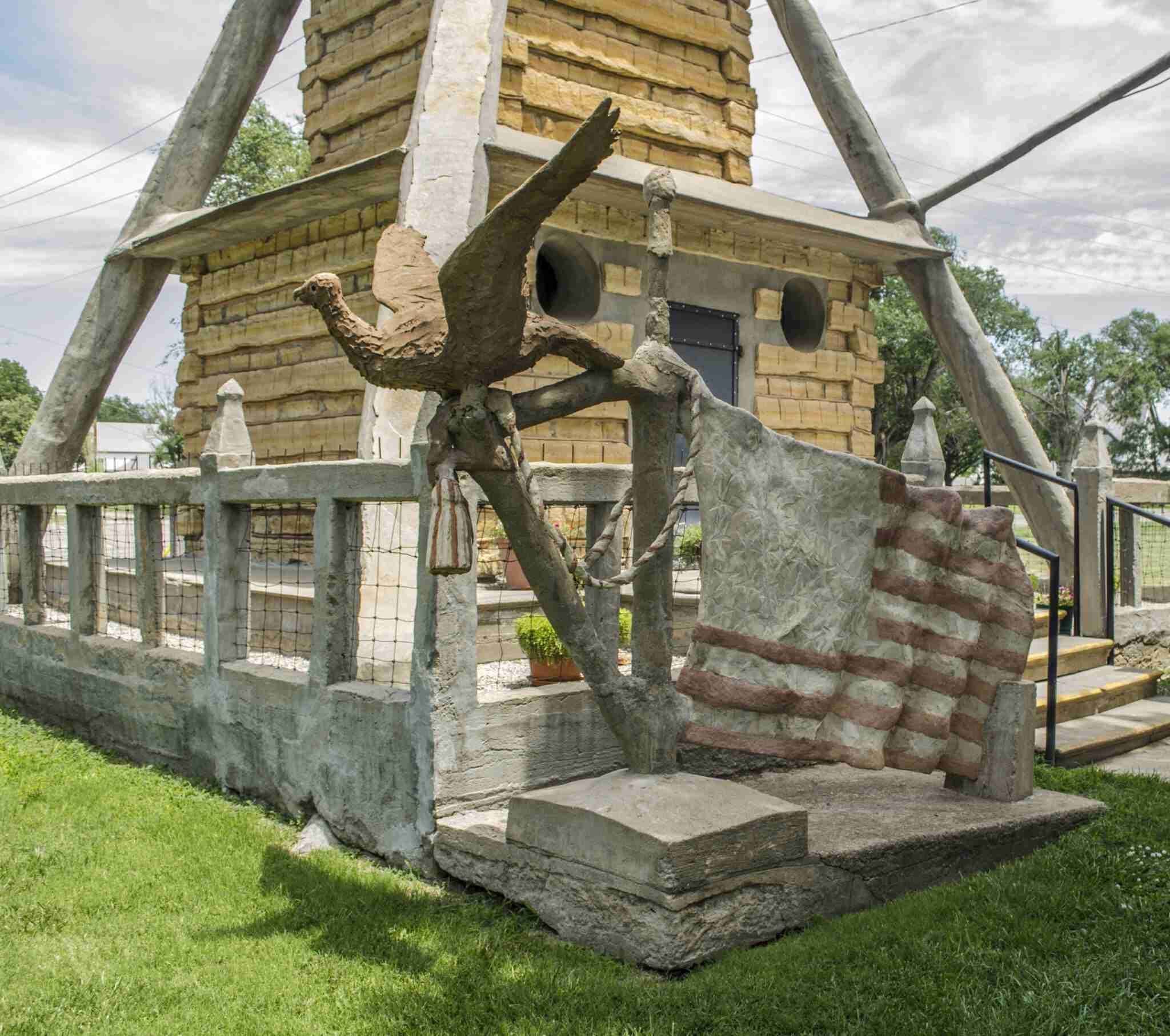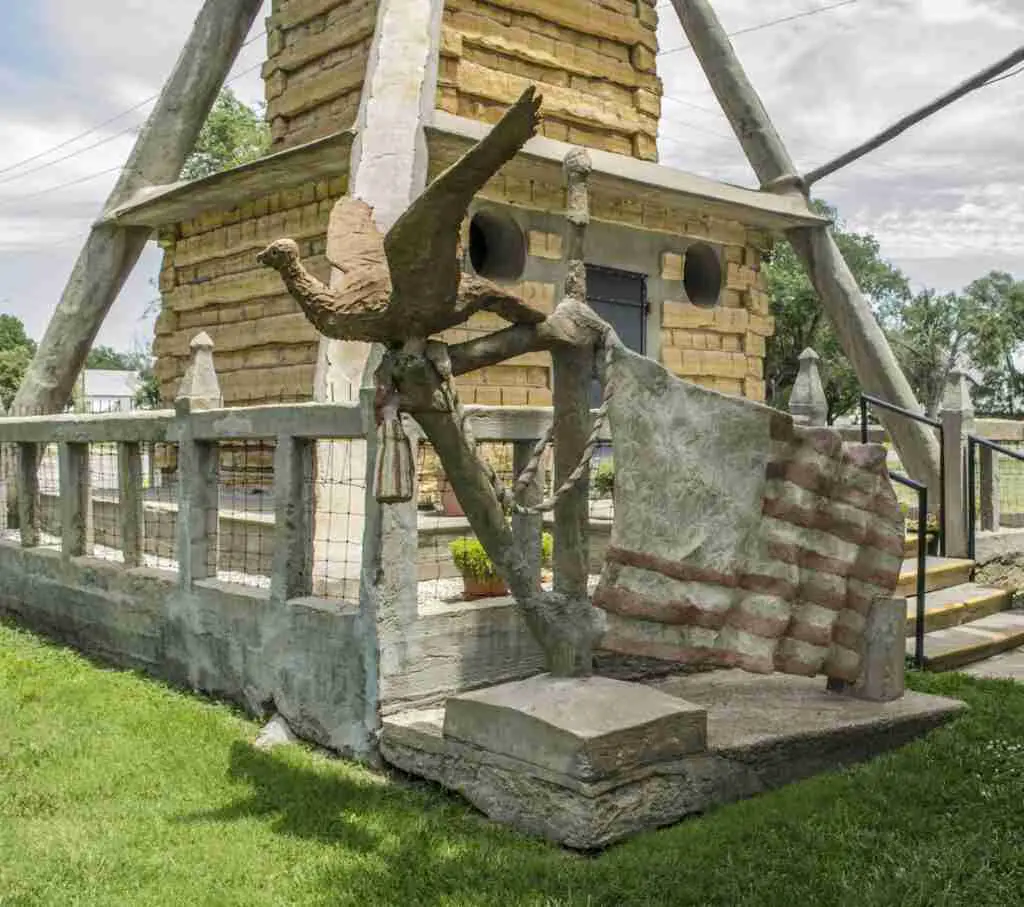 10. Garden of Eden and Garden of Isis, Lucas
Samuel Dinsmoor doesn't haunt Lucas, but guests can view his decaying corpse in the mausoleum he constructed. His Garden of Eden is eerie enough without Dinsmoor's corpse. Instead, he cast his Populist vision into concrete to make the Garden of Eden. Creepy elements include humanity crucified, a devil, and a snake.
The house of creepy dolls haunts Kansas
If the dolls in the Ellis Railroad Museum didn't creep you out, then the dolls in the Garden of Isis will. First, artist Mri Pilar papered the walls with silver insulation. Then she decorated them with doll bodies, kitchen utensils, computer parts, and many other objects. The tortured toys reminded us of Sid Phillips from Toy Story. The haunted Kansas toys gave us the creeps for years.
Roxie's reliable recommendation: Grassroots Art Center admission includes The Garden of Isis and Florence Deeble's Rock Garden behind the Isis house.
Related: Lucas is one of our 12 best places in Kansas.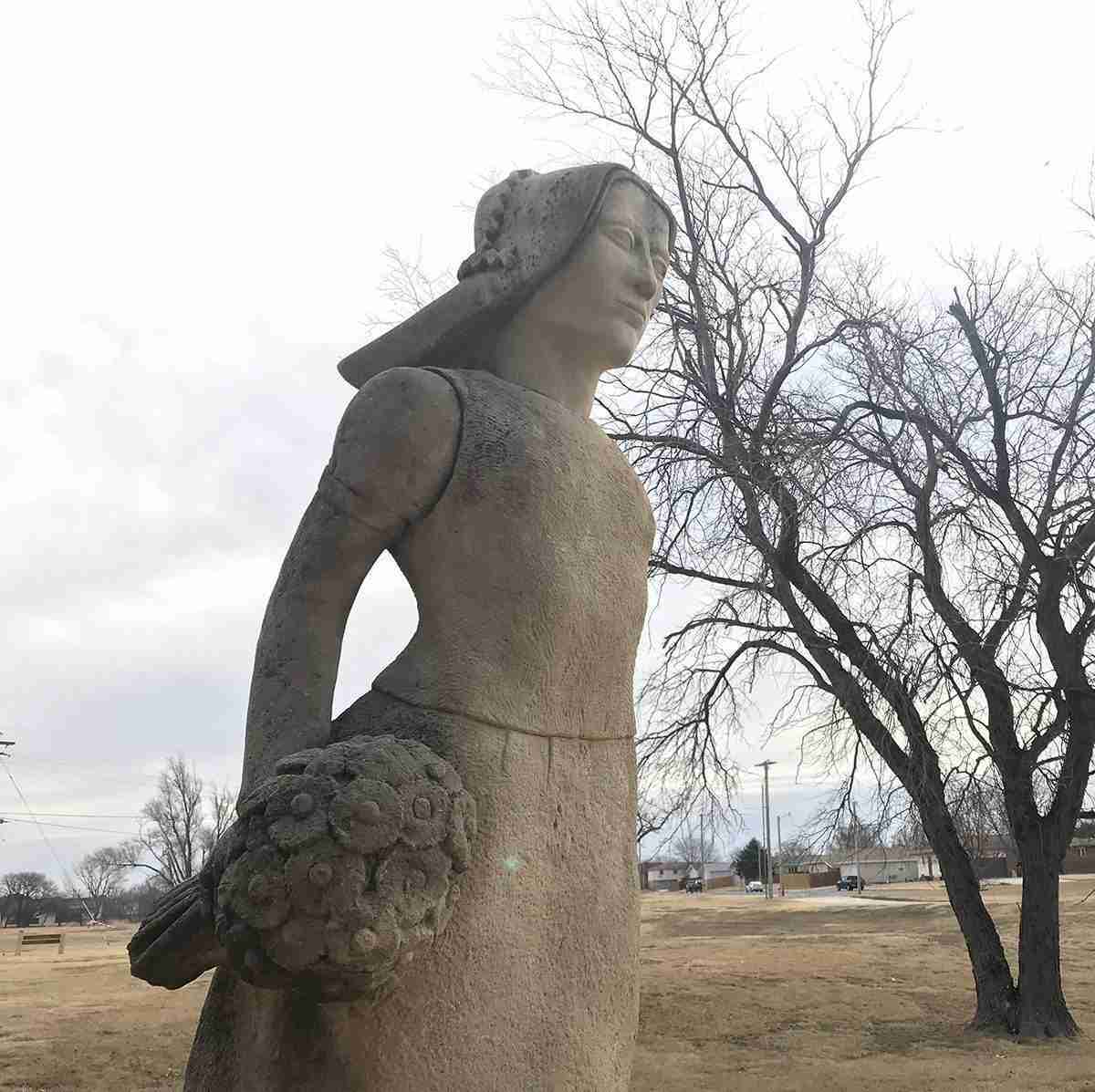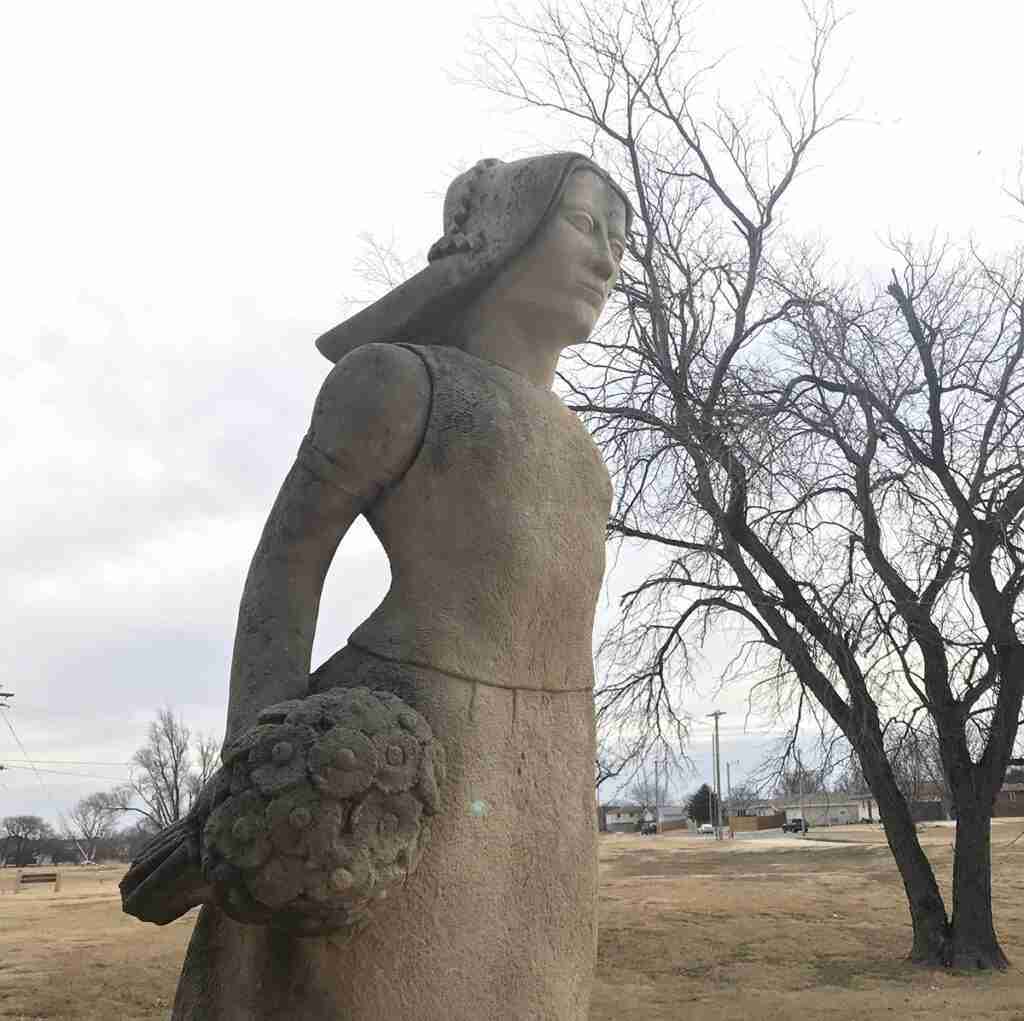 11. Sentinel Hill, Hays
Elizabeth Polly moved to Fort Hays with her husband Ephraim, a hospital steward, in 1867. Unfortunately, the couple arrived just in time for a cholera outbreak. The steward's wife usually became the hospital matron, and Polly nursed the sick soldiers. Then, when she needed a break, she walked around Sentinel Hill. Before she died, she requested burial atop the hill.
The grieving soldiers gave her a military funeral. They dressed her body in a blue dress and a white bonnet. They tried to fulfill her burial wishes, but the hill was too rocky. So instead, they buried her at the hill's base and surrounded it with four limestone post rocks. Thieves later stole the stones. They all died violently in gunfights, carriage accidents, and a train crash.
Polly rested easy until 1917, the year the United States entered World War I. That year, farmer John Schmidt saw a woman wearing a blue dress walk into one of his outbuildings. When he looked inside, no one was there. Since 1917, people sometimes have seen Polly walking, surrounded by a hazy blue light. In 1967, Hays erected an obelisk above her grave. The city erected a Pete Felten statue of her at Elizabeth Polly Park in 1982.
Roxie's reliable report: Sentinel Hill is on private property, but Polly's marker is visible from the road. Use these directions: Go south on 240th St. from Old Hwy. 40 to the mile road, then turn west on Spring Hill Rd. Travel west 1.7 miles. Monument is visible to the north as you drive. The burial is on private property.
Related: Enjoy a long weekend in Hays.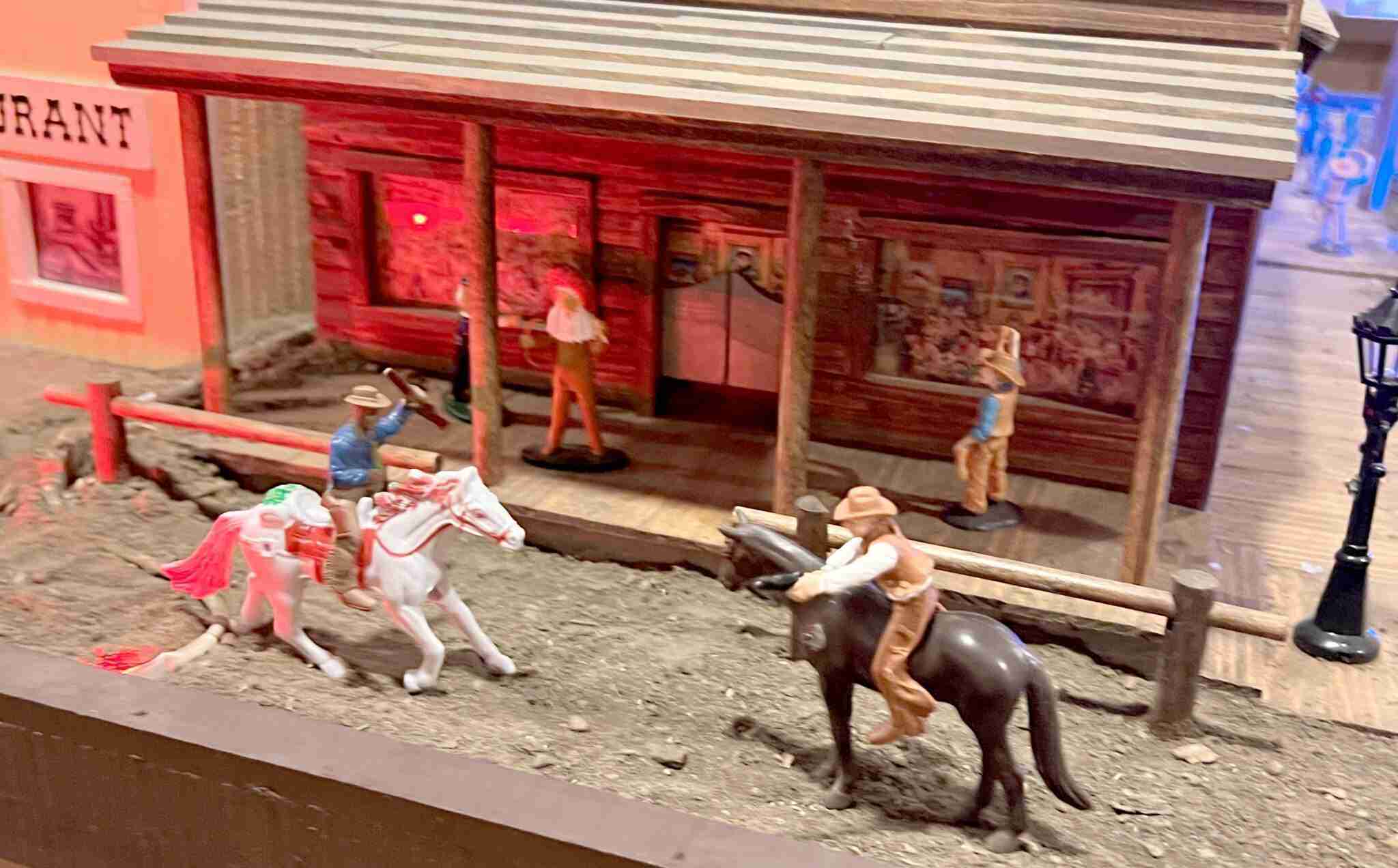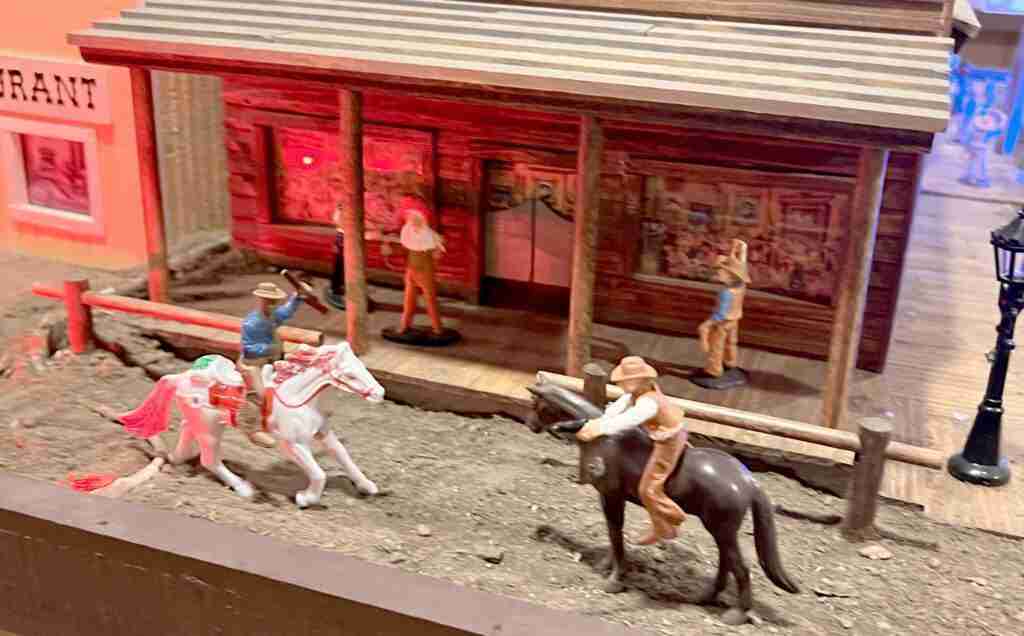 12. Old Abilene Town and Lebold Mansion, Abilene
The great cattle drives are long since over, but ghostly lonesome cowboys with jingling spurs still walk the streets of Old Abilene Town. Male spirits argue near the old-time saloon. The Lebold Mansion looks like the Addams Family house, and legends say that at least one spirit haunts its Kansas halls.
Roxie's reliable report: Look for spooky events in Abilene.
Related: Abilene is the home of President Dwight Eisenhower. His library, museum, and boyhood home are among the best things to do in North Central Kansas.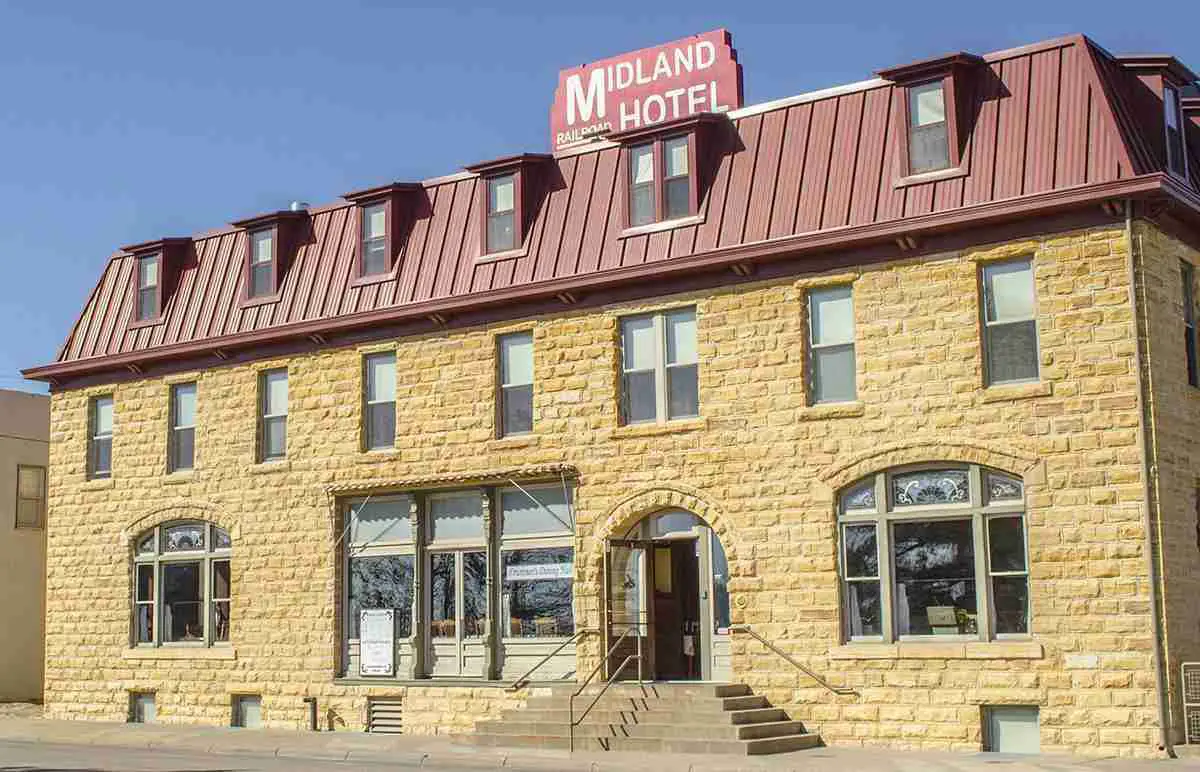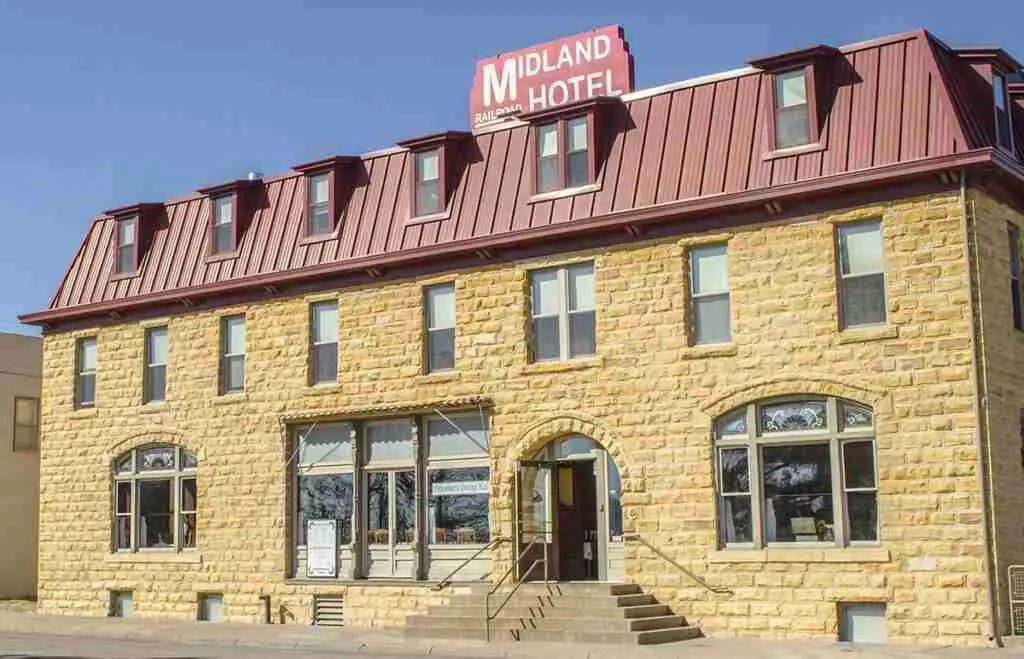 13. Midland Railroad Hotel, Wilson
Every day is Halloween at the Midland Railroad Hotel. An orphaned girl haunts the Kansas hotel's third floor. She runs down the hallway and knocks on guest room doors. Guests might see little footprints left when the floor's ghost has jumped on the bed. Legend says Sheriff Bart was lynched in a third-floor room. Whether the legend is true or not, the master key does not always work in that room's door.
Ghostly occurrences aren't limited to the third floor. The kitchen has seen hauntings, too. Once, a spray bottle spontaneously flew 7 feet through the air as staff watched.
When that ghostly itch scratches, maybe it's a Kansas ghost haunting you.