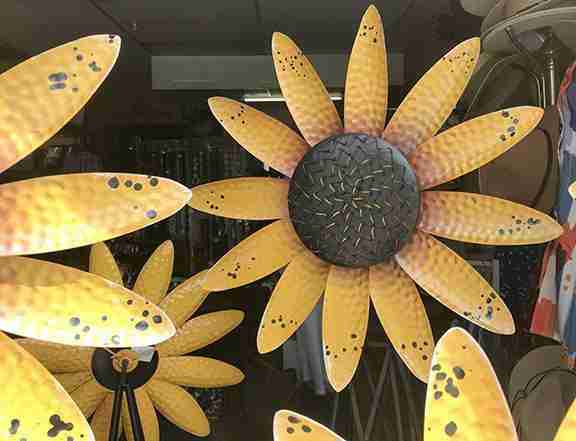 Salina Downtown and all of North Central Kansas welcomes you.
Do you like Ike? Dwight Eisenhower became a five-star general and President of the United States. Yet the greatest Kansan told his hometown, "The proudest thing I can claim is that I am from Abilene."
Abilene honors its hero at the Eisenhower Library, Museum, and Boyhood Home. It's a place that every Kansan should visit. But this glittering treasure is only the first of many exceptional attractions in North Central Kansas (NCK). In this NCK trip, we'll visit communities from Wamego to Minneapolis and see two world record holders.
In NCK, you can follow the Road to Oz, trace your orphan train ancestor, eat, drink, and shop in historic downtowns, hike, bike, and catch a record-breaking fish. Buckle up for a ride through NCK.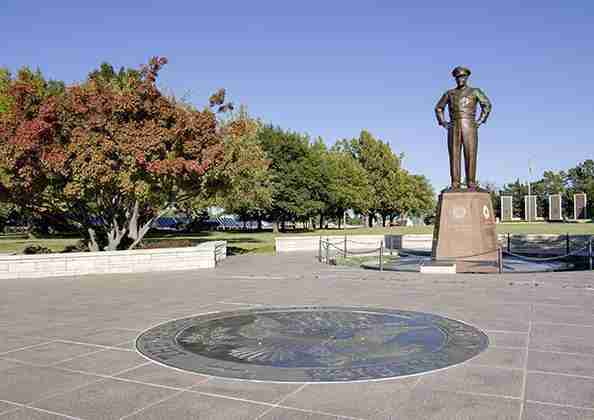 1. Like Ike at the Eisenhower Library, Museum, and Boyhood Home, Abilene
In Europe, Eisenhower noted that he had "come from the very heart of America." The heart of America honors its son in Abilene.
In 2019, the museum reopened after a comprehensive renovation. Museum staff desired to make Ike and his wife Mamie relevant to generations who never knew them.
Just like Eisenhower's statue towers over visitors, he towers over the mid-20th century. He led the Army to victory in Europe during World War II. Later a grateful nation elected him to its highest office. During Ike's Presidency, he established the Interstate System, fought the Cold War, aided civil rights, and presided over prosperity. Appropriately, Abilene sits on Interstate 70. His accomplishments rank his Presidency fifth in C-SPAN's ranking.
The museum complex showcases the arc of Ike's life. Start at the visitors center on the site of Eisenhower's grade school. Then visit the home where David and Ida Eisenhower raised seven sons. All but one reached adulthood.
Continue to the museum. The new exhibits allow Ike and his wife Mamie to tell their stories in their own words.
The arc ends at the Place of Meditation, where Ike, Mamie, and their firstborn Doud Dwight (Icky) Eisenhower are buried.
Roxie's reliable recommendation: Explore Eisenhower's Abilene legacy and tour more Abilene attractions. Eat at The Farmhouse, where Ike once got spanked on his birthday. Camp at Walt's Four Seasons Campground or stay at Holiday Inn Express.
Related: Walk in Ike's footsteps in Abilene.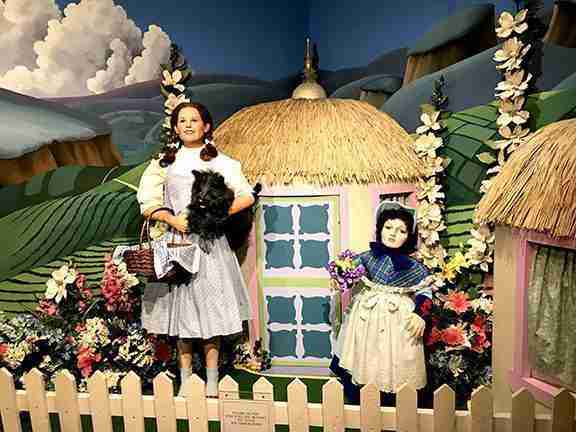 2. Follow the Road to Oz to the Emerald City of Wamego
Wamego is all in when it comes to Oz. Even its water tower, painted like a hot air balloon, is Oz-themed. Start your Wamego visit, the Emerald City of Oz, on Interstate 70's Exit 328. The Legislature designated Highway 99 from I-70 to Wamego as the Road to Oz in 2003. For the full Oz experience, eat at the Friendship House. Walk from the Friendship House through the Yellow Brick Road. On your way, admire the road's Oz-themed murals. Stop for a selfie at the gate.
Across the street, look for the ornate Oz Museum storefront. The museum's sepia-toned entryway recalls Dorothy's experience at her Kansas farm. Unlike Dorothy, you don't need a tornado to whisk you into the Land of Oz. Open the double doors. The Oz universe will engulf you. From L. Frank Baum's earliest books to the musical Wicked, all of Oz surrounds you. Find Oz-themed toys, games, and music. Take your picture with the most famous Oz characters. Step into the Wizard's balloon basket for a picture. If you haven't seen the movie The Wizard of Oz recently, it runs continually in the theater.
And there's more! Taste Oz-themed wines at the Oz Winery. The Squished Witch is our favorite. It pairs beautifully with the winery's chocolate. Dine at Toto's TacOz! and search for the Totos Around Town. Immerse yourself in Oz at Oztoberfest, the first weekend in October.
Roxie's reliable recommendation: Hike the Mount Mitchell Heritage Prairie south of Wamego, where free-staters entered Kansas and freedom-seekers escaped slavery. Mount Mitchell was on the Jim Lane Trail, one of our top Kansas civil rights sites. Stay at the Wamego Inn & Suites.
Related: Explore Oz-themed sites in Kansas.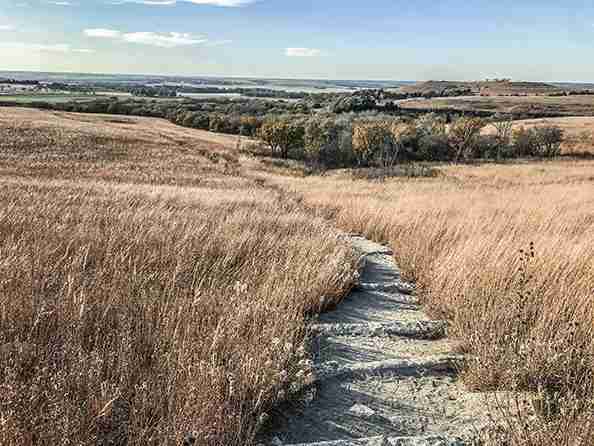 3. Hike the Konza Prairie, Manhattan
The Konza Prairie Nature Trail near Manhattan is my favorite Kansas hike, one of the top things to do in North Central Kansas. Striding up the slopes to the gorgeous Flint Hills view atop each hill, then down into the beautiful valleys, is a balm for my soul. The tallgrass swishing in the wind, the wind wafting wildflowers' perfume to my nose, birds calling, and deer grazing all produce serenity in my soul. Sometimes, hikers can see the stream of hurry called I-70 passing by, but no traffic noises reach the Konza. Modernity exists somewhere else.
The trail system extends 6.2 miles in three connecting loops. Check approximate hiking times and trail rules before you go.
Pro tip: Learn more about the Flint Hills at the Flint Hills Discovery Center in Manhattan. (I'll be signing my book 100 Things to Do in Kansas Before You Die at the discovery center on Nov. 5, 2021. Check my entire signing schedule here.)
Stay at the Scenic Valley Inn. Unwind at Manhattan Brewing Co. in Downtown Manhattan.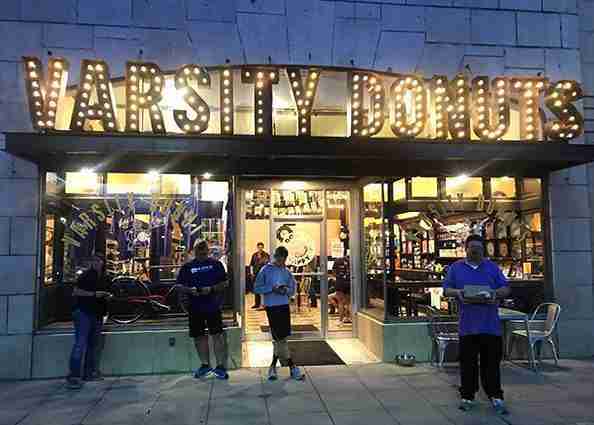 4. Arrive early and stay late in Aggieville, one of our top 10 things to do in North Central Kansas
Right next to the Kansas State University campus, Aggieville is the state's oldest shopping district. Over 100 businesses call Aggieville home, and it's a prime location for food, shopping, and entertainment. Start the morning at Varsity Donuts with bins full of yummy options. For lunch, devour a Portobello quesadilla and a stacked enchilada at Taco Lucha. End the day with cocktails and pizza at the Hi-Lo. Between meals, browse the retailers. Check out the Sisters of Sound record store and the Dusty Bookshelf bookstore. On K-State game days, hang out at Johnny Kaw's Sports Bar to paint Manhattan purple. Buy Wildcat apparel at Rally House.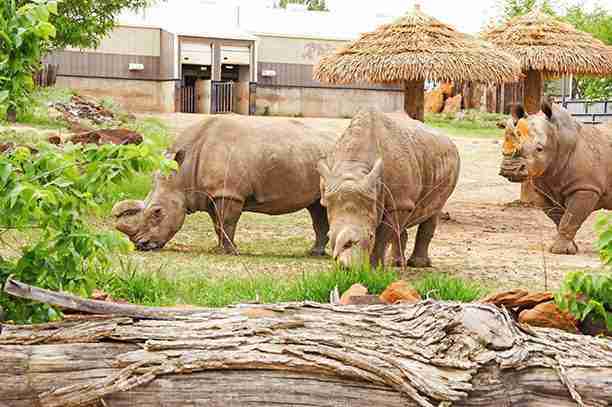 5. Come on a safari at Rolling Hills Zoo
You don't need a passport or a fat bank account to go on safari. Instead, visit Rolling Hills Zoo west of Salina. Rolling Hills includes two parts, the zoo, and a wildlife museum. The animals live in beautiful, naturalistic habitats. In one of our top 10 things to do in North Central Kansas, see the face of a majestic snow leopard, a white rhino, an orangutan, and an aardvark. Someone adventurous styles the cotton-top tamarins' hair. Snakes sport tentacles, and cockroaches hiss. During monarch butterfly migration season, watch for them in the zoo's butterfly garden. In the museum, explore animals in their varied habitats from the African plains to the Arctic tundra.
Pro tip: Rent strollers and scooters at the zoo, and place your dog in a kennel. Eat at the on-site restaurant and ride a tram during summer weekends.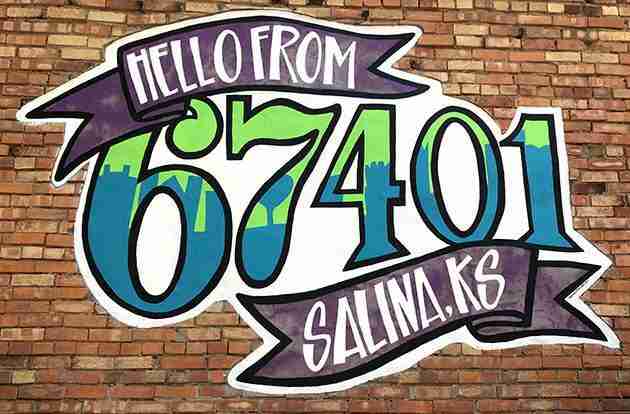 6. Shop and play in Salina Downtown, one of our top 10 things to do in North Central Kansas
For art, theater, cinema, history, shopping, and recreation, come to Salina Downtown. Read a book while you savor fine coffee at Ad Astra Books & Coffee Shop. (I'll be signing my 100 Things to Do in Kansas book at Ad Astra on Nov. 19, 2021.) Acquire treasures for your home at Auld Lang Syne. PB&J is one of my favorite clothing and accessory shops. Create your own pottery at On the Pot. Every Kansan needs to eat Cozy burgers at the Cozy Inn. Save your car from the onion-laden burger smell; eat in the Cozy picnic area. Walk to Dagney's Ice Cream for dessert. For a more substantial meal, dine at Martinelli's Little Italy or Blue Skye Brewery and Eats.
Enjoy a night on the town with a concert at the Stiefel Theatre or a movie at Salina Art Center Cinema. Before the movie, visit the Smoky Hill Museum or bowl or play laser tag at The Alley.
Pro tip: Camp at Salina KOA Holiday or stay at the Homewood Suites.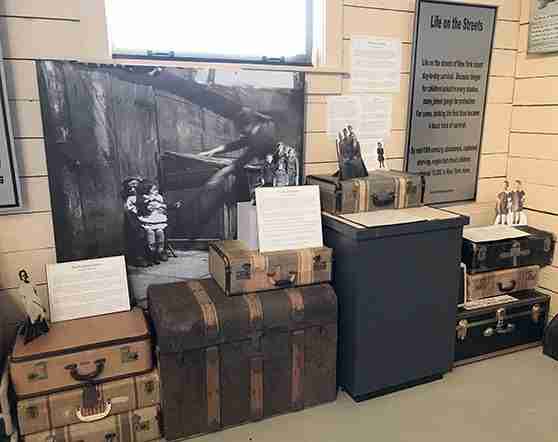 7. Hear the orphan trains riders' stories at the National Orphan Train Complex, Concordia
At the turn of the last century, impoverished children lived dangerous lives in East Coast cities. To rescue them, charities devised the Orphan Train Movement to rescue children from the streets. They sent them West. Over 75 years, the movement placed about 250,000 children. Over 2 million descendants came from the Orphan Train riders. Concordia's National Orphan Train Complex (NOTC) preserves the movement's history. The vintage railroad passenger car in the Jones Education Station gives a sense of the children and their chaperones' experiences. NOTC also offers research help for those who have orphan train riders in their family trees.
Pro tip: Learn more about the riders by visiting the Orphan Train Rider statues in the Concordia area. In their honor, enjoy a soda fountain treat at Britt's Fountain & Gifts. Stay at the Kansas Creek Inn. Concordia is one of our 12 best places to visit in Kansas.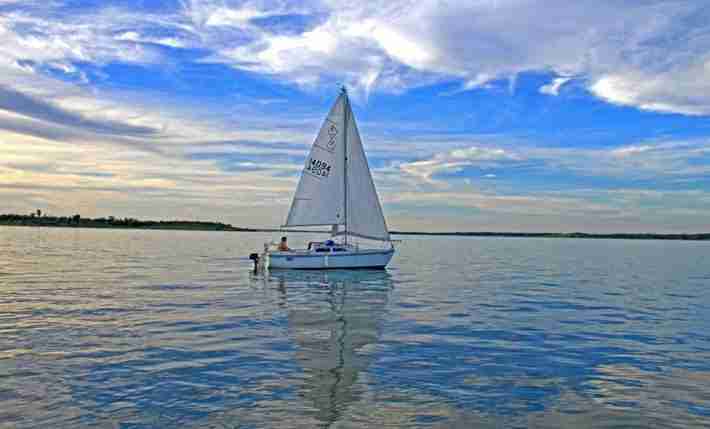 8. Land the big one at Milford Reservoir, one of the top 10 things to do in North Central Kansas
Numerous fishing tournaments come to Milford Reservoir, the centerpiece of Milford State Park. A 6.88-pound, state-record smallmouth bass came from Milford. If you're an angler, go where the championship fish swim. Expect to catch something every time you make the trip. With 5,700 acres of lake and 160-plus shoreline miles, you'll find a fishing hole. Pursue bass, catfish, walleye, crappie, sunfish, sauger, white bass, and wipers. Why are you waiting? Grab your rod and reel, buy a fishing license, and go to Milford.
Pro tip: See where your fish hatch at the Milford Nature Center and Fish Hatchery. Learn how to bring nature home to your backyard at the nature center. Eat at JC's BBQ & Grill in Junction City and stay at the Acorns Resort next to the state park.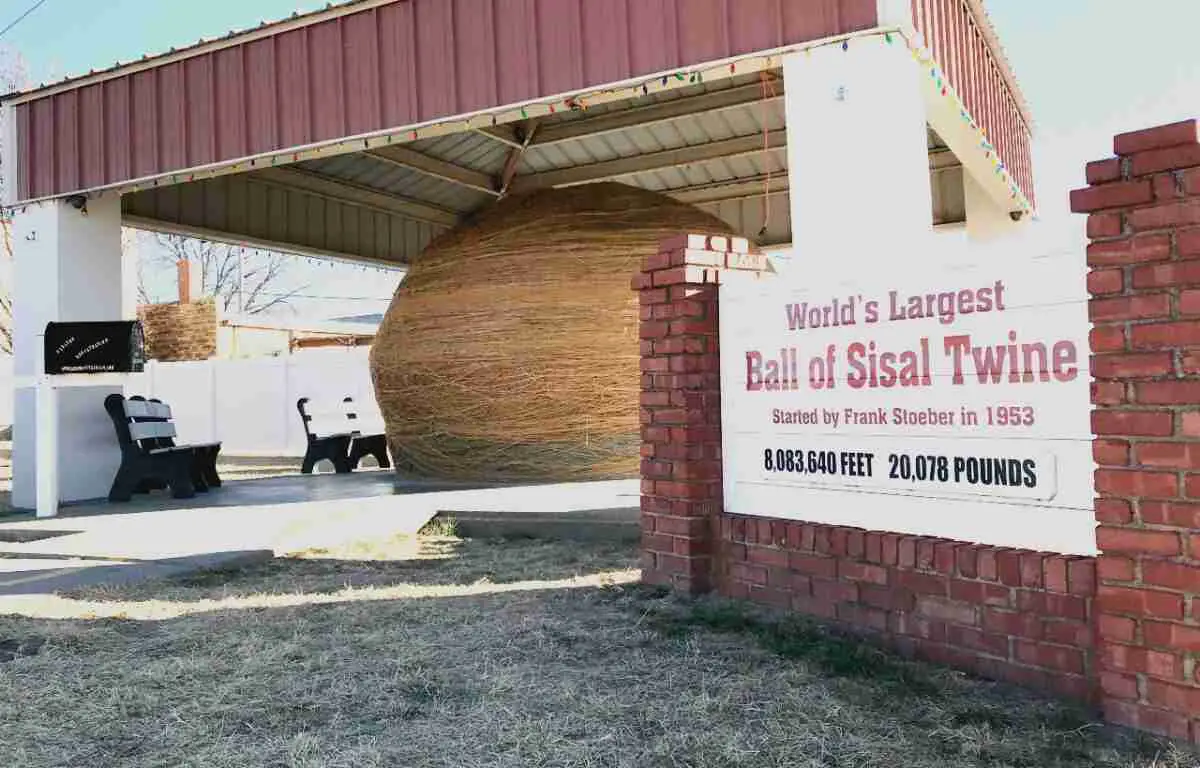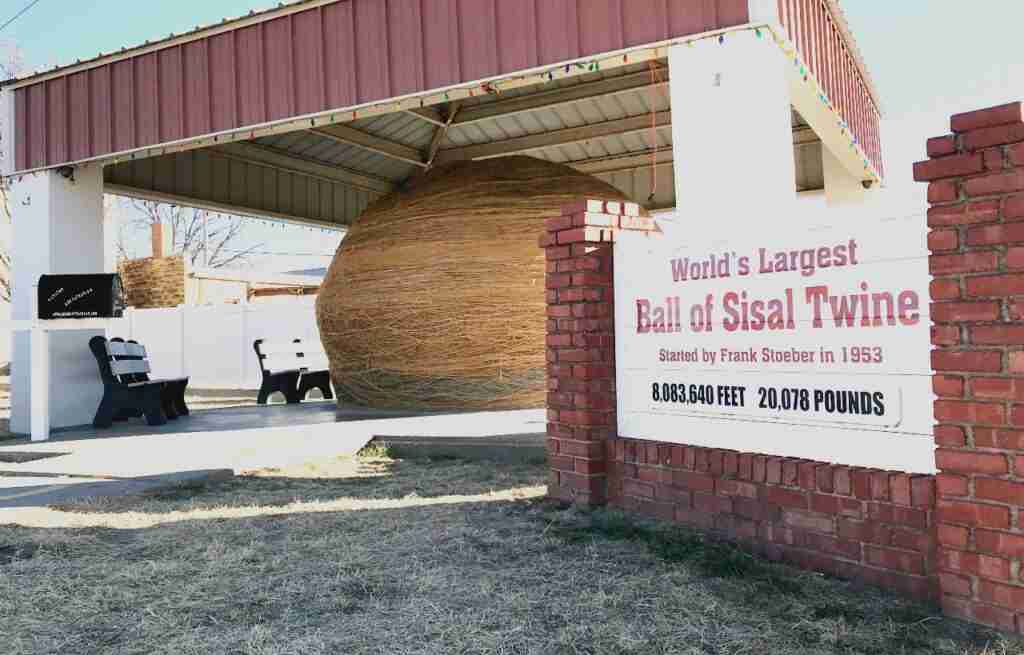 9. Tie one on at the World's Largest Ball of Sisal Twine, Cawker City
A huge ball of sisal twine squats under a gazebo beside Highway 24. A sign proclaims its status as the World's Largest Ball of Sisal Twine. During wet weather, the ball exudes a musty perfume. As a hobby, Frank Stoeber started using leftover twine to form a ball. At his death in 1974, the ball included 1.6 million feet of twine and spanned 11 feet. It's still growing. Cawker City holds its annual Twine-a-Thon on the third weekend of every August. Celebrate the twine ball and add more to it. Visitors are welcome to add some string to the twine ball, but only if it's official. To tie one on, contact the official caretaker. The ball is one of Kansas's 18 world record holders.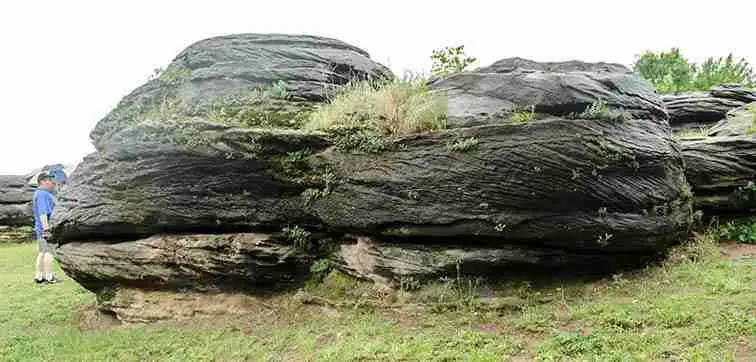 10. Go bowling with the World's Largest Cannonball Concretions, Minneapolis
Rock City is the 10th of our top 10 things to do in North Central Kansas. A battered bowling ball convention would look like Rock City, except these 200 battered, cracked, and scored balls are giant-sized. Perhaps the giants tired of their games, removed the pins and then rolled the balls into clumps. Since the giants' games, plants have grown in the cracks. Rock City is one of our seven best rock formations in Kansas. In reality, the balls are the world's largest cannonball concretions, formed under the primordial Western Interior Sea. Before you get back in the car, stretch your legs on the mowed nature trail on the park's west side.
Pro tip: Explore the life of George Washington Carver at the Ottawa County Museum in Minneapolis. Eat in the Blue Moon Restaurant.
More to explore
Concordia and Minneapolis have sites that are part of Abraham Lincoln's Kansas legacy. Find more adventure in North Central Kansas, all of Kansas, and the Midwest.