Clay Center's A Mural Movement has propelled the city to the forefront of Kansas's growing fascination with street art. In two years, Clay Center displays 25 murals. However, the city's street art collection is not the only reason to visit Clay County. Enjoy shopping, dining, the outdoors, and surveying its industry. Let's explore Clay County.
Clay County organizations sponsored my visit, but all opinions are my own.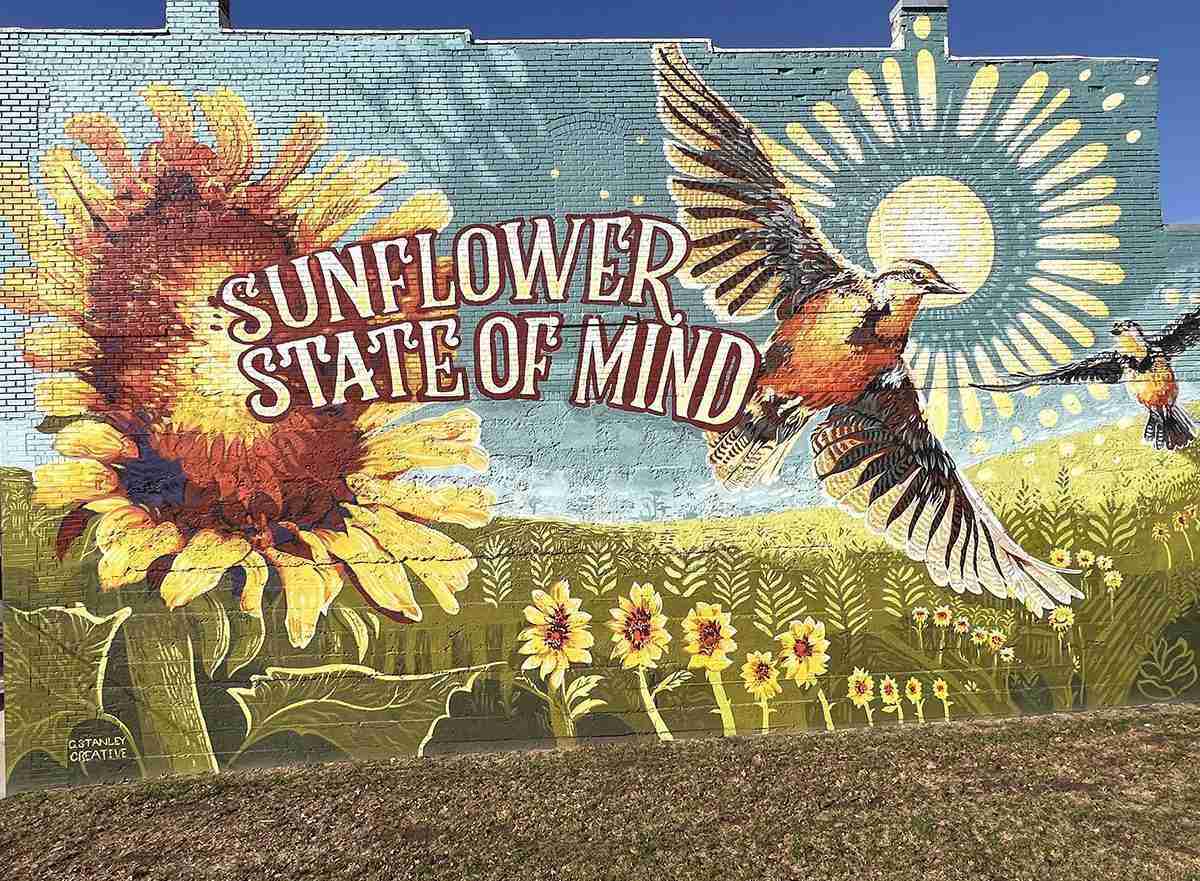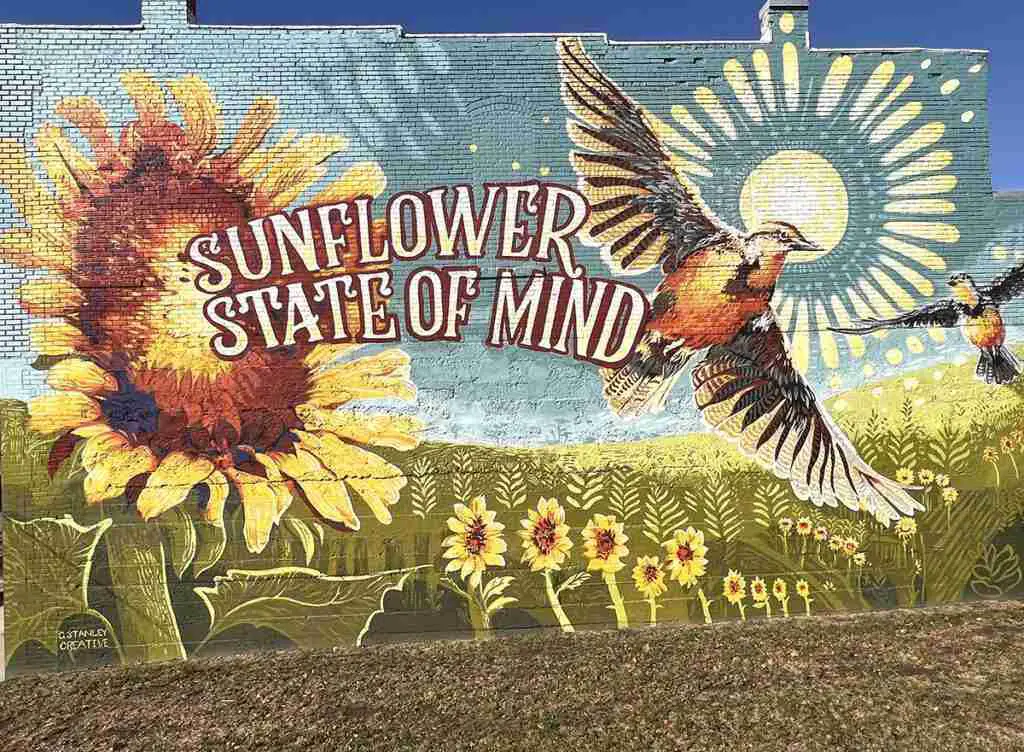 1. A Mural Movement, Clay Center centerpiece
When Brett Hubka became the Clay Center Rotary Club's president, he remembered that a team of Kansas State students had proposed a mural as part of a downtown improvement plan. The project exploded. The mural committee, A Mural Movement, received $15,000 in donations to start painting the town. The first project turned a collection of Kansas license plates into a Kansas Highway 15 sign. The plates' reflective covering makes the mural glow when headlights hit it. Other murals followed. The most noticeable one is Key Feeds' elevator, home to Bucolic America, where a red barn and windmill stand above a cow and calf in a lush green field. I enjoy the Kansas Stamp mural, a replica of the 1954 Kansas Territorial Centennial stamp with a Clay Center postmark.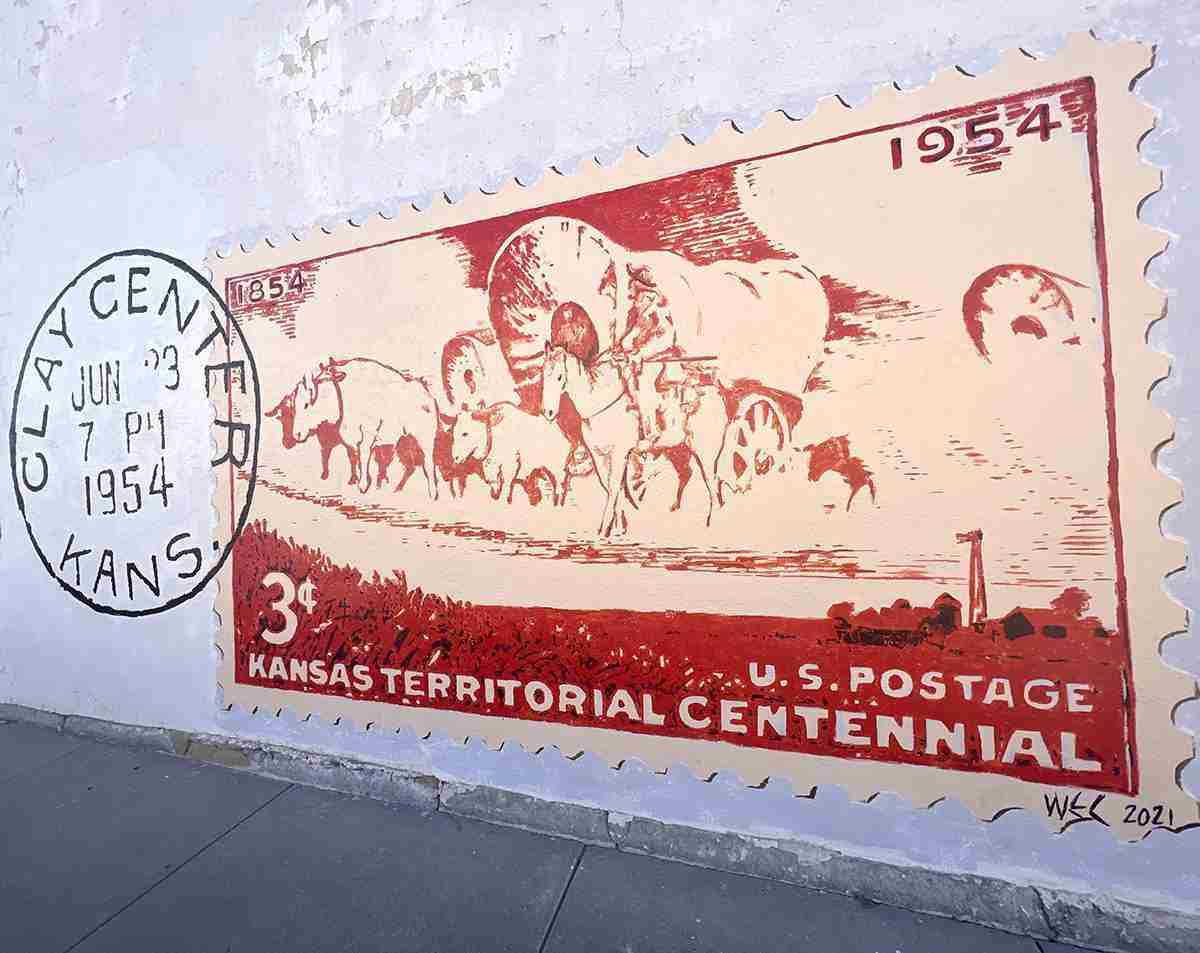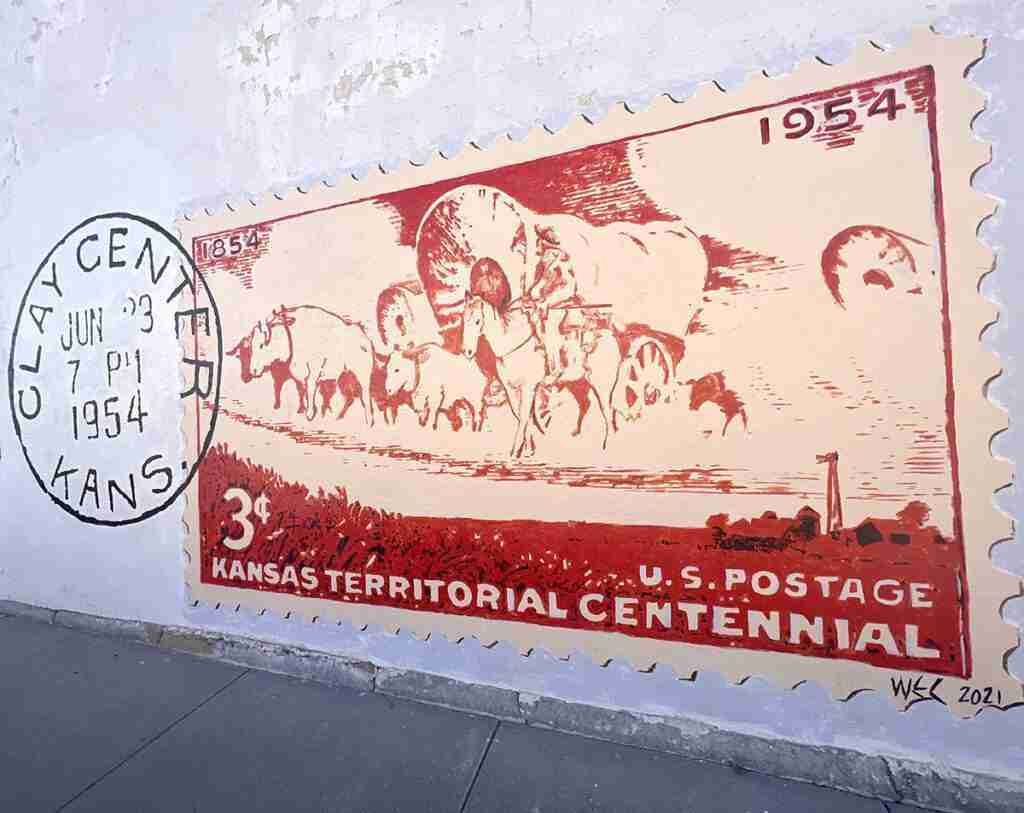 In 2022, Christian and Jessica Stanley of C. Stanley Creative painted Clay Center's 25th mural, the vibrant 2,080-foot Sunflower State of Mind. While the couple resides in Orlando, Florida, Jessica comes from Central Kansas. After the pandemic kept her away from her family, Jessica enjoyed being at home in the Sunflower State.
The murals put Clay Center in my upcoming book Secret Kansas: A Guide to the Weird, Wonderful, and Obscure.
Roxie's reliable report: Most murals cluster around the Clay County Courthouse Square, but Longford and Green have them, too. Pick up a mural map at Grow Clay County, in the display next to Java Junkies, or open the Google version. Each mural has a QR code attached nearby. Scan the code to learn more about the mural and its artist. Longford and Green also have murals.
Morganville is the smallest Sister City community. In 1948, the town adopted Feves, France.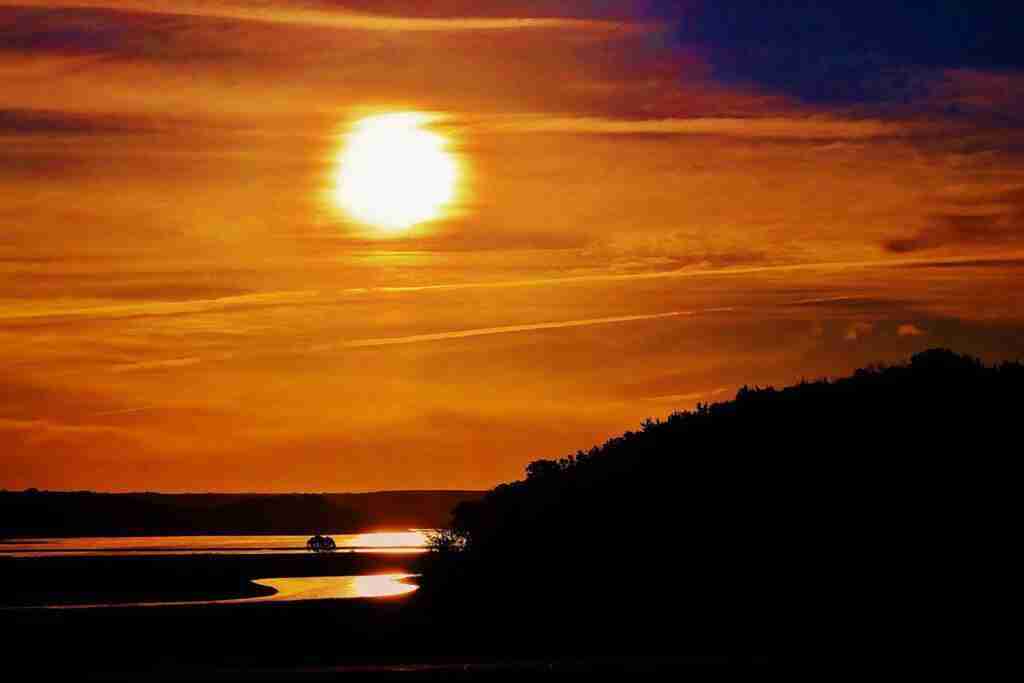 2. Milford Reservoir
Milford Reservoir's northwest arm stretches into Clay County. It's the state's largest artificial lake at 16,200 acres. The lake measures 65 feet at its deepest point. Fish for catfish, crappie, walleyes, wipers, largemouth, smallmouth, and white bass. Check the fishing forecast and creel limits, and buy a fishing license before you go. Wakefield has several boat docks, but all boat operators must pass a boating safety course.
Roxie's reliable recommendation: Clay County Park in Wakefield offers campsites by Milford Reservoir. The sites on Washington St. are closest to the lake.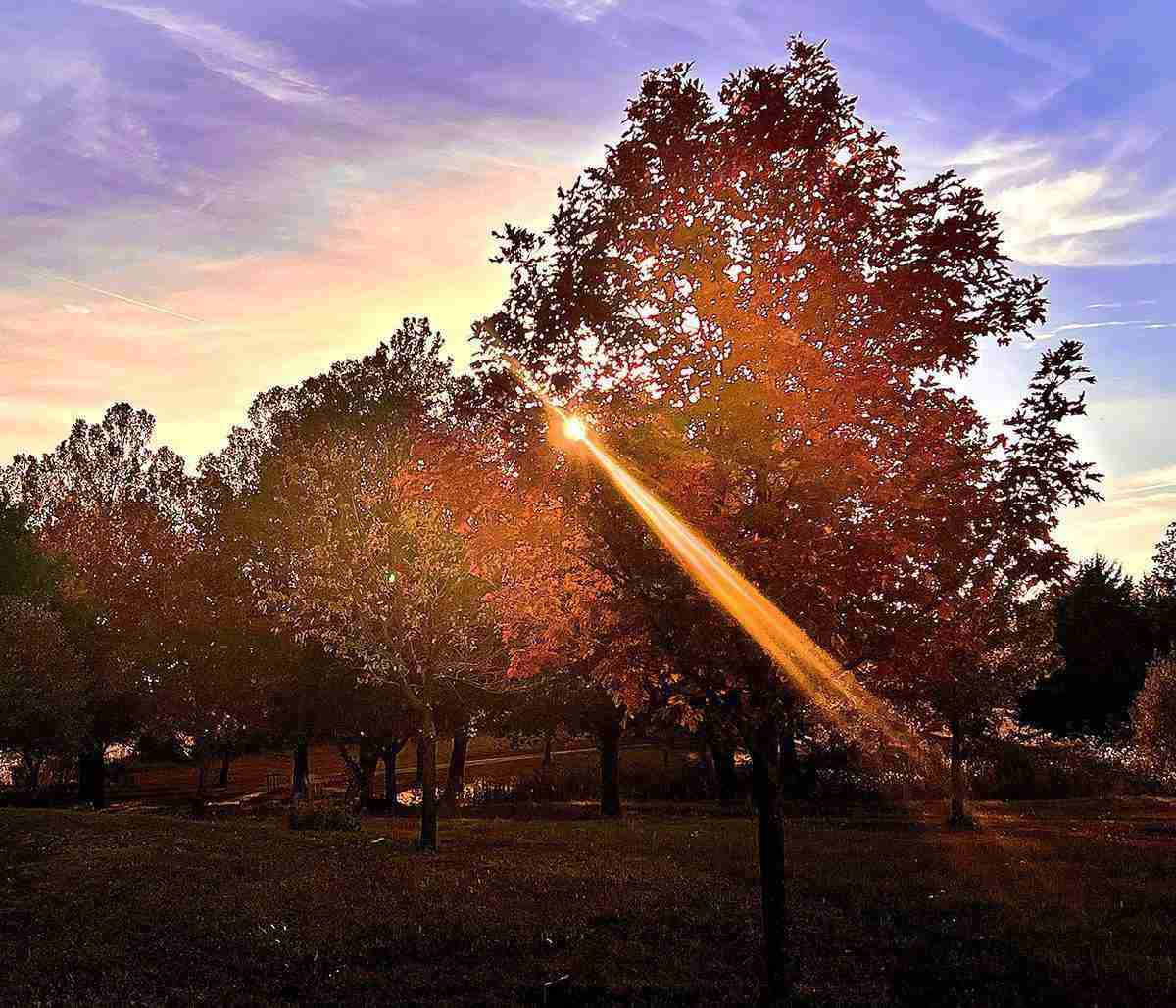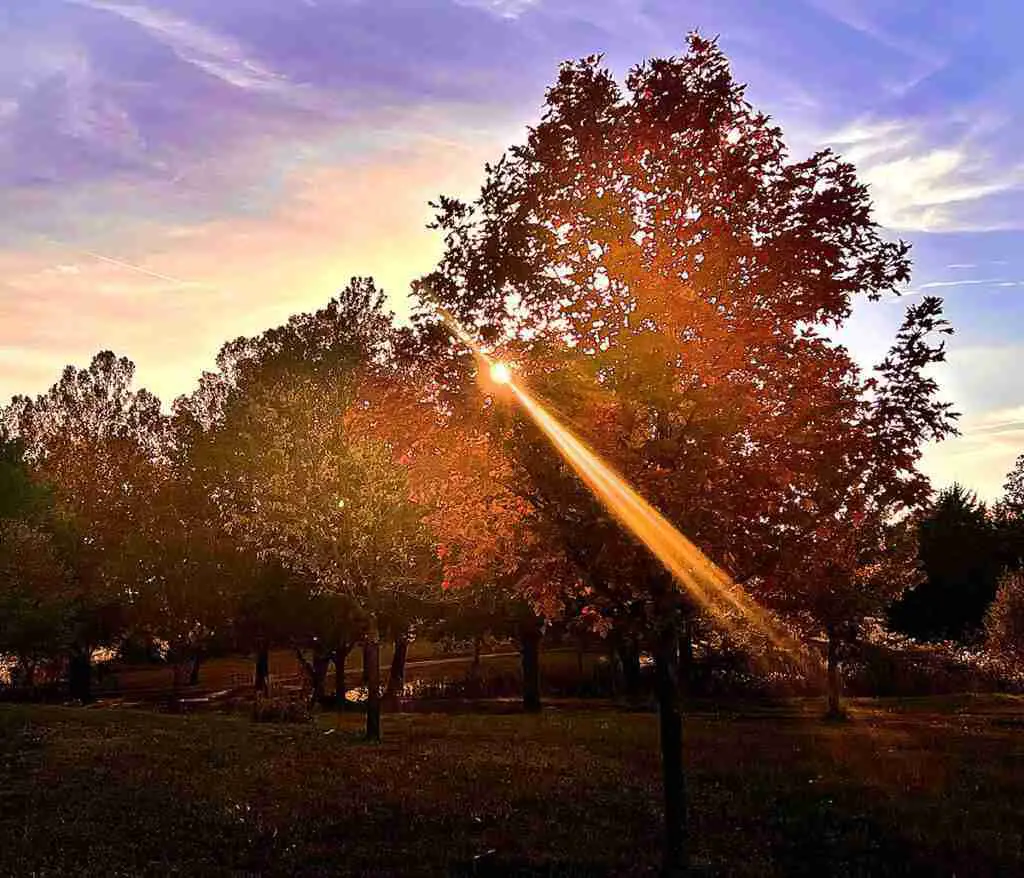 3. Kansas Landscape Arboretum
The Kansas Landscape Arboretum south of Wakefield puts on a show each fall. In the spring, a grove of crabapples is full of flowers. Summertime produces a shady oasis. The arboretum leased 193 acres from the US Army Corps of Engineers and planted 25 trees in 1972. Now the property includes more than 1,000 plant species.
Winding roads allow guests to drive around the preserve, but walking offers a better experience. The Meadow Willow Trail crosses seven bridges, including a covered bridge, in its half a mile. Discover Kansas wildflowers in the quarter-mile Wild Acres Trail. The mile-long Woodland Trail traverses a bird sanctuary and passes a small pond. Approach the pond quietly to see more birds.
Instead of following the trails, I wander wherever my feet take me. Look for lake views between the trees. Watch for deer and waterfowl.
Roxie's reliable recommendation: Follow the arboretum's directional signs because map apps tend to lead guests astray at the last turn.
---
4. Milford/Steve Lloyd Wetland Areas
Milford Wetlands Area begins where the Republican River drains into Milford Reservoir's north end. The wetlands are earthen embankments with rock-covered spillways. Numerous birds, fish, and land animals use the area for breeding, nesting, feeding, and resting. Milford Wetlands surrounds the Steve Lloyd Wetland, providing 20,000 acres of wildlife habitat.
Roxie's reliable recommendation: For the best wildlife watching, park near Highway 82's causeway across the reservoir's north end. Also, bring your binoculars or spotting scopes to Clay County Park. The reservoir's open water attracts numerous bald and golden eagles each winter. White pelicans visit in the summer and fall. Migration seasons attract waterfowl.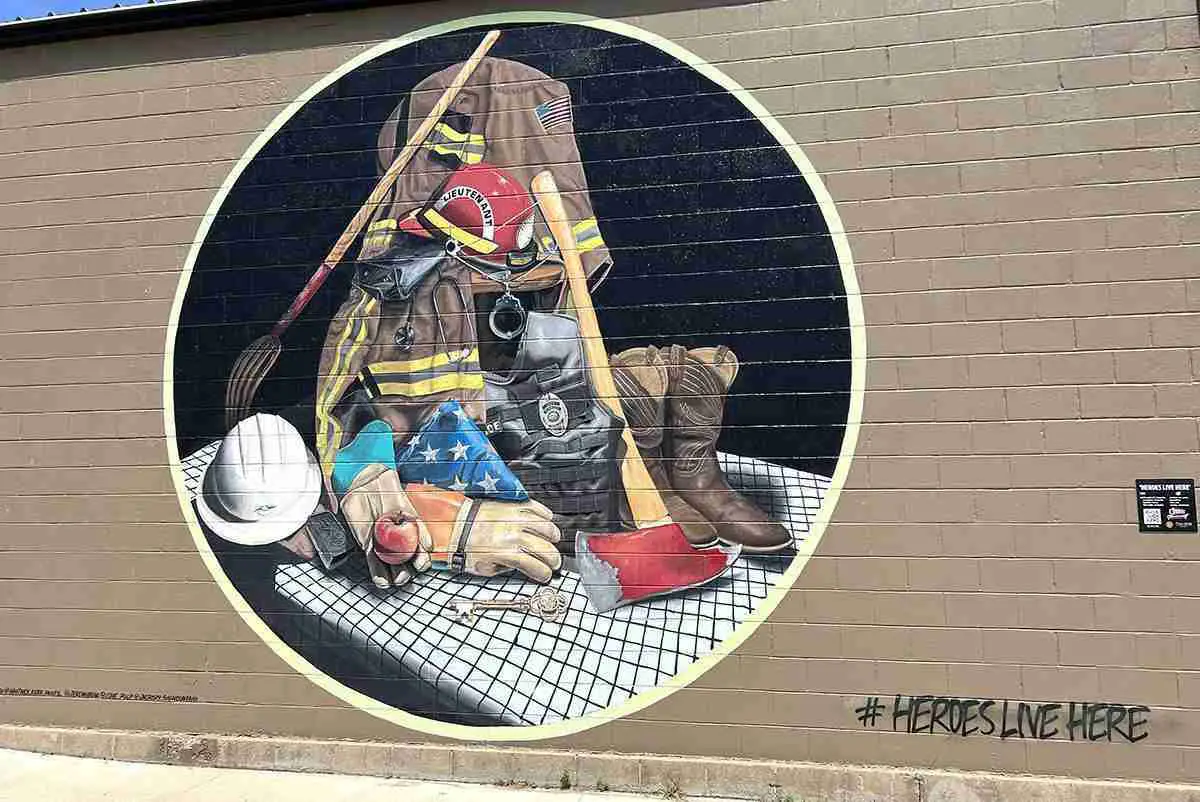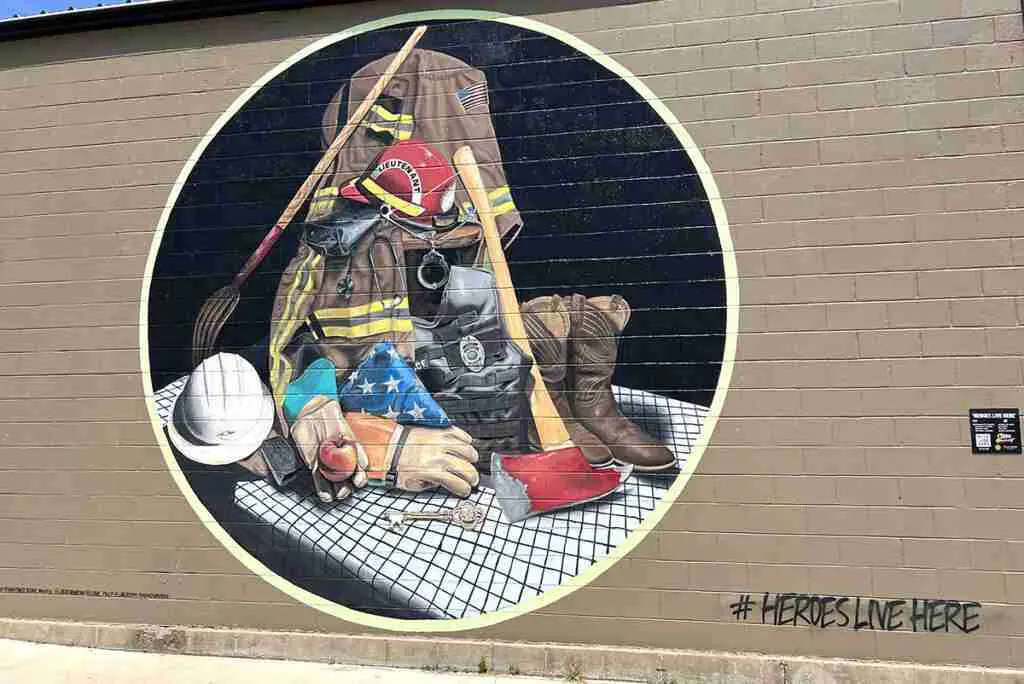 5-14. Downtown Clay Center
Downtown Clay Center is Clay County's commercial hub. Shopping and dining options await.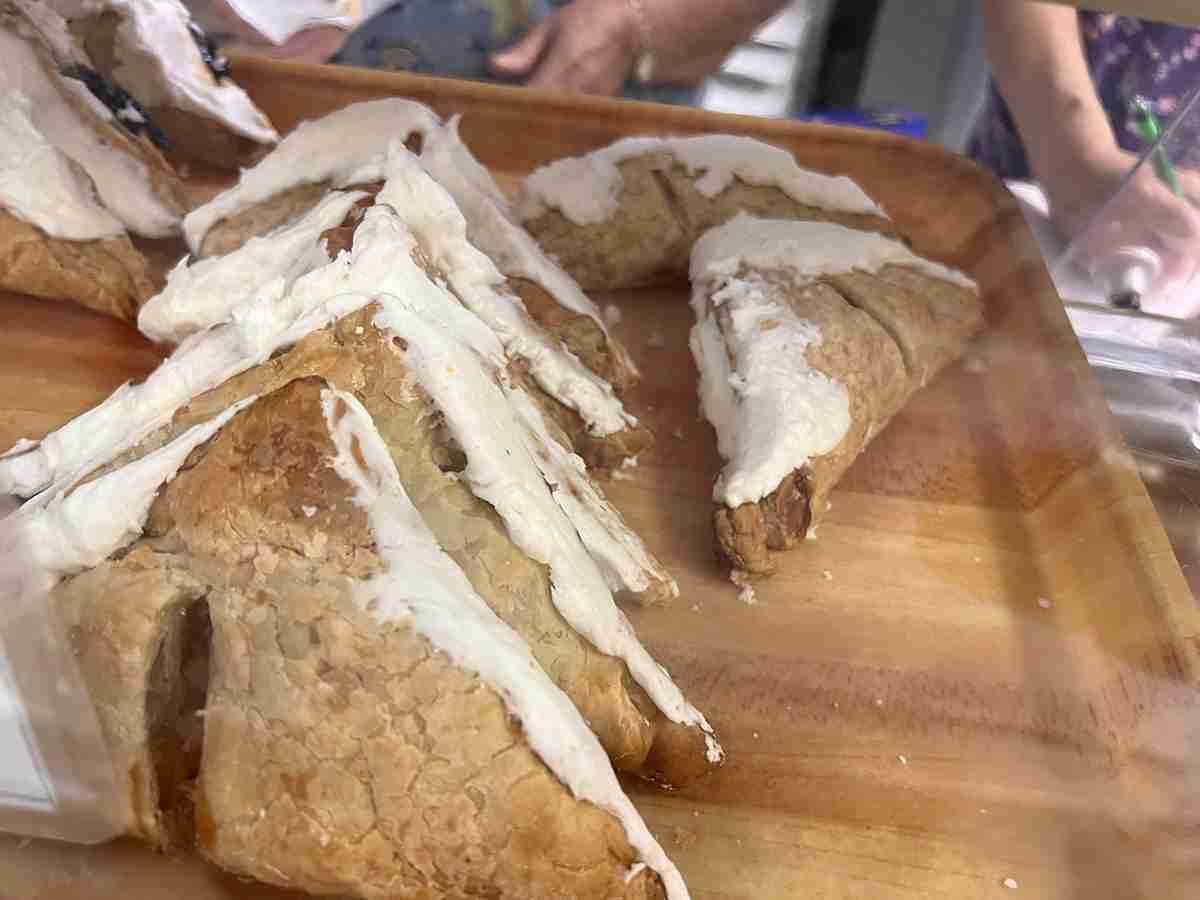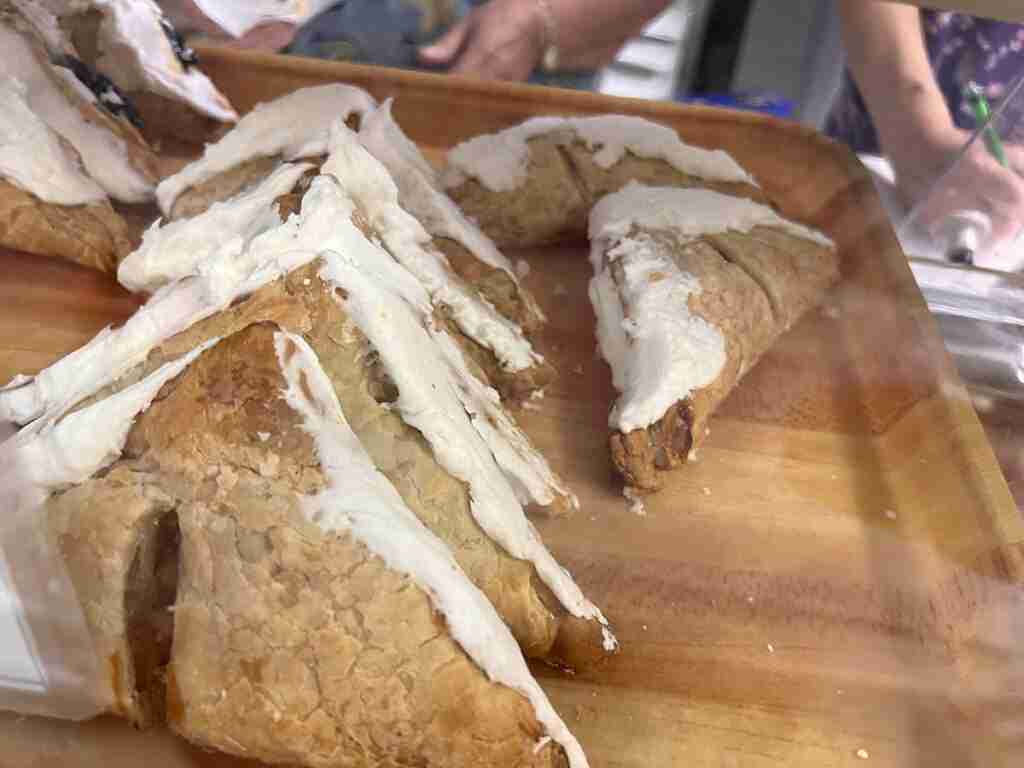 I love coffee: Tasty Pastry and Java Junkies
Start the day at the coffee shops. The Tasty Pastry Bakery & Coffee Shop is an old-school hangout with luscious pastries in a display case and tables full of local folks starting their day with friends. The bakery's turnover is not one of those skimpy pastries with one piece of fruit and a thin swipe of filling. Instead, the bakers stuffed it with goodness. Java Junkies next door is a new-school coffee shop with plenty of attitude. I enjoyed sausage and cheese on a toasted English muffin with delicious chocolate cinnamon coffee.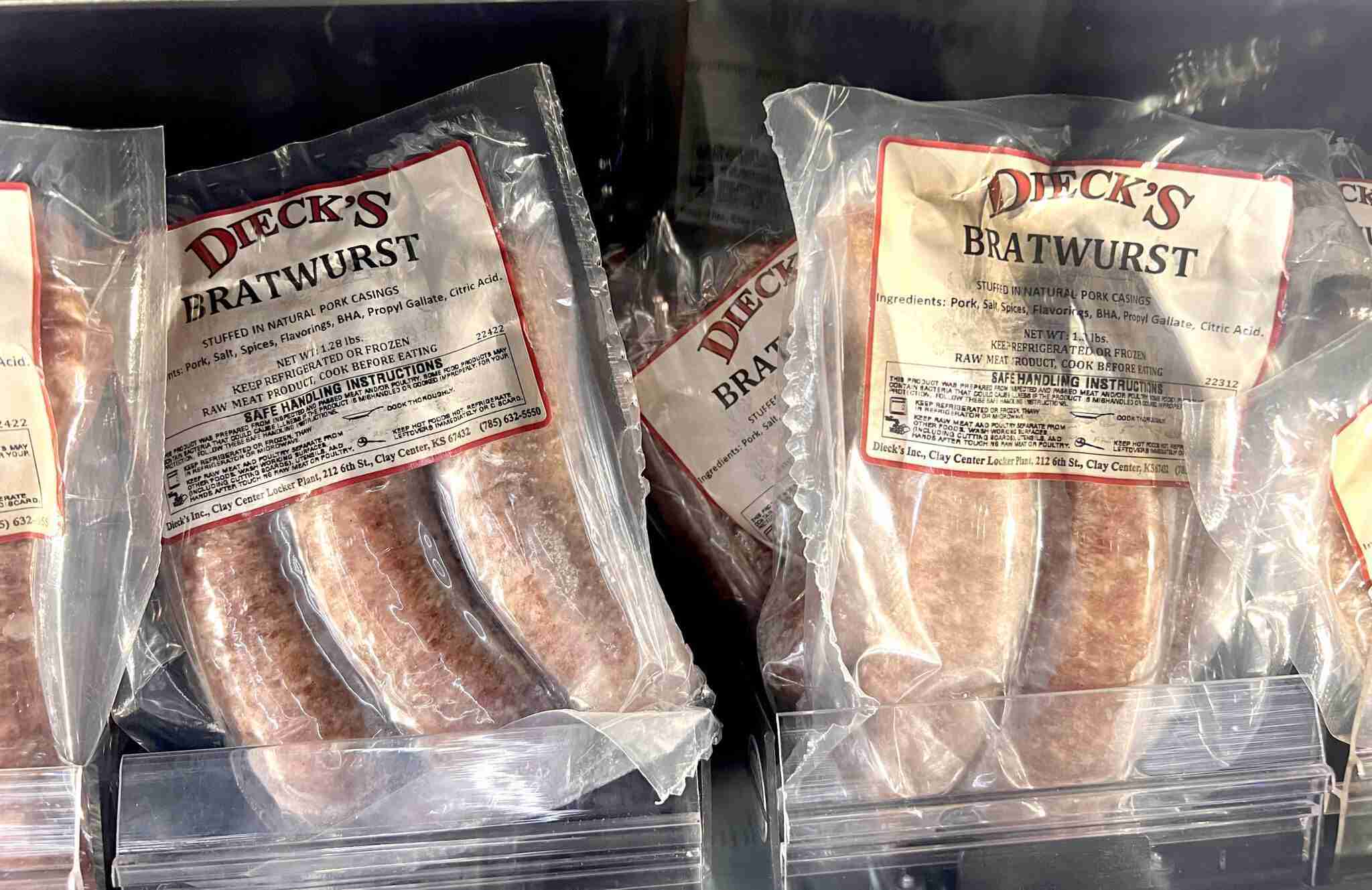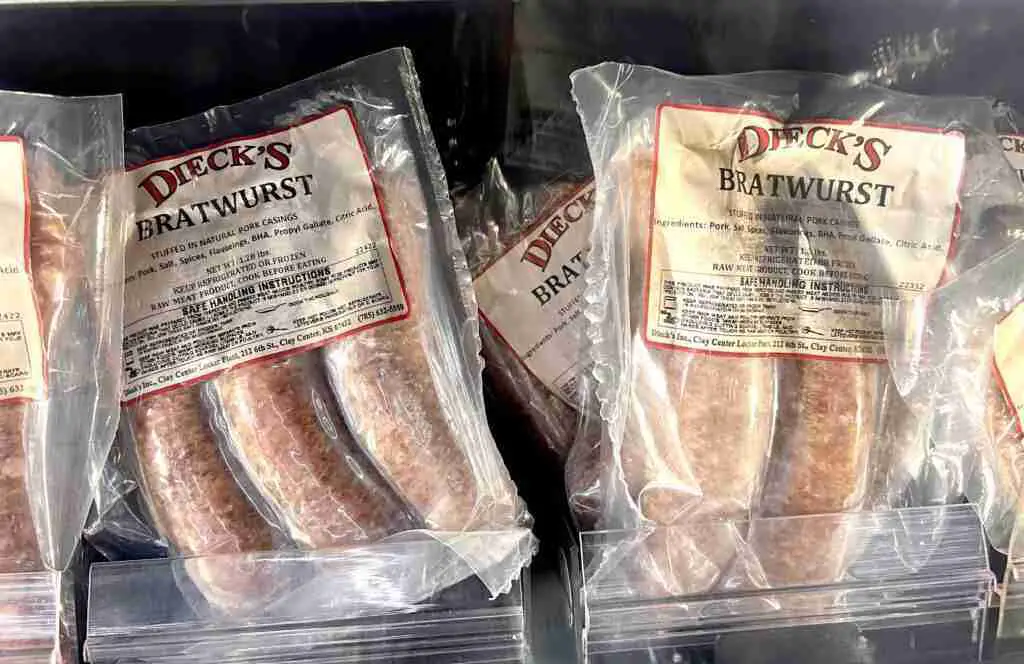 Gourmet food and more: Dieck's and Ginger's
After breakfast, enjoy some shopping. I don't own a cooler large enough to bring home everything I wanted from Dieck's Clay Center Locker. A fire destroyed the original plant in March 2021. The store reopened in a remodeled Dollar General store that December.
When I walked into Dieck's store, one of the staff was packaging house-made jerky. I decided to buy some Dieck's sausages. Even with that limitation, I dithered for some time. They all sounded so delicious. I chose bratwurst, Cajun sausage, and teriyaki pineapple sausages; they each lived up to their appearance when we ate them.

Complement your Dieck's purchases with a visit to Ginger's Uptown. It's a one-stop boutique where you can buy apparel, gourmet food, and kitchen gadgets. We love bourbon, and Ginger's has all kinds of bourbon-flavored goodies, like bourbon-smoked garlic salt and bourbon-smoked chocolate salt. Olive-oil fiends like us rave over the refillable bottles of curry-infused olive oil.
Roxie's reliable recommendation: Sample the homemade truffles.
The store has everything you need for decking your halls. The Uptown Girls discuss their new inventory weekly during their Thursday Coffee Talk.
Fudge at the Patterson HealthMart Pharmacy
Clay Center's Patterson Pharmacy offers much more than prescriptions. Start with their housemade fudge in delectable flavors like pumpkin praline, or indulge in an ice cream cone. Pick up your K-State and KU souvenirs and electronics.
The pharmacy also has assistive devices and fits diabetic shoes.
While you're there, buy my book, 100 Things to Do in Kansas Before You Die.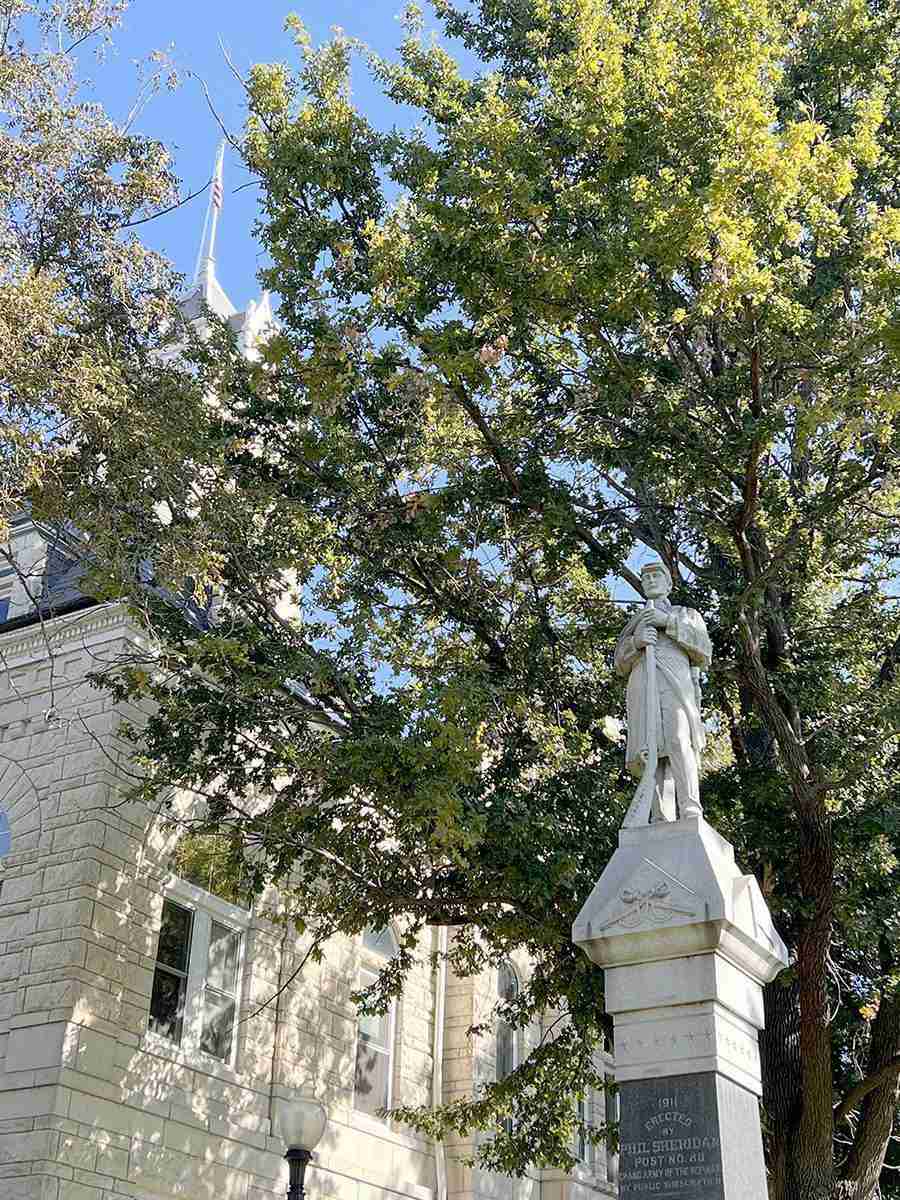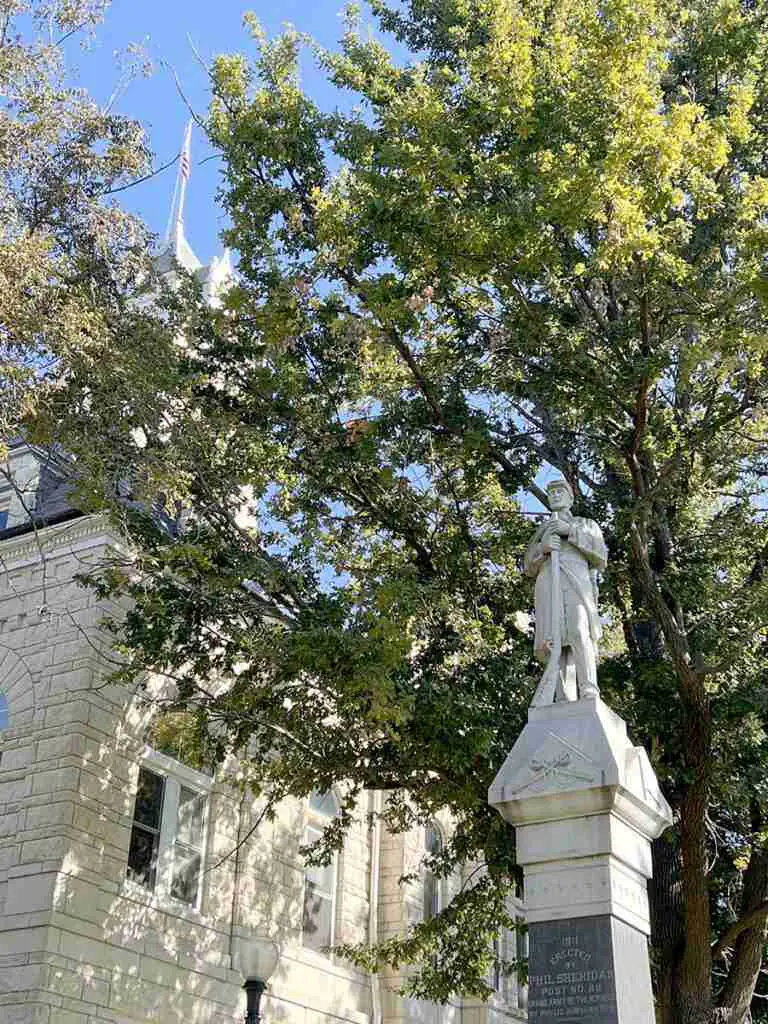 The Standing Soldier and the Clay County Courthouse
J.C. Holland designed the 1901 Richardson Romanesque-style Clay County Courthouse. It features a hip roof, stonework, and a central clock tower. The Phil Sheridan Post of the Grand Army of the Republic installed a standing Union soldier statue on the lawn in 1911. Much of downtown surrounds the courthouse square.
Roxie's reliable recommendation: The best time to view the courthouse is at night when the clock tower lights up.
Smooth(ie) operator: The Happy Hippie Club
The Happy Hippie Club has a vibe that crosses the classic rock era of the 1970s with the current aesthetic. The shop's logo is in a stereotypical groovy 1970s font, and classic rock pours from the speakers, but the décor is Fixer Upper-inspired. Be a little naughty: Sit at a chalkboard-topped table and doodle on it. The Happy Hippie even hands out the chalk.
I drank the Midwest smoothie, although Midwesterners don't grow mangoes or pineapples. I chuckled at that. We do grow strawberries, peaches, and local honey. I paired it with the matching Highway 24 Açai Bowl, featuring mangoes, peaches, strawberries, and local honey. It also includes housemade granola and coconut shreds.
Roxie's reliable recommendation: Tune up more than your digestive system with the Hippies. They offer yoga classes as well.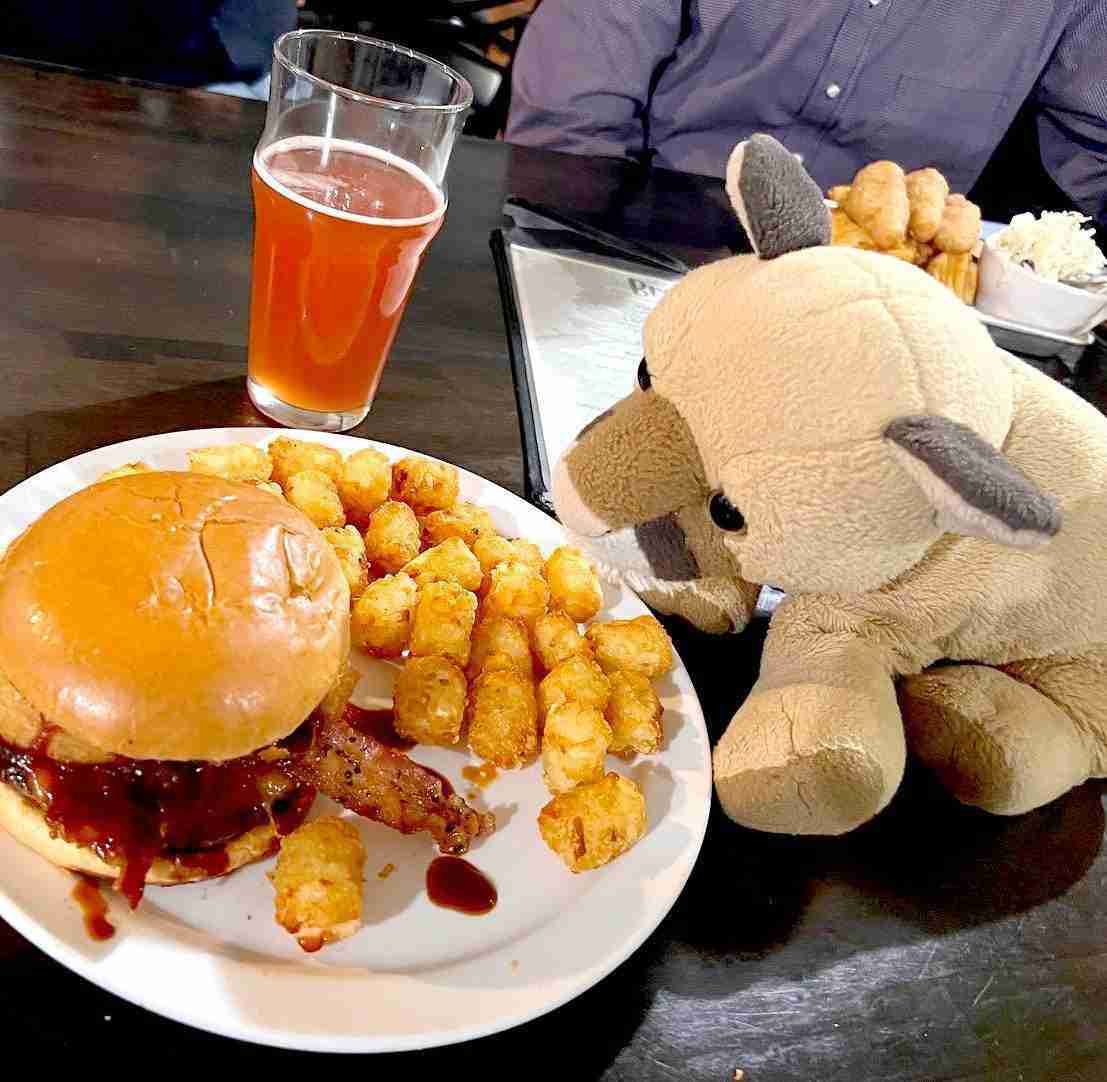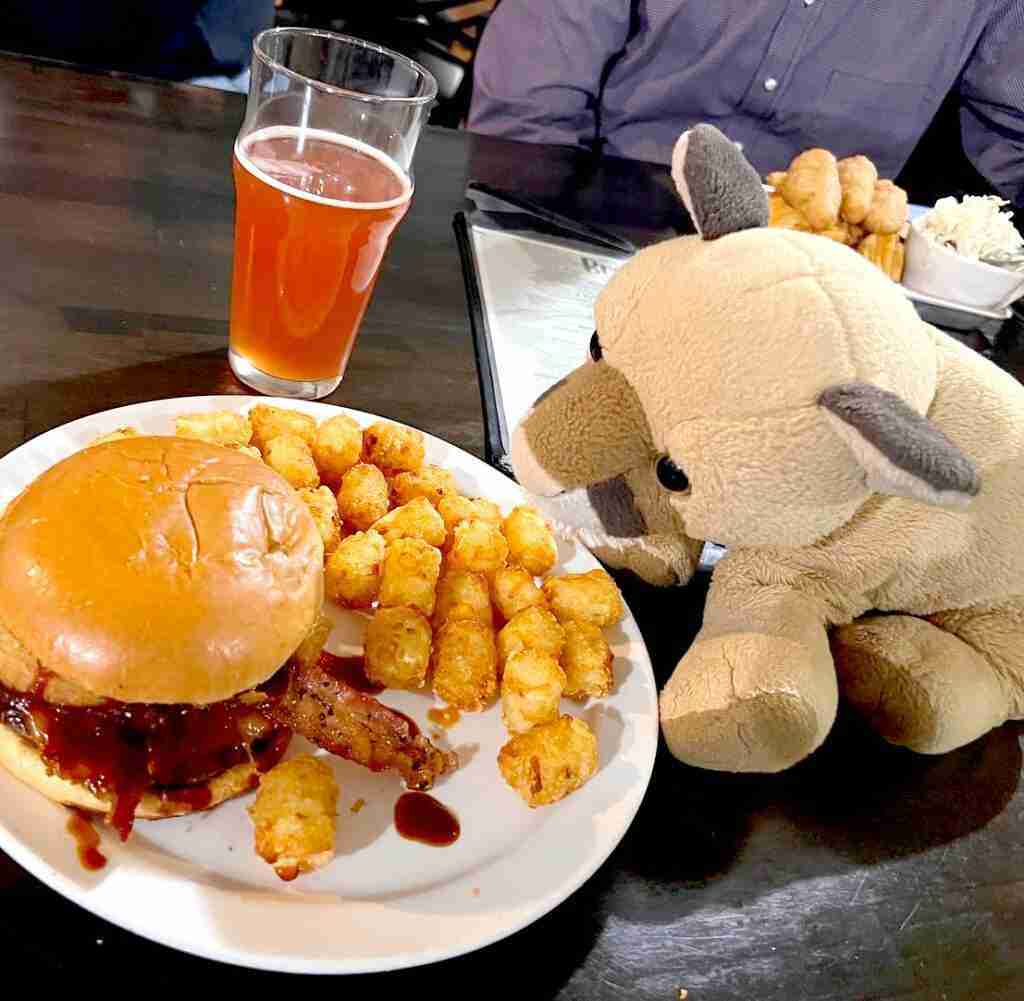 15-24 Brew House: Stop for the beer; stay for the food
15-24 Brew House is well known for its tasty beer, but it also serves excellent food. Taproom Manager Phil Kasper recommended the Bengal burger with cheddar cheese, peppered bacon, and an onion ring. entreé. My first bite provided an explosion of taste. The onion ring's breading gave the soft bun and meat extra crispness. The carrot cake was four layers thick.
I sampled Peel Out, the twice national champion Belgian wit beer, and Tangerina, a tangerine-infused farmhouse beer. But my wildcat travel companion Roadie demanded that we drink the Roadie Rhubarb. It's a perfect balance between tart and sweet, like drinking a rhubarb dessert. Roadie approves.
Rex Theatre in Clay Center
Clay Center's 299-seat Rex Theatre combines an early 20th-century ornate movie palace with 21st-century technology. During the silent film era, theatres hosted live performances along with the movie. The current theatre retains tradition by hosting first-run films and community events. The concession stand serves traditional movie treats plus adult beverages. During the summer, the theatre offers Free Movie Friday. When school lets out early, the theatre shows a movie for them. The Clay Center organization belongs to the Kansas Historic Theatre Association (KHTA), which works to preserve historic theatres like The Rex.
Related: Concordia, Great Bend, and Wamego all have KHTA theatres.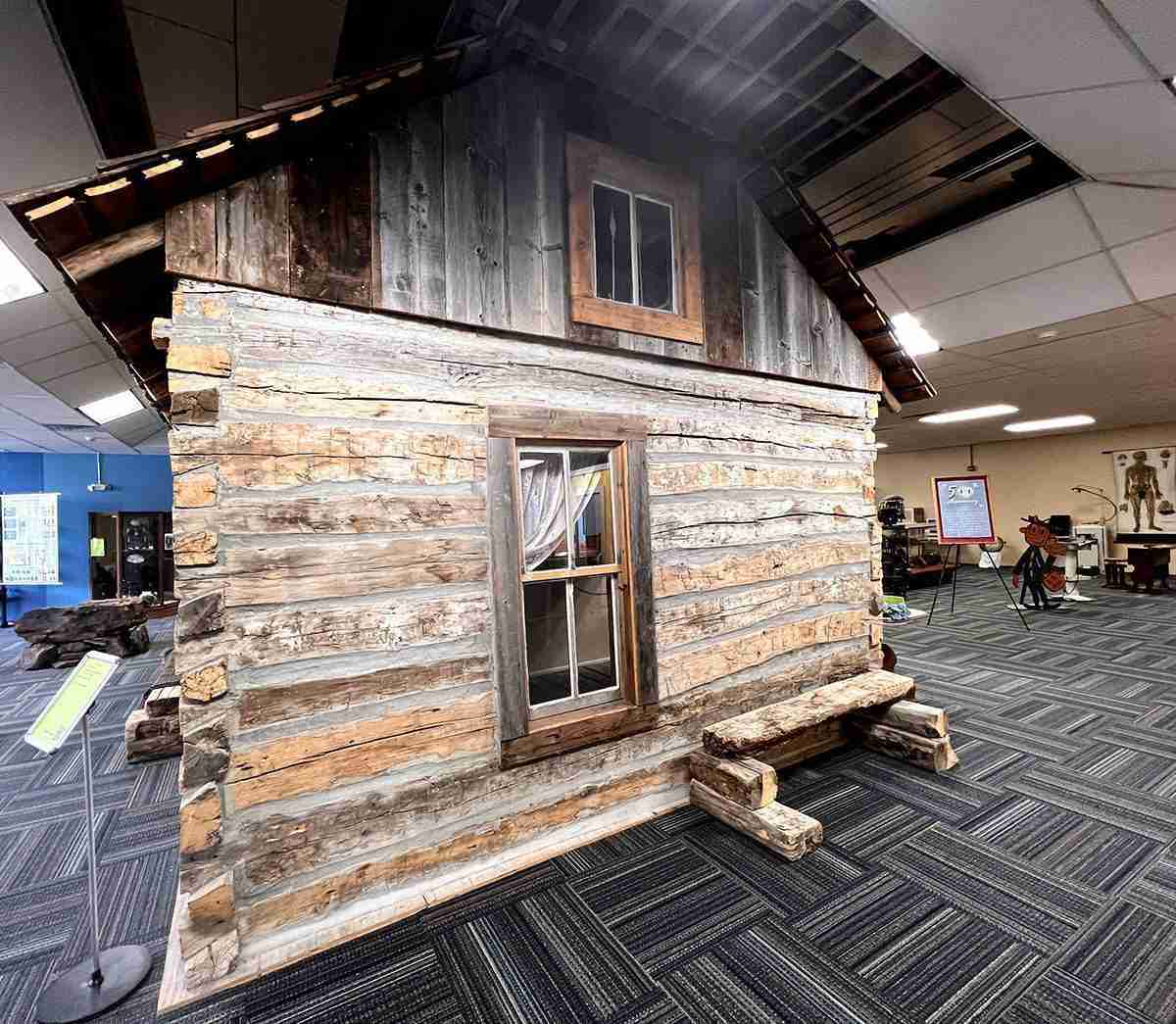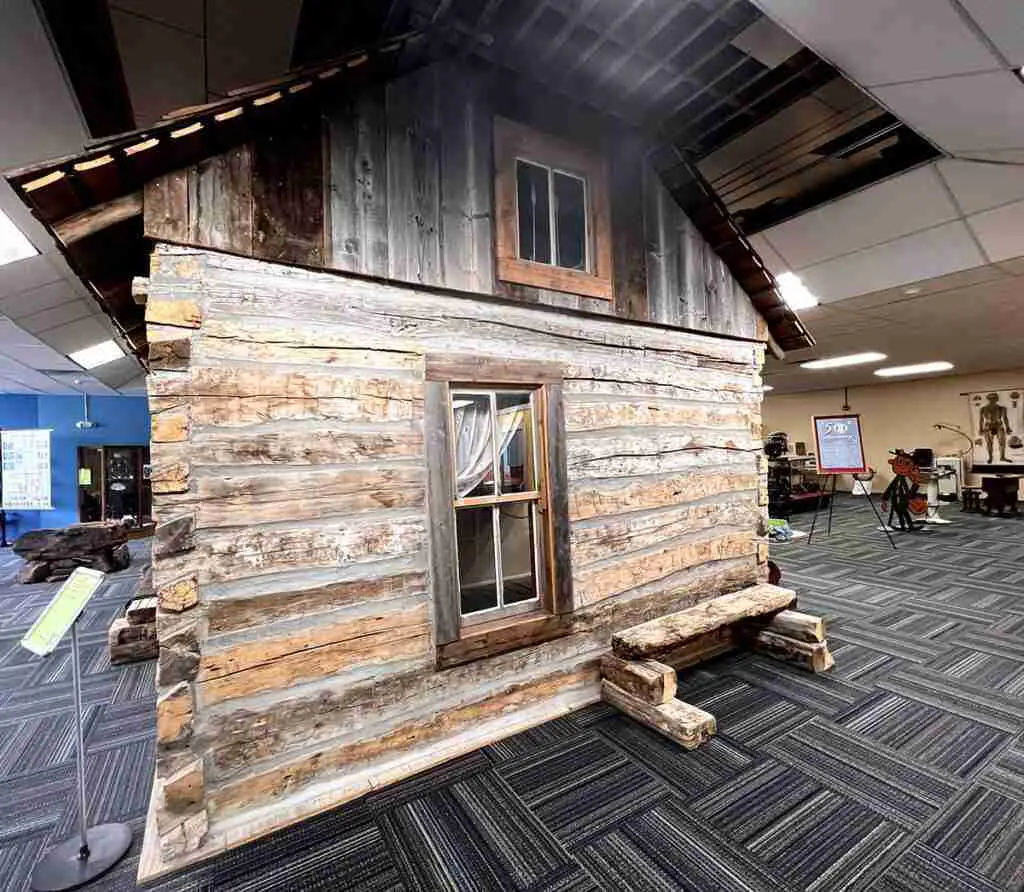 Clay County Historical Society & Museum
A log cabin and a hobo house stand in the Clay County Museum, a converted implement dealership. Of course, the reconstructed buildings aren't the museum's only features, just the most obvious. The log cabin combines two original cabins, the 1864 Adam Dexter cabin and Enoch Cummins's 1868 cabin. The museum had to remove ceiling tiles to fit the cabin. It's full of period furnishings. Nearby rocks explain Clay County geology. Native American artifacts cluster across the aisle.
The hobo cabin is upstairs with elaborate graffiti carved into the wall. The shed was railroad property, but hobos camped inside.
Look for the quilts on textile racks and community artifacts, including belt buckles from the Longford Rodeo.
15-16. Clay Center Utility Park & Zoo
Clay Center's Public Utility Commission acquired 10 acres for a well site in the early 1900s. When people couldn't pay their utility bills during the Great Depression, the commission allowed them to work off their bills by beautifying the area. The stone walls beside Fourth Street remain today. Utility Park won the 1933 More Beautiful America Award from Better Homes and Gardens.
A pair of wild ducks started the Clay Center Zoo in the 1950s. It's now undergoing significant renovations. The zoo recently added a bear and small primate exhibit. Bennet's wallabies and cheetahs are on their way. The park is also expanding its walking trails.
Roxie's reliable report: The Clay Center Public Utilities Commission plus donations fund the park and zoo. No public monies support them, and admission is free.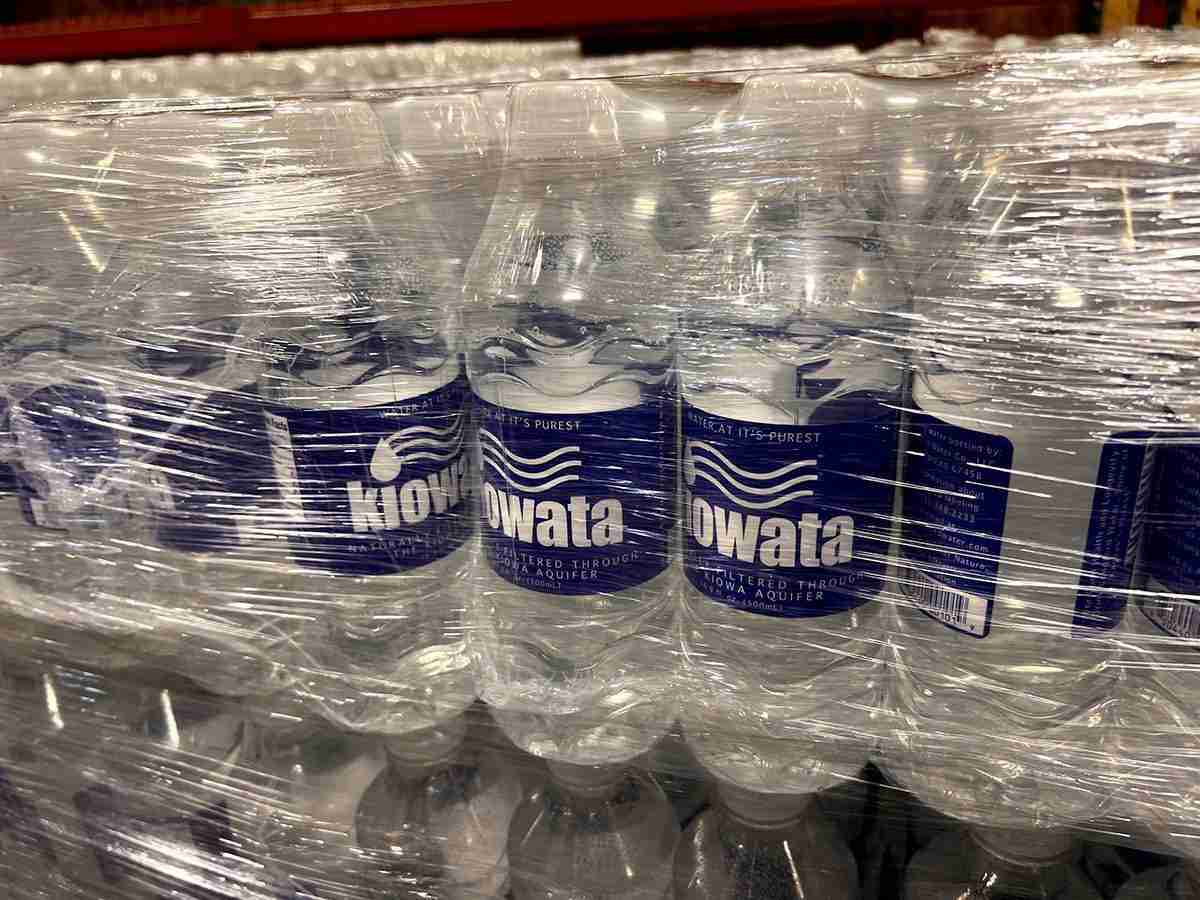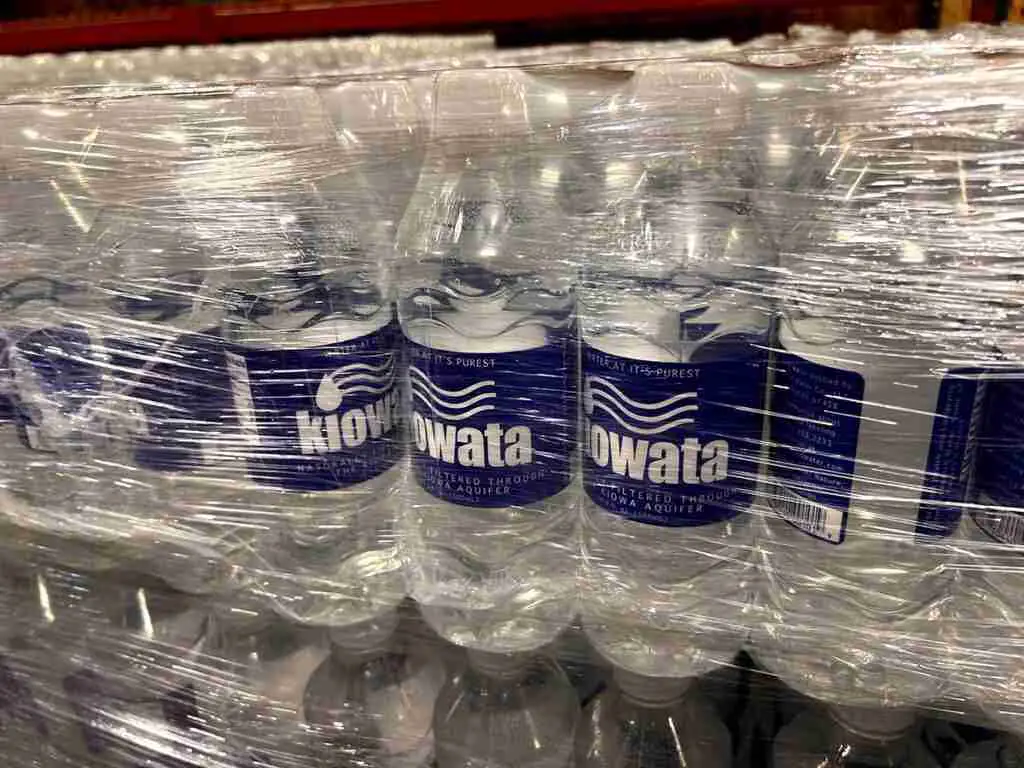 17-18. Factory tours
Factory tours are an opportunity to see how things work. I toured two industrial plants while in Clay Center. Too often, people think that the only rural jobs are farming, government, transportation, and health care. Clay County's third-largest employer, AGI Hutch and Mayrath, manufactures grain bins. I visited two other factories.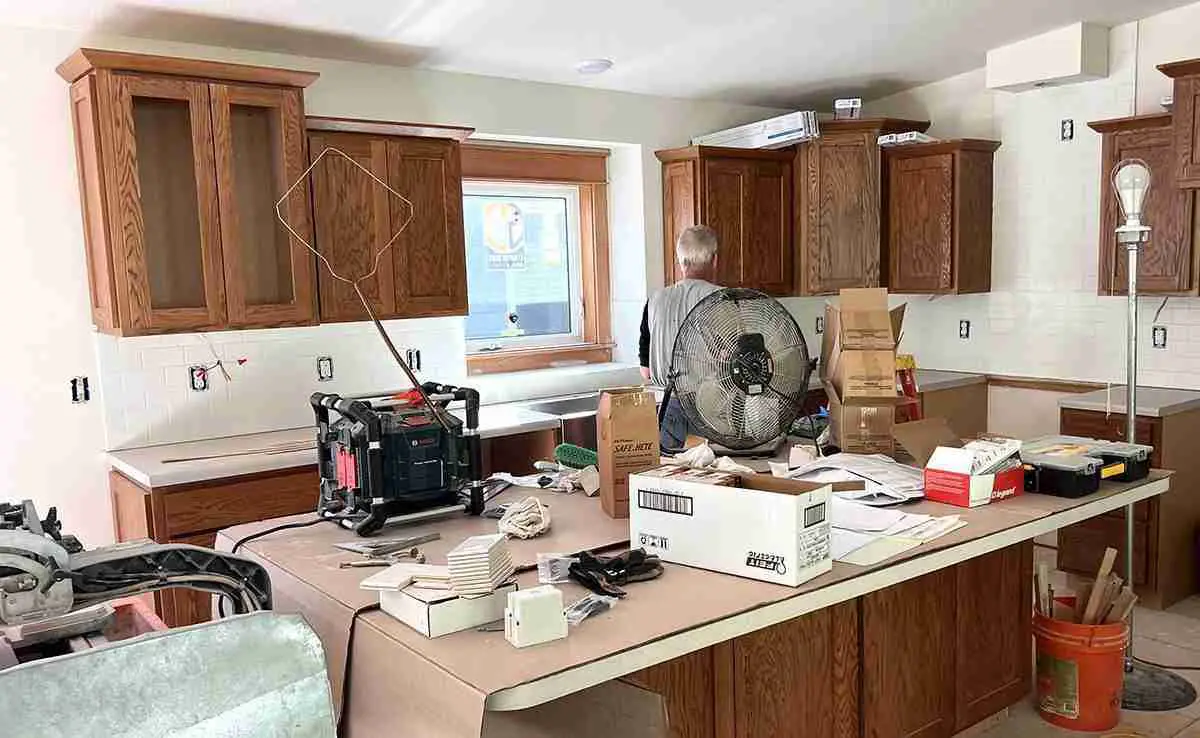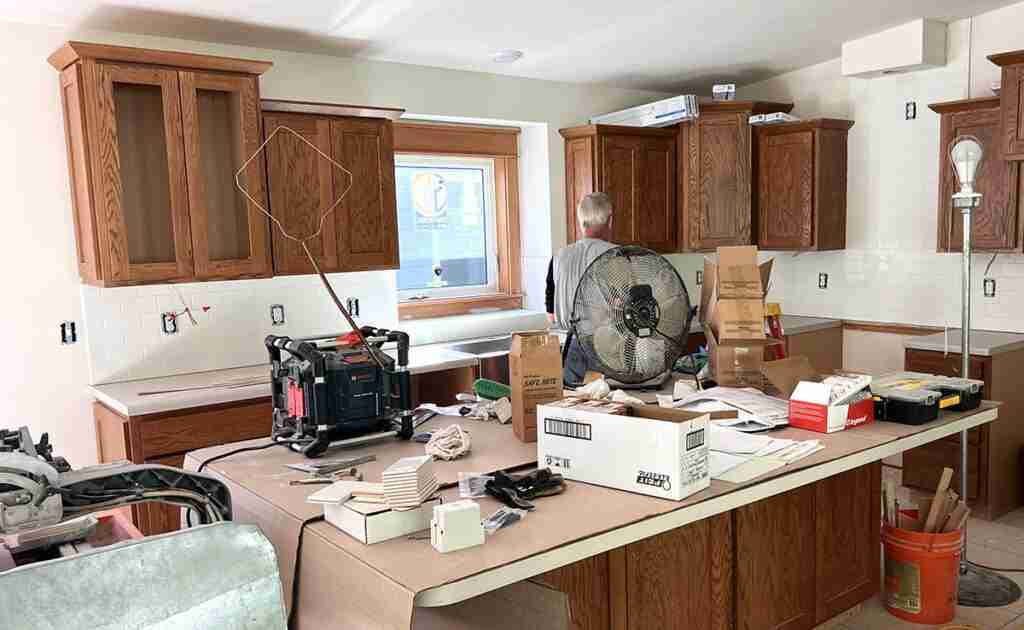 Wardcraft Homes: Custom houses brought to you from Clay Center
In 1989, my grandmother decided to move closer to us. We examined the show house at the Wardcraft Homes office in Minden, Nebraska, and they suggested we visit the Clay Center, Kansas, factory. We had never seen a house built inside a factory. The houses rolled on rails above a pit until completion. Then they awaited transportation to their foundation outside. My grandmother bought a Wardcraft home, and it's still in good shape today.
I was excited to see the current Wardcraft line. The homes now have many more options than when Grandma chose her house plan. I enjoyed seeing the stages of home building and picturing the delight on homeowners' faces when their homes arrived in their final locations.
Roxie's reliable report: Tours are available during business hours. Call for an appointment.
Longford Water: Kansas's Purest
In the 1930s, Longford drilled two wells 0.75 miles west of the town into the Kiowa Aquifer's sandstone. The well water was so soft and refreshing that people raved about it. Longford's water measures 43 parts per million on the hardness scale. Most Kansas water ranges from 250 to 300 ppm.
Roxie's reliable recommendation: While in Longford, enjoy some pie at the Coachlight Restaurant.
Longford routinely won municipal water contests at the Kansas State Fair. For decades, people suggested that Longford bottle its water for sale, but nothing happened. Then Ted Hartenstein of Wichita insisted that Longford turn the suggestions into reality. In May 2008, Don Conard, Topeka; Brad Cyr, Clay Center; Erik and Ted Hartenstein, Wichita; Kim and Wava Kramer, Longford; and Jerry Patterson of Wakefield opened Longford Water. They branded their product Kiowata in honor of the purifying aquifer.
Now the company sells Kiowata and produces private-label water for organizations and companies such as 24/7 Travel Stores. Visit the plant during business hours. View the operations through a window.
Related: Smoky Valley Distillery in Marquette uses Longford Water in its spirits.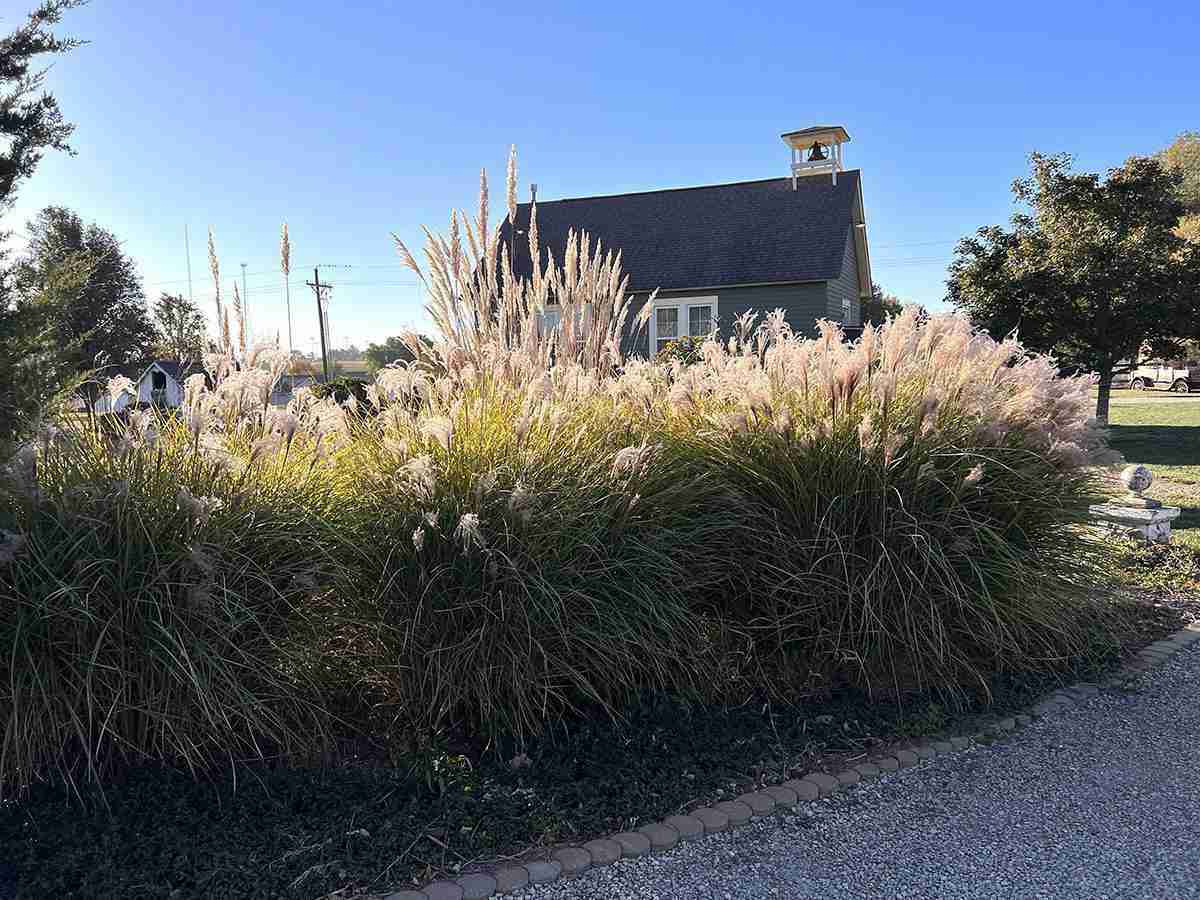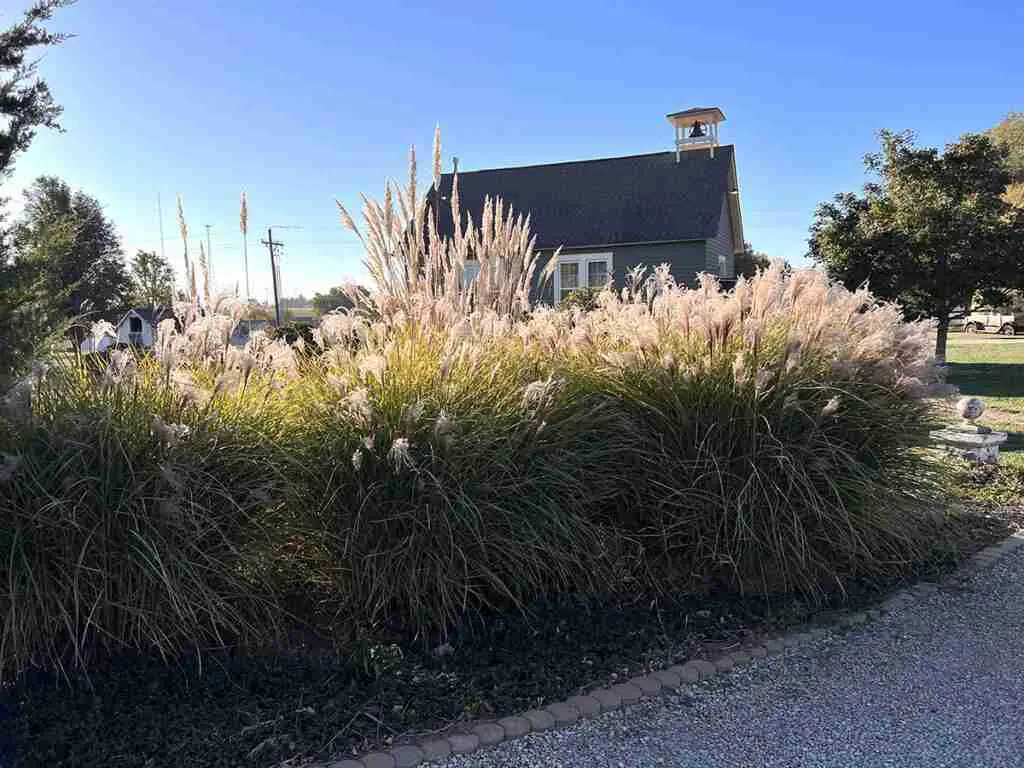 19. Schoolhouse Inn in Clay Center
I checked into the Schoolhouse Inn at 723 Franklin St. after dark. The property's lights bathed the structure in a welcoming glow. The interior's vintage throw rugs and furniture made it homey. It's a place to curl up in a recliner with a good book. The building retains its school bell and blackboard, a blank slate to take me wherever I want. Two bedrooms with comfy queen beds invite guests to rest. The one I chose had a bench crafted from a door. The doorknob became a hook. The schoolhouse offers a microwave, a small refrigerator, and a Keurig.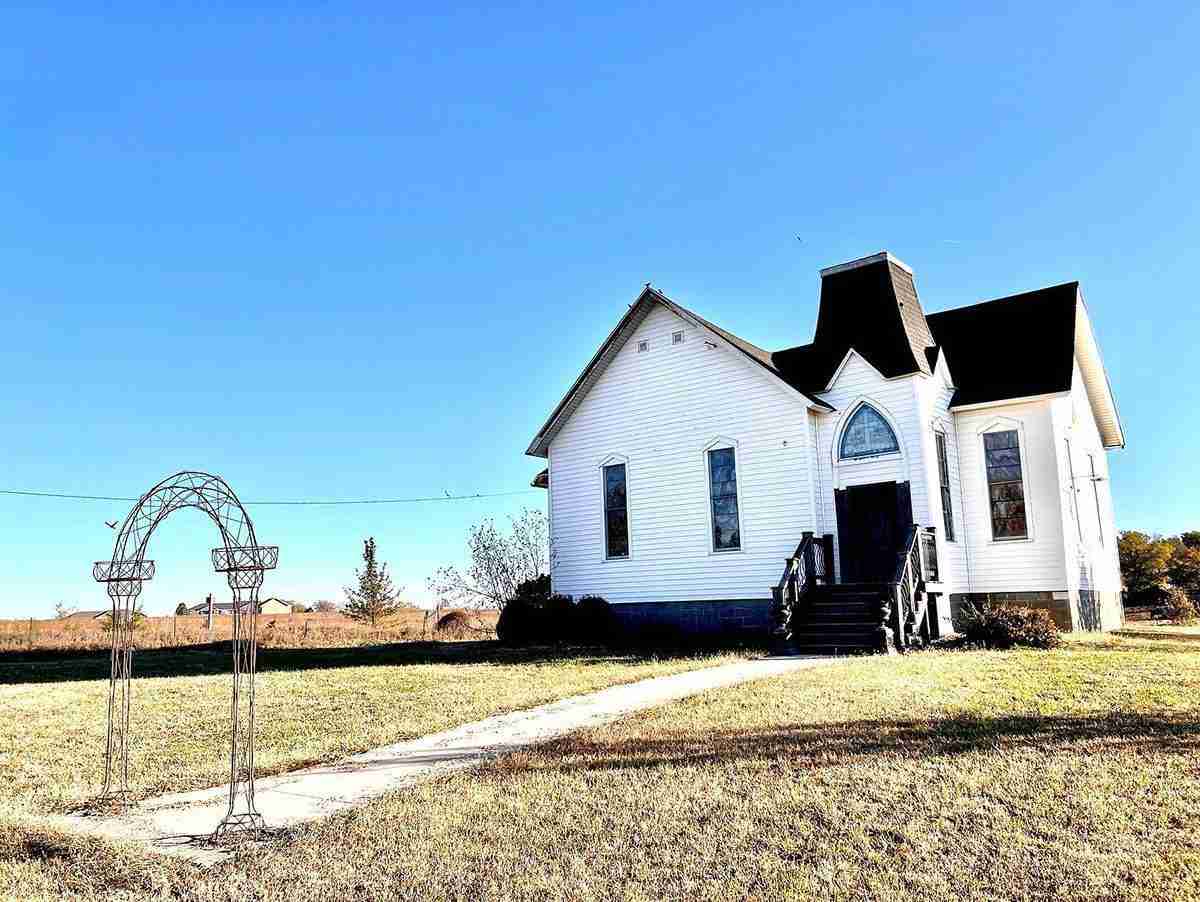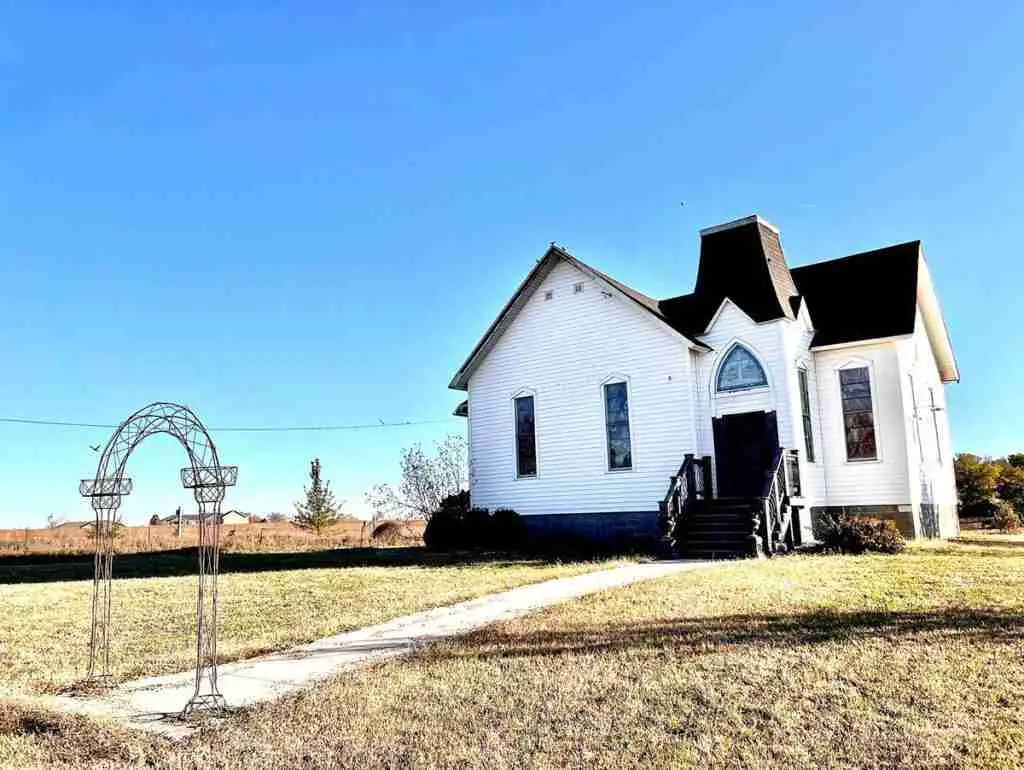 In the morning, I explored the grounds. Pampas grass clumps, antique playground equipment, and shrubs made from barbed wire surrounded the schoolhouse. The inn is part of a wedding venue with the Celebration Barn and a small chapel saved from demolition. The church lawn hosts outdoor weddings, and the chapel is perfect for a small wedding. Grain bins serve as bars and secluded gazebos. Before I left, I rang the school bell.
Roxie's reliable recommendation: On clear nights, walk two blocks east on Franklin to Ninth St. to see the stars. Continue to Flat Mile Road to escape more city lights.
Related: Enjoy the top 10 things to do in North Central Kansas.
More to explore
Clay County is full of rolling hills and scenic vistas. To relax, just drive in any direction and soak in nature's bounty. With that said, Highway 24 is one of my favorite Kansas drives. While my stay in Clay County was much too short, I look forward to returning. The people of Clay County are like Kansans everywhere: Warm, friendly, and welcoming. They have reasons to be proud.