The song "12 Days of Christmas" tells a fabulous gift list that "my true love gave to me." Instead of "a partridge in a pear tree," this list explains 12 fabulous Kansas Christmas communities to enjoy. Let's start in Crawford County, then we'll make our way to points of light across the state.
Some of these places have hosted me, but all opinions are my own.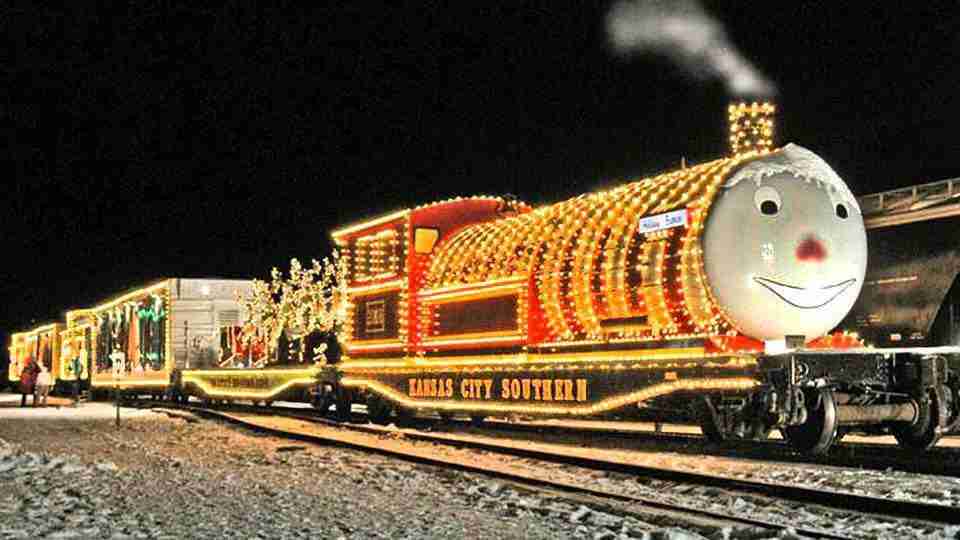 1. A Crawford County Kansas Christmas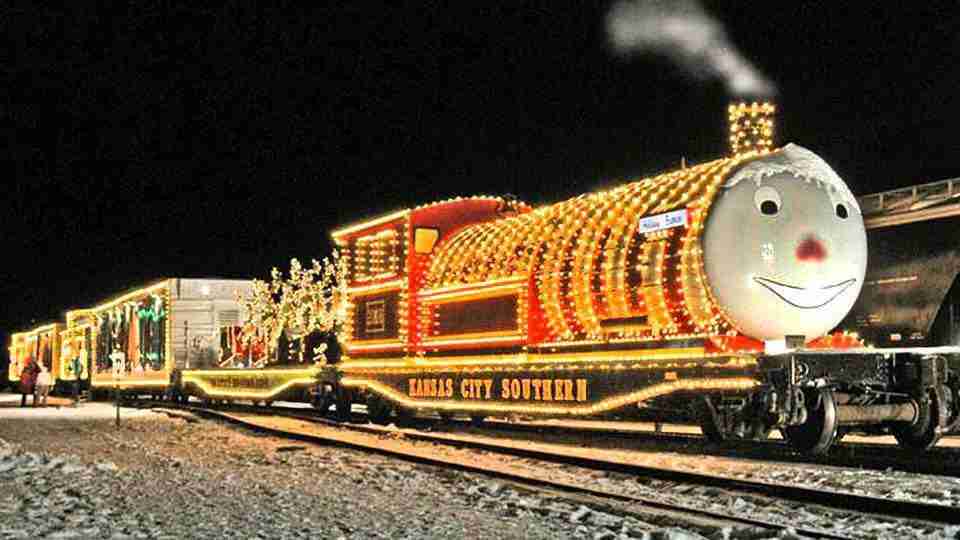 The Santa Train ran on a railroad segment that KCS bought in 1997. KCS employees noticed the train was the only Christmas some children had. Some children lacked essentials like coats, hats, and gloves. In 2001, volunteers turned a retired freight train into the Holiday Expressword. At each stop, visitors board the train, meet Santa and his elves, and tour the train cars' beautiful Christmas decorations. Visiting the train is free, but the railroaders collect donations for The Salvation Army.
Feztival of Trees
Tour the Mirza Shrine's Feztival of Trees through the day after Thanksgiving. Each tree has a theme, and a raffle will choose the trees' winners.
Christmas lights, a craft fair, and concerts
Christmas lights go on in Frontenac at 5 p.m. on Sunday, November 27, and Pittsburg holds its Christmas Parade at 6:30 p.m. on Monday, November 28. Bands, dancers, floats, and animals promenade on Downtown Pittsburg's Main Street. Girard holds its Christmas Parade at 6 p.m. on Thursday, December 8.
Join Santa at the Holiday Craft Fair at Pittsburg's Memorial Auditorium from 9 a.m. to noon on Saturday, December 3.
Pittsburg State University plans three holiday concerts, the Symphony Holiday Extravaganza at 3 p.m. on December 4, the Winter Holidays Musical Luncheon at 11:30 p.m. on December 7, and the Timmons Chapel Concert at 730 p.m on December 7 and 9.
Related: Learn about the Amazon Army, part of our noteworthy Kansas women.
---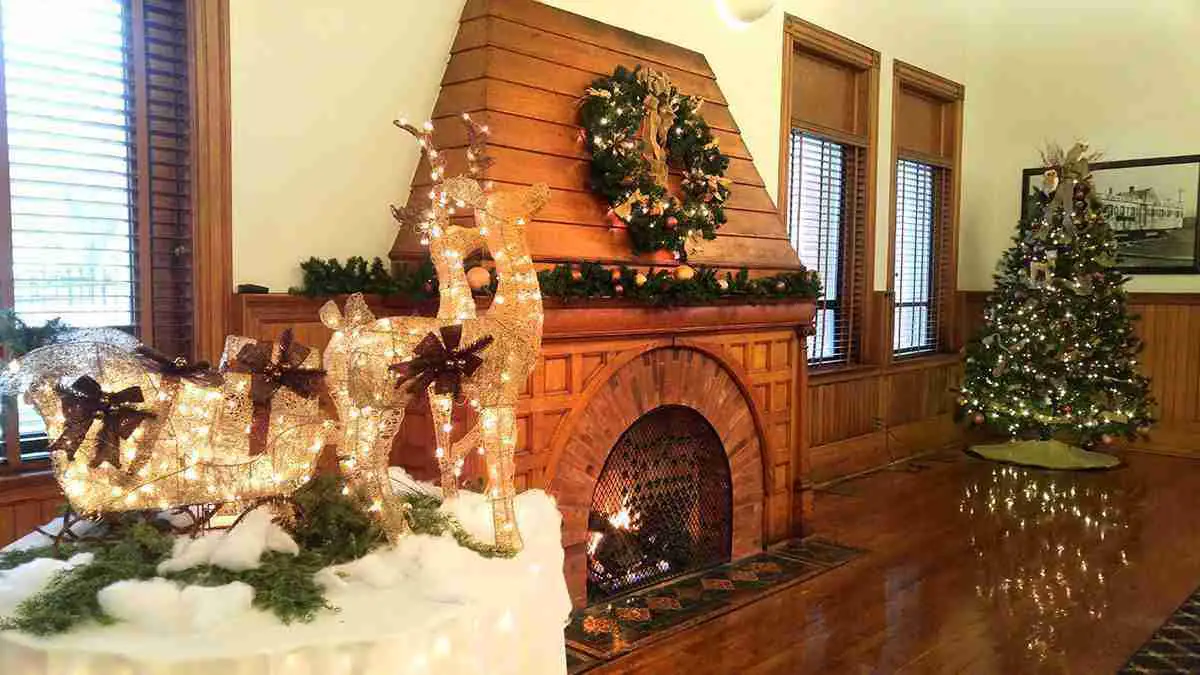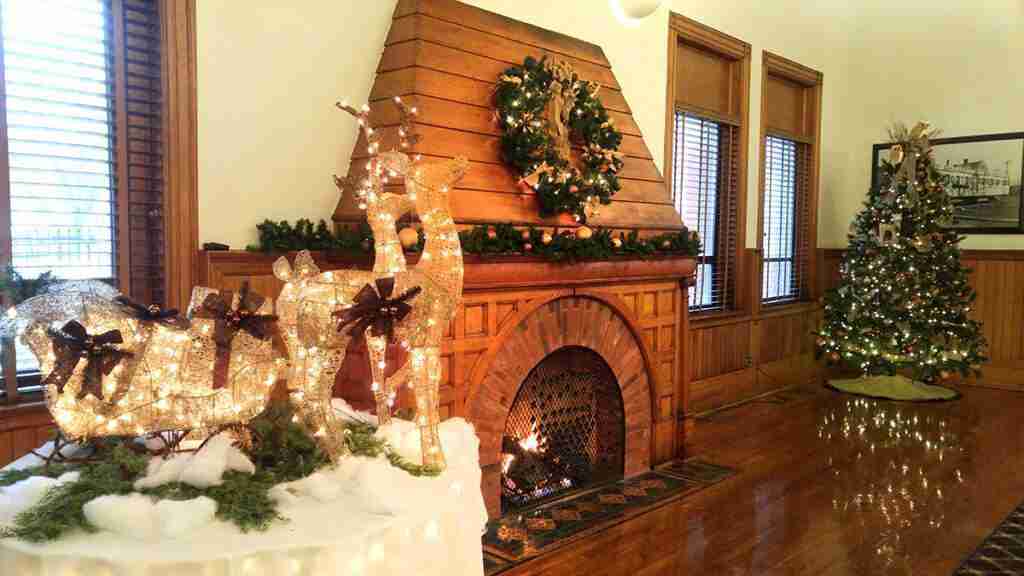 2. Kansas Christmas in Leavenworth
Don't settle for watching holiday decorating shows. Instead, see exquisite décor live and in person during Leavenworth's 30th-anniversary Vintage Homes Tour on Sunday, December 11, 1-6 p.m. The tour stops at four historic homes in Leavenworth and a downtown Airbnb as well as the Carroll Mansion Museum. Buy pumpkin bread and gingerbread loaves at the Carroll Mansion and two other homes to save some holiday baking. The fundraiser supports the Carroll Mansion Museum.
Rockin' Around the Kansas Christmas Tree
Leavenworth has created a Christmas shopping twist. Pick up your tree from the Leavenworth Main Street office or participating businesses. The businesses will stamp purchase amounts on ornaments. When shoppers have collected at least eight ornaments, bring the tree into the office at 416 Cherokee. Main Street draws a tree each Friday, and winners collect $50 in Main Street bucks. The December 22 grand prize drawing includes every tree.
Join Santa on Leavenworth's Main Street
Wine lovers will find that December 1 is the best time for Kansas Christmas shopping in Leavenworth's downtown. Sample wines and goodies in 18 businesses during the Winter Wine Walk. Afterward, visit the Island Spice Jamaican Restaurant (one of our favorites) for the Thursday Night Jam. Buy tickets online or at 416 Cherokee.
On Saturday, December 3, start the morning at Breakfast with Santa at the Riverfront Community Center. Buy advance tickets for express entry. Creative types should join the Reindeer Romp afterward, but only the first 150 people can participate. Pick up a map at Leavenworth Main Street, then follow it to create holiday treats, gifts, and memories. Kids aged 3-13 can shop at the Children's Small Mall at the C.W. Parker Carousel Museum on Saturday and Sunday, December 3-4. Learn the details.
Related: Walk in history's footsteps in Leavenworth.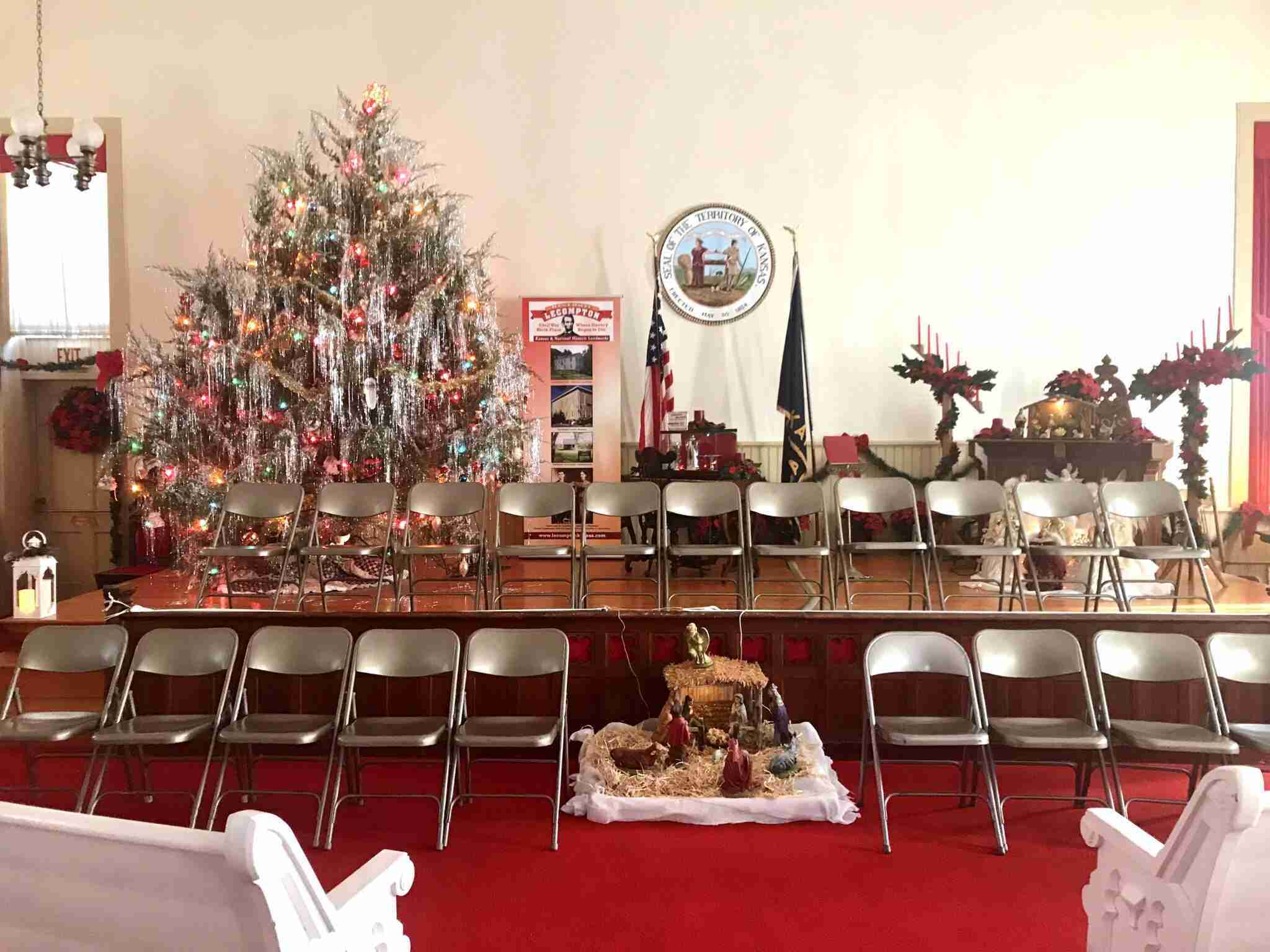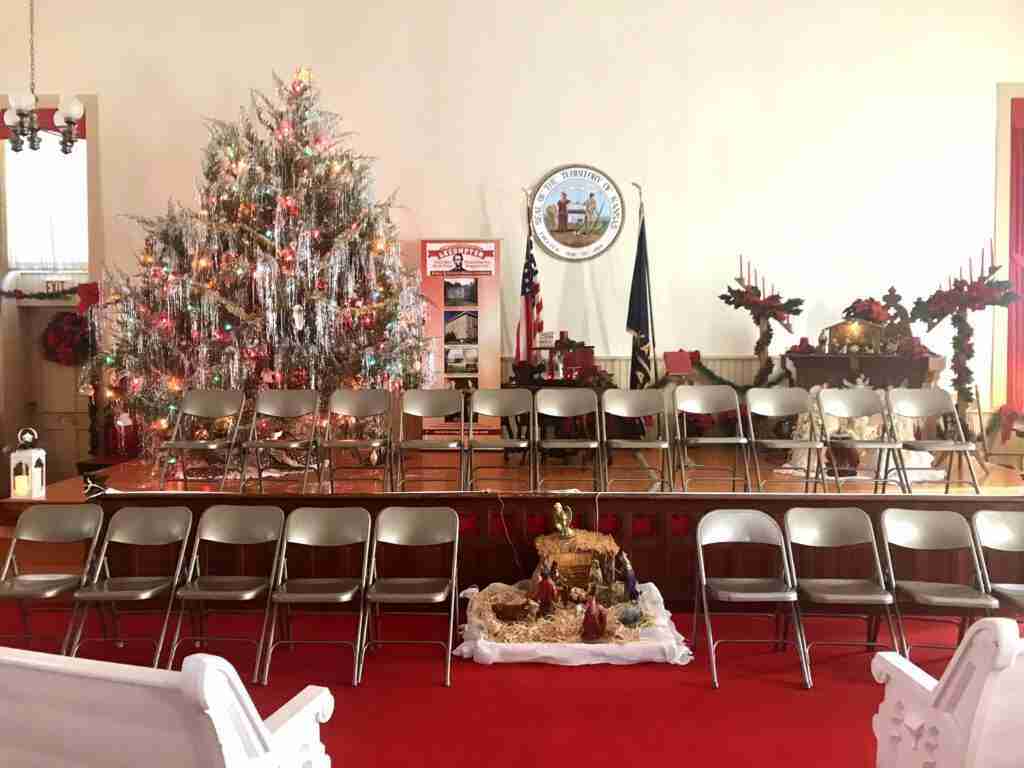 3. Christmas at the Kansas Territorial Capital in Lecompton
Lecompton fills the Kansas Territorial Capital Museum with old-fashioned Christmas decorations every year. Volunteers decked the building's three floors with 271 trees this year, along with numerous nativity scenes, Santas, and other decorations. The annual piece de resistance is a 15-foot live cedar tree on stage in the museum's third-floor chapel.
How do they install such a big tree? They tie a rope to the tree trunk. The other end goes over the fire escape's top rail and onto a truck at the escape's bottom. The truck drives forward and pulls the tree up the stairs. At the top, volunteers wrestle the tree into the doorway, trunk first. Before it goes onstage, decorators add the topper and lights. Then the volunteers finish decorating. Watch the slideshow.
The trees include 10 "feather" trees, which were crafted from swan, goose, and turkey feathers. The makers stripped the quills from the vanes and dyed them, Then they wrapped the vanes around the branches before wiring and gluing them.
Lecompton adorns the trees with ornaments from the Victorian period into the 20th century. The event started with a donation of World War II ornaments. Each year, more people donate their families' historic trees and ornaments. Donations support the museum.
Related: Lecompton was one of six Kansas Territorial Capitals.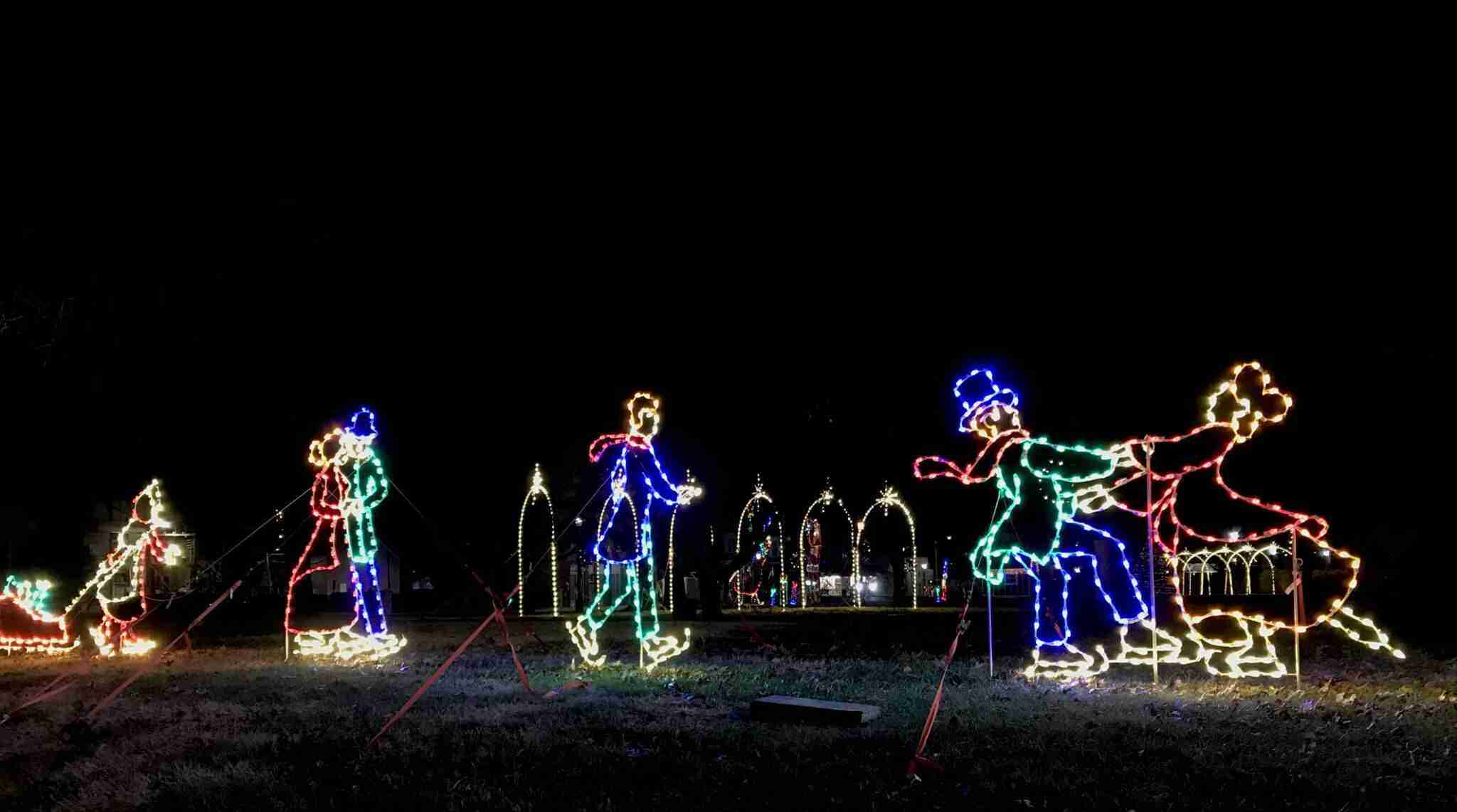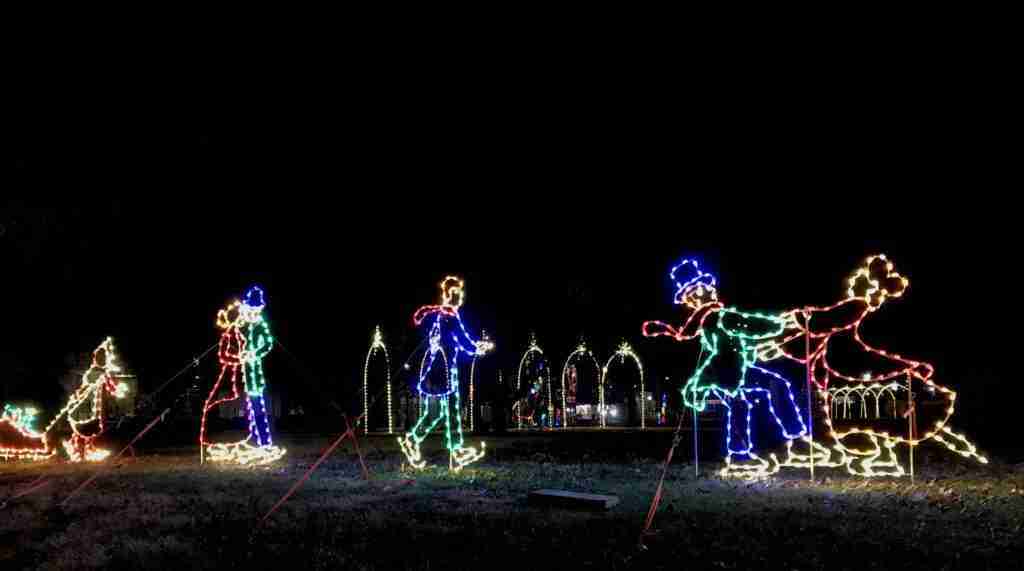 4. A classic Kansas Christmas in Junction City
Junction City Main Street will hold 10 Days of a Classic Christmas from Thanksgiving Friday until Sunday, December 4. The Holiday Fun Run begins the multi-day event at 4:15 p.m. with the 27th annual Christmas Parade to follow. Downtown will hold its lighting ceremony and begin the Downtown Window Decorating Contest. The Wine & Wassail Walk will take place the next day. Tickets raise funds for Downtown Holiday Lights.
Enjoy Christmas in Heritage Park on Wednesday, including s'mores and the Community Nativity Scene. Festivities begin at 5:30 p.m. The First Presbyterian Church on the park's south side plans its Holiday Concert at 7 p.m.
C.L. Hoover Opera House will show National Lampoon's Christmas Vacation at 2 p.m. on Sunday. The opera house will host the Junction City Little Theater's production of A 1940s Radio Christmas Carol on Thursday through Sunday, December 1-4. In the play, radio host William St. Claire propels himself into an on-air breakdown. The production company improvises a film noir mystery ending to save the show.
Saturday, December 3, begins with Breakfast with Santa at the library from 10 to noon. Hometown Christmas runs from 5:30 to 8:30 p.m. with activities in the Municipal Building, Downtown, and the Bartell House. Complete your shopping and grocery lists at the Christmas Market in the parking lot at Eighth and Jefferson.
Roxie's reliable recommendation: During Rainbow Meadows Equine Rescue & Retirement's Christmas at the Stables event, drive through Holiday Lane from 5:30-8:30 p.m. on December 3, 10, 17, and 23. After the free drive, stroll through the themed stables, meet the horses, and savor a snack around the fire pit.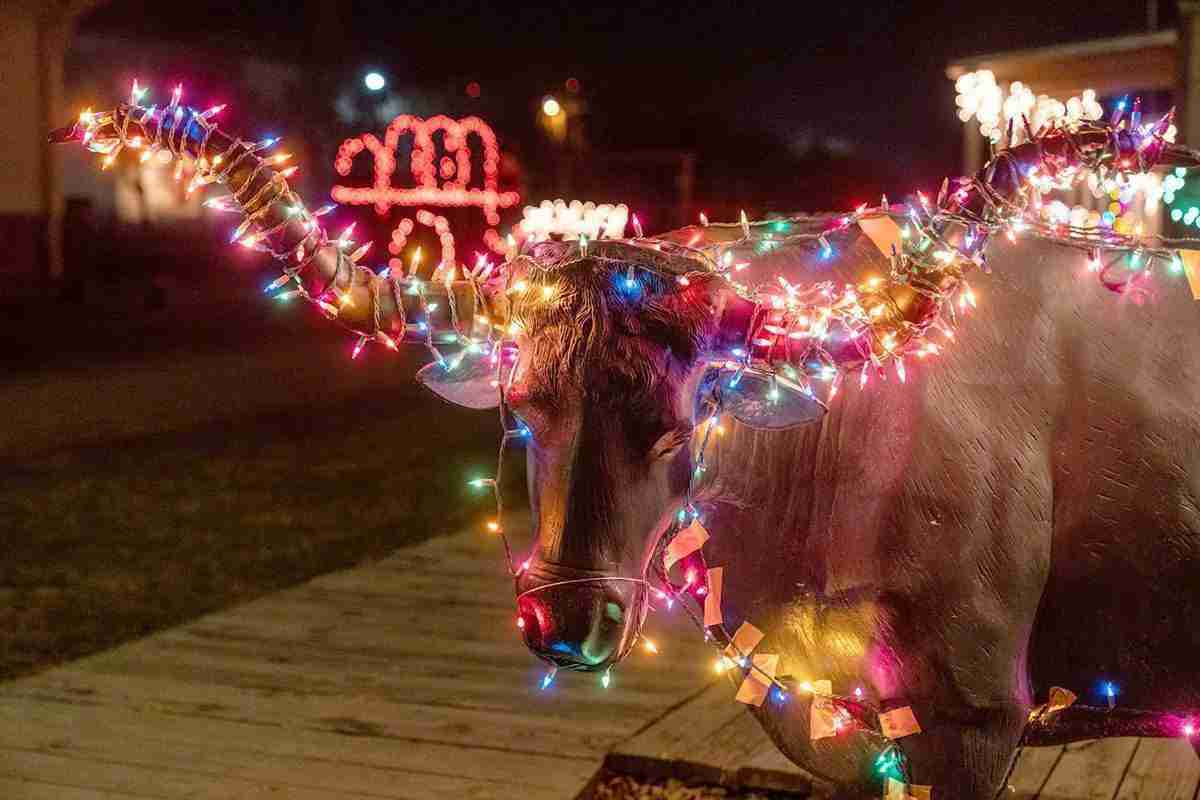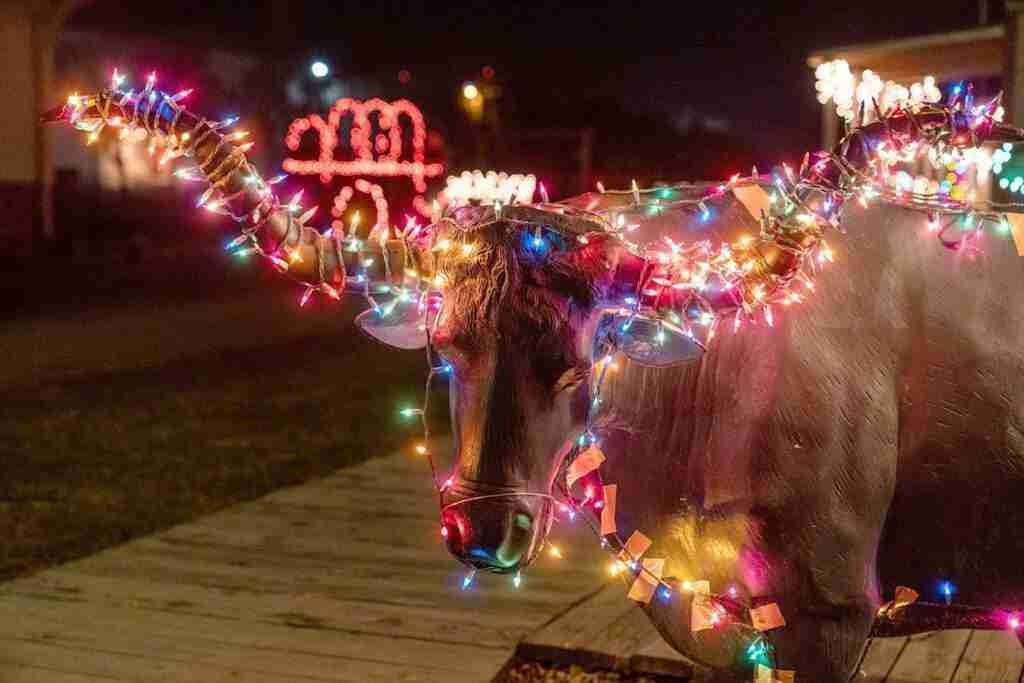 5. Abilene's Kansas Cowtown Christmas
Tour historic homes, shop at a craft fair and celebrate Christmas at Abilene's museums, including a vintage train. The Great Plains Theatre will perform The Christmas Schooner three times over the weekend of December 3-4. The new musical tells the story of Christmas tree ships on the Great Lakes.
Ride the train
Ride the Abilene & Smoky Valley Railroad's Santa Train at 1 p.m. on Saturday. Santa will listen to passengers' Christmas requests on the 45-minute ride in an enclosed, heated car. If the 1 p.m. train is full, the A&SVRR will run a second time at 2. The conductor will shout "All aboard" at 4 for the A&SVRR's Dinner Train, serving lasagna, salad, a vegetable, a dinner roll, and cheesecake.
Roxie's reliable recommendation: Many of the events require advance ticket purchases.
Get into the Christmas spirit with Cowtown Christmas
From 4:30 to 6:30 p.m., drop off food or monetary donations in the Abilene Area Food Bank's eastbound lane, and receive a map and ballot for the Cowtown Christmas Lights Showdown Cruise. Turn in your ballots at Amanda's Bakery & Bistro by 7:30 p.m. Make sure to decorate your ride.
Enjoy the Mayor's Holiday Tree Lighting and Santa Visits at Little Ike Park, and prepare for the iconic Turkey Drop. Catch one of the 10 stuffed turkeys, and you'll have a Kansas Christmas dinner. Next, snowballs will fly through the sky. A special snowball will provide Dickinson Dollars to be redeemed at Dickinson County businesses. After the snowballs, announcers will declare the contest winners and fireworks will erupt.
Related: The Eisenhower Library, Museum, and Boyhood Home is No. 1 on our to-visit list in North Central Kansas.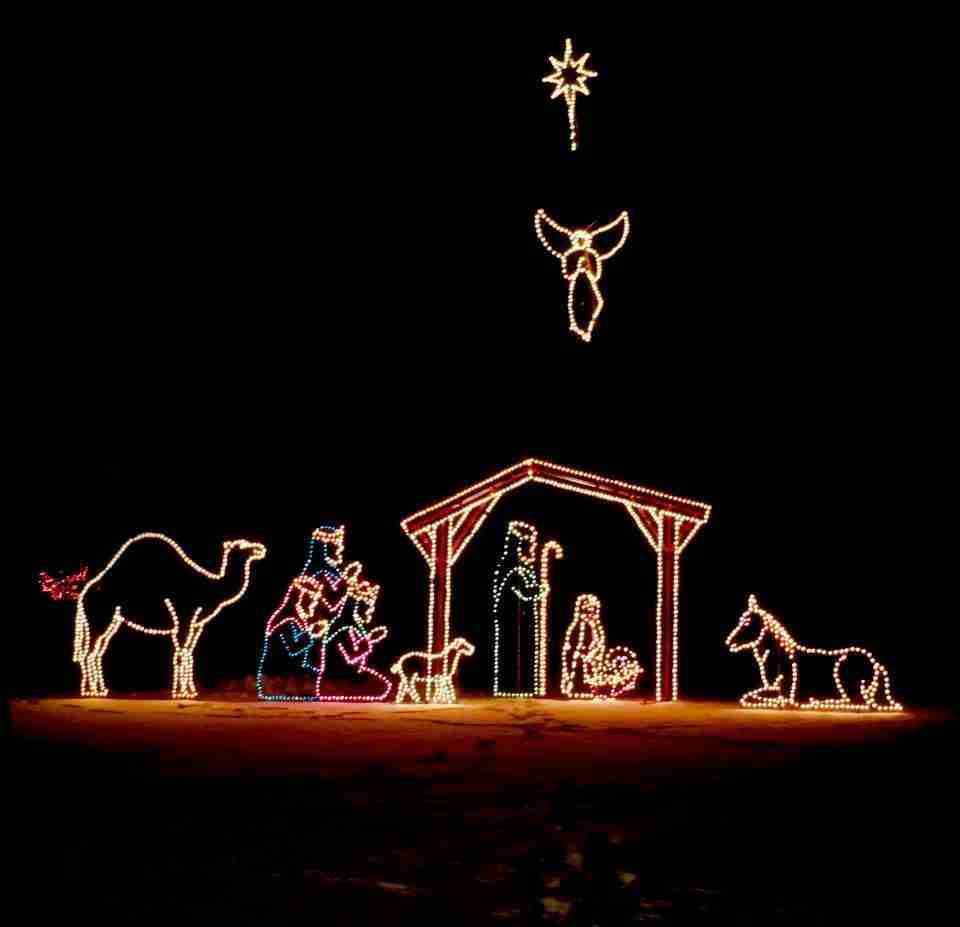 6. Celebrate a small-town Kansas Christmas in Clay Center
Clay County residents buy and decorate Christmas trees to support the Lighthouse for Christ food bank, Lincoln Creek 4-H Club, and the Clay Center FFA. The trees stand on Clay Center's Courthouse Square, and the lights come on at 6:30 p.m. on Thanksgiving Friday.
The Clay Center Christmas Festival begins at 2:30 p.m. with carriage rides followed by a supper, dancers and singers, and the Lighted Christmas Parade. Santa and Mrs. Claus arrive at 6:30 to observe the lights come on.
Help improve the Clay Center Zoo at the Lights Before Christmas fundraiser from 6-9 p.m. on December 9 and 10. Receive treats and gifts, hear music and see Santa. Proceeds will support a visitors center and splash pad.
Related: Enjoy 19 ways to play in Clay Center.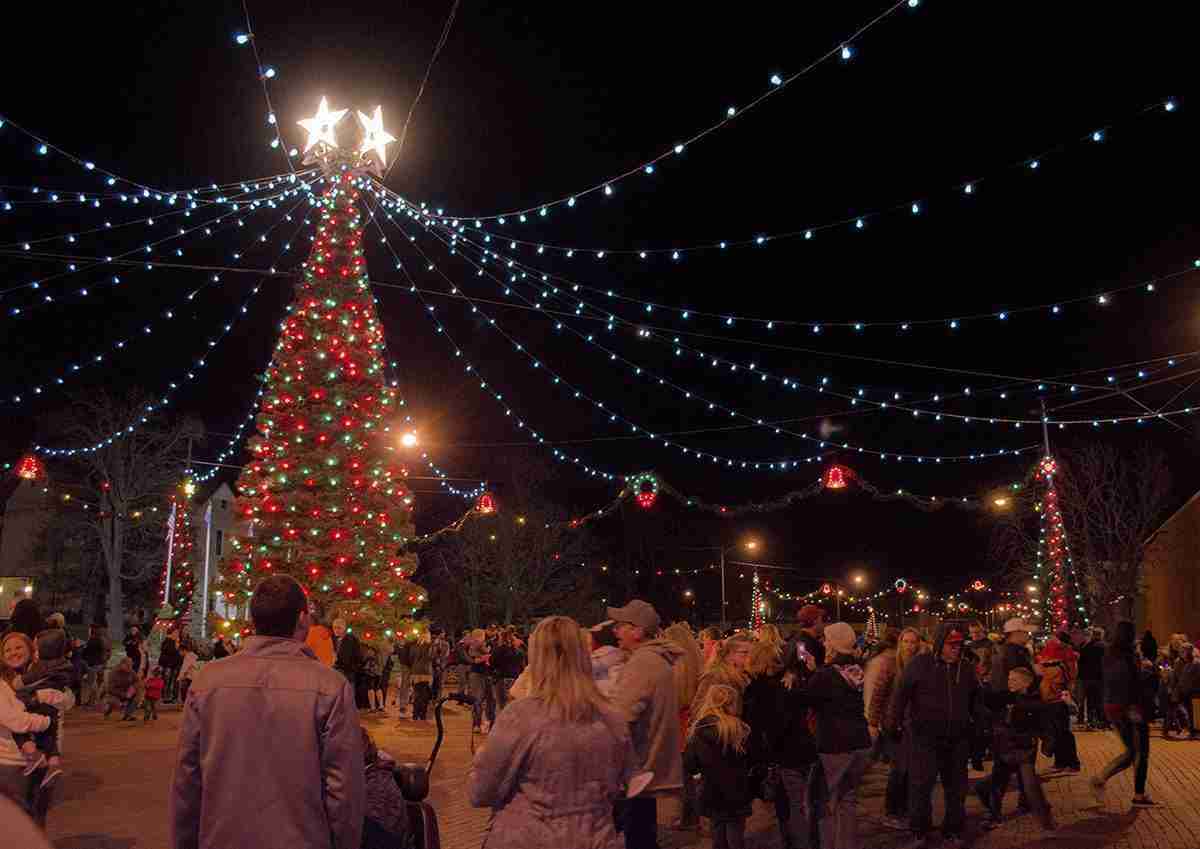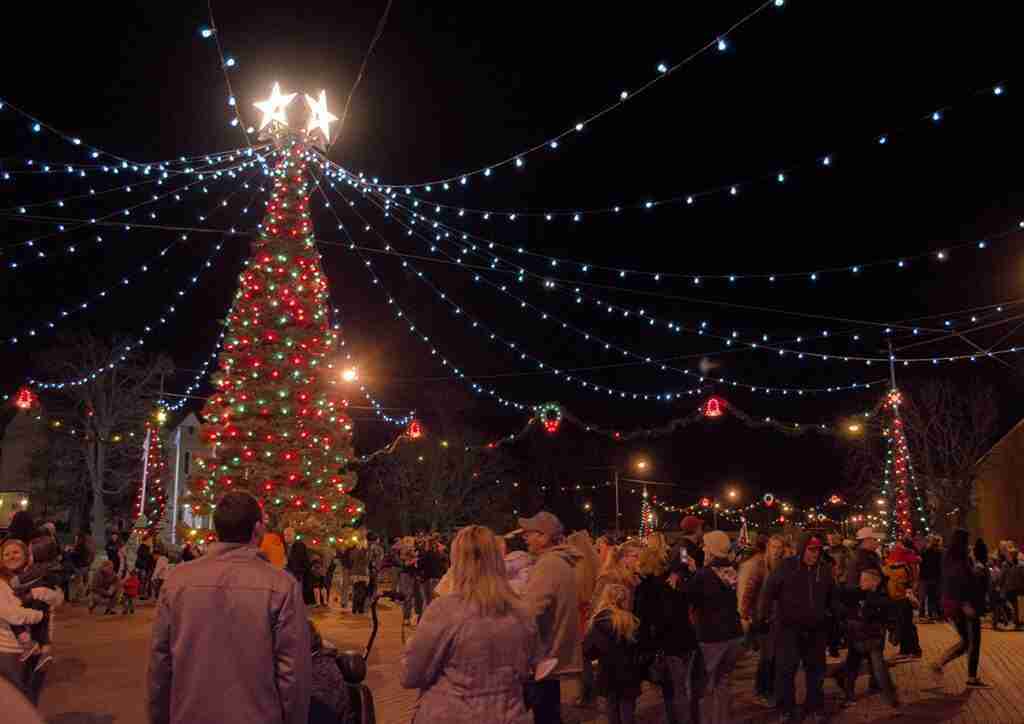 7. Make your Kansas Christmas merry in WaKeeney
WaKeeney has been the Christmas City of the High Plains since 1950, making the 2022 edition the city's 72nd celebration. The city strings more than 3,000 lights on a 35-foot tree made from real greenery. Four 5-foot ivory stars top the tree. Blue lights form a canopy above the tree. The city drapes the four blocks surrounding the tree with additional greenery, handmade wreaths, bells, bows, and lots of lights.
Two local business owners, Art Keraus and J.H. Heckman, started the tradition.
WaKeeney holds the ceremonial lighting every Thanksgiving Saturday and keeps the lights burning until after New Year's Day.
A craft fair begins the festivities at the Trego County Fairgrounds from 9 a.m. to 4 p.m. From 10 to 4, visit the Trego County Historical Museum's "Legends of Christmas" display. A half hour after the craft fair and museum closes, eat a soup supper at WaKeeney's VFW Hall until 7. Before you leave, bid on a wreath.
Downtown hosts three types of rides from 4:30-8:30: the Nex-Tech Train, Sunflower Clydesdales' carriage, and the virtual reality Santa's sleigh ride. Meet Santa's reindeer between the rides.
The Kansas Christmas tree lighting starts at 6 with the Trego Community High Music Department performing. Santa arrives at 6:15 p.m. to greet children at North Pole Park.
Related: The scenic route to the monolith Castle Rock starts in WaKeeney.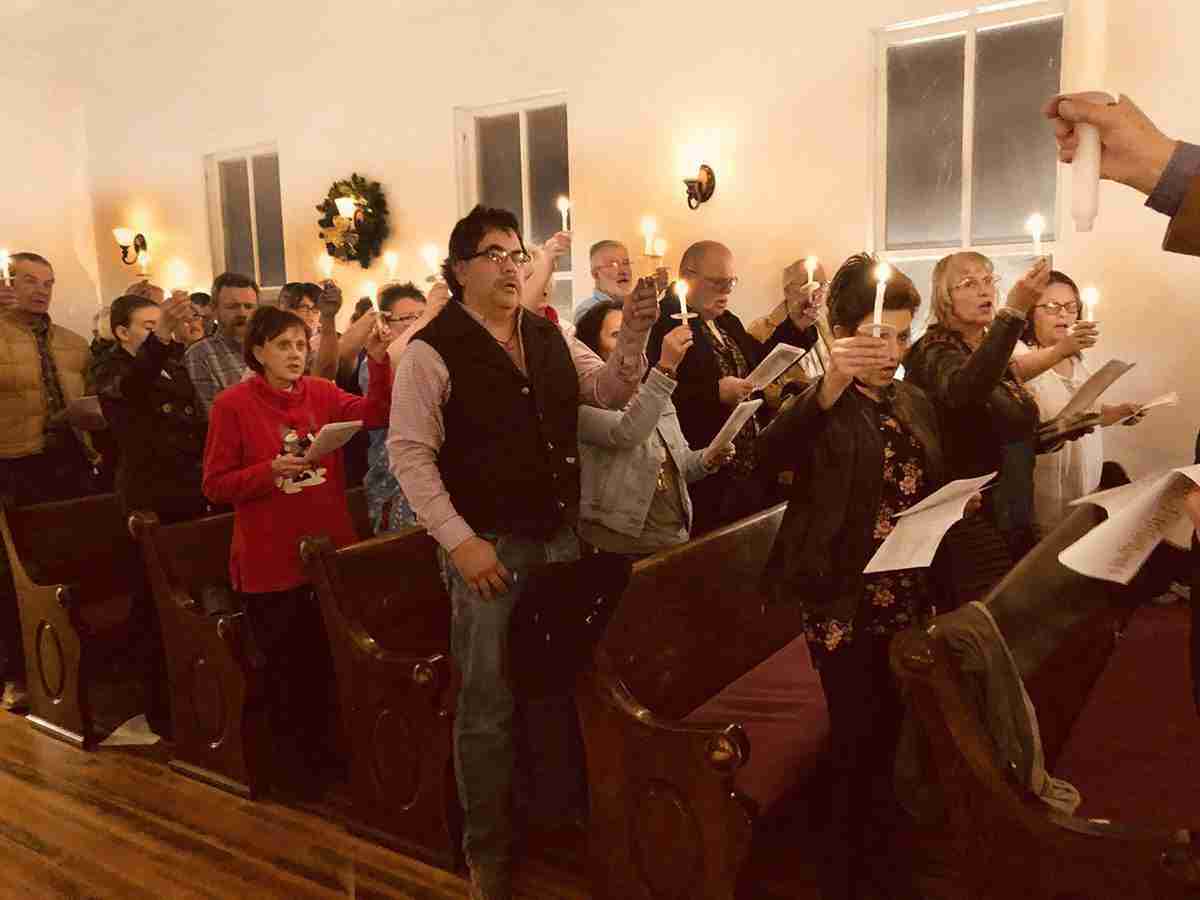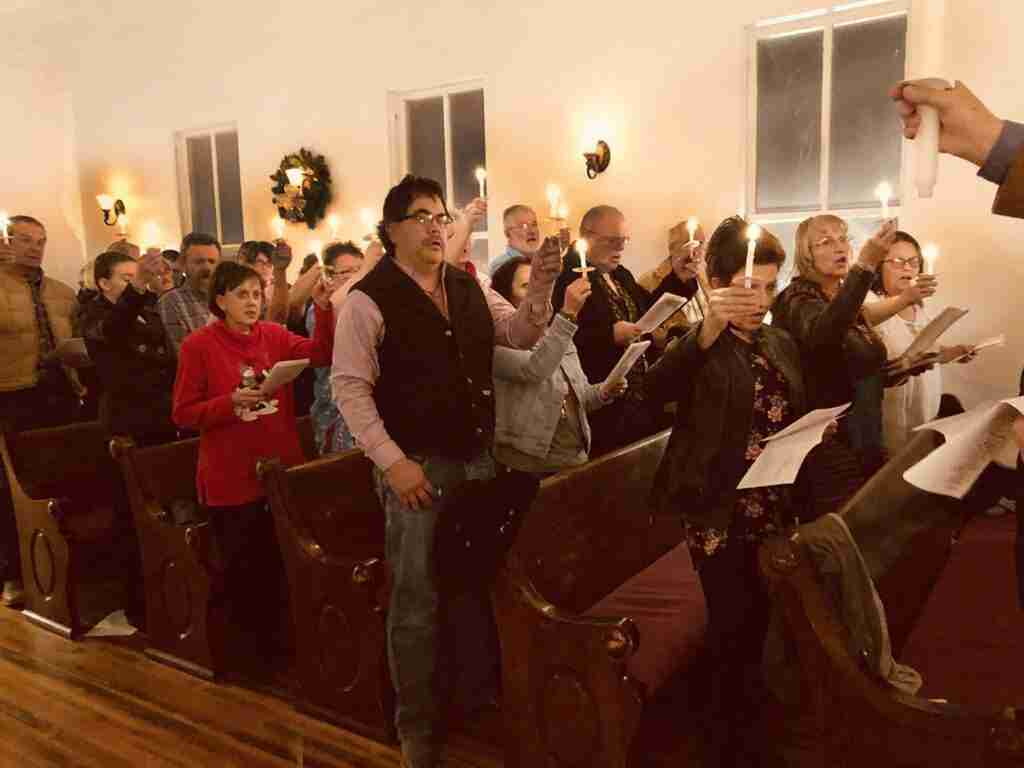 8. Honor the Reason for the Season in Wallace
Celebrate the season's deepest meaning at the Fort Wallace Museum Candlelight Christmas on Sunday, December 4, at 5 p.m. The annual event is held at the 1888 Bethany Lutheran Church, followed by holiday fellowship and food inside the museum. Marla Matkin and illustrator Julie Peterson Shea will sign their book A Dragon's Tale. Please bring finger food.
Related: Fort Wallace Museum is No. 4 on our to-visit list in Northwest Kansas.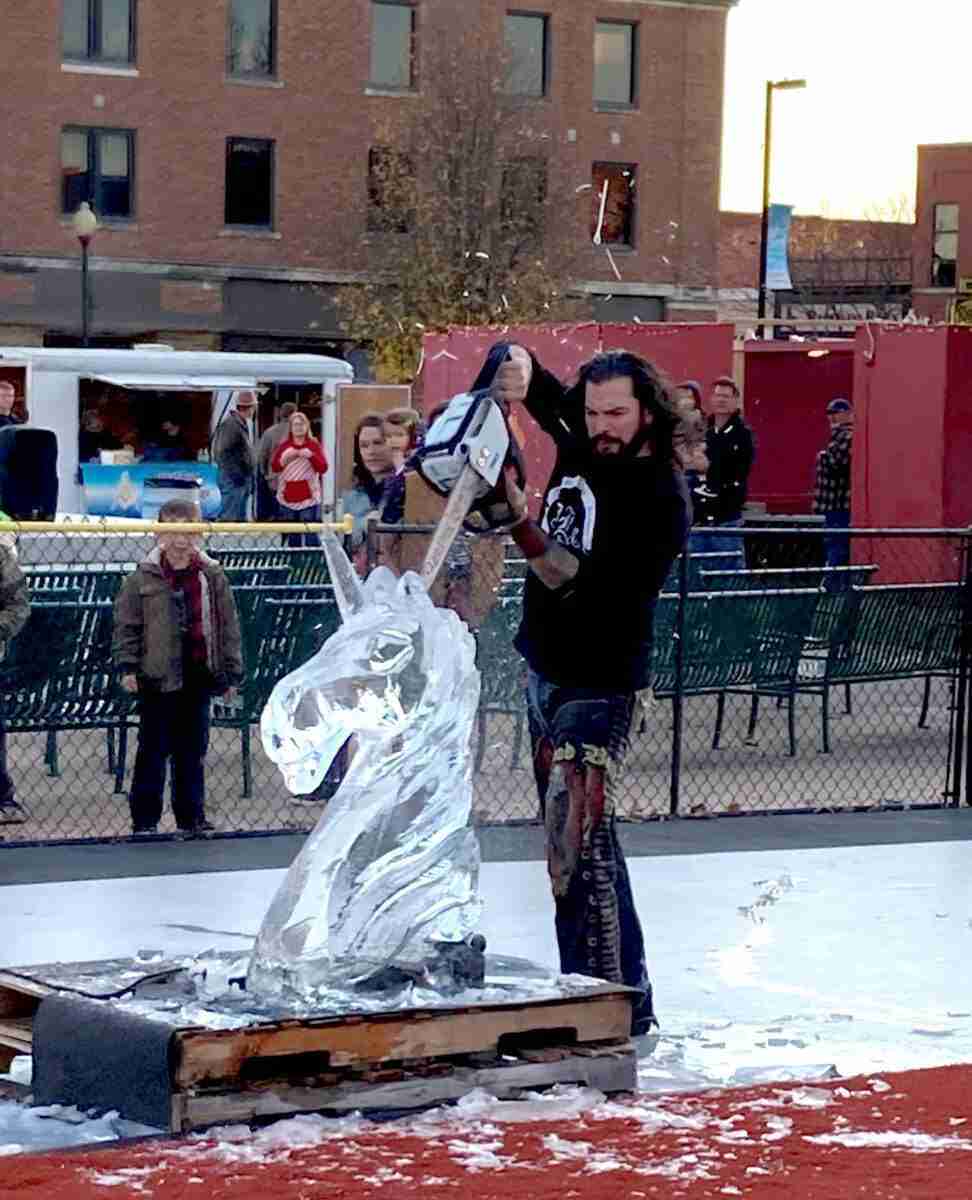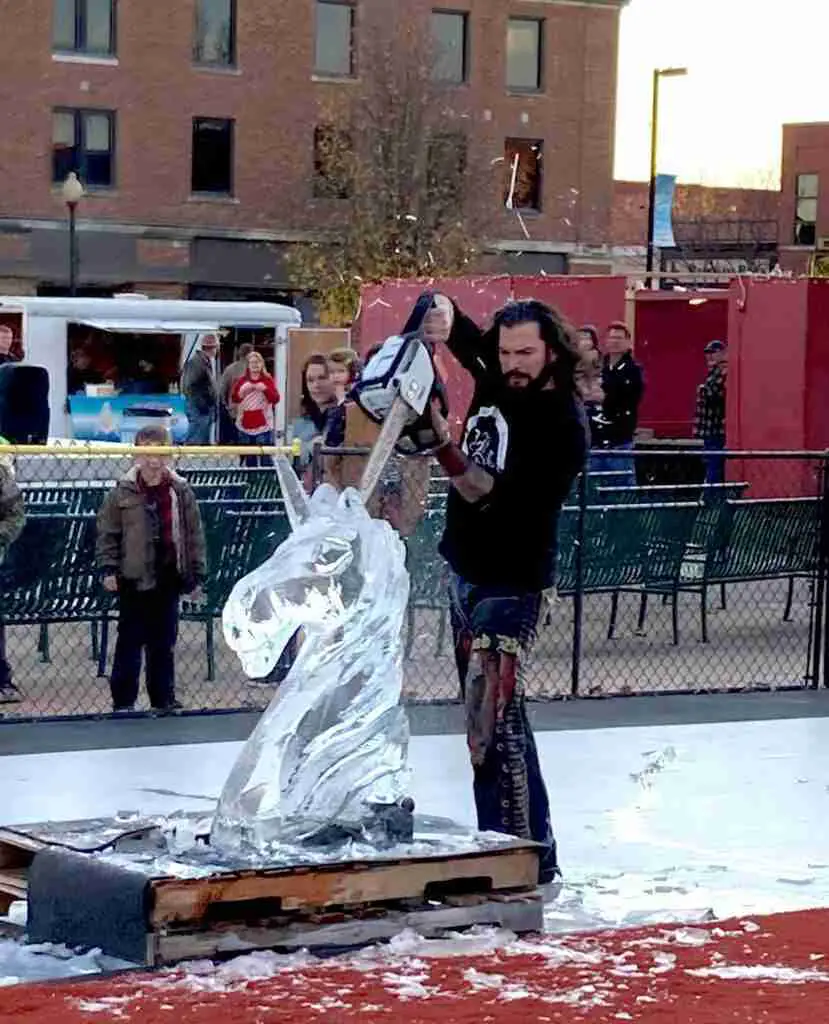 9. Come home to Great Bend for the holidays
Great Bend's Home for the Holidays celebration clusters around Jack Kilby Square, where the city honors native son and Noble Prize Laureate Jack Kilby. Walk a shelter dog at the Golden Belt Humane Society's "Dog's Day Out" event from 10 a.m. to 2 p.m. on Thanksgiving Saturday. Then cast your vote at the Great Bend Cookie Contest at Rosewood Furniture Gallery. Make sure to visit Great Bend's stores between events.
The Home for the Holidays Parade begins at 5:30, followed by the Mayor's Tree Lighting. An ice sculptor and fire bender will perform in Great Bend's ice skating rink next to the park's band shell. At 6:30, experience a global Christmas with 24 life-sized Santas at Christmas Around the World, 1223 Main. Then tell Santa your wishlist.
The rink will open to skaters after the shows. It's not real ice, but hard synthetic plastic. However, people can use any variety of ice skates on it. The rink opens from 4-6 p.m. on Thursdays and Fridays and 1-6 on Saturdays and Sundays.
Trail of Lights
Experience Great Bend's light trails. Veteran's Park hosts the 12 Days of Christmas. The Wild Lights are at Brit Spaugh Park, and Jack Kilby Square holds the Lafayette Lights.
Related: Find the 10 best things to do in Great Bend.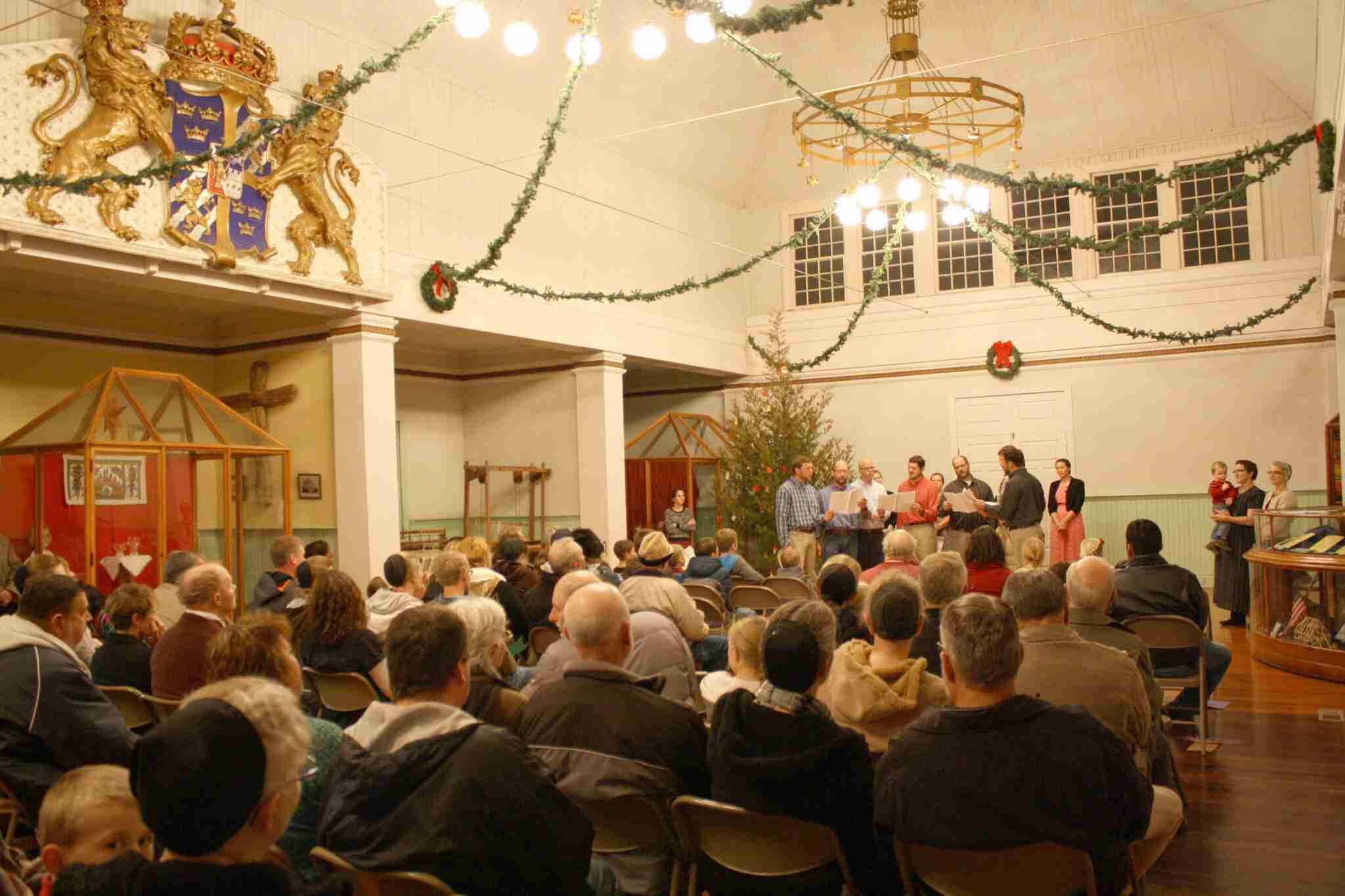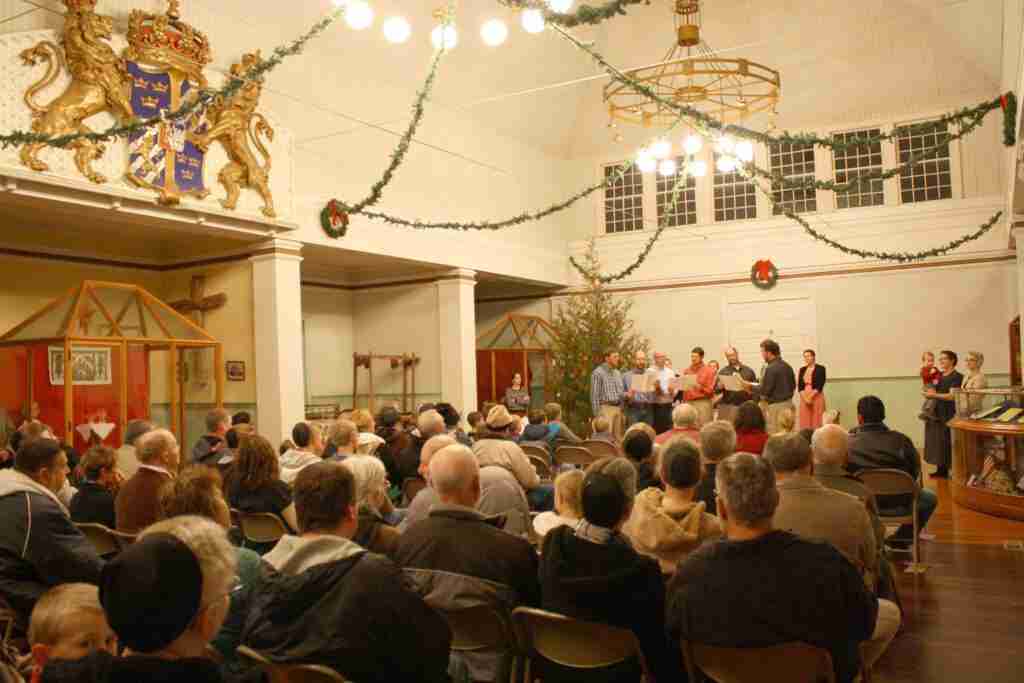 10. Enjoy Kansas Christmas in Lindsborg, Little Sweden USA
Lindsborg celebrates the winter holidays every weekend from Thanksgiving to after Christmas. Start your Lindsborg celebration on Small Business Saturday, two days after Thanksgiving. Fill a bingo card (PDF) to enter a drawing from the Bank of Tescott.
Snowflake Parade, Artists' Open House, and Jultide Concert
Celebrate the holidays on Saturday, December 3's 10 a.m. Snowflake Parade. To join the parade, line up in front of Bethany Lutheran Church at 9:30. Angels, Santas, snowballs, elves, bells, snowflakes, fairies, and jul tomtes (Father Christmas, Swedish style) all march. Show up at 9:30 a.m. Buy one-of-a-kind gifts at the Artists' Studio Open House. Pick up a map at the Red Barn Studio, then visit local art galleries and museums. Enjoy holiday treats and music along the way. The next day, listen to the Bethany College Department of Music's Jultide Concert at 4 p.m. in Presser Hall.
St. Lucia and Heritage Christmas
The legend of St. Lucia tells of a young girl wearing a white gown and a red sash with a halo of light around her head. She brought hope during a Swedish famine. Lindsborg honors her legend on the second Saturday of each December. Baked goods sales, Swedish Folk Dancers, and St. Lucia services mark the day.
That evening, visit the Old Mill Museum's Heritage Village for an old-fashioned Kansas Christmas.
Cookies with Mrs. Claus
Share your last-minute requests with Mrs. Claus on December 17 in the First Bank Kansas lobby. Savor sugar cookies and decorations for the children.
Christmas Plus
In Swedish, "Julotta" means just before dawn on Christmas. A brass ensemble welcomes Christmas morning with a call to worship at 5:45 a.m. from Bethany Lutheran Church's bell tower.
Swedes don't stop celebrating on Christmas Day. Celebrate Annandag Jul, "another day of Christmas." It honors days between the beginning of the Christmas season and the New Year. Watch Bethany Lutheran's 9 a.m. service in Swedish and English.
Related: Review our shopping guide to Lindsborg.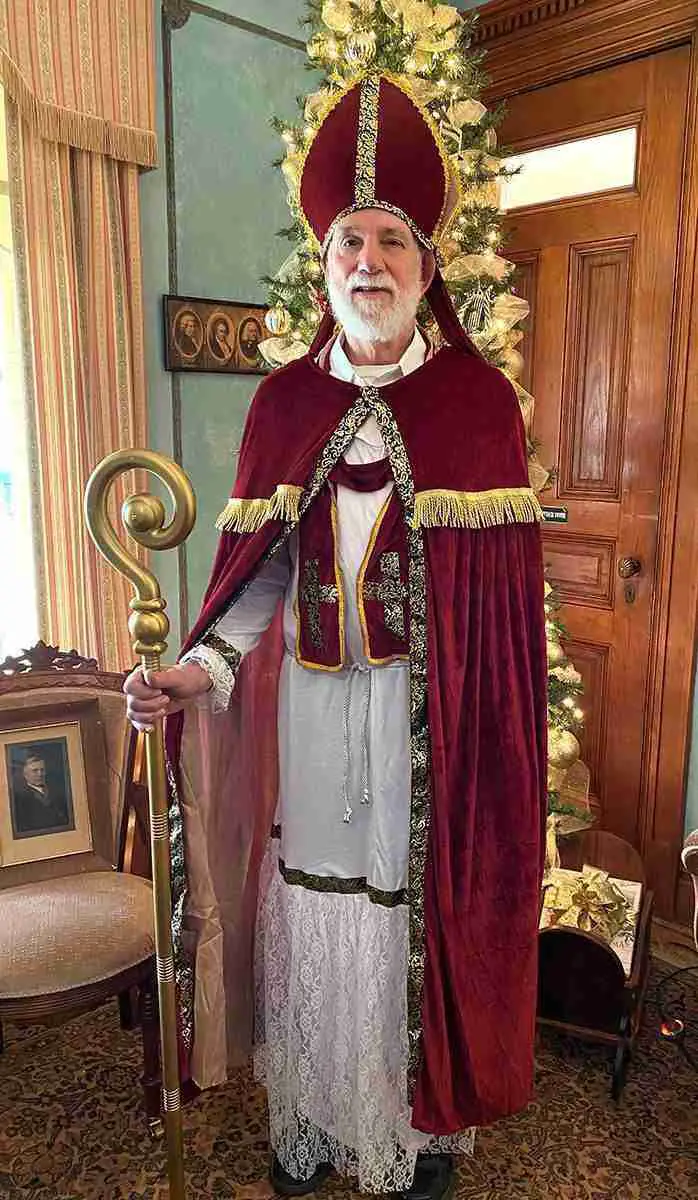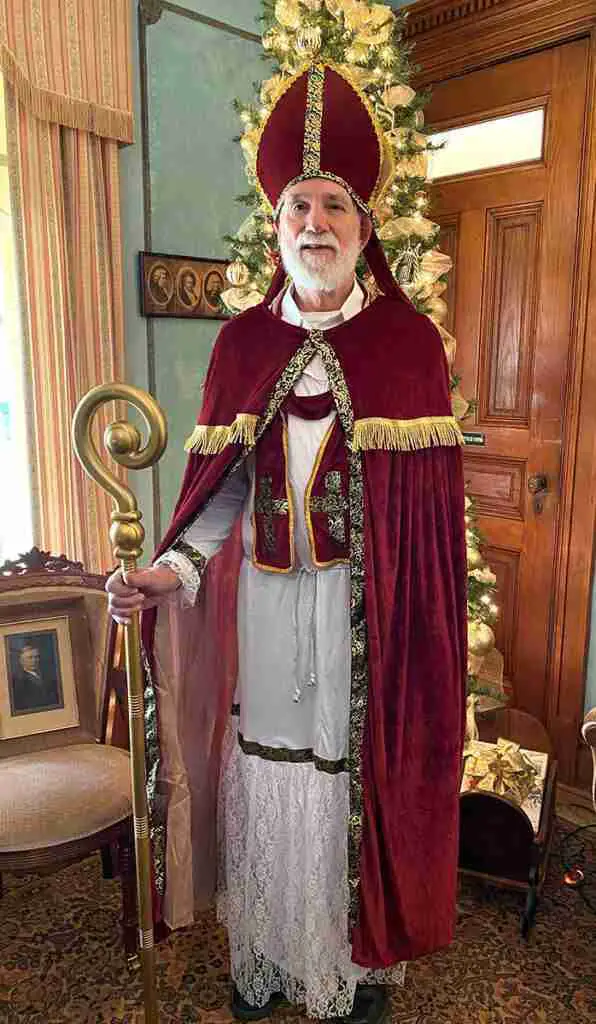 11. Five golden places for a Newton Kansas Christmas
You'll be ready to deck your halls after you visit the Five Places of Christmas in Newton and North Newton on Saturday, December 3. The Carriage Factory Art Gallery, Warkentin House Museum, Kauffman Museum, Harvey County Historical Museum, and the Goerz House at Bethel College will be open from 10 a.m. to 4 p.m. Arrive early to get one of the 30 special-edition Newton ornaments that each venue will have. The ornament celebrates Newton's sesquicentennial anniversary year. Plus, buy the 2023 Best of Newton calendar.
The five places offer activities like making your own ornaments, Christmas exhibits, refreshments, visits with St. Nicholas, and festive gift options.
Related: The sun always shines at the Blue Sky Sculpture in Newton.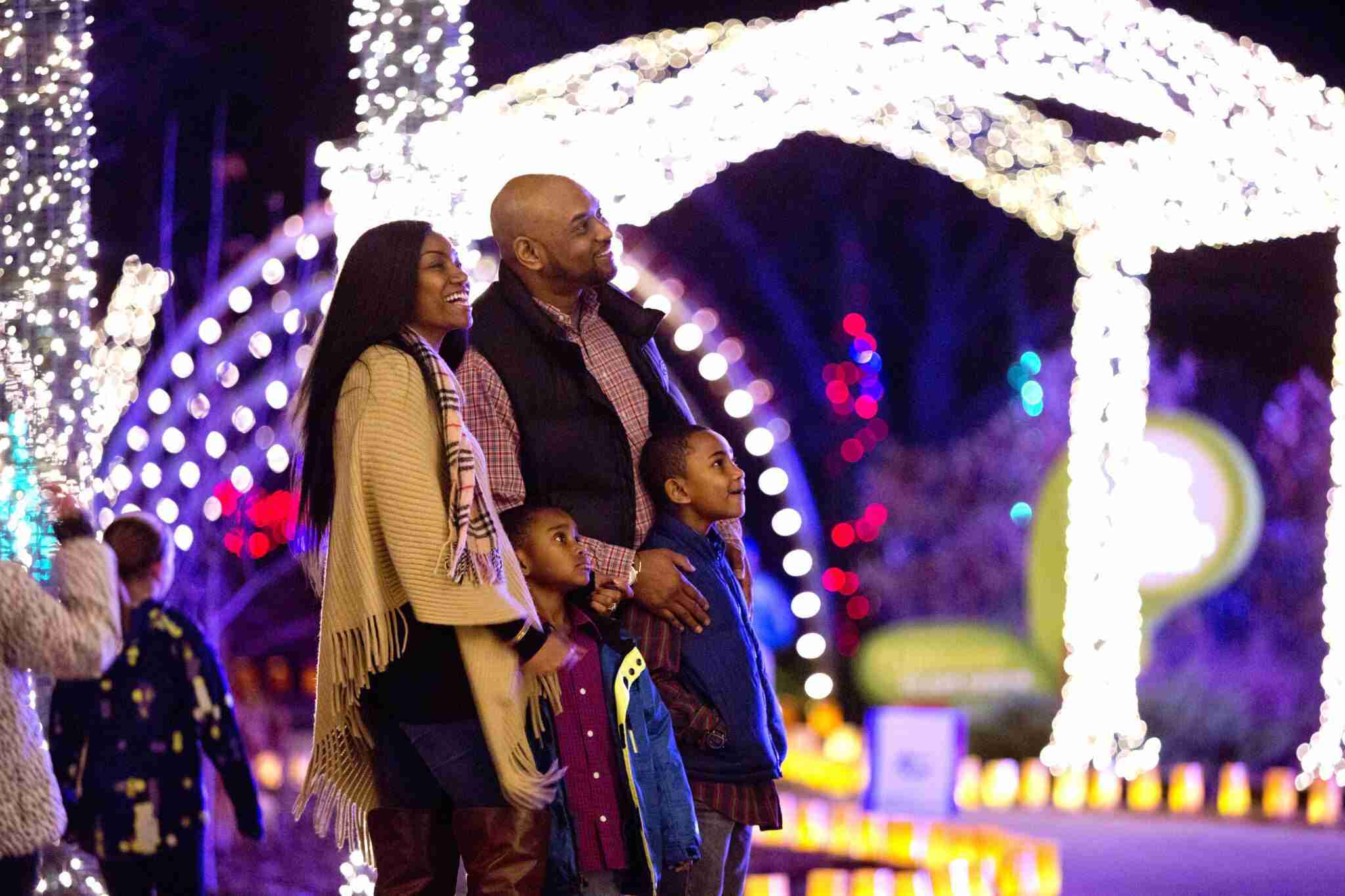 12. Light the night in Wichita
Kansas's largest city offers so much at Christmas. This guide is a small sampling of Wichita's holiday offerings.
Brighten December's darkness with the 2 million lights of Illuminations at Botanica Wichita's 30-plus themed gardens until New Year's Eve. Sedgwick County Zoo's Wild Lights, the Holly Jolly Jurassic Holiday at Field Station: Dinosaurs, Safari of Lights at Tanganyika Wildlife Park, and Lights at Ability Point drive-thru light display.
Fulton Valley Farm's Country Christmas offers lights, activities, Santa, and live registered North American reindeer Itsy-Bitsy and Sparkle from November 25 through December 23. Return to Christmas in the 1870s during Victorian Christmas at Cowtown on December's first two weekends. Explore Frank Lloyd Wright-style Christmas décor at the only FLW-designed house in Kansas, the Allen House Museum and Study Center.
Related: Wichita's Old Cowtown Museum, Botanica, and the Allen House are some of our favorite Wichita attractions.
Roxie's reliable recommendation: Read Visit Wichita's holiday guide for a more comprehensive holiday schedule in the Air Capital of the World.