Embrace Concordia, the Orphan Train Town
Pigtailed and barefoot, Miriam (Roering) Zitur is reading a book in Concordia's Broadway Plaza. When the Children's Aid Society placed her on an Orphan Train in 1908, Miriam Malford was a 19-month-old orphan. Herman and Elizabeth Roering adopted her in Minnesota. In 2016, more than 220 of her descendants sponsored her sculpture and stone benches. Zitur's sculpture is the first of many that honors Concordia as the Orphan Train Town. Download a sculpture list.
Concordia is one of our 12 best places to visit in Kansas.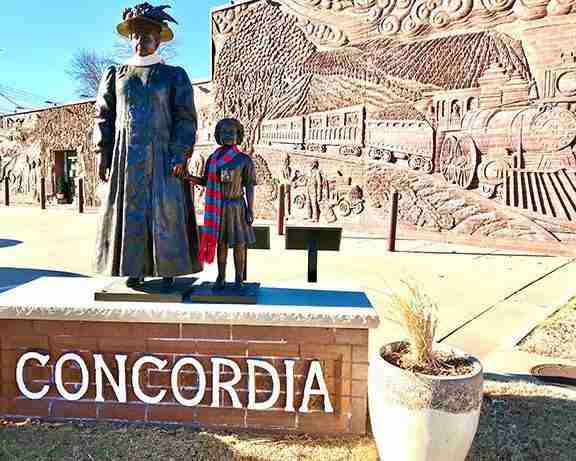 Cloud County Tourism partially hosted me, but all opinions are my own.
Who were the Orphan Train riders?
Between 1854 and 1929, some 250,000 orphaned, abandoned, and homeless children rode Orphan Trains to new homes. The Children's Aid Society (CAS) of New York and the New York Foundling Hospital (NYFH) were the main placement agencies. The agencies intended to give the children a better chance in life.
CAS Placing Agents checked on the riders after their placements, while the Catholic NYFH relied on local priests to ensure their welfare.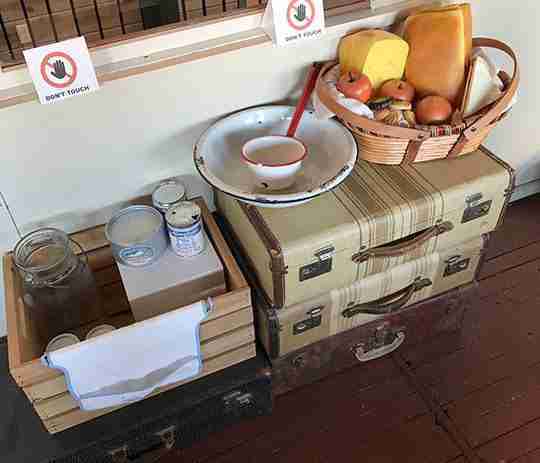 Learn about the riders at the National Orphan Train Complex
CAS Placing Agent Anna Laura Hill promoted and protected the children she placed. Concordia's National Orphan Train Complex preserves her papers, including more than 200 pictures of her placed children.
The Concordia museum complex includes three buildings, the Depot Museum, the research center, and the train car building. Union Pacific built the depot in 1917. The Freight Room explains conditions that pushed children into the streets. The Men's Waiting Room discusses CAS, while the Women's Waiting Room talks about the NYFH. Research your rider ancestor in the research center or request a research topic. You probably do have a rider in your family tree, one of every 25 Americans do.
But the most touching building held the vintage train car, complete with luggage, toys, and food. Imagine being a child in that car, headed to a place far from all he or she had ever known.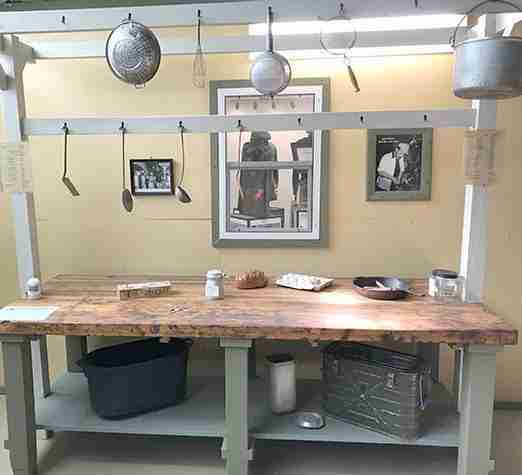 Rails bring German prisoners of war to Concordia
While the riders sought a permanent home, another group, German prisoners of war, rode the rails to an internment camp, POW Camp Concordia. On July 15, 1943, the American government built more than 300 structures, including a hospital, fire department, and barracks. At its peak, the camp held more than 4,000 POWs.
The enlisted men worked for local farmers, easing the labor shortage. The University of Kansas offered classes that later transferred to German universities.
A guard tower and Building T-9 are among the few remaining camp buildings. (T stands for temporary.) T-9 holds the camp museum, including a pair of officer's jackboots. Second Lt. Kurt Folich wore the boots all over Europe and then in Camp Concordia. When he returned to Germany, Folich still wore the boots because the war had ruined Germany's economy. He could not buy another pair. Eventually, Folich's family donated the boots to the camp museum.
To visit, contact Cloud County Tourism for an appointment.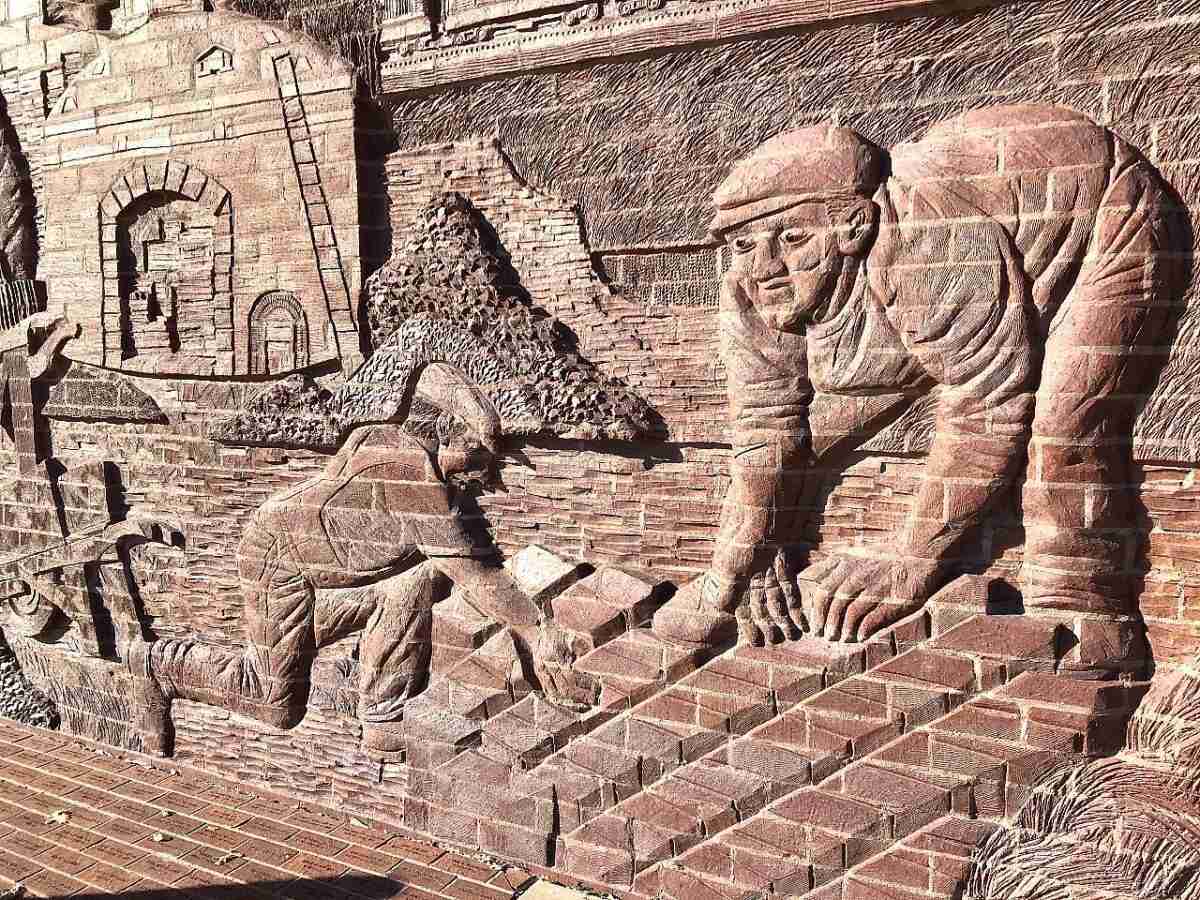 Admire the Whole Wall Mural in Concordia
Concordia is about more than orphans and POWs. Concordia's 140-foot-long Whole Wall Mural displays Cloud County's history and culture in sculpted high-relief bricks. Invest some time and examine the detailed artwork on the nation's biggest brick mural.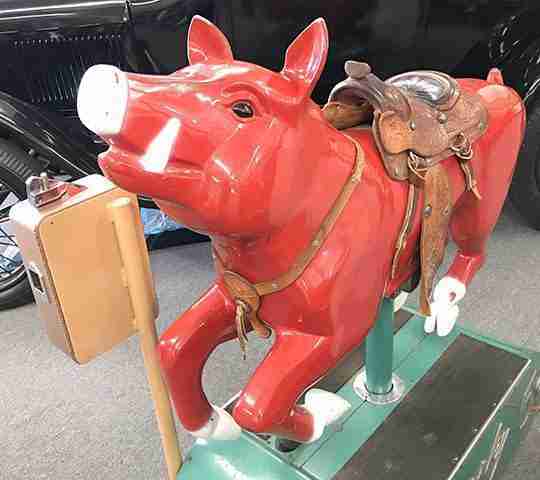 Afterward, step inside the building, serving as the Cloud County Historical Society Museum Annex and a travel information center. While there, buy an autographed copy of our book, Midwest Road Trip Adventures.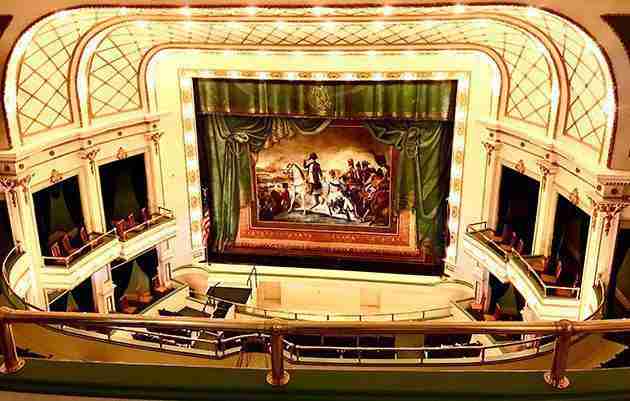 Experience the grandeur of the restored Brown Grand Theatre
Col. Napoleon Bonaparte Brown broke ground for the Brown Grand Theatre on April 3, 1906. The theatre opened on September 17, 1907, with everyone wearing formal attire. Col. Brown's son Earl presented his father with a drop painting of "Napoleon at Austerlitz." The musical The Vanderbilt Cup was the evening's entertainment. Until 1925, the Brown Grand held numerous events, including movies. By 1925, moving pictures had decimated live theater events. Concordia was no exception. From 1925 to 1974, the theatre became a movie palace.
Concordia chose to restore the Brown Grand as a Bicentennial project. For two years, workers restored the theatre's exterior. They turned a ruined POW camp guard tower's bricks into the central column between the main entrance door.
During interior restoration, workers discovered playbills behind tarpaper on both sides of the proscenium. They carefully removed them, and now 18 of them are on display in the balcony foyer. The meticulous restoration culminated at the 1980 grand opening. Seven hundred fifty people packed the house to see The Vanderbilt Cup. The audience included three women who had attended the original opening night.
The opulent theatre, decorated in gold, cream, and green, now returns visitors to the days of palatial live theatre experiences with 21st-century amenities.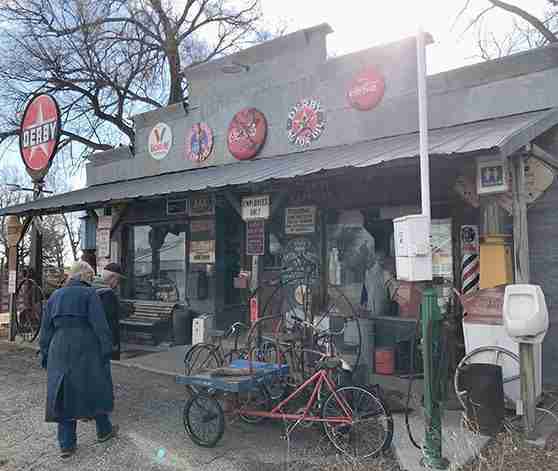 Remember nostalgia at Holbert Garage
Shortly after I drove into Cloud County, I passed a farm with fascinating vintage signage. Too bad I'm not going there, I thought. Instead, we visited. Everywhere I looked, Dean Holbert's farm offered eclectic eye candy. Vintage signs, tractors, cars, caps, hats, a Superman costume… On and on. He even had a Coca-Cola parking meter. Who knew that Coke had parking meters? Plus, Holbert's dry commentary made the experience more enchanting.
I hadn't had as much fun pretending to be an American Picker since I experienced Goof's Big Boys Toys in Norton. To visit Holbert, make an appointment with Cloud County Tourism.
Encounter Lincoln's Avenger at the Boston Corbett Dugout near Concordia
Thomas "Boston" Corbett gained fame — and infamy — as John Wilkes Booth's assassin. The cavalry troopers who hunted Booth after he assassinated President Abraham Lincoln were supposed to capture Booth, not kill him. In 1878, Corbett moved into a dugout, a glorified hole in the ground, in Cloud County. Use these directions to visit one of the Kansas Lincoln Trail sites.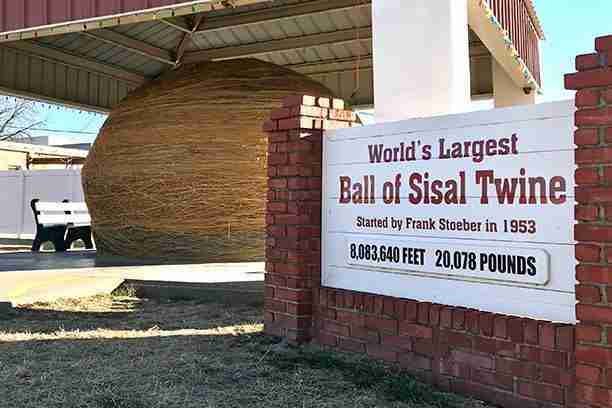 Enlarge the World's Largest Ball of Twine
Visitors may add sisal twine to the World's Largest Ball of Twine in Cawker City, an hour west of Concordia. However, the ball only allows official twine. Contact the caretaker to tie one on. To maintain its record status, the caretaker needs to account for additional twine.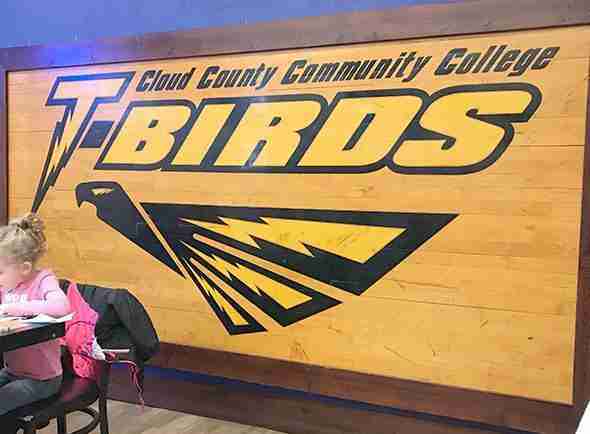 Where to eat and stay in Concordia, the Orphan Train Town
Jolt your brain into wakefulness with a pour-over at Common Grounds Coffee House. Savor a delicious soda fountain treat and buy a souvenir at Britt's Fountain & Gifts. Choose the fajitas tapatias at El Puerto Mexican Restaurant. Try the chipotle mushroom burger at Easy G's Sports Grill. Stay at the comfortable, antique-filled Kansas Creek Inn north of Concordia and bring home some of her wonderful soaps.
Enjoy sunset at Oil Well Hill
Kansas's wide-open terrain allows spectacular sunset displays. Bring a lawn chair to Oil Well Hill southwest of Concordia to see glorious sunsets.
When you visit friendly, welcoming Concordia, you won't feel like an orphan or a prisoner of war.
More to explore
Experience the Midwest, Kansas, and North Central Kansas destinations.