Billings promotes itself as Montana's Trailhead. Therefore, let's take Billings at its word and enjoy a Great American Road Trip through Southeast Montana attractions. We'll visit the West's most famous battlefield, see William Clark's carved signature, ride in a national recreation area, and enjoy terrific scenery. Finally, we'll visit an alpaca farm.
Table of contents: Little Bighorn Battlefield | Pompeys Pillar | Pictograph Cave | Bighorn Canyon | Four Dances | Western Heritage Center | Zoo Montana | Swords Park | Yellowstone Cellars & Winery | Billings Brew Trail | Yellowstone Valley Farmers Market | Beartooth Highway | Mule Train Alpaca Ranch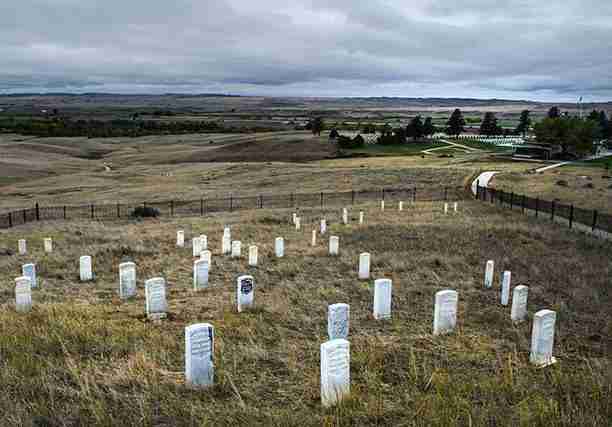 1. Little Bighorn Battlefield National Monument
The Little Bighorn Battle National Monument is Montana's third-most visited attraction, behind only Yellowstone and Glacier National Parks.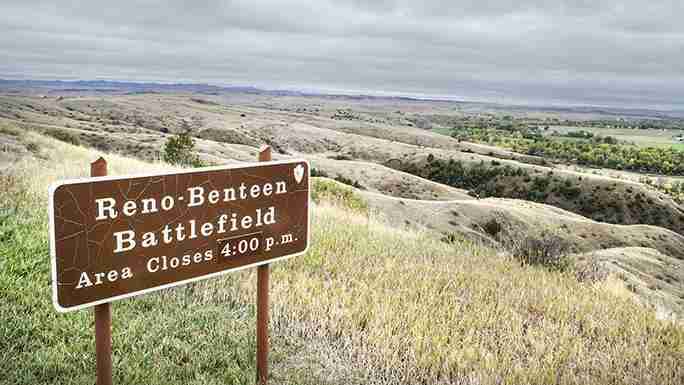 Little Bighorn Battle National Monument
Custer's bravery was never in question. However, his understanding of where courage ended, and recklessness began was often shaky. At Little Bighorn, his recklessness cost him and his command their lives. On June 25, 1876, he rode to battle, where warriors would vastly outnumber troopers. Then he further divided his command with catastrophic results.
Custer's family pays the price
The men with Custer all died. The Emanuel and Maria Custer family paid a heavy cost, losing three sons, George, Tom, and Boston; a grandson, Autie Reed; and a son-in-law, James Calhoun.
Related: Nine years earlier, Custer had discovered Lt. Lyman Kidder's last stand.
The Reno-Benteen Battle
Custer also ordered two of his subordinate officers, Maj. Marcus Reno and Capt. Frederick Benteen, to separate their commands and attack the warriors. Eventually, Reno and Benteen combined forces, but they either could not or would not go to Custer's aid.
Since the battlefield was divided into sections, the monument is sectioned, too. The visitors center and Custer National Cemetery are in one area with the Custer portion of the battlefield nearby. The Reno-Benteen battle is further away.
The last indigenous victory
Ironically, the battle was the Tsistsistas (Cheyenne) and Lakota's last victory. By November 1876, the Army had driven the Tsistsistas out of their camps into starvation. Tȟatȟáŋka Íyotake (Sitting Bull), the Lakota chief who had planned the battle, fled to Canada in January 1877.
Related: The Tsistsistas fought the Fourth Cavalry at the Battle of Punished Woman's Fork during the Last Indian Raid in Kansas.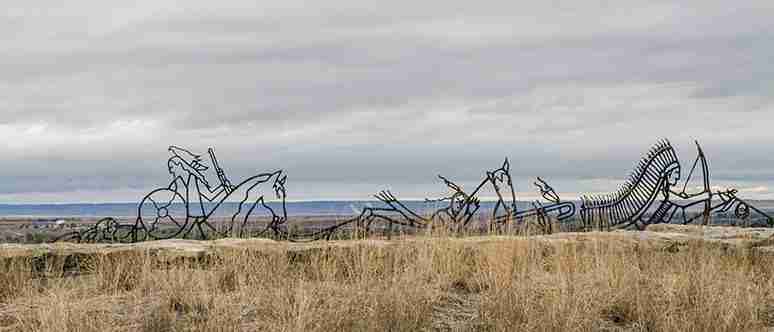 The park honors the warriors
Even though all the combatants were Americans, at first the Southeast Montana park only told the soldiers' stories. In 1991, Congress changed the battlefield's name from Custer Battlefield to Little Bighorn. Eight years later, the park service began honoring fallen warriors with red headstones. Finally, the park service dedicated the Peace Through Unity Indian Memorial in 2013.
Experiencing Little Bighorn
Start your tour at the park's visitors center and museum. The accessible museum tells the battle's story. Make sure to pay your respects to the fallen at the national cemetery, including some of Custer's scouts.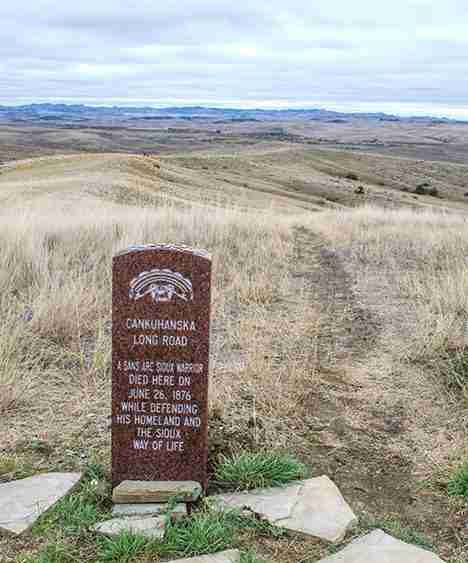 After a restroom break, walk up to Last Stand Hill, the Horse Cemetery, and the Indian Memorial. They are only yards from each other. Make sure to carefully read and examine the plaques inside the Indian Memorial.
Roxie's reliable recommendation: Attend any available park Ranger Talks because Little Bighorn's Ranger Talks are the best we've ever experienced.
Explore the Reno-Benteen portion of the battle
After Last Stand Hill, drive to the Reno-Benteen Defense Site.
On our visits, we have both walked and driven the Reno-Benteen area. Driving will take less time, but walking gives the visitor a different perspective.
In the wind, the calls of the victors and the cries of the vanquished still ring out faintly over time. Little Bighorn is a place of ghosts, and you probably won't sense them in your car.
At the bare minimum, allow 2 hours. If you adore history, allow at least 3 hours.
Custer Battlefield Trading Post
Before you leave Little Bighorn, stop at Custer Battlefield Trading Post across from the park's entrance. Their Indian tacos and Indian fry bread are top-notch eating.
Related: The Seventh Cavalry's road to Little Bighorn began in Bismarck.
---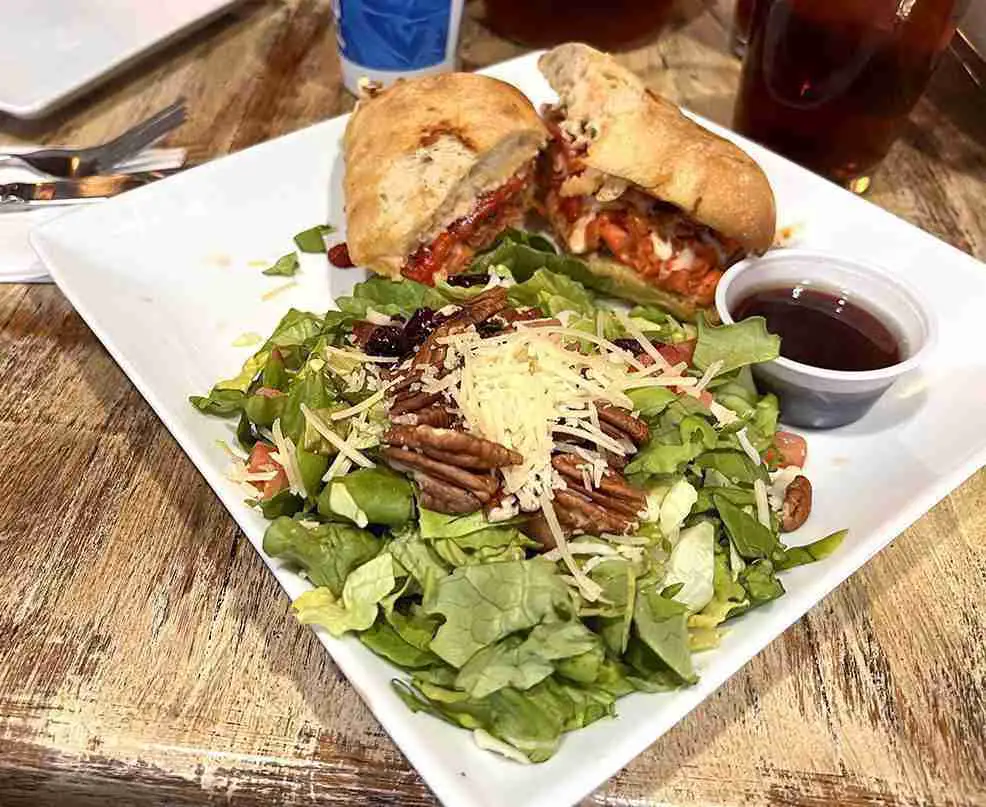 Roxie's reliable recommendation: Eat at 3 Brothers Bistro and Casino in Hardin. The restaurant specializes in pizza, but I adored the salmon melt featuring sockeye salmon. Ask about the bent propeller on the wall.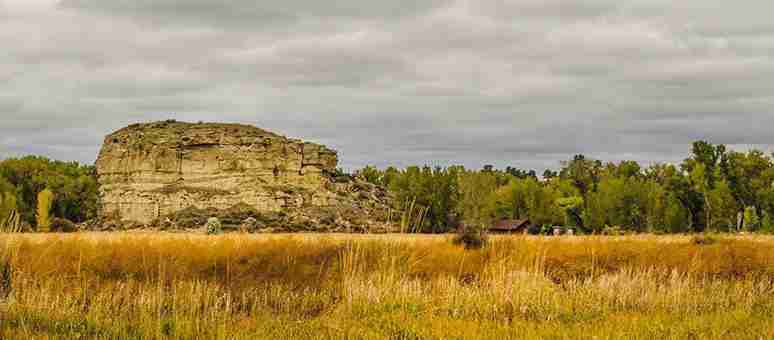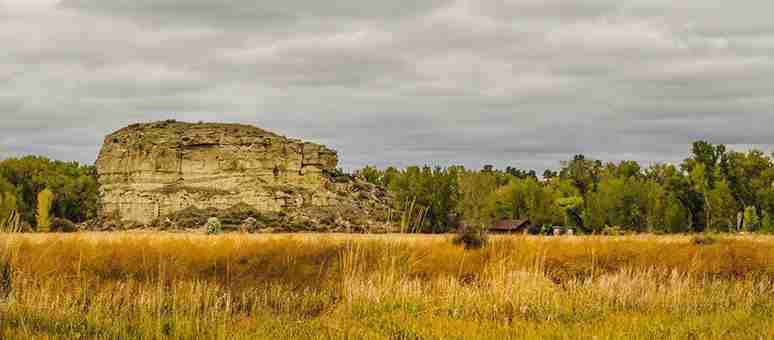 2. Pompeys Pillar National Monument
Meriwether Lewis and William Clark hired Toussaint Charbonneau as a guide on their expedition to the Pacific. His wife Sacagawea and their 55-day-old son Jean Baptiste were part of the deal. Clark soon nicknamed the little boy "Pomp." On their way home, the expedition split. Clark's party explored the Yellowstone River Valley. He carved his name and the date on the 150-foot tall sandstone formation he named for the boy, Pompeys Pillar.

Exploring Pompeys Pillar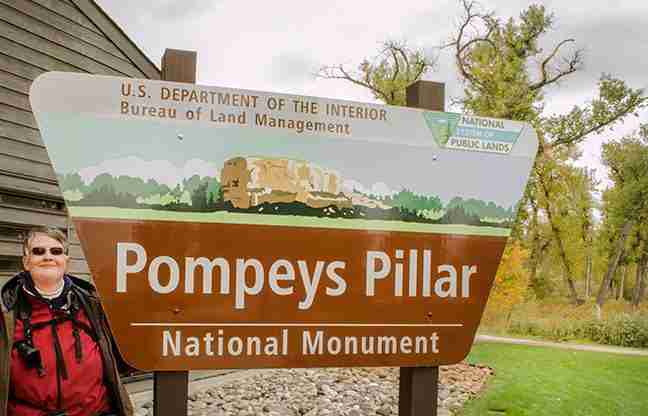 The monument near Billings is a Southeast Montana icon.
When the interpretive center is open, make it your first stop. Take a selfie with Sacagawea and Jean Baptiste.
After visiting the center, walk to the pillar. The boardwalk is flat and accessible. On your way, visit the glass tipi decorated with early images of Native Americans. Except during the winter, tribal flags surround the tipi.
See Clark's signature
A set of stairs ascends next to the pillar. Clark's signature is next to one of the landings under a Plexiglass frame. Pictographs and other explorers' autographs are also present.
Don't think of adding to them. The park's security cameras will be taking your picture.
After viewing Clark's autograph, take a few more steps to the pillar's top for a beautiful view of the Yellowstone River. The park also offers other trails, all worthy of your time.
Related: Explore the seven best things to do at Pompeys Pillar.
The park is half an hour east of Billings. The walk from the gates to the pillar is about three-quarters of a mile. Allow at least an hour at Pompeys Pillar, more if the interpretive center is open.
Related: Visit Devils Tower National Monument on the Black Hills' Wyoming side.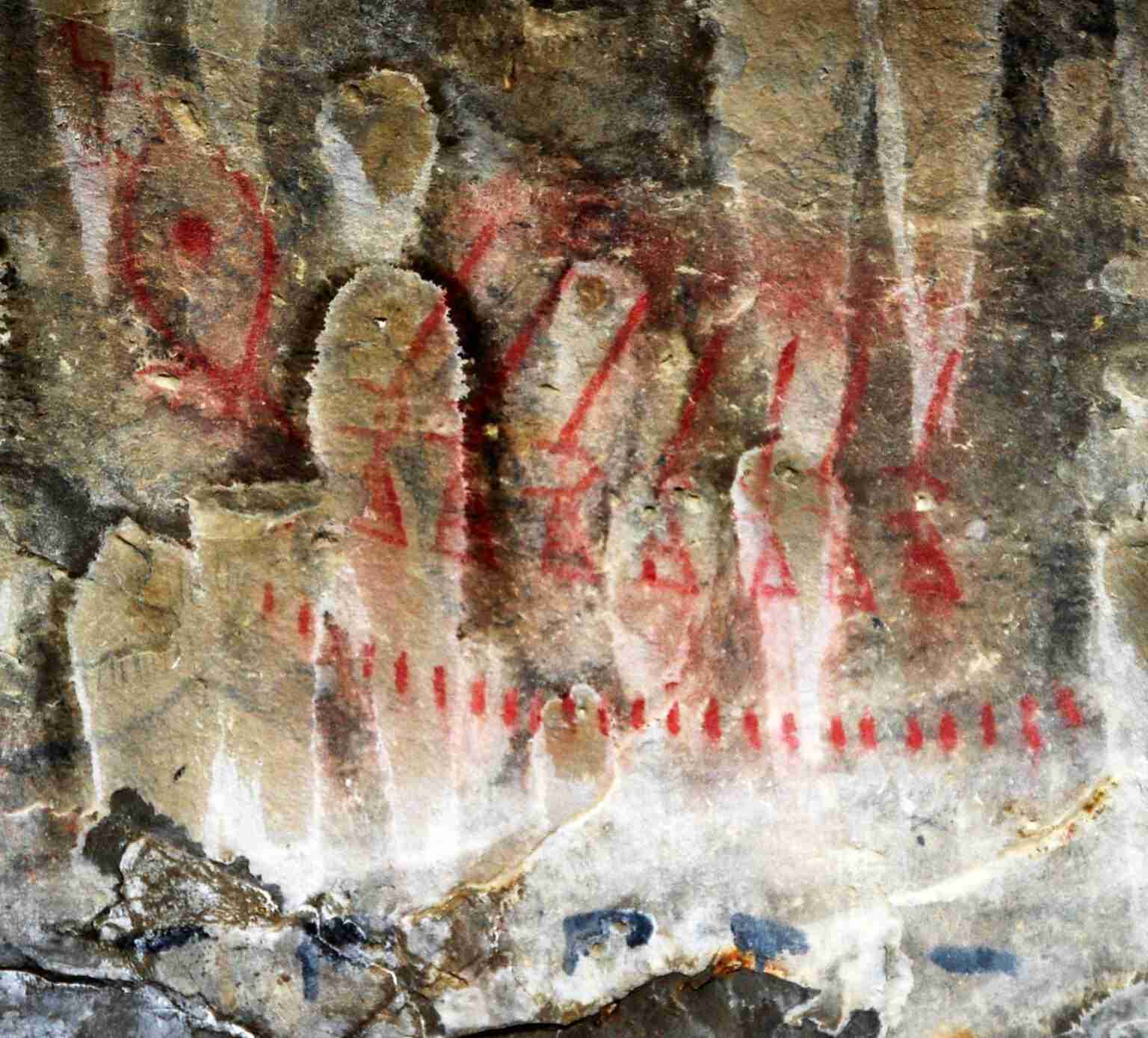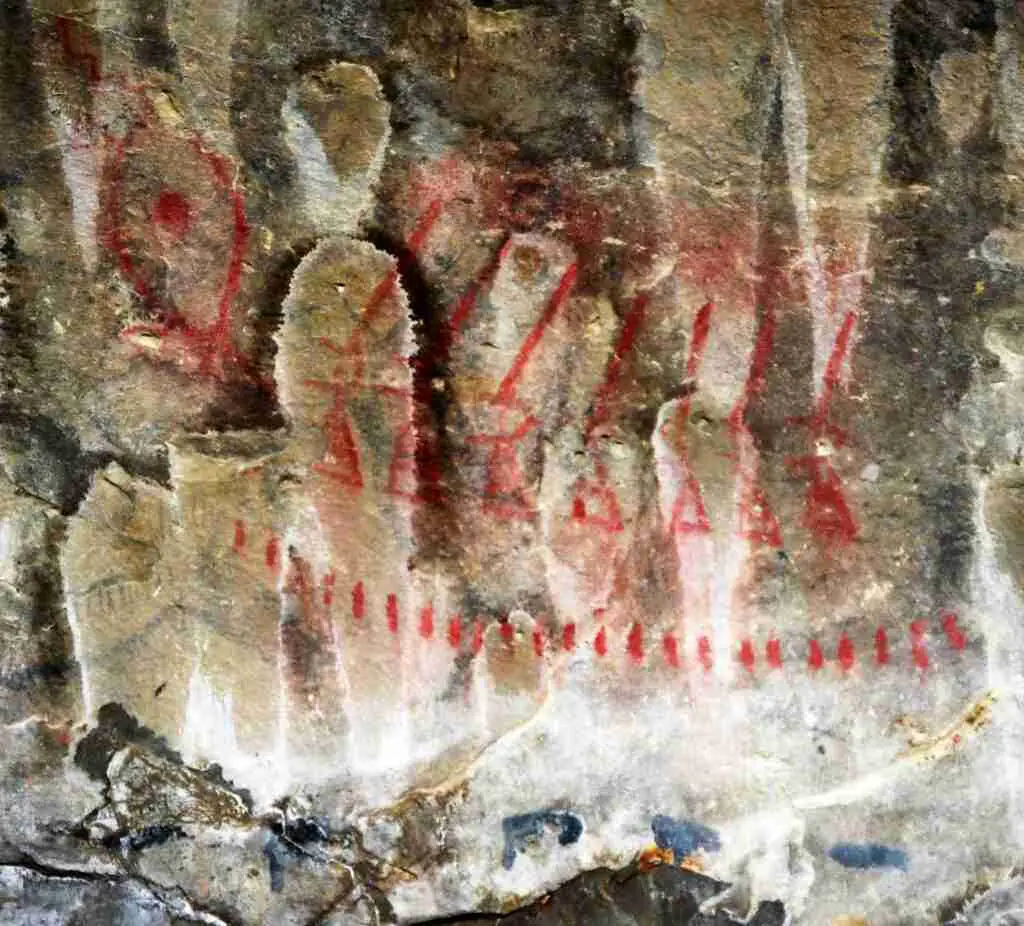 3. Pictograph Cave State Park in Southeast Montana
Near Billings, Montana prehistory shines at Pictograph Cave State Park. Generations of Southeast Montana hunters called Pictograph and Ghost caves home. Pictograph Cave's oldest rock art is over 2,000 years old. Newer rock art is modern enough to include rifles.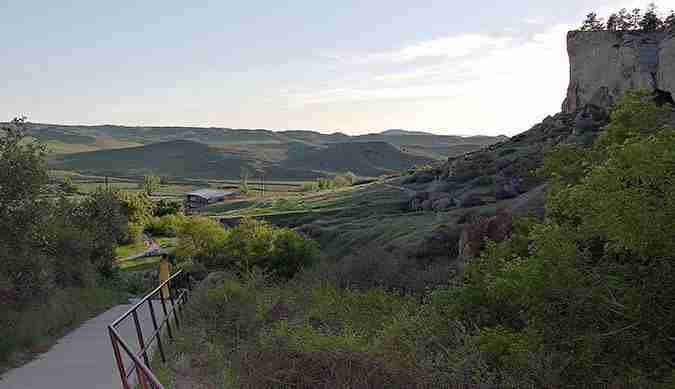 Related: Explore Pictograph Cave State Park.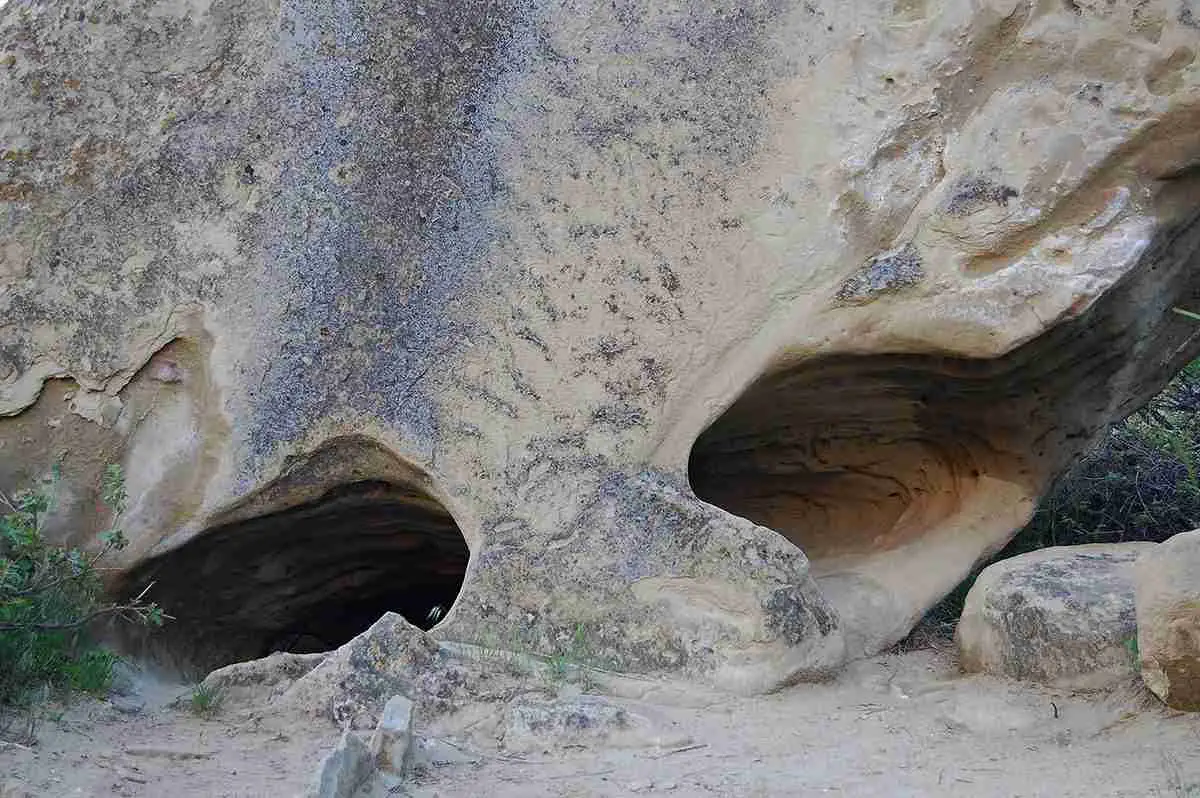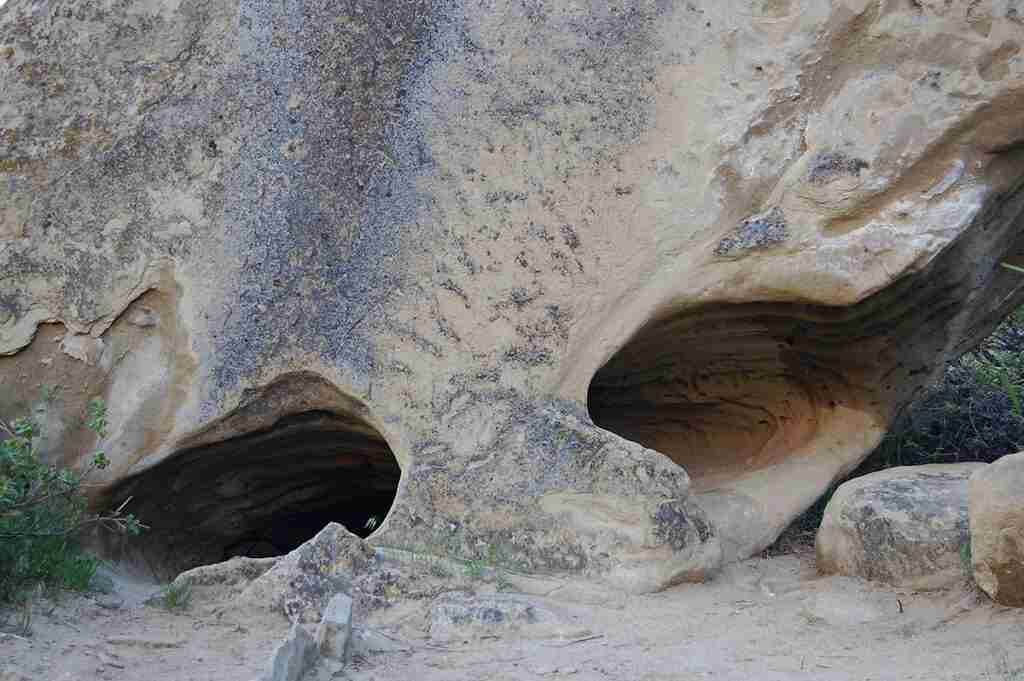 Roxie's reliable recommendation: Bring your binoculars and/or your long lenses. You'll need them to view the pictographs in detail because Pictograph Cave is 160 feet wide and 45 feet deep. Stroll the easy quarter-mile-long trail that visits all three caves. The site is allegedly haunted, and some have reported hearing strange sounds.
Tour the visitors center to see some of the caves' artifacts and some interpretive panels. Allow at least an hour at the park.
Roxie's reliable report: Montanans receive free admission.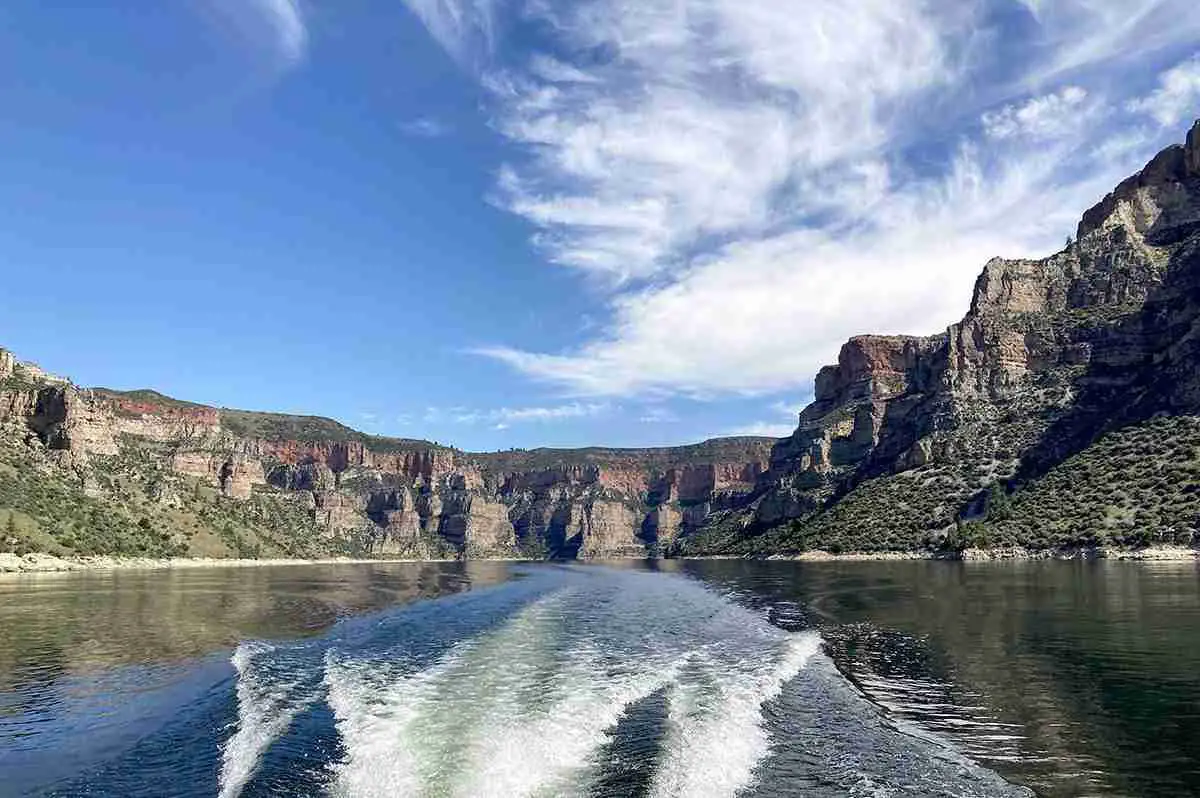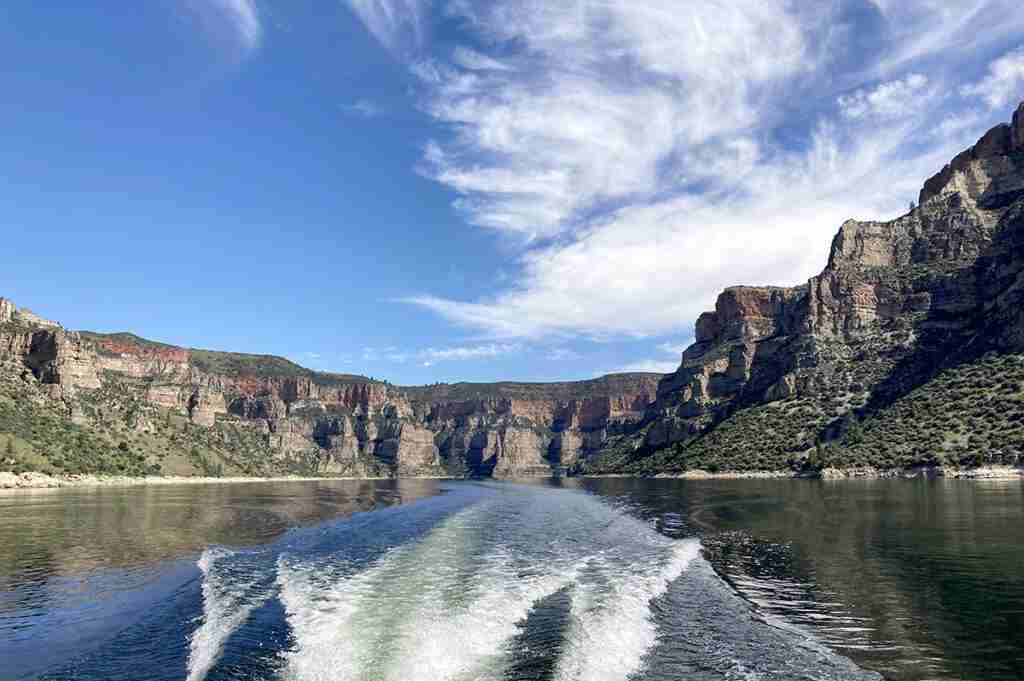 4. Bighorn Canyon National Recreation Area
Bighorn Canyon National Recreation Area is two hours southeast of Billings. The 55-mile-long lake offers all the water-based fun imaginable in Southeast Montana.
Rent a boat at the Ok-A-Beh Marina or bring your own. The trout fishing below Afterbay Dam is world-class with 6,000 trout per river mile. Before boating or fishing, read the park rules.
The Yellowtail Dam bears Apsáalooke (Crow) leader Robert Yellowtail's name, but he had opposed the dam. It opened in the 1960s despite his efforts to stop it.
Related: Learn more about Bighorn Canyon, its legends, geology, and the fight to build its dam.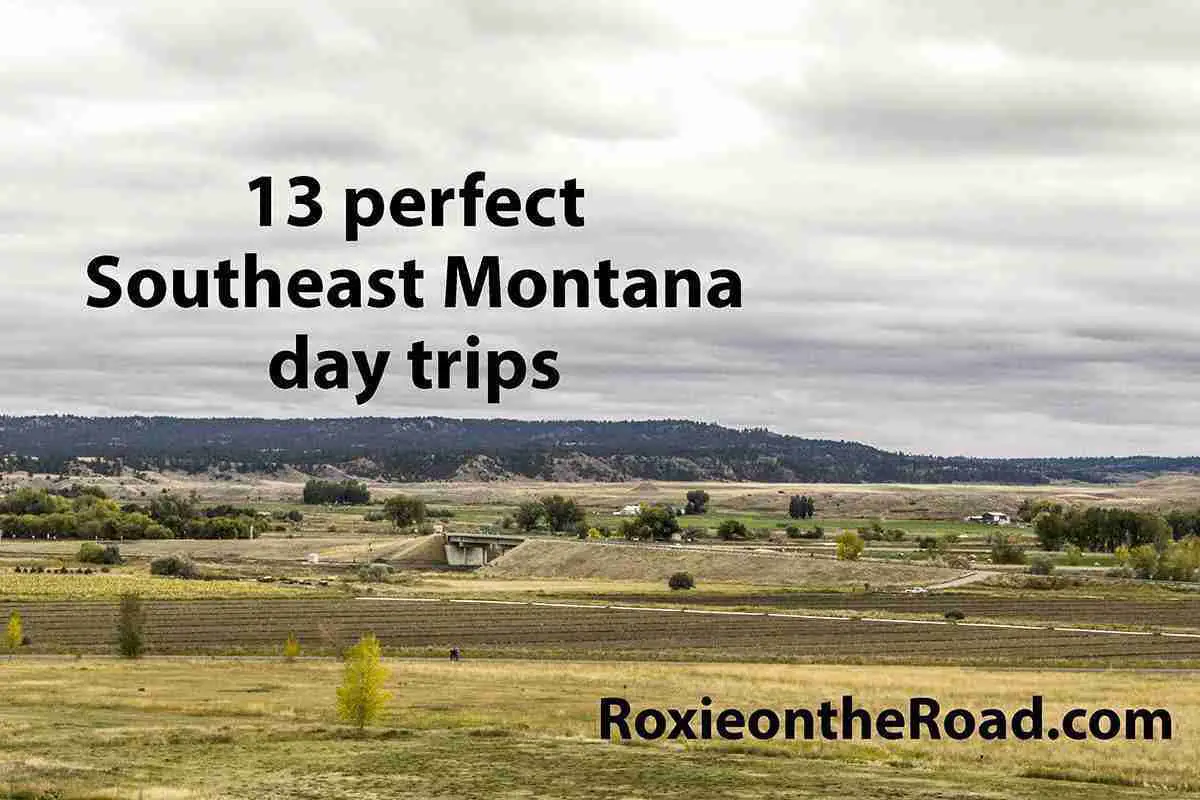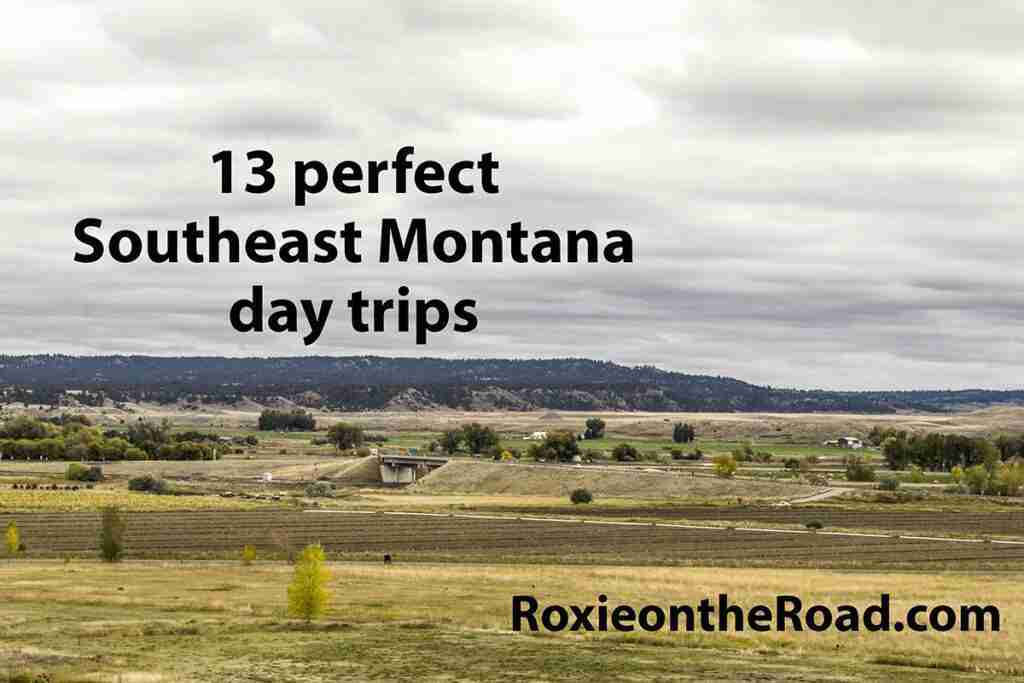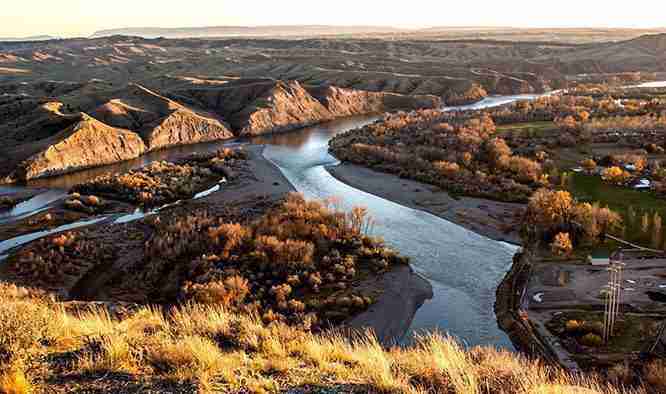 5. Four Dances Recreation Area
Only 2 miles east of Billings, the Four Dances Natural Area is an unexpected Southeast Montana gem. Four Dances' cliffs drop 200-500 feet to the Yellowstone River on the park's west side. Hike to the top for wonderful river views. The trail to the top gains 400 feet and is rated intermediate. However, don't let the altitude gain stop you. Parts of the trail are easier. Leashed dogs are welcome, but please pick up after them.
Clark described the cliffs on July 24, 1806: "a high [cliff] of yellowish Gritty Stone on the [starboard]." It is now known as Sacrifice Cliff.
The views include more than the river. Southeast Montana spreads out before you. You'll see Billings and the Beartooth Mountains. And you're likely to see wildlife. Humans have left their marks (literally) on the cliffs. To see one of those marks, look for the Yegen Bros. sign. Read directions to the park. Do not attempt to climb the cliffs.
The park receives its name from Apsáalooke Chief Four Dances, who used the site for spiritual quests during the 1830s.
Roxie's reliable report: Beware of rattlesnakes. Before visiting the recreation area, read these snake safety tips (PDF).
6. Western Heritage Center and Historic Walking Tours
You walk in historic footsteps at the Western Heritage Center in Billings. The museum's exhibits rotate, and the museum holds its High Noon Lecture Series once a month. The real treat comes when you join their Historic Walking Tours. The tour destinations vary, but all the tours are interesting.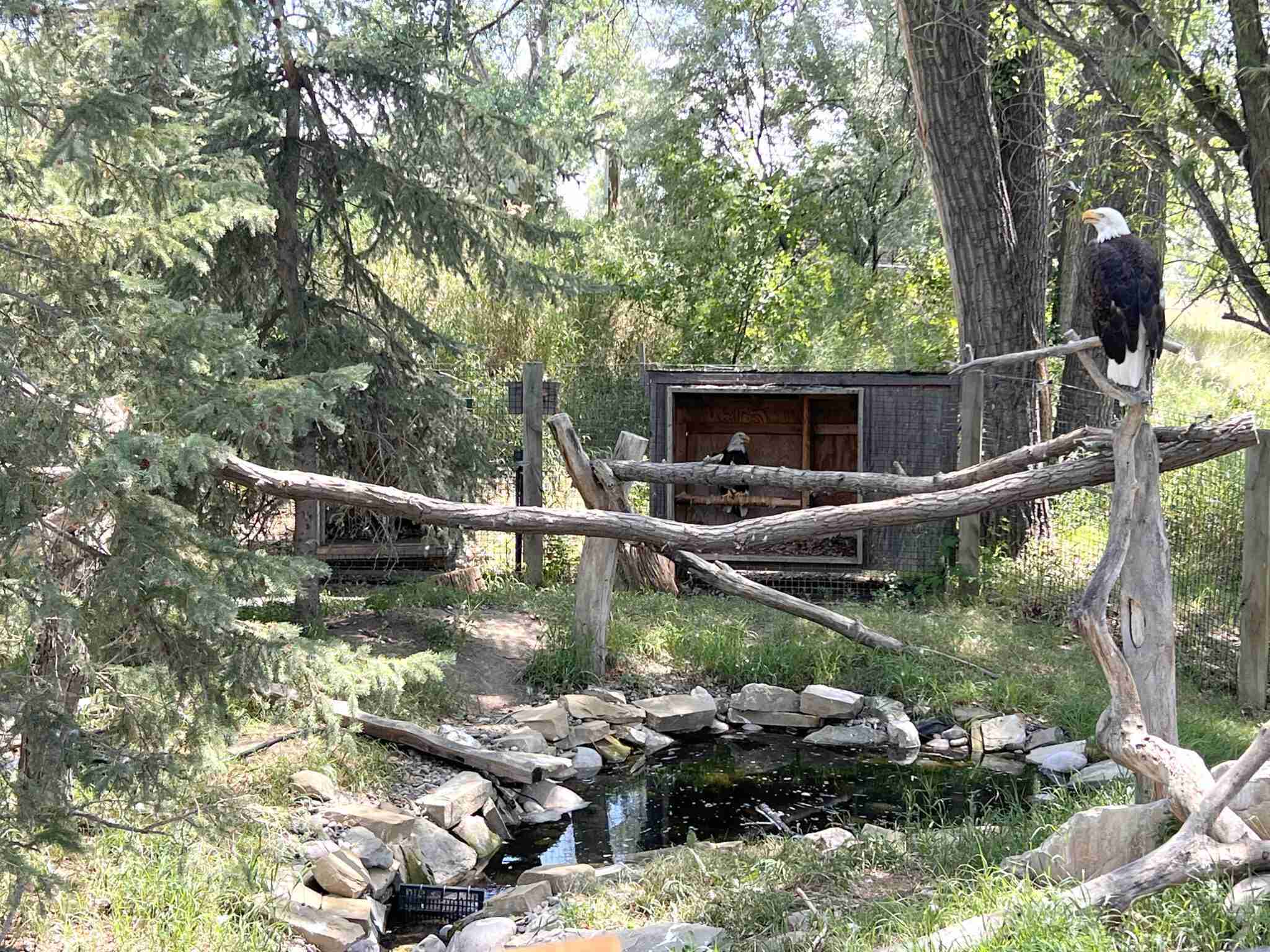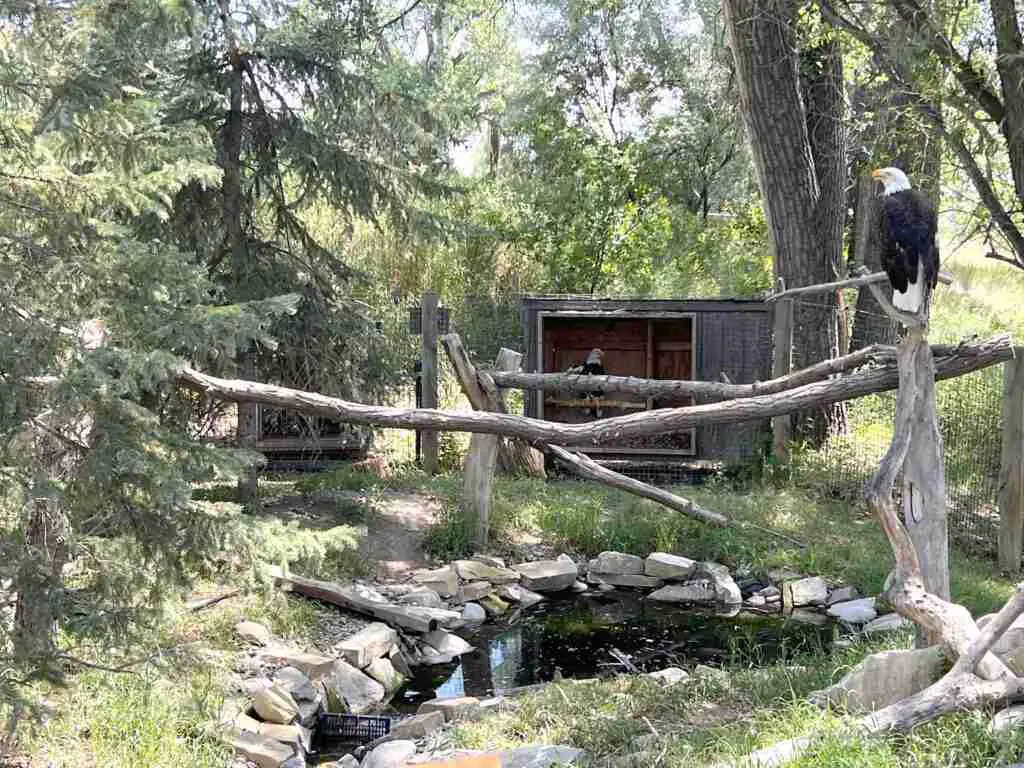 7. Zoo Montana
Don't expect to see tropical animals at Zoo Montana. This zoo attends to its Southeast Montana climate. The animals here are native to Billings' latitude or further north. The zoo also rehabilitates injured animals.
Meet some of the animals.
The wolverines Sid and Ahmari came from Scandanavia as a breeding pair. They are a kind of insurance against a future wild population collapse. Watch for Kuzco the green iguana. He sometimes walks around the zoo plaza. If you hear raucous laughter, perhaps Sydney the laughing kookaburra has just heard a good joke.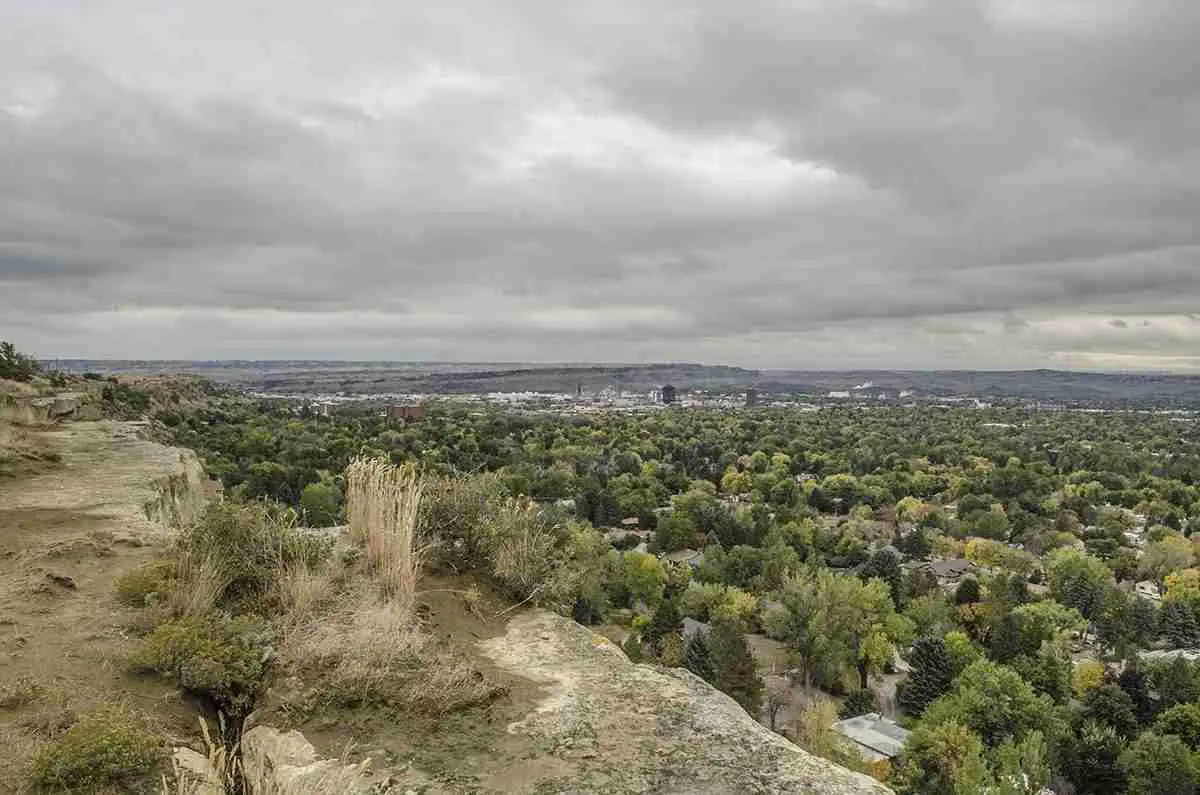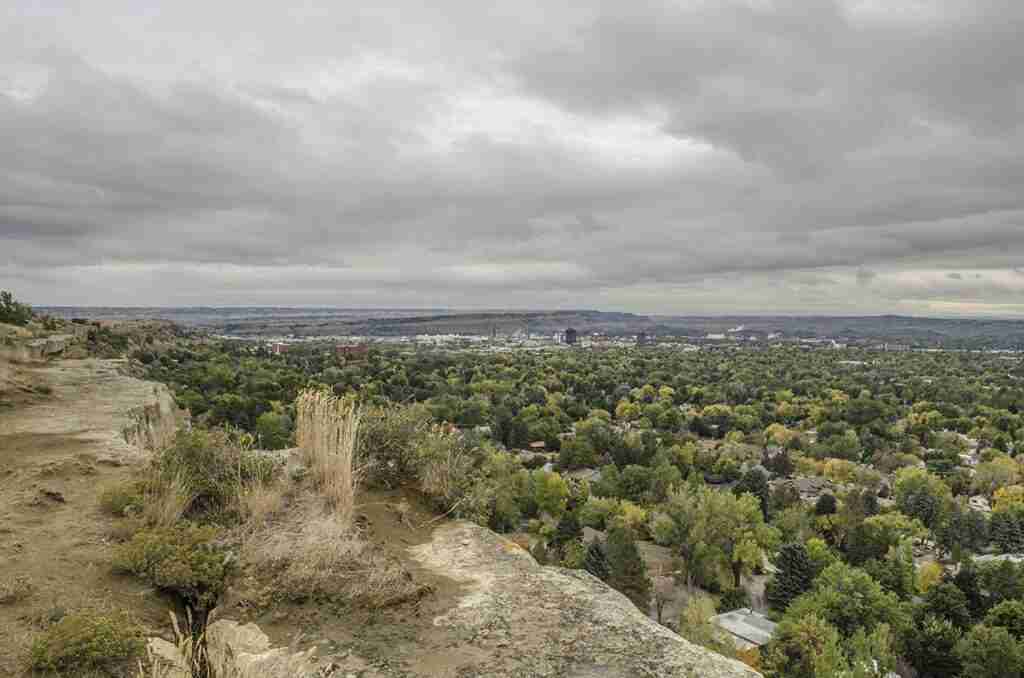 8. Swords Park
Swords Park provides a different Billings view than Four Dances does. You'll enjoy walking the trail and looking into Billings. The park includes Luther Sage "Yellowstone" Kelly's grave and a hidden stone staircase.
Billings Parks and Recreation has installed benches and picnic sites. Park at lots on Airport Road at the North 27th St. and the Rimtop Drive intersection. Boothill Cemetery at the Aronson Ave. and Swords Lane intersection offers limited parking. The cemetery has no markers other than a large stone cairn.
9. Yellowstone Cellars & Winery
After all that exercise in Billings, you need a Southeast Montana break. Yellowstone Cellars & Winery is the perfect option. Enjoy free tastings and relax on their patio, then take home Montana's best wine.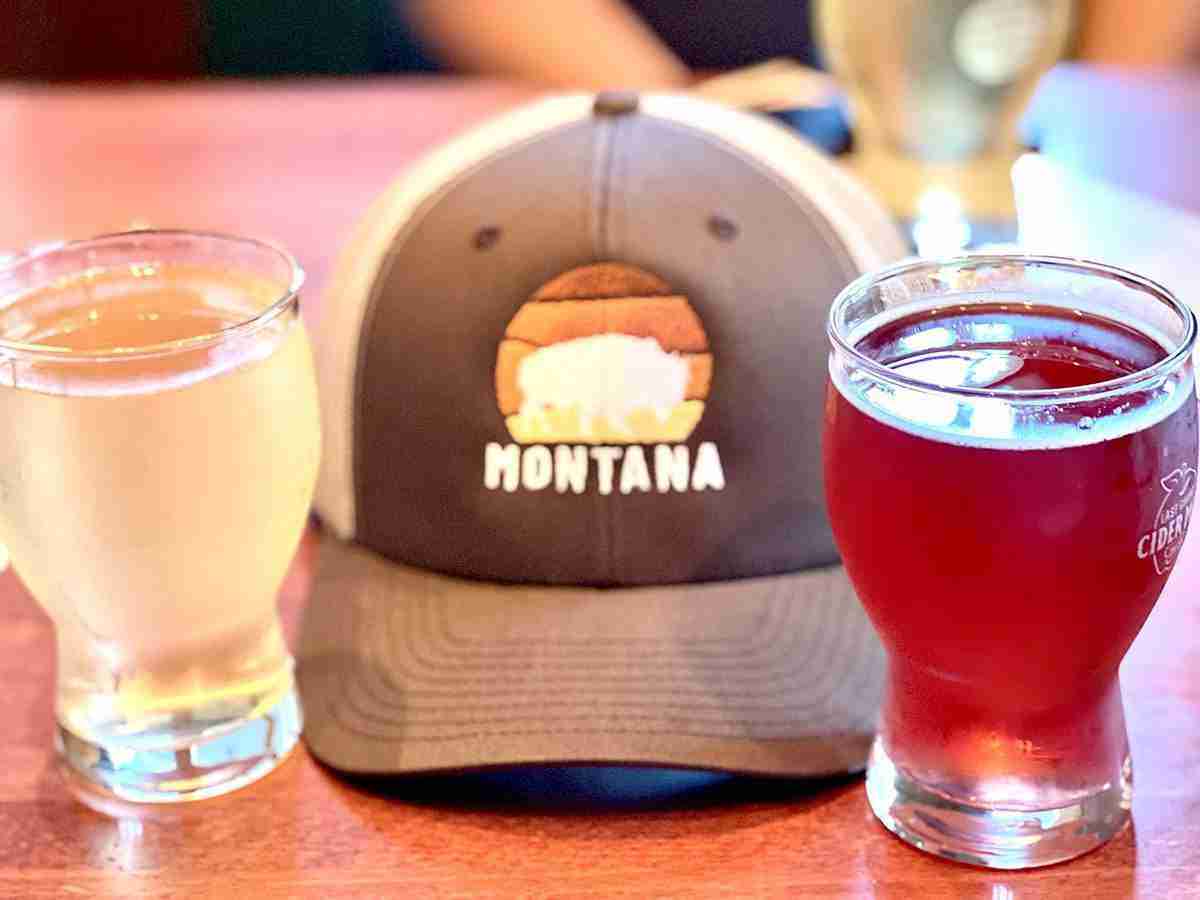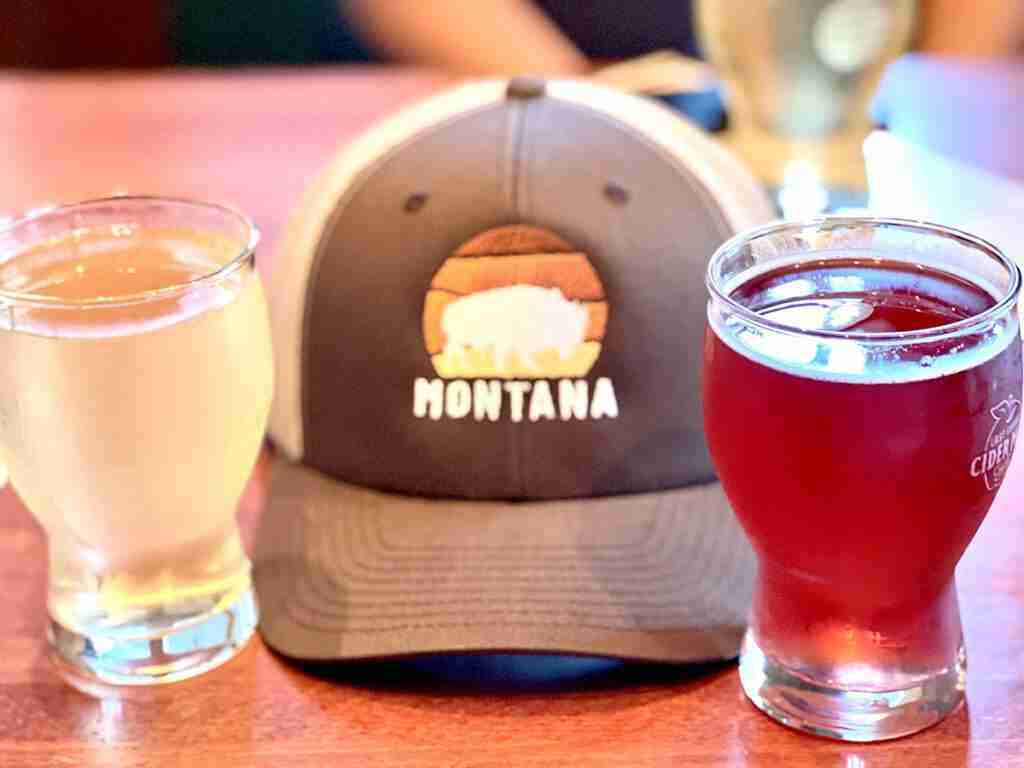 10. Billings Brew Trail
Enjoy the Billings Brew Trail. It's Montana's first walkable brew trail. The trail includes six breweries, two distilleries, and one cidery in 1.5 miles.
Roxie's reliable recommendation: Sign up to win prizes after only two brew trail stops.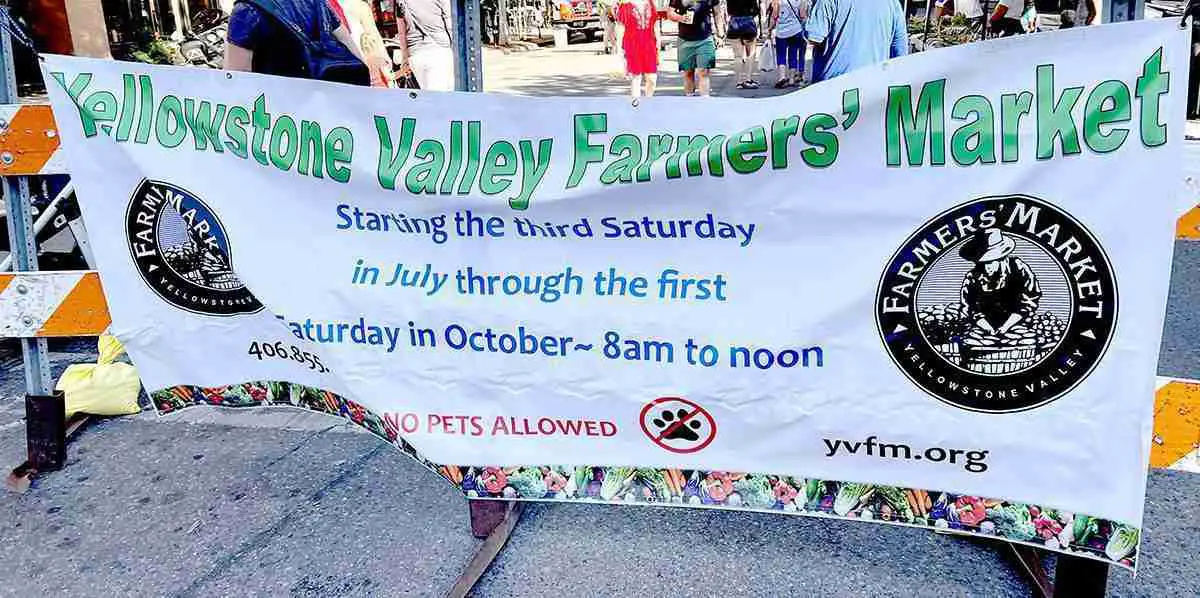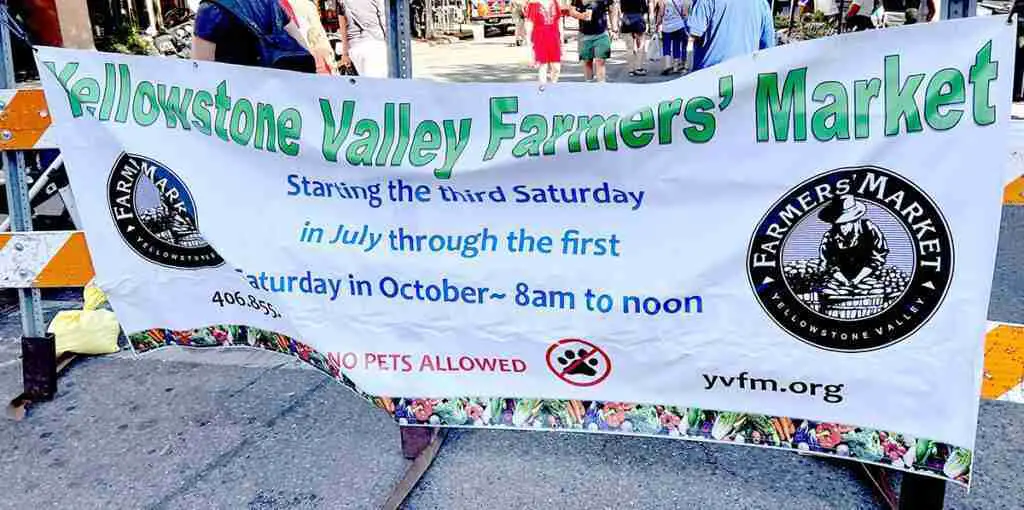 11. Yellowstone Valley Farmers Market
Southeast Montana goodies are plentiful every Saturday from mid-July through October at Yellowstone Valley Farmers Market. Choose fresh produce, flowers, and baked goods, plus visit food trucks.
12. Beartooth Highway
Thus fortified, fill up your gas tank and head for the Beartooth Highway, the number-one Montana's Trailhead destination. First, take Highway 212 about an hour southwest from Billings toward Red Lodge. Allow three hours to drive the Beartooth.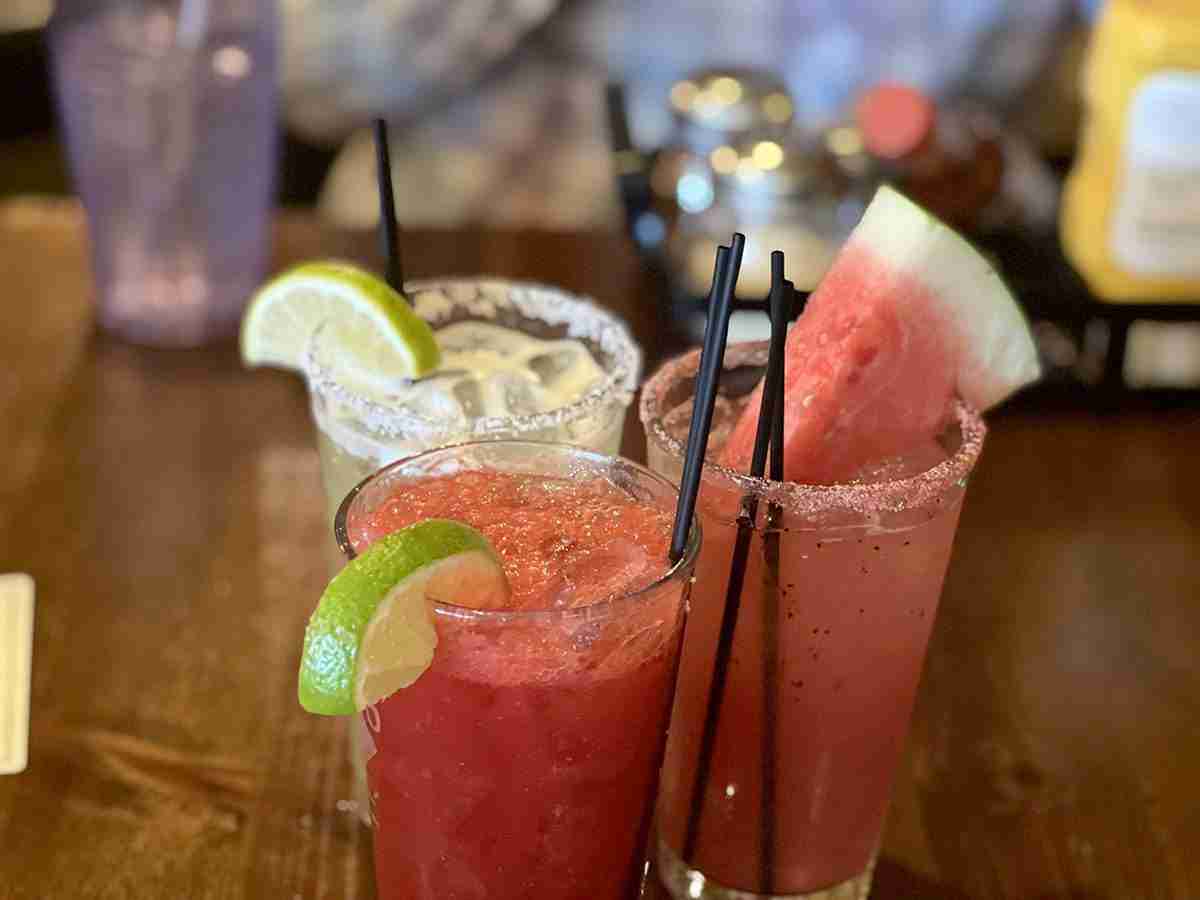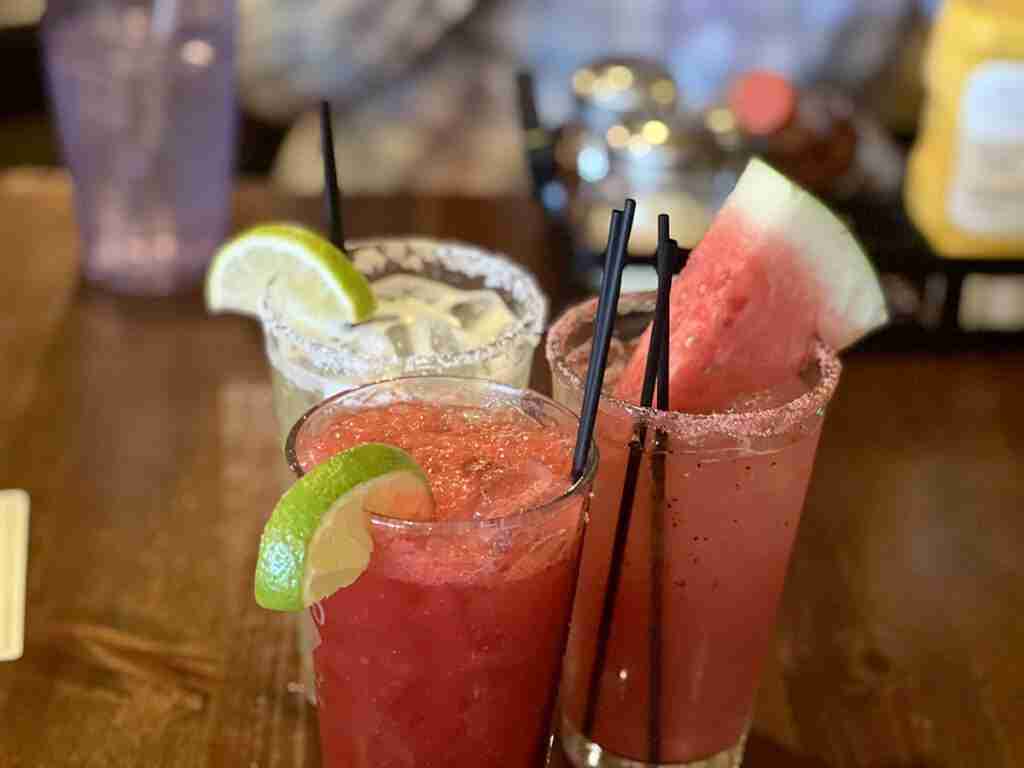 Roxie's reliable recommendation: Stretch your legs in Downtown Red Lodge and add huckleberry caramels from Montana Candy Emporium to your lunch. We loved Bogart's margaritas.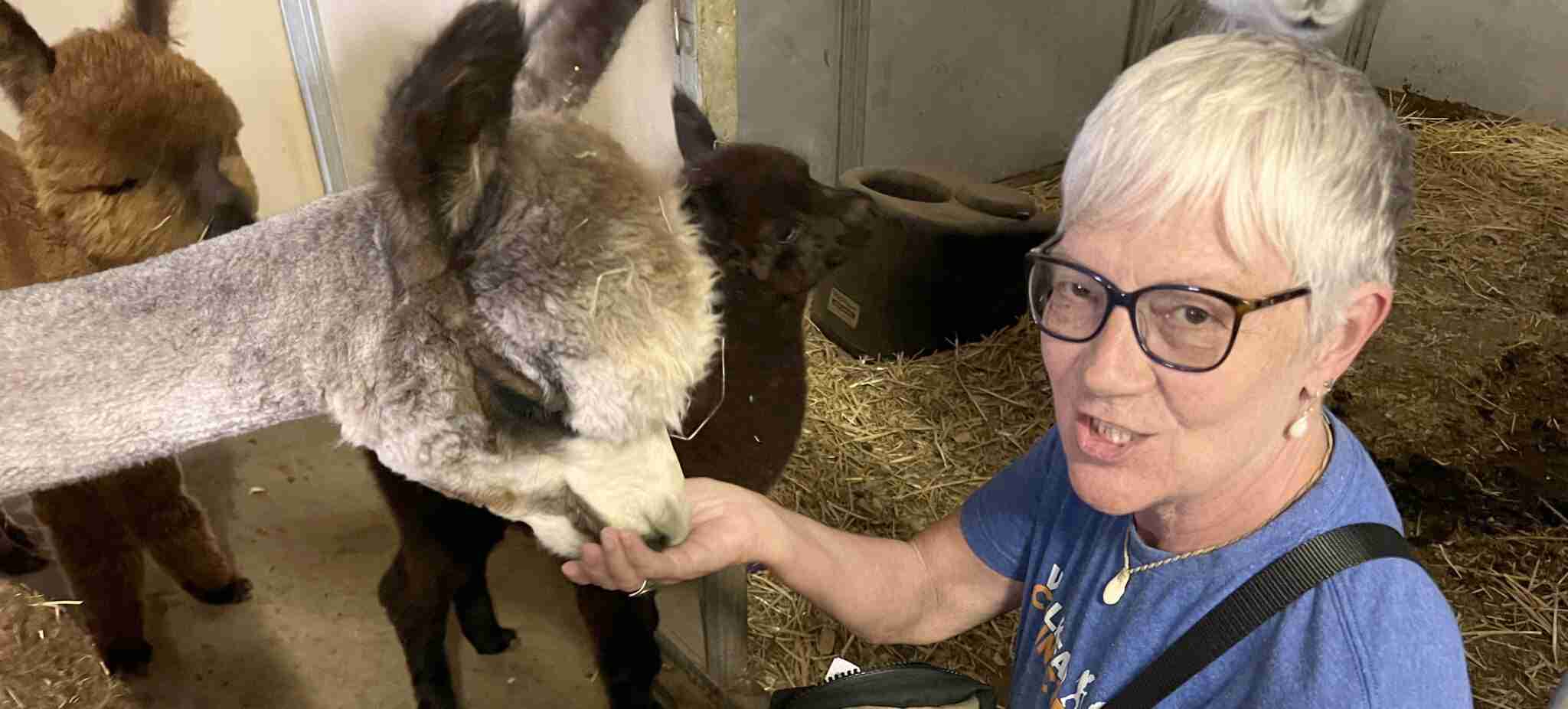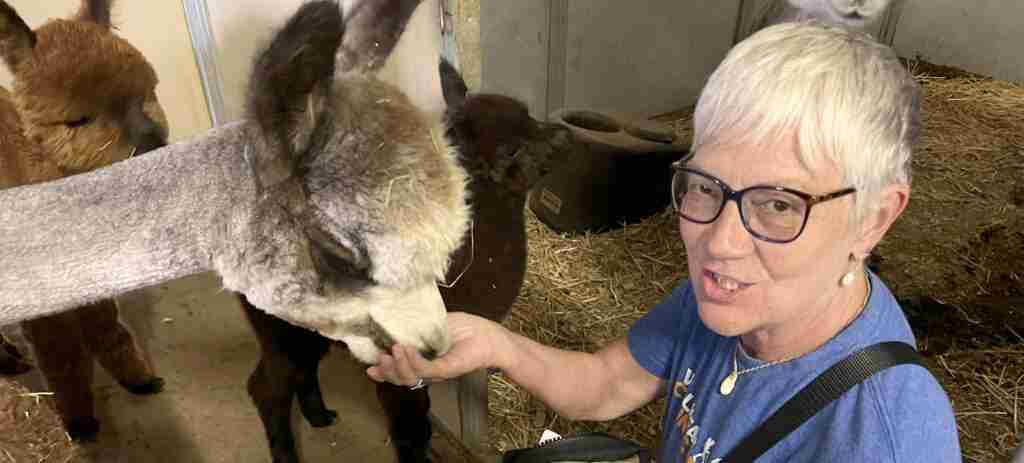 13. Mule Train Alpaca Ranch
Alpacas are adorable. Their large eyes, long lashes, and soft fur invite humans to interact with them. Spend your afternoon with the beauties at the Mule Train Alpaca Ranch 17 miles west of Billings.
The ranch's address on Mule Train Road gave the place its name. Yes, they have a mule, Snowman, plus merino sheep and chickens. Llamas and Great Pyrenees dogs are the ranch's security officers.
Guests get to feed the alpacas and learn about turning their wool into yarn.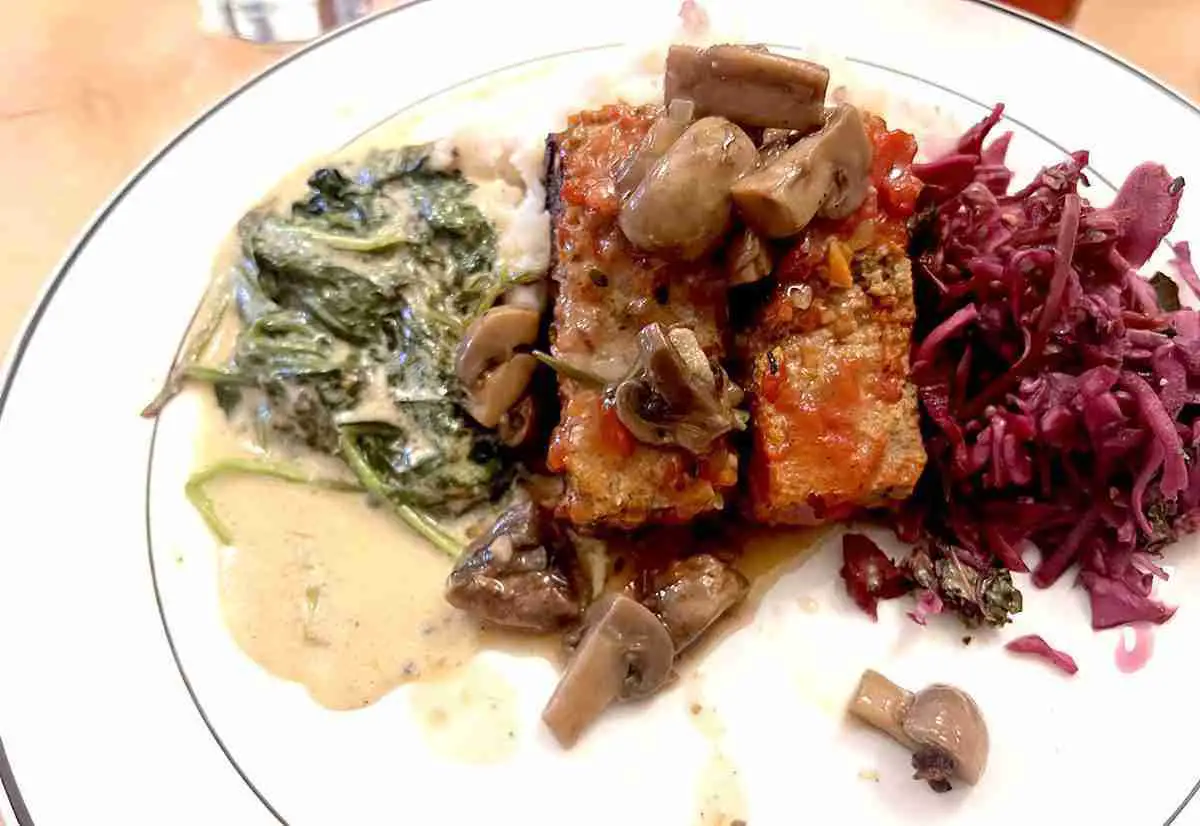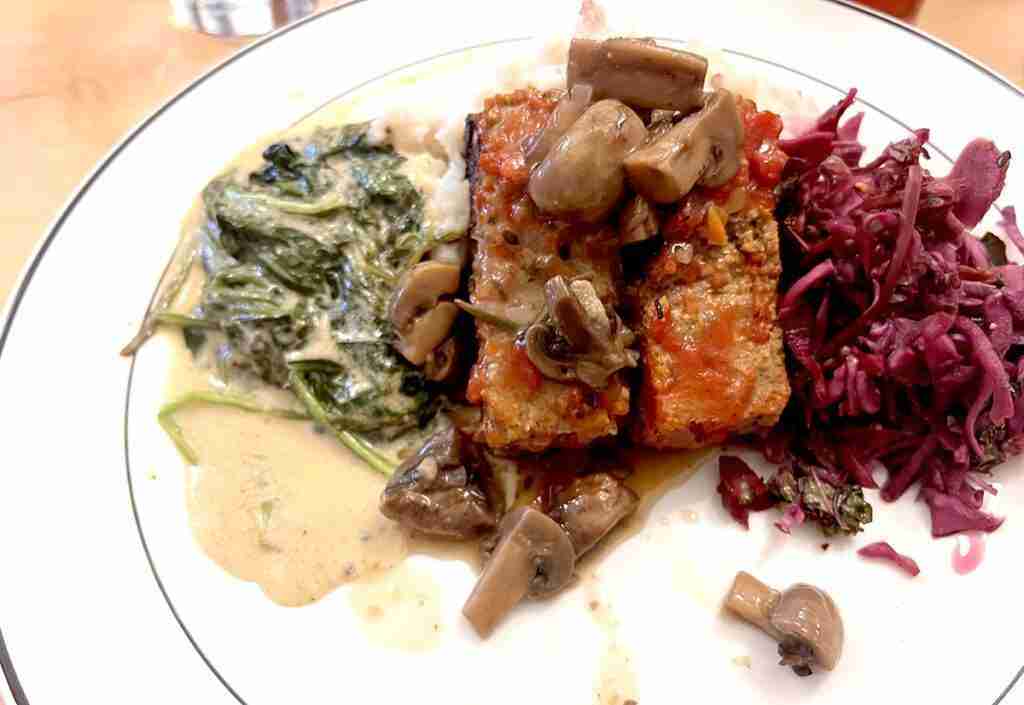 Where to eat in Billings
We love Louisiana, and we love Montana. In Billings, Montana and Louisiana have come together at Cajun Phatty's.
I enjoy lamb, and The Marble Table's lamb was a cut above every other lamb I've eaten. The meat comes from the Hollenbeck Ranch outside Billings. A ranch in Sidney raises their beef.
For great Mexican food, head to Don Luis Restaurant. Expect leftovers because the portions are huge. But that's OK because the food tastes great. Try their Rabinoff noodles.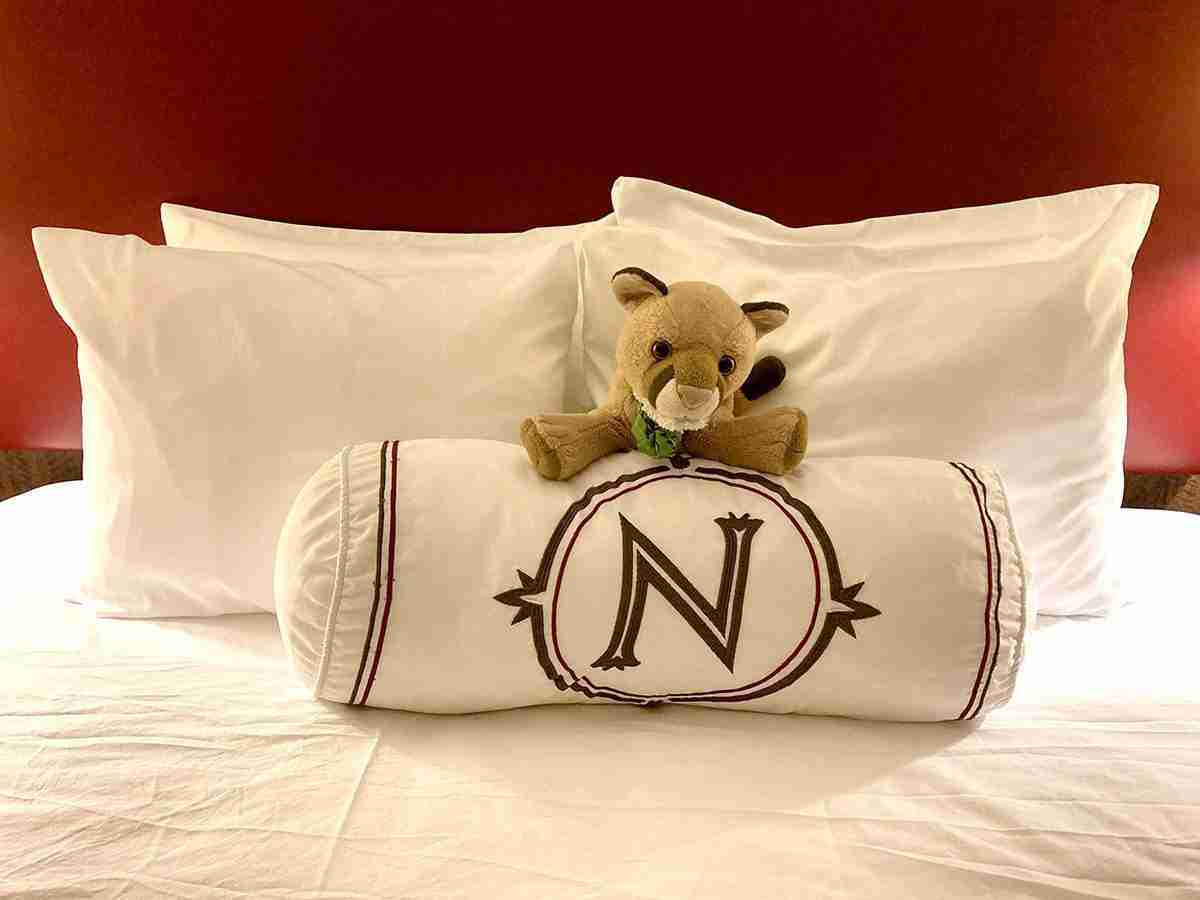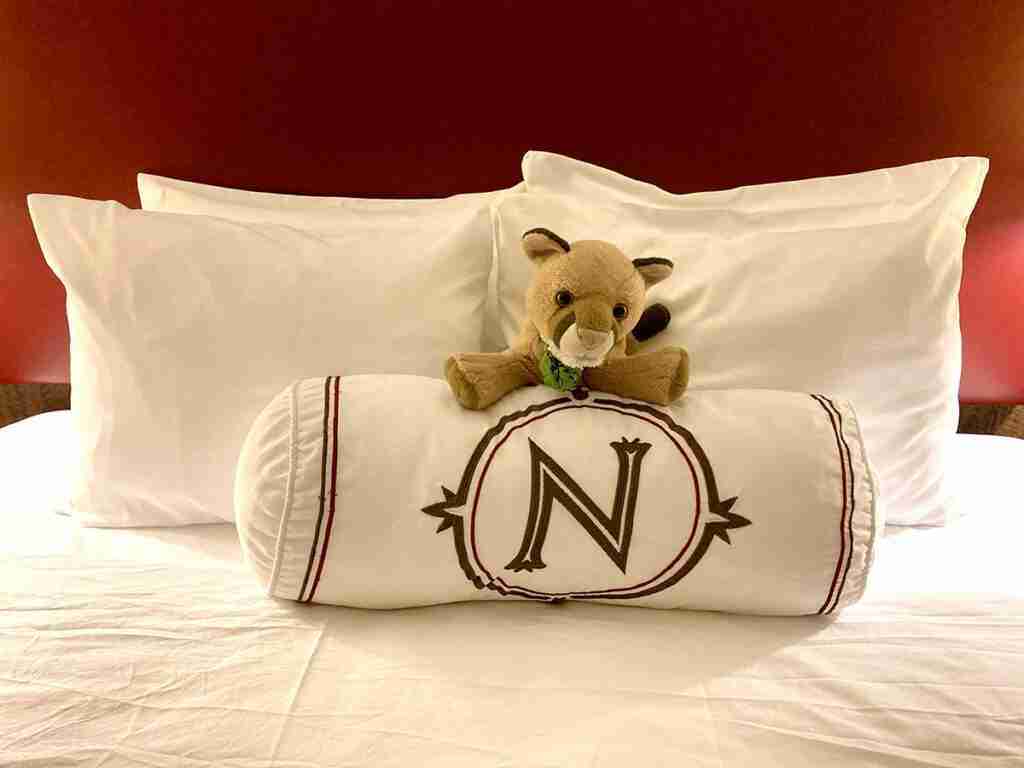 Where to stay in Billings
For unabashed luxury, stay at the Northern Hotel, 19 N. Broadway. Try breakfast or lunch at Bernie's Diner, then savor supper at TEN.
Campground: Stay next to the Yellowstone River at Billings KOA. The campground is open from April 1 to October 31 and has won several honors.
How to reach Billings
By air: Several major airlines serve Montana's Trailhead at Billings Logan International Airport (BIL) from major destinations. Billings serves Montana regional airports as well.
On the ground: Billings sits at the junction of Interstates 90 and 94. Interstate 94 ends in Billings. US Highway 87 runs north and south, while 212 runs east and west.
Awareness tips for Billings
Cell phone service can be spotty away from Billings. Get a Montana paper map.
Always watch for rattlesnakes.
Fill up before you leave Billings. Montana is thinly populated, and services are often far apart.
The West's climate is dry, so carry and drink bottled water to remain hydrated. Use lip balm.
Even in the summer, bring a jacket. Montana evenings are often cool.