Explore Land and Sky Scenic Byway
Of all the roads we've traveled, the road closest to our hearts is our road — Land and Sky Scenic Byway. Every one of the byway's 88 miles is dear to us. Come explore Land and Sky Scenic Byway with us. We'll see gorgeous agriculture, art, architecture, and learn about history. At the northern end, we'll explore the spectacular Arikaree Breaks.
Visit Sharon Springs, Goodland, St. Francis, the Arikaree Breaks, Haigler, and Bird City. Plan for at least two days: Day 1 from Sharon Springs to Goodland and Day 2 from Goodland through the Arikaree Breaks. If possible, reserve another day to explore The Breaks.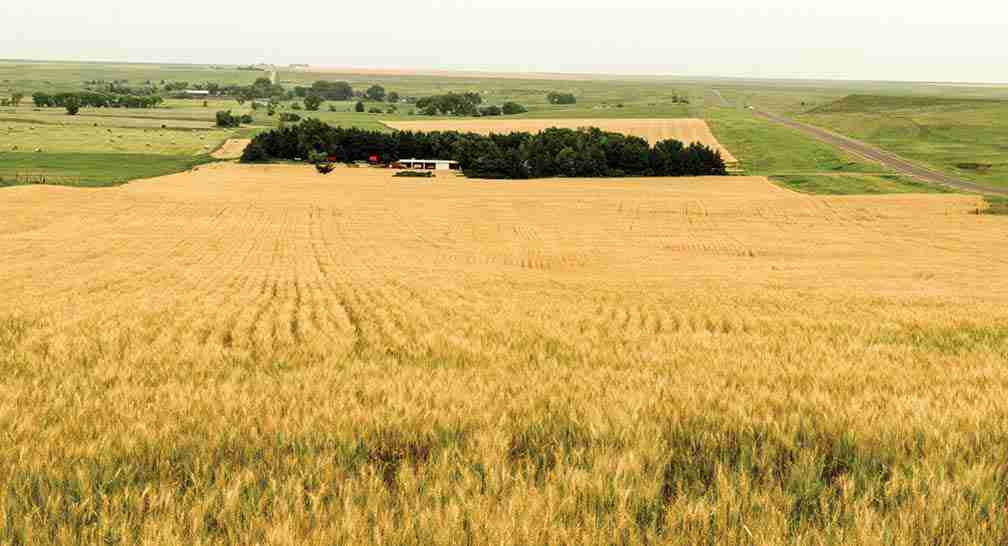 Land and Sky Scenic Byway: The nation's first agriculture byway
The byway's theme is agriculture. Since it's the only ag-themed byway in the nation, it has a unique mission. Considering that agriculture is THE industry here, the byway's mission makes sense. We make our living by feeding people. Can any career be more honorable than working to feed others? But agriculture is more than growing crops. Agriculture produces beauty, not only food.
Land and Sky Scenic Byway runs from the intersection of Highways 40 and 27 in Sharon Springs to the Kansas-Nebraska state line south of Haigler, Neb. That's a lot of artistic miles. We'll start in Sharon Springs and head north.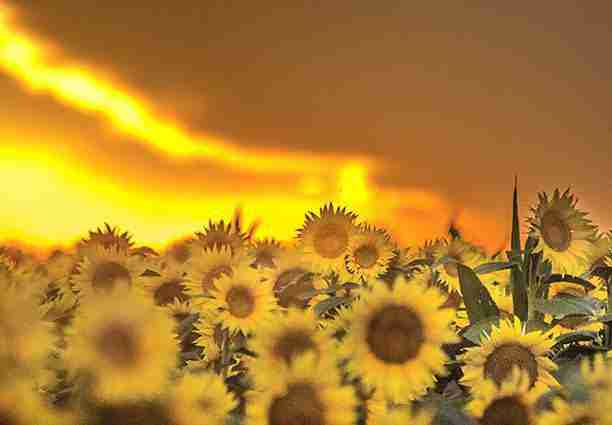 On the byway, June, July, and August are the best times to enjoy crops in the field. Wheat harvest comes in June and July. During August, enjoy the sunflowers. Call 785-821-0403 for bloom predictions. Learn tips about taking great sunflower photos.
Agriculture is everywhere along the byway, but the byway has far more to offer than simply gazing at crops and livestock.
Navigation: Day 1 | Day 2 | Sharon Springs | Goodland | St. Francis, | the Arikaree Breaks | Haigler | Bird City.

Day 1: Sharon Springs on Land and Sky Scenic Byway
Fox Still Art Environment
Raymond "Fox" Still wanted to practice archery. Instead of the typical boring targets, he built his own. Visit Fox Still Art Environment for a time-traveling T-rex, a tiger using a light pole for a scratching post, and other creations. Open during daylight hours. If you don't see the art, try navigating to 405 Maple.
21st Century Bean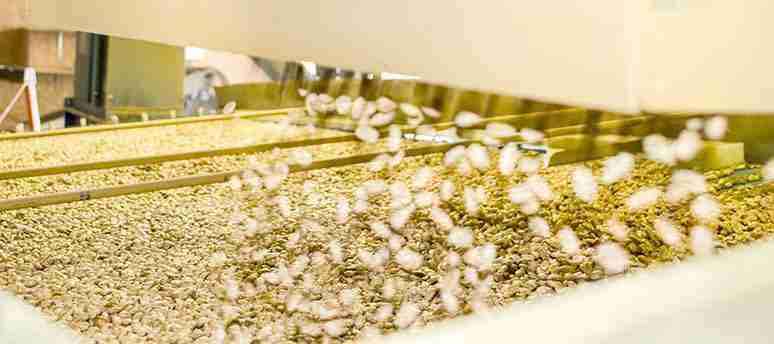 You might not think of dry beans as a Northwest Kansas crop. Learn differently at 21st Century Bean. Dry beans are easy to store, have a long shelf life, are full of nutrition, and they taste great. Learn how beans are cleaned, packed, and sorted. Call 785-852-4203 for a tour appointment at the grower-owned company. Allow several days' notice. Try our recipe for Pink and Black Soup (black beans and ham).
Where to eat and stay on Land and Sky Scenic Byway
Town's End Tavern
After several years of running a food truck, Erin Wright repurposed a building in downtown Sharon Springs into Town's End Tavern. Try the hand-cut USDA Prime steaks. You'll love the strawberry margaritas in salt-trimmed Mason jars. I'm a sucker for cookie dough and the chocolate chip cookie dough cheesecake fits my taste buds.
Mt. Sunflower Bed & Breakfast
In another repurposed building, follow in President Theodore Roosevelt's shoes at Mt. Sunflower Bed & Breakfast. The President attended the former Sharon Springs United Methodist Church on his way to California. While in Sharon Springs, a little girl named Pearl Gorsuch gave the President a pet badger. "Bother politics," Roosevelt said. "This last day in Kansas is the best of them all."
Land and Sky Scenic Byway between Sharon Springs and Goodland
Mt. Sunflower
Mt. Sunflower Bed & Breakfast is named for Mt. Sunflower, the highest point in Kansas. Collect the high point on your way north on Highway 27 to Goodland. The high point requires no climbing; you can drive right up to it. Bring a picnic lunch, relax, and enjoy the view. If you come in the evening, bring binoculars and telescopes to enjoy the stars.
Be aware
The site is in a pasture, so cattle may be present.
Watch out for cow pies (dung piles) and rattlesnakes.
You'll have to drive miles on gravel roads, so be prepared.
In wet weather, a four-wheel-drive vehicle may be your best choice.
Download a map (PDF) because cell service will be spotty at best.
Please be respectful.
Soldiers Memorial County Park
Soldiers Memorial County Park southwest of Goodland is another place to relax and enjoy the view. Nestled in the valley of the North Fork of the Smoky Hill River, the park offers fishing, picnic areas, disc golf, a nature trail, and a playground. It's our favorite place to escape. Sherman County has recently renovated the park, making it even more beautiful than it was before.
Be aware
Locals often refer to the park as Smoky Gardens, after the name of a long-defunct resort. Signage refers to the park by both names. Like Mt. Sunflower, the park is on gravel roads and cell service can be spotty. Download a map (PDF).
Navigation: Day 1 | Day 2 | Sharon Springs | Goodland | St. Francis, | the Arikaree Breaks | Haigler | Bird City.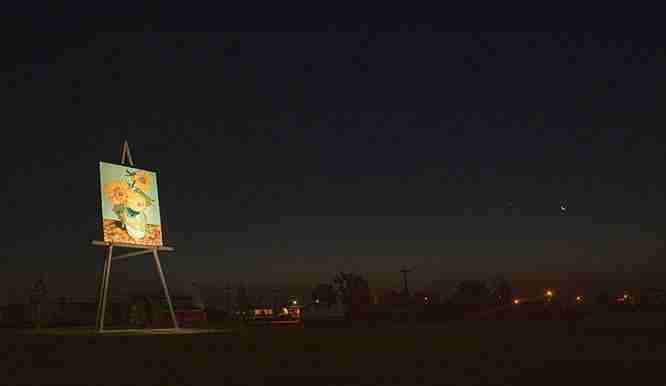 Land and Sky Scenic Byway in Goodland
Giant van Gogh Painting
Visits to Land and Sky Scenic Byway must include the Giant van Gogh Painting in Pioneer Park East. The World's Largest Painting on an Easel is your best selfie destination on the byway. Make sure to include Goodland's water tower in the background. With a little imagination, you can picture the Tin Man's face on the silver water tower. Artist Cameron Cross chose Goodland for the painting because of its sunflower production and marketing.
When you're at the painting, pick up some Goodland souvenirs at Goodland Welcome Center and let your dog run free at Pioneer Dog Park. Stretch your legs across the street on the walking trail at Pioneer Park West. Parking is available at the welcome center and behind the painting. The painting is illuminated at night.
High Plains Museum
Stretch your legs even more by walking two blocks north to High Plains Museum. Learn about Sherman County history and give America's First Patented Helicopter a whirl. The replica turns when you press a button.
At the museum, say hello to the bison. Pet Grey, the horse in the Kysar Barn, and take a picture with him.
The museum often hosts special exhibits. Imagination Playground, where people build structures from foam blocks, is our favorite recurring exhibit.
Follow Topside Trail to Steever Park and Steever Water Park. The full trail through Steever and Northwest Tech's campus is 0.86 miles one way.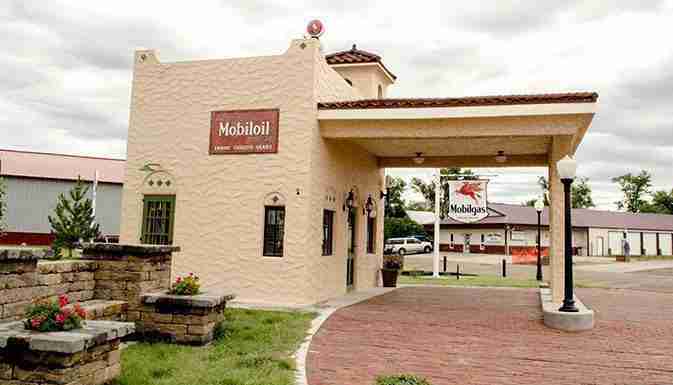 White Eagle Gas Station
For nostalgia at its finest, turn left on 17th Street to the restored White Eagle Gas Station at Clark and 17th. The gas station was originally in Kanorado, 17 miles west of Goodland, and was barely standing. Ace antique collector Rod Cooper moved it to Goodland and restored it.
He filled the station with memorabilia from White Eagle and subsequent petroleum companies. Look for the Model T mechanic's rack outside.
Respectful people are welcome to look into the windows and walk the grounds during daylight hours.
Carnegie Arts Center
Enjoy rotating artists' exhibits and shop at the fine gift shop in the Carnegie Arts Center. Check their calendar for workshops. The center, formerly a Carnegie library, played a role in women's progress toward full voting rights.
Ennis-Handy House
Sherman County Historical Society has preserved two outstanding buildings in Downtown Goodland. The first is the Ennis-Handy House. Mary (Seaman) Ennis built the house in 1907. After she moved, the house became a boarding house and a funeral home before returning to a single-family dwelling. Not surprisingly, rumors say the house is haunted. The historical society offers souvenirs in the gift shop, formerly the kitchen.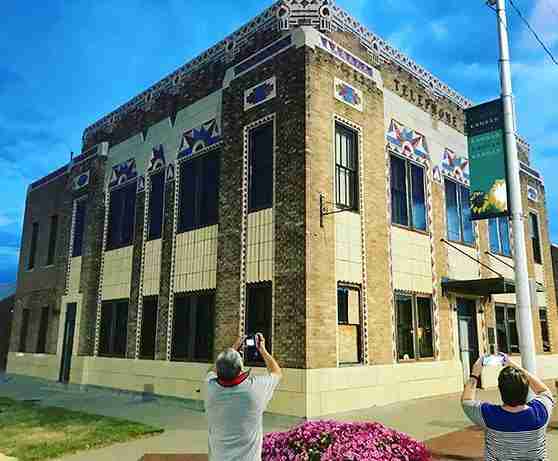 United Telephone Building, an Art Deco icon on Land and Sky Scenic Byway
Kansas Sampler Foundation called the United Telephone Building, one of the state's most spectacular examples of Art Deco architecture. One look at the exterior will convince you that the foundation knew what they were talking about.
Sherman County donated the building to the historical society in 2017. Call 785-899-6773 to tour the building.
View downtown murals
Cross the street to the west for the "History of the Opera House" mural. The north wall of 1002 Main shows the evolution of the building's storefronts. When Goodland received a new post office in the 1930s, the government commissioned a mural for it. Enjoy "Rural Free Delivery" at any time in the post office lobby.
National Weather Service Forecast Office
Everybody talks about the weather, but nobody does anything about it, or so the saying goes. Although no one can change the weather, Goodland's Forecast Office does do something about the weather. The office staff predicts it so people can be prepared.
Learn what goes into weather prediction when you tour their office. Call 785-899-2360 for an appointment. The office will ask the size and ages of the tour group to customize the tour. Allow at least 24 hours' notice. Mornings are best for tour times since severe weather is more likely to fire up during the afternoons and evenings. When severe weather threatens the area, tours must be canceled.
Sherman Theatre
View more art at Sherman Theatre. The theatre is a restored 1920s movie palace with all the 21st-century amenities. Showtimes begin at 7 p.m. Come early and look at the artwork the owner recently uncovered during restoration.
Find more about the top 10 things to do in Goodland.
More to see in western Sherman County
For a complete education about getting beans from the field to market, visit 21st Century Bean's packaging plant in Ruleton. Call 785-852-4203 for a tour appointment. Allow several days' notice. As you head out of Ruleton, take County Road 64.2 west and look for the cutouts in a pasture on the north side of the road. Road 64.2 intersects with Highway 24. Take it west to Kanorado (KAN-oh-ray-doe).
As you approach Kanorado, you'll see a large stone cross on the south side of the highway. The cross commemorates the first Catholic church in Sherman County. In Kanorado, visit the Kanorado Community Museum. Call 785-399-2355 for an appointment.
During the summer, take a ride on the fantastic Kit Carson County Carousel in Burlington, the first town across the Colorado state line.
Where to eat on Land and Sky Scenic Byway
Good Grounds Coffee and Bistro
For breakfast and lunch, try Good Grounds Coffee & Bistro. Their biscuits are to die for. At lunch, I always have the pulled pork sandwich with a side of cowboy beans. Yum, yum! They serve pumpkin spice coffee all year.
Westport on Main/Olde Westport Spice
Westport on Main, 1218 Main, features food prepared with Olde Westport Spice's blends. We LOVE those spice blends. Their spaghetti and garlic bread cannot be beaten. For breakfast, eat the breakfast burritos or skillet. Make sure to eat the chip dip. Delicious! Contact Olde Westport Spice for tour appointments. Try our recipe using 21st Century Beans and Olde Westport Spice blends.
Crazy R's Bar & Grill
Crazy R's Bar & Grill is famous both for its food and its collection of antiques. You saw some of owner Rod Cooper's collection at the White Eagle Gas Station. At his restaurant, the antiques are everywhere, including hanging from the ceiling. If you are a Husker football fan, check out the Brook Berringer display on the wall. If you love Yankees baseball, find Billy Martin's jersey from when he played semi-pro ball for Goodland.
Don't forget to eat some steak or burgers while you're gawking at the antiques.
Terra Bona Hawai'ian Shaved Ice
Goodland's best family hangout is Terra Bona Hawai'ian Shaved Ice. "Terra Bona" (TARE-ah BONE-ah) means "Good Land". Appropriate for a store in Goodland. Order shaved ice or one of their signature soft drinks and relax. Play a board game or help put together a jigsaw puzzle.  When we're in town on Sunday nights, we're enjoying Terra Bona.
Where to stay
Campground: Mid-America Camp Inn is open year-round. Don't trust the street address. Instead, follow the directions on the website.
Hotels: Stay at Holiday Inn Express & Suites. Or, to fully escape, stay at Kansas Prairie Lodge on a bison and longhorn ranch. Enjoy superb night sky views from the firepit behind the lodge.
Navigation: Day 1 | Day 2 | Sharon Springs | Goodland | St. Francis, | the Arikaree Breaks | Haigler | Bird City.

Day 2: On Land and Sky Scenic Byway between Goodland and St. Francis
The Giant Grasshopper, a quirky landmark on Land and Sky Scenic Byway
Goodland's Giant Grasshopper is a bit north of the city. Grasshoppers are voracious plant-eaters. They were and are terrors to farmers. When you visit the oversized insect, please park adjacent to the sculpture, not in the ditch. Turn into the field road south of the grasshopper, park, and walk to the grasshopper, palm tree, and sign. Take a selfie.
Kidder Massacre Site, where 14 men died because of communication failures
If you stay at Kansas Prairie Lodge, you'll be close to the Kidder Massacre site, the first recorded event in Sherman County. In July 1867, Lt. Lyman Kidder and his 10-man patrol sought for Lt. Col. George Armstrong Custer. Kidder never found Custer. Native American warriors found Kidder first. Custer did find Kidder — what was left of him. Kidder and all his men had died in battle.
Several years after the Kidder battle, buffalo hunters were murdered nearby. Their murders helped precipitate the Battle of Cheyenne Hole in Rawlins County.
Land and Sky Scenic Byway's time zone changes at the Sherman-Cheyenne County line
When you cross from Sherman to Cheyenne County, the time zone changes from Mountain to Central Time. When you cross into Nebraska, the time zone reverts to Mountain again.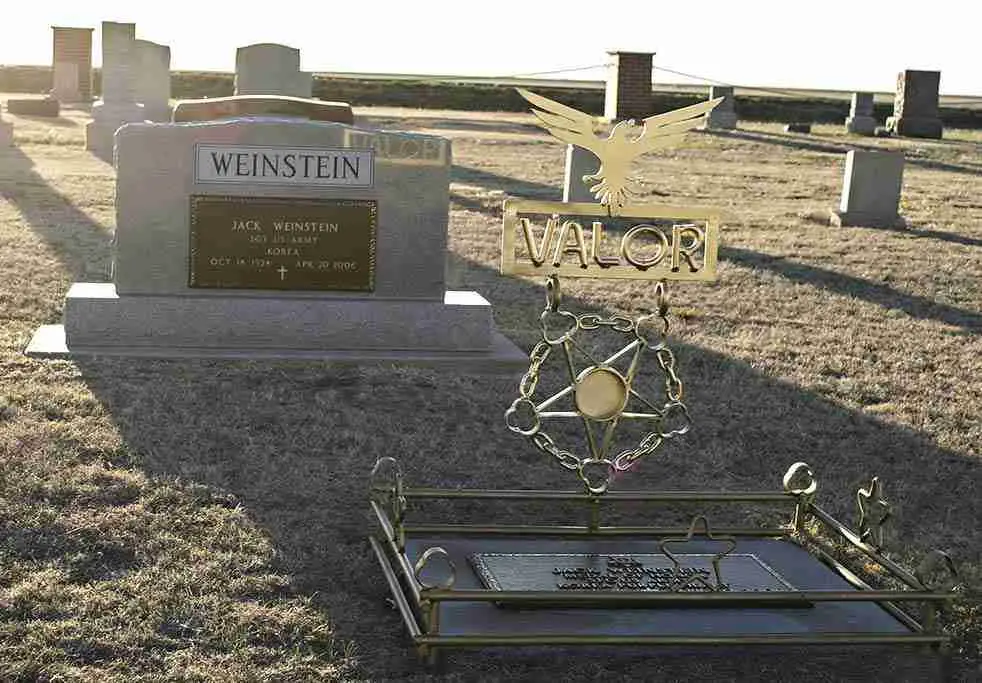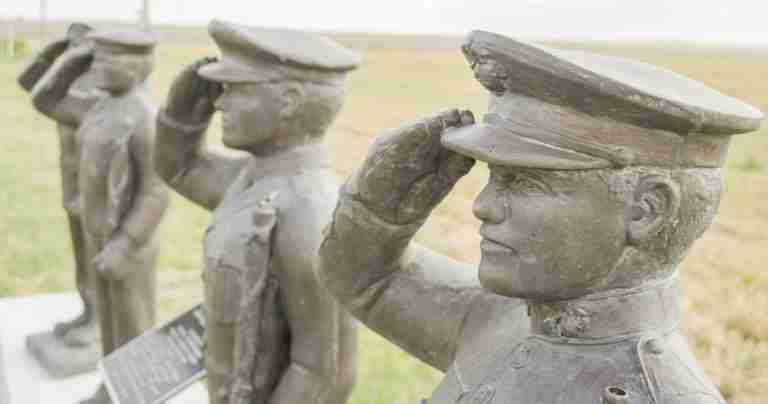 Cheyenne Valley Cemetery
As you approach Highway 27's eastern intersection with Highway 36, you'll see Cheyenne Valley Cemetery on the east side. Stop and pay your respects to the memory of Jack Weinstein, who earned a Congressional Medal of Honor during the Korean War.
Because of his supposed Jewish ancestry, Weinstein received a Distinguished Service Cross, the Army's second-highest award for valor, instead of the Medal of Honor he deserved. In 2014, the nation corrected the wrongdoing, but Weinstein had already passed away. His widow Nancy received his medal from President Barack Obama in a White House ceremony.
Ironically, Weinstein was not Jewish.
Navigation: Day 1 | Day 2 | Sharon Springs | Goodland | St. Francis, | the Arikaree Breaks | Haigler | Bird City.
St. Francis on Land and Sky Scenic Byway
Cheyenne County Museum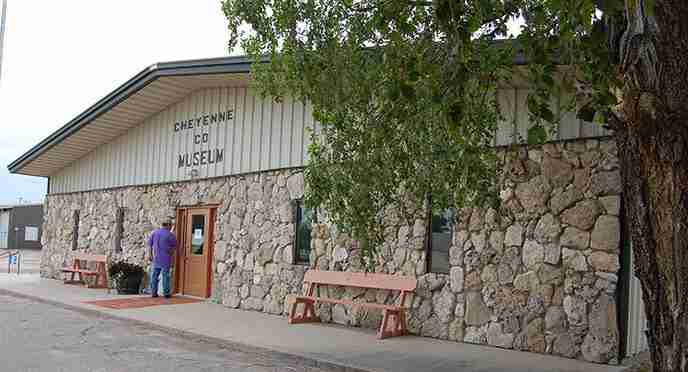 Cheyenne County Museum preserves the county's history and holds a genealogy research center.
At the museum, learn more about Ron Evans, who was the Command Module Pilot on Apollo 17, the last moon mission. Evans orbited the moon while the rest of his crew was below. He spent more time in lunar orbit than any other human. A marker honors him in the adjacent park.
Another famous former St. Francis resident, Len Dresslar, Jr., was the voice of the Jolly Green Giant.
The museum holds an interesting uniform exhibit, including uniforms from Cheyenne County's military academy cadets. See artifacts from early Cheyenne County businesses.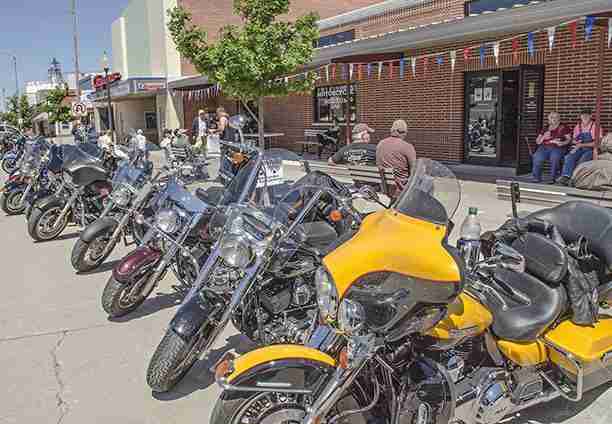 St. Francis Motorcycle Museum, a unique museum on the byway
At St. Francis Motorcycle Museum, feast your eyes on more than 130 vintage motorcycles from 40 manufacturers. Thirty of those bikes predate 1929 and many of them are rare. The museum especially treasures one of only two known 1902 Orient motorcycles. Orient was the first manufacturer to call bikes "motorcycles." A little imagination will bring the bikes to roaring life.
Quincy Gallery
Enjoy local and regional artists' work at Quincy Gallery, home of the Cheyenne Center for Creativity.
Keller Pond and the Scenic Republican River Walk
Before you turn north on the byway to the Arikaree Breaks, stretch your legs and catch some fish at Keller Pond and the River Walk. The River Walk's nature trail is about a mile long and is very peaceful. Keller Pond is northeast of St. Francis along River Street. The trail winds around the pond then it loops around a section of the Republican River. The trail is not handicapped accessible.
Where to eat and stay in St. Francis
Fresh Seven Coffee
Find Heaven in a cup at Fresh Seven Coffee. Fresh Seven roasts its gourmet coffees from around the world. The food and ambiance are straight from Heaven, too. They turned a derelict, roofless building into a relaxing bistro that's everything a coffee house should be. Their hours are 7 a.m. to 3 p.m. Mondays through Fridays and 8 a.m. to noon on Saturdays.
Diamond R Bar & Grill
At Diamond R Bar & Grill, it's hard to decide which is higher on the priority list: Eating or playing pool. Whichever is your pleasure, Diamond R provides a fun experience.
Spencer House Bed and Breakfast
Upscale meets country style at Spencer House B&B. If possible, stay in the Boudoir and enjoy the star-gazing balcony.
Navigation: Day 1 | Day 2 | Sharon Springs | Goodland | St. Francis, | the Arikaree Breaks | Haigler | Bird City.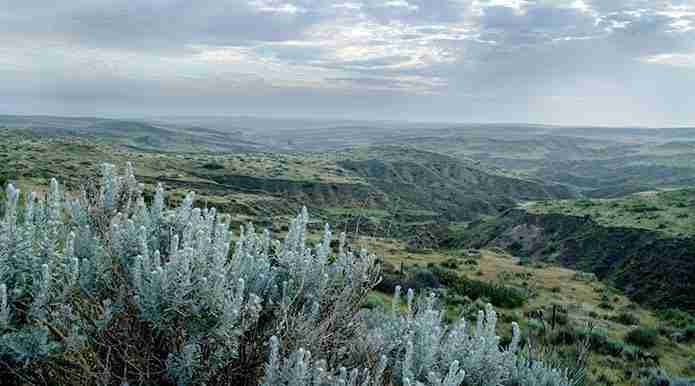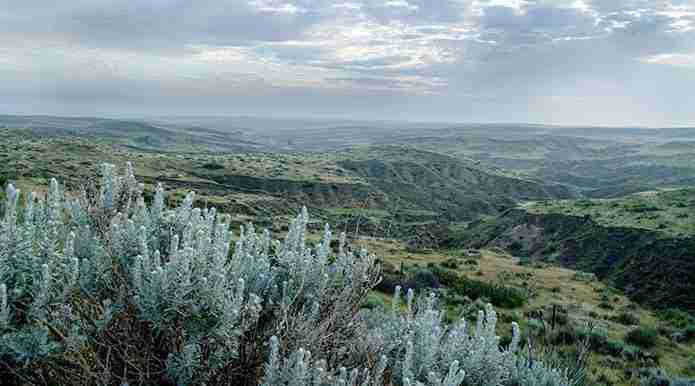 Arikaree Breaks, the Land and Sky Scenic Byway treasure
By going from south to north, you have saved the Arikaree Breaks, the best of the byway, for last. Some people have said that the Arikaree Breaks should become a national park.
The Breaks are distinguished by deeply-cut canyons and yellowish loess (LUSS) soil. The loess layer is 100 feet thick in some places. Wind erosion has turned the soil into a very fine powder.
Look for the Ogallala Formation's outcroppings in The Breaks. The formation holds the Ogallala Aquifer, the High Plains' crucial groundwater source from Texas to South Dakota.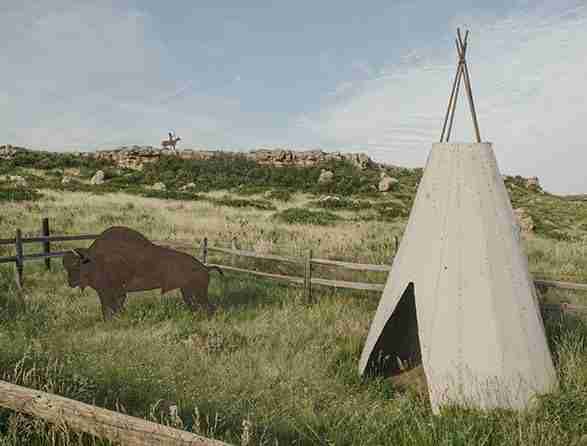 Wander The Breaks for an all-day expedition on Land and Sky
If you can, wander The Breaks all day. To see all 21 stops, turn north of St. Francis on Highway 27 to Road W.
Cherry Creek Encampment
Your first stop will be Cherry Creek Encampment, a mile north of the western intersection of Highways 27 and 36. The Cheyennes gathered here after the infamous Sand Creek Massacre. At the encampment, the Cheyennes planned their revenge for the atrocity.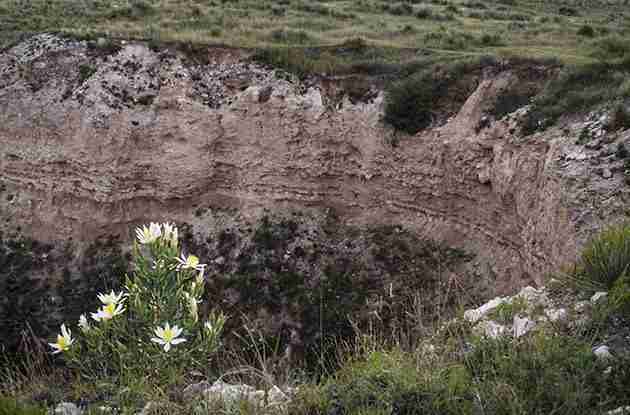 Head to Devil's Gap
The sign directing you to Devil's Gap, Colorado's Lowest Point, and the Three Corners is large but is difficult to see from the south. Look for Road U. Your turn will be at the next intersection, Road W. Your next turn after that will be at a T intersection. Two metal motorcycle cutouts are at that intersection. Look upward and to the right for the directional sign.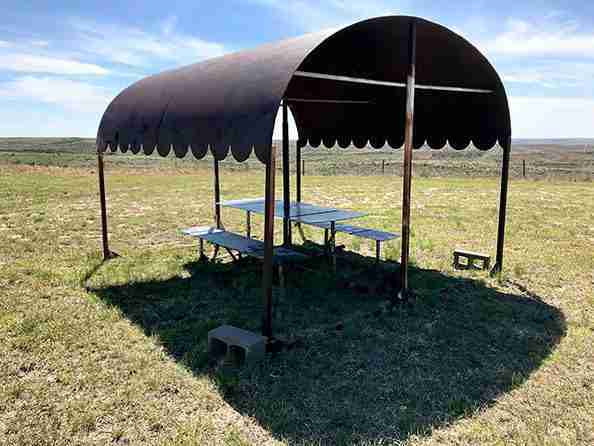 Take a picnic lunch and stop at Sue's Picnic Table southeast of Devil's Gap. No fires are allowed. While you eat, soak in the panoramic views.
Be aware
Spring is the best time to visit. The Breaks will be at their best in the wettest time of year.
But check the weather and road conditions ahead of time. The dirt roads can be treacherous when wet. Do not attempt to visit Horse Thief Cave when the roads are wet.
Fill up your gas tank before you leave St. Francis.
Bring drinking water and wear sunscreen.
Services are non-existent, and cell service is very spotty.
The Breaks is private land. Please be respectful. Leash your pets.
Watch for rattlesnakes.
Bring a paper map (PDF). Before you leave St. Francis, pick up a brochure at Roadside Park's kiosk. The park is behind the emergency services building at 219 W. Highway 36. Leashed dogs are welcome in the park.
Driving to Colorado's Lowest Point and the Three Corners will take you through open range. If cattle are present, they will not be fenced in. They have the right of way. Please yield to them. Remember, cattle, especially calves, are unpredictable.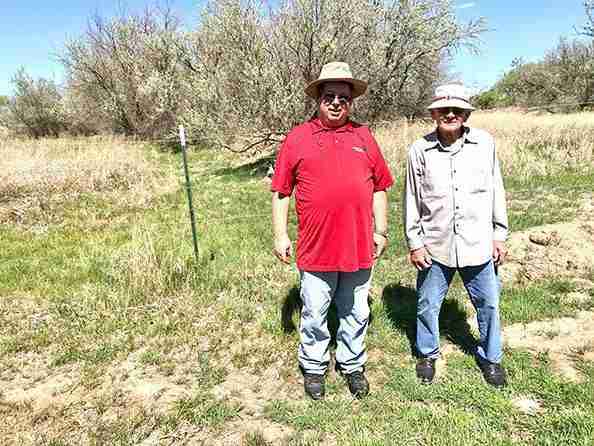 Navigation: Day 1 | Day 2 | Sharon Springs | Goodland | St. Francis, | the Arikaree Breaks | Haigler | Bird City.
Travel Highway 34 in Nebraska's Cornerstone
After you find the Three Corners, head north to Highway 34. Head east toward Haigler, stopping at the Colorado and Nebraska welcome signs along the way. Haigler calls itself The Cornerstone of Nebraska since Dundy County is the southwest corner of the state.
Stop at the Haigler Country Cafe. You must eat one of their pies.
The Kansas welcome sign is just south of Haigler on Highway 27 just before you reach the Land and Sky Scenic Byway kiosk.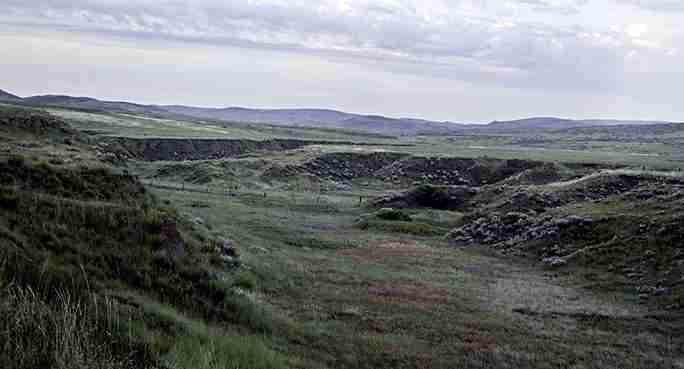 Texas Trail Canyon exits the byway in Kansas and is marked in Nebraska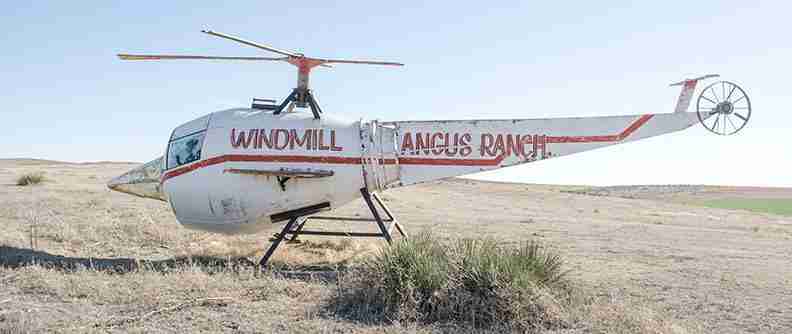 Head east on Highway 34 to Ave. 322 and turn south. You'll see The Breaks on the south side of the highway.
Before you leave Nebraska, look for the Windmill Angus Ranch helicopter a mile east of Haigler and the Texas Trail Canyon marker east of Green Road. The Great Western Cattle Trail exited Kansas in Texas Trail Canyon. Nebraska checked brands and cattle health at the canyon's northern end before allowing the herds to continue toward Ogallala.
Find fish and wine in Parks, Neb.
A short detour will take you to Rock Creek State Fish Hatchery, and Sage Hill Winery in Parks, Neb. Call the hatchery, 308-423-2080, for hours and tours.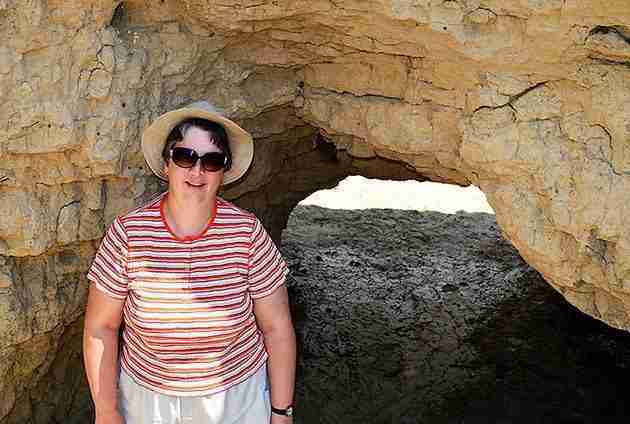 Visit the Arikaree Breaks' Horse Thief Cave
Turn south on Hester Road west of Parks and return to the Arikaree Breaks. Hester becomes Road 15 when it crosses the state line.
To visit Horse Thief Cave, turn south from Highway 34 on Round Tree Road. Round Tree becomes Road 17 in Kansas.
Or visit the cave by turning east on Road BB from Road 15. The cave no longer exists. Its sides have caved in, but it's still fun to visit. The original entrance is now a natural bridge.
The outlaws used the bridge section for their living quarters. A stovepipe showed passers-by the location. The thieves hid the stolen horses in the now-collapsed section. Fed up, a vigilante committee finally visited the cave to stop the thefts. The cave was last used for nefarious purposes in 1878.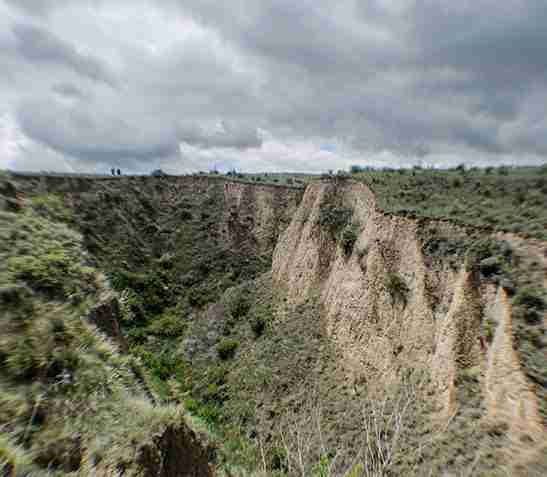 Lookout Point awaits you in the Arikaree Breaks
See the deepest canyon in The Breaks at Lookout Point. Parking is on the east side of the road north of the overlook. Take time to walk around the area and soak in its beauty.
Pay respects to Civil War veterans at the GAR Cemetery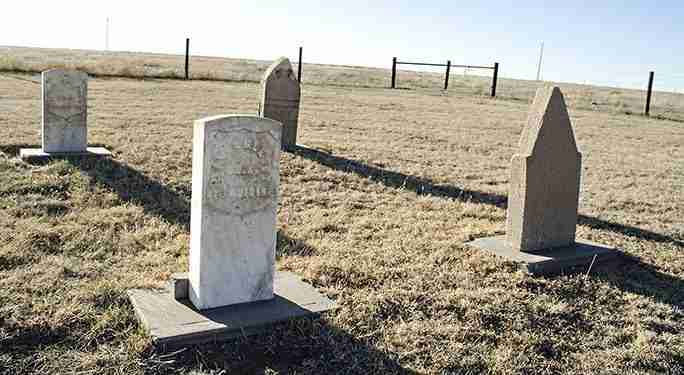 When you are five miles from St. Francis, pay respects at the GAR Cemetery, purchased after the Civil War for indigent veterans.
Navigation: Day 1 | Day 2 | Sharon Springs | Goodland | St. Francis, | the Arikaree Breaks | Haigler | Bird City.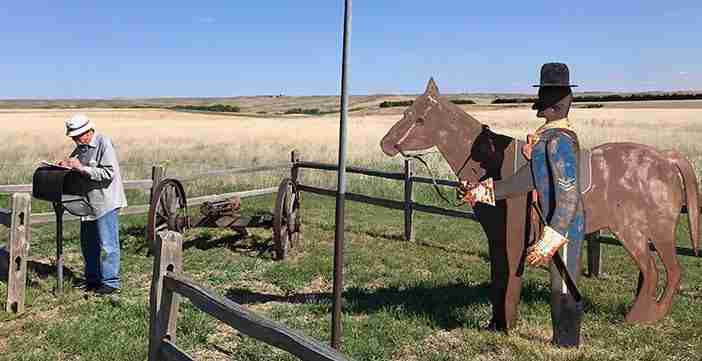 See more history on Highway 161
Take a longer trip on beautiful Highway 34 and turn south on Highway 161 toward Bird City. The Arikaree Breaks surround the highway's northern sections.
In 2019, the Kansas Legislature designated Highway 161 as the Ancient Indians Traders Trail in 2019. Parts of the trail are visible along the highway.
Look for the Round Hole Campsite marker where Highway 161 intersects Road Y. Cavalry camped here during at least three campaigns against Native Americans. Lt. Col. George Armstrong Custer and the Seventh Cavalry camped here while looking for Lt. Lyman Kidder and his party. Capt. Henry Bankhead camped here with his Buffalo Soldiers while rushing to relieve Forsyth's Scouts at the Battle of Beecher Island. Lt. Col. Luther P. Bradley and the Second Cavalry camped here while hunting "troublesome Indians".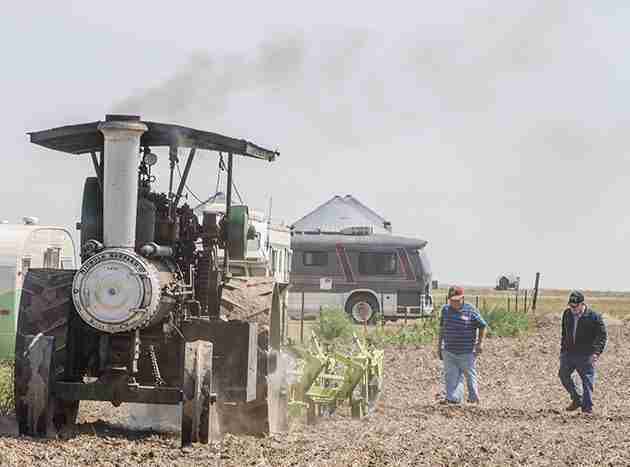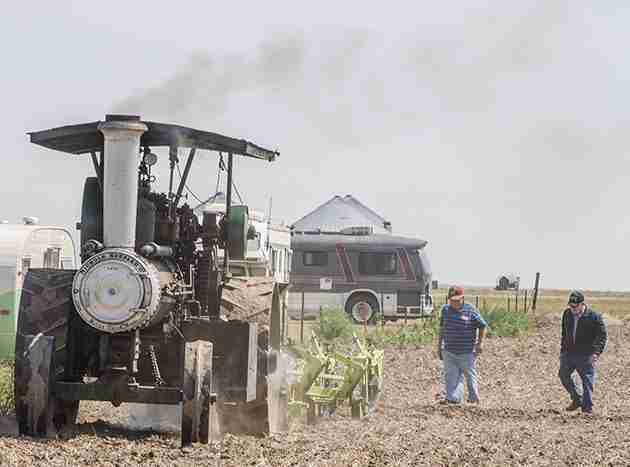 Tri-State Antique Engine & Threshers Show, a Land and Sky Scenic Byway signature event
If you are in the area at the end of July, you must enjoy the Thresher Show held annually at the grounds just east of Bird City. Watch steam tractors and other vintage machines run, plus visit museums and shop with unique vendors.
While in Bird City, enjoy a juicy steak at Big Ed's Steakhouse. The restaurant is open from 5 to 10 p.m. on Wednesdays through Saturdays.
How to reach Land and Sky Scenic Byway
The closest international airport is in Denver (DEN), an easy three-hour drive. Interstate 70 comes through Goodland. Sharon Springs has US Highway 40 and St. Francis is on Highway 36. We'll be thrilled to see you.
Learn more about regional tourism
Enjoy more of Northwest Kansas in Oberlin and Norton east of Bird City on Highway 36. Learn more about destinations in the Midwest, particularly in Kansas and Nebraska. Find more Presidential sites.
Please like and share
If you like this article, please share it to Facebook, Instagram, Twitter, Pinterest, and LinkedIn. Or any other places you'd like to share. Find us as @RoxieontheRoad on Facebook, Instagram, Twitter, Pinterest, and LinkedIn. Please use #roxieontheroad when you add hashtags.
Please comment below.