On Western Vistas Historic Byway, travel back in time.
If you dream of being a cowboy or cowgirl, take your imagination eraser with you as you drive Western Vistas Historic Byway. When you mentally scrub away 21st-century amenities and replace the cattle with bison, you'll return to the 1860s and 1870s. The imagination eraser works best when you look south from Wallace and Russell Springs.
Begin your Western Vistas adventure
The byway begins in the west at the intersection of Highways 40 and 27 in Sharon Springs. (The intersection is also the southern end of Land and Sky Scenic Byway.)
On this trip, you'll tour a battlefield, see lots of fossils, follow a historic trail and stagecoach line, and see fascinating rock formations. Heading east on Highway 40, we'll visit Wallace, Russell Springs, Oakley, rock formations, and Scott City. Plan for at least three days: Day 1 from Wallace to Oakley; Day 2 for the rock formations; and Day 3 for Scott City.
Before you leave Sharon Springs, stop at Miller's Food Store. Pick up goodies for a picnic.
Day 1: From Sharon Springs to Oakley on Western Vistas Historic Byway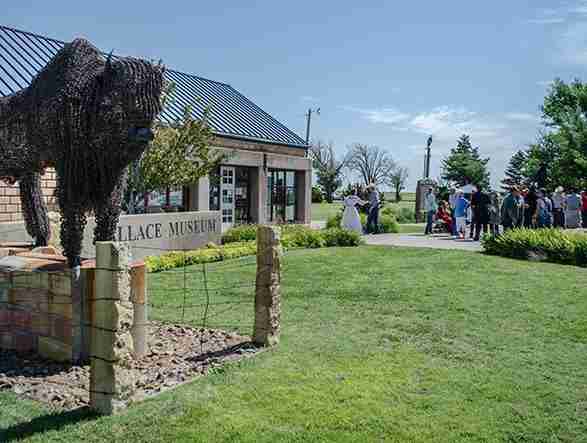 Fort Wallace Museum on Western Vistas Historic Byway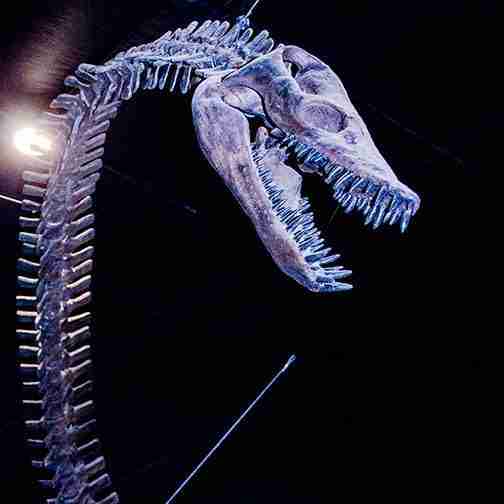 Your Western Vistas tour truly begins at Wallace.
You'll enjoy the lovely Fort Wallace Museum. The museum preserves Fort Wallace's story, called "the fightin'est fort in the West," and other Wallace County history. When you enter the museum, notice the sculpture of scout Will Comstock, created by Jerry Thomas. (You'll see more of Thomas' work in his Scott City gallery on Day 3).
Fort Wallace and the Smoky Hill Trail
The United States government established the fort to protect travelers on the Smoky Hill Trail. The Butterfield Overland Despatch (BOD) stagecoach line used the Smoky Hill Trail from Leavenworth to Denver. Eager miners were anxious to reach Denver and the mountains to make their fortunes. Fortune was elusive since many miners never reached Denver. The trail was not for the faint of heart. The native tribes were not amused by the traffic and tried to shut it down. Water and food were often scarce.
Fort Wallace and the Oceans of Kansas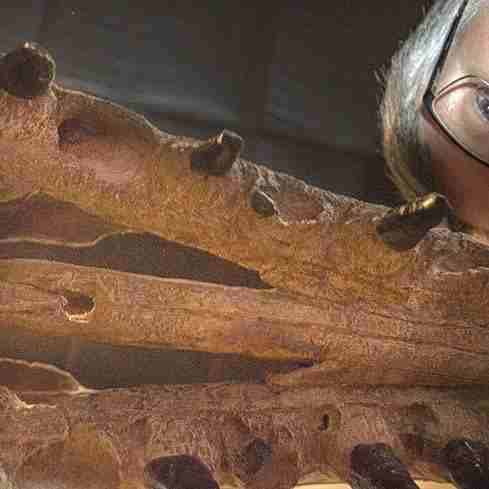 The museum's signature artifact is a 40-foot long plesiosaur replica. Yes, at one point, high-and-dry Western Kansas was an ocean. And in that ocean swam terrifying creatures. Beware: The toothy dinosaur is swimming menacingly overhead. She's been hungry for literal eons, and you may be her next meal. If looking upward at those long, sharp teeth doesn't chill your blood, then maybe you're a fossil, too.
In 1867, Capt. Theophilus Turner, the fort's medical officer, discovered her near present-day McAllaster. Comstock likely helped Turner bring home the plesiosaur.
The plesiosaur is not the only frightful dinosaur in the museum's collection. Introduce yourself to the mosasaur and other fossils in the room.
Before you leave the main building, take the perfect selfie by stepping into the Butterfield's Overland Despatch stagecoach.
Learn more Wallace County stories in the other buildings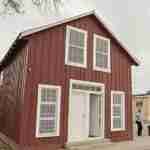 Outside the main building, the museum also preserves historic Wallace County buildings. The oldest one is Pond Creek Station, which recently has been restored. Look for the bullet holes and the trapdoor. The trapdoor's presence says much about the stressful lack of safety at the fort.
The Sunderland-Poe Building contains the museum's transportation collection. You'll love the fire engine and the blacksmith's shop.
Before you leave, pick up a souvenir and add a book to your Western Vistas history collection at the gift shop. Allow at least an hour at the museum.
A Guided Path to Old Wallace tells more about the city's past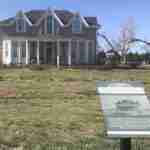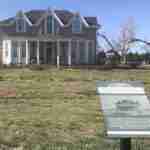 Explore the historic Wallace walking trail. Stops include the Clark-Robidoux House and the Kansas Pacific Railroad Superintendent's House. Allow about 45 minutes.
Make your stomach happy at The Memory Bank and Wallace Trading Company
While you're investigating Wallace's history, stop on Wallstreet Street, home of the city's former bank. The bank is now the Memory Bank and Wallace Trading Company. Before you head east on Western Vistas Historic Byway, fortify yourself for your trip with their cinnamon rolls and coffee.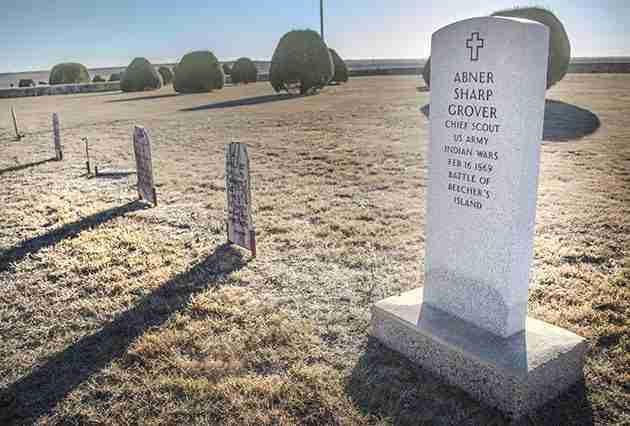 Find fascinating stories at Fort Wallace Post Cemetery
The post cemetery is all that remains of Fort Wallace. When the fort was decommissioned, the Army removed the military graves. They reburied the men at Fort Leavenworth. Only the civilians' graves remain. Civilian Army scouts have military headstones.
The largest stone belongs to the tragic German Family. Cheyennes killed five family members 20 miles west of Fort Wallace in August 1874. The Cheyennes kidnapped the remaining four sisters. After they suffered much privation, the Army rescued the sisters.
Many of the other graves are marked with boards that explain their causes of death. Many were stricken in their primes. Some were murdered. Imagine the grief-laden people.
Pay respects during daylight hours. Allow about half an hour.
Navigation: Day 1: Wallace | Russell Springs | Oakley | Day 2: rock formations | Day 3: Scott City.
Head toward Russell Springs, a Western Vistas destination
Russell Springs is about 35 minutes east of Wallace. Stay on paved roads by taking Highway 40 to Kansas 25. Or you can drive 7 miles of gravel roads and see fascinating rock formations on the way. If a bit of adventure is for you, turn south at McAllaster on Logan County Road 160. Head south 7.2 miles, then turn east on Highway 25. Drive 11 miles to Russell Springs.
Look at lawless Sheridan
Immediately after you cross into Logan County, look north. You'll see the site of a vanished, wild ghost town on Western Vistas Historic Byway. The twin buttes in the pasture mark the location of Sheridan, a former population of 2,000. Put yourself in a steam locomotive chugging into Sheridan. Chimneys are rising from the ground, emitting smoke. The scene includes a few dilapidated temporary shacks. You peer over the side of the trestle to see whether anyone is swinging from the support beams. Welcome to violent Sheridan.
Sheridan lasted for 15 months. In that short time, the town hanged 31 men from the railroad trestle. None of those men received a jury trial. Legend says that the vigilantes carved a notch into the trestle after each hanging. One hundred more men were killed by Indians or by other gunfighters.
When the railroad received funding to continue, Sheridan's residents and buildings moved to the next end-of-track town. Now nothing is left except the twin buttes.
DO NOT attempt to visit Sheridan. Stay outside the fence.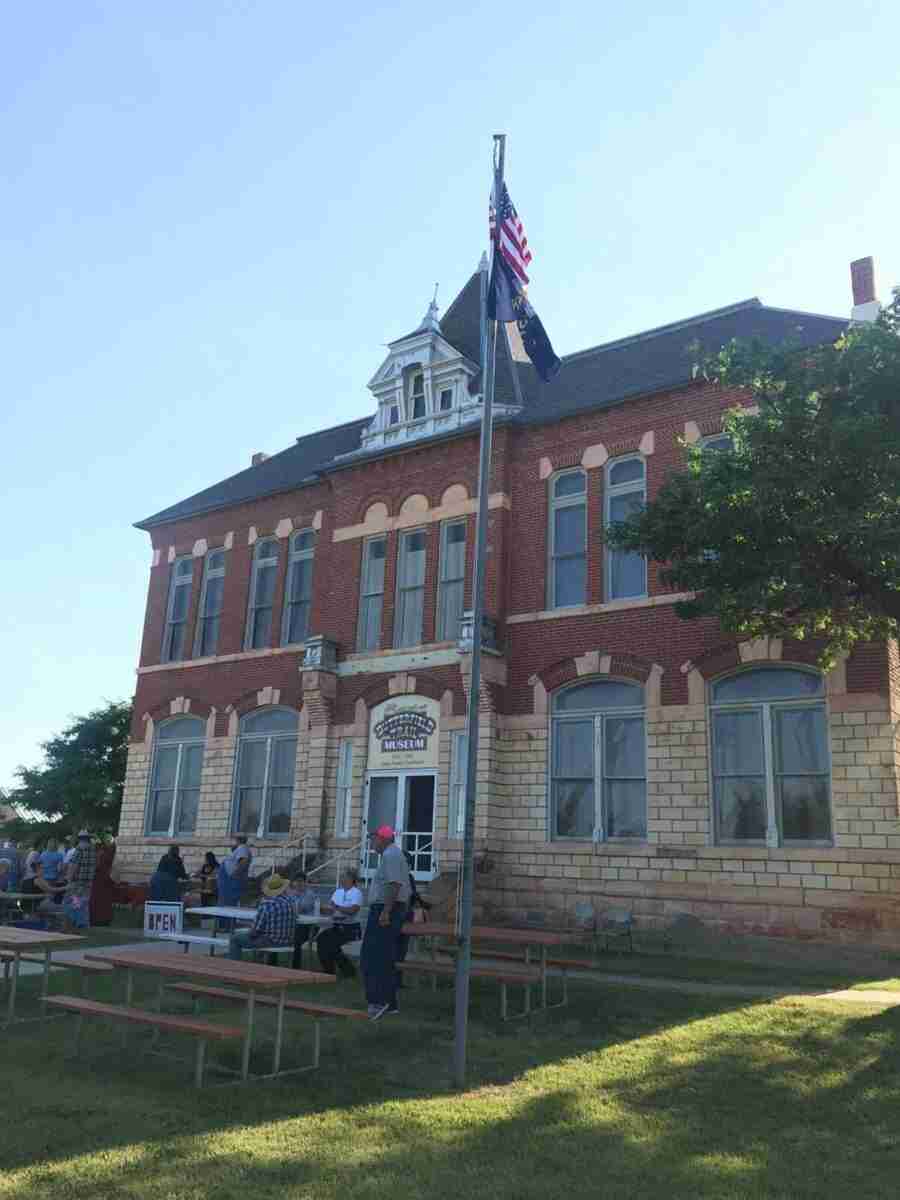 Travel backward in time at Butterfield Trail Museum
Logan County endured the final county seat fight in Kansas. By three votes, the citizens voted to move the county seat from Russell Springs to Oakley. (Remember this the next time you consider skipping an election.)
Oakley came for the county records on Aug. 13, 1963. The Oakley group ripped the vaults out of the Russell Springs building and hauled them to Oakley. The holes remain in the old courthouse wall to this day.
Faced with an empty building, Russell Springs' citizens turned their courthouse into the Butterfield Trail Museum. Russell Springs was one of the BOD's stations.
You'll see fossil collections at the museum, Smoky Hill Trail artifacts, and memorabilia from vanished school districts. Eat a picnic lunch on the grounds. Allow about 45 minutes.
Navigation: Day 1: Wallace | Russell Springs | Oakley | Day 2: rock formations | Day 3: Scott City.
Oakley, the halfway mark of Western Vistas Historic Byway
To reach Oakley, head north on Highway 25 from Russell Springs and turn east on Highway 40. The drive will take about half an hour on Western Vistas. You've seen the plesiosaur skeleton swimming above you at Fort Wallace Museum. In Oakley, you'll see an unusual way to display dinosaur bones. You'll also meet Buffalo Bill, his horse, and a bison. Plan for two hours at the Oakley museums.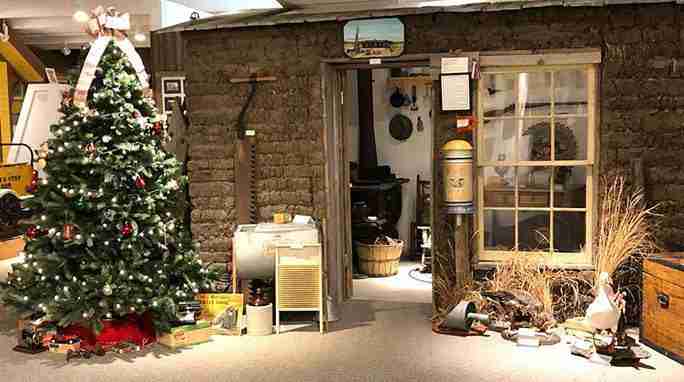 Flowers from fossils and more: Fick Fossil and History Museum
Earnest and Vi Fick were avid fossil collectors. They collected so many fossils that their collection eventually outgrew their house. Finally, in 1975, they moved their collection into the Fick Fossil and History Museum.
Their collecting is not unusual. What Vi Fick did with their fossils was unusual. She turned her finds into artworks. My favorites are her flower arrangements. She made the vases from shark vertebrae and papier-mache. The stems are fossilized fish bones. Fossil oysters and fish vertebrae made the blooms. That's creativity. You'll also see more terrifying swimmers, including a 15-foot Xiphactinus Audax.
The museum offers items of more recent vintage. The sod house interested me the most. Early settlers had little to build with. In a treeless land, sod was the pioneers' only building option. They cut sod bricks and laid them grass-side down until they had constructed a house.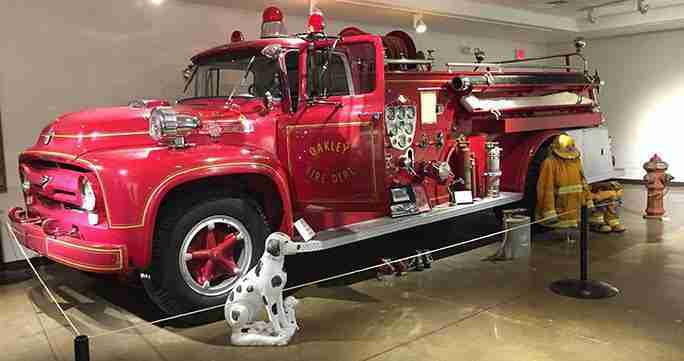 Make sure to visit the vintage fire engine. You'll enjoy the jewelry in the gift shop.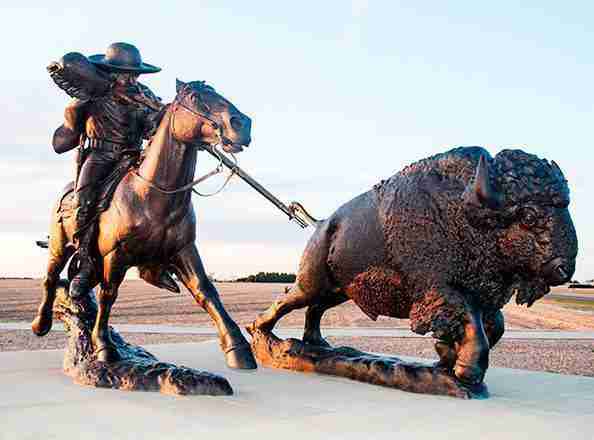 Find the legend at Buffalo Bill Cultural Center
William F. Cody and William Comstock were both champion buffalo hunters. Because of their hunting prowess, both men were known as "Buffalo Bill." Would the real Buffalo Bill please stand up? To determine which man was the Real Buffalo Bill, they held a contest west of Oakley in the spring of 1868. Cody won the contest 69 to 46.
The cultural center honors the famous contest
In honor of this contest, the Buffalo Bill Cultural Center erected the two-and-a-half-times lifesize sculpture of Cody pursuing a buffalo. The sculpture was named one of the 8 Wonders of Kansas Art.
To make your art, take photos in the evening when the light paints the sculpture golden. Bring a tripod for night photos. Take a picture of yourself kissing the buffalo and hashtag it #kissthebuffalo.
Before you enter the center, make sure to take pictures with the cutouts. You'll look great as Cody, Sitting Bull, and/or sharpshooter Annie Oakley.
(No, Oakley is not named for Annie Oakley. However, you can stay at the Annie Oakley Motel. Check out the motel billboard's 1970s-style Annie Oakley.)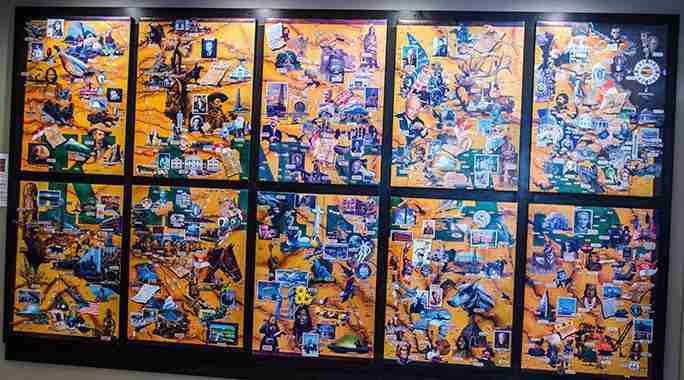 Inside the cultural center, take time to learn about Kansas attractions on the tile wall map. Pose with the buffalo and shop at the gift shop. In the fall, you'll love the corn maze.
Where to eat in Oakley
For a true Western Vistas car culture experience, eat at Don's Rainbow Drive-In. Order burgers, fries, and shakes either in a stall or at the window.
The Bluff Bar & Restaurant is my favorite restaurant in Oakley. Eat The Bluff Burger; an open-faced delight topped with cheese sauce and bacon bits. Need I say more?
Grocery store: For your Day 2 adventure, you'll need a picnic lunch and LOTS of bottled water. Stop at Oakley's grocery store, Jamboree Foods Oakley, to stock up.
Where to stay
Hotels: Besides the Annie Oakley, you could stay at the Kansas Kountry Inn or the Sleep Inn & Suites. Both inns recently have been remodeled.
Campground: Pull up to High Plains Camping. Cap'n Jack's Pub is on the property. Take your dog to the dog park and, during the summer, send your kids to the splash pool.
Navigation: Day 1: Wallace | Russell Springs | Oakley | Day 2: rock formations | Day 3: Scott City.
 Day 2: Highway 83 rocks Western Vistas Historic Byway
Get on the road early with your picnic lunch. You have miles to go on Western Vistas before you sleep. Wear your hiking boots.
Escaping the present is easy between Oakley and Scott City. Relax in the wide-open country. The shades of dinosaurs and early peoples are easy to sense on the windswept plains. Hear creaking stagecoaches and wagons and hooves pounding on the Smoky Hill Trail. Feel the joy, sweat, and tears of pioneers who worked hard to make a life on this land.
Hike, ride horses at Smoky Valley Ranch
The Nature Conservancy preserves native prairie at Smoky Valley Ranch. The ranch, 18 miles southwest of Oakley, is still a working cattle ranch. The conservancy also raises bison. If you visit, you'll enjoy a vast landscape with chalk badlands rising from the earth. Find the trailheads on Road 370 between Plains and Indian Roads. Park only at the trailheads. The park offers two trails for hikers and horseback riders. Download a trail brochure (PDF).

Explore Western Vistas' great jewel at Little Jerusalem
Little Jerusalem Badlands State Park comprises 220 acres of spectacularly-eroded Niobrara Chalk. You'll see lots of these chalk formations beside the Smoky Hill River, but Little Jerusalem is the largest of these. The formations are very fragile; please remain on the trails. There are two. One is easier than the other, but neither is difficult.

Murders and the Elkader Ruins
Spot the Elkader (Ell-KAY-dur) Ruins north of Gold Road and Highway 83. Elkader has two claims to fame. Marshal Matt Dillon sought a murderer there in a "Gunsmoke" episode.
One fingerprint convicts gang members
More importantly, a fingerprint at a murder scene brought down a notorious gang. One of the gang was wounded in a 1928 bank robbery in Lamar, Colo. In Dighton, Kan., they told a doctor a boy had been injured in a farm accident. Instead, he had to treat the robber. The gang murdered the doctor. They tried to leave no evidence, but one gang member left a single fingerprint on a rear window. The single fingerprint led law enforcement to the Fleagle Gang. They were convicted and executed in 1930. The only one to escape conviction was shot while resisting arrest. The convictions were the first that turned on a single fingerprint.
Our former neighbor wrote a book about the case, "The Fleagle Gang: Betrayed by a Fingerprint."
As with Sheridan, DO NOT attempt to enter Elkader. Stay outside the fence.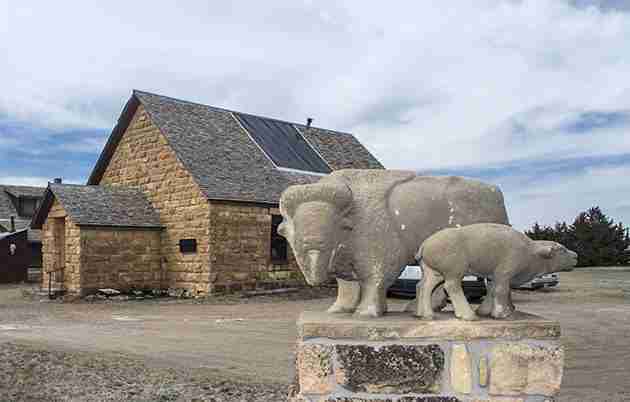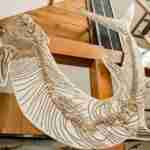 Find fossils, art at Keystone Gallery
Keystone Gallery is full of fossils and art. Owners Chuck Bonner and Barbara Shelton are fascinating to talk with. If you have any questions about the area's history or geology, they are great resources. Bonner also leads fossil-hunting trips. Ask them about road conditions at Monument Rocks, your next stop. You'll love their souvenirs. I cherish fossil necklaces and stone eggs that we have purchased there.
Do not rely on your GPS or phone for proper directions. Their address says "Scott City", but Keystone Gallery is well away from any city. Download their brochure (PDF) for a map.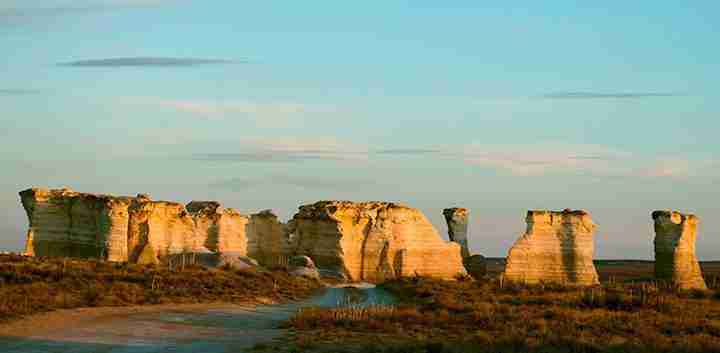 Monument Rocks, a Western Vistas spectacular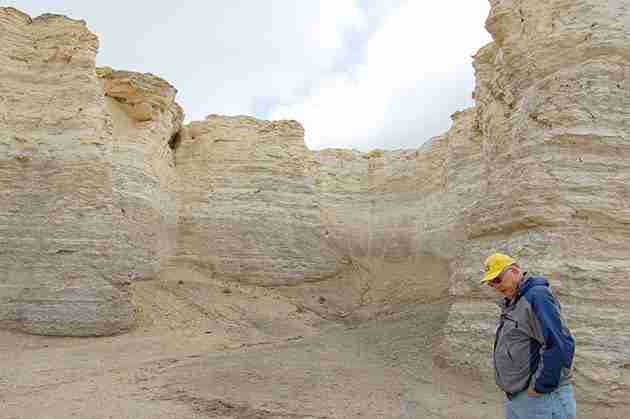 The Smithsonian called Monument Rocks "awe-inspiring". The Smithsonian isn't the only one awed by the rocks. They were the first National Natural Landmark in Kansas and are one of the overall 8 Wonders of Kansas. The rocks are in two clusters, with the tallest about 70 feet tall.
They are on private land, but the owners graciously allow visitors during daylight hours. The rocks are fragile; please treat them with respect. Climbing and fossil hunting are forbidden. To find the rocks, use the Keystone Gallery brochure you downloaded. The next stop is Scott City.
Where to eat and stay in Scott City
Stay at the Best Western El-Quartelejo Inn & Suites. Eat supper at El Dos de Oros. You must try their peach margaritas.
Navigation: Day 1: Wallace | Russell Springs | Oakley | Day 2: rock formations | Day 3: Scott City.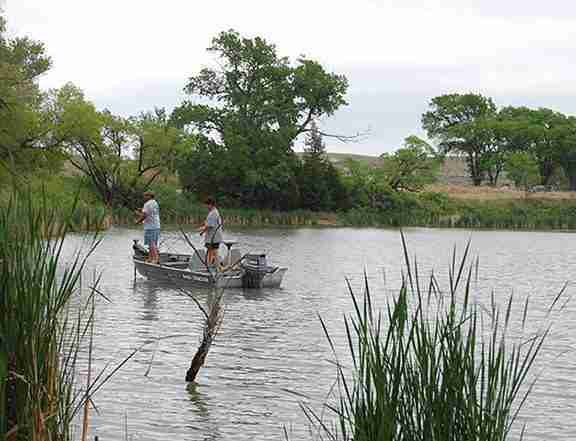 Day 3: A pueblo, a state park, a battlefield, a museum, and an art gallery on the byway
Find your oasis at Historic Lake Scott State Park
Put on your hiking boots again as we head back north to Historic Lake Scott State Park. Enjoy boating, fishing, horseback riding, and hiking. The park is 1,020 acres of canyons, bluffs, and fresh springs. Hike, bike, or ride your horse on the park's extensive trail system.
No wonder the park is also home to the northernmost pueblo in the United States with all that to offer. The pueblo was abandoned in the early 1700s, then rediscovered in 1898.
ActiveTimes.com named the park to its "36 Stunning State Parks" list in 2014.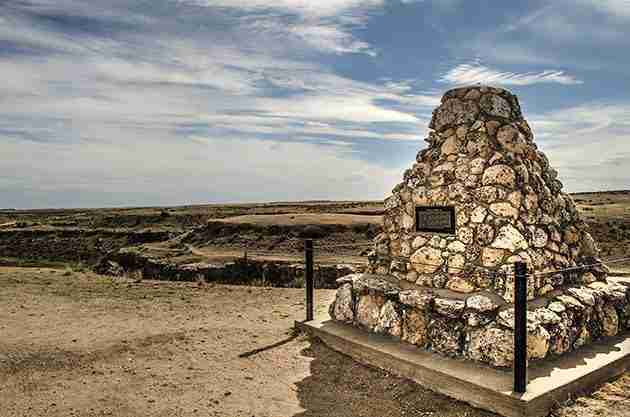 Find the final battlefield in Kansas
The Battle of Punished Woman's Fork was the final battle in Kansas. Fleeing their hated reservation in Oklahoma, the Northern Cheyennes clashed with soldiers here. After the battle, they evaded the military until they reached northern Nebraska. Sheridan and Decatur County civilians paid the price.
More to see in Scott City
Learn more about the battle and other Scott County history at El Cuartelejo Museum. You can even "dig" for fossils. Next door, see artist Jerry Thomas' work and his world-class collection of historical artifacts at the Jerry Thomas Gallery and Collection. Pick up some of Thomas' works to take home. You'll adore his meticulous research and attention to detail. Be aware
Fill up before you leave Sharon Springs, Oakley, or Scott City. Gas stations are non-existent elsewhere.
Cell service is spotty.
Wallace County observes Mountain Time. Logan and Scott Counties observe Central Time.
Watch for rattlesnakes.
Drink lots of water.
When visiting the rock formations, take only pictures and leave only footprints.
Always remain on hiking trails. Do not take shortcuts.
Please clean up after your pets. Keep your dogs on leashes.
Stay away from livestock and wildlife.
Learn more about regional tourism
Add another day to your trip and visit Garden City, where we celebrated 25 years together. Learn more about destinations in the Midwest, particularly in Kansas and Nebraska. Learn more about Buffalo Bill Cody at his ranch in North Platte, Neb. Take Highway 83 north and visit enchanting Oberlin. Thirty more miles will take you to a car culture capital, Norton. Drive more byways.
Please like and share about Western Vistas Historic Byway
Please share it on Facebook, Instagram, Twitter, Pinterest, and LinkedIn if you like this article. Or any other places you'd like to share. Find us as @RoxieontheRoad on Facebook, Instagram, Twitter, Pinterest, and LinkedIn. Please use #roxieontheroad when you add hashtags.
Please leave a comment below. Invite us to write about your community.