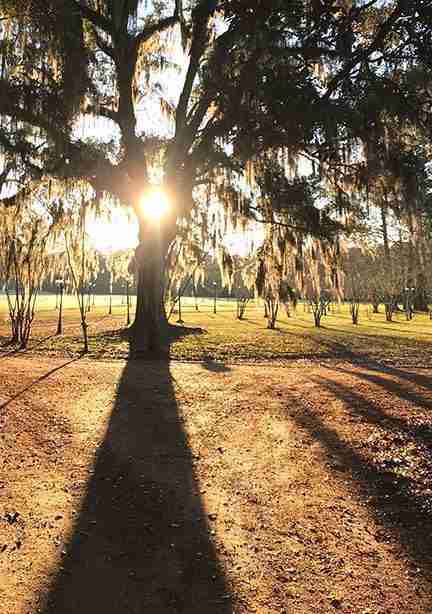 Feast your senses in Thomasville, Ga.
Exploring Thomasville, Ga., is a sensory experience. Feast your senses with these things to do in Thomasville: Feel the bark of The Big Oak. Smell fragrant roses in Thomasville Rose Garden. Taste varied cuisines at Thomasville eateries. See fascinating shops and plantation homes. Listen to the breeze waft through the live oak trees and watch it ruffle the Spanish moss.
Hugging The Big Oak is one of many things to do in Thomasville
I love to see live oaks festooned with Spanish moss. When I signed up for Southern Travelers Explore Conference in Thomasville, Ga., I immediately checked whether the city had Spanish moss. Oh, yes, it does!
Thomasville has ordinary live oaks draped with Spanish moss, but it also has a giant version. The giant tree is a wondrous attraction for a live-oak lover.
The city calls their giant tree The Big Oak, but that designation is an understatement. How big is this giant? Starting from an acorn in 1685, the oak stands more than 70 feet tall. Its limbs stretch more than 165 feet and the trunk is more than 26 feet around. Thomasville is so proud of their gigantic tree treasure that they'll take your picture. Call 229-236-0053 when you arrive at Crawford and Monroe Streets, then download your image from The Big Oak Cam.
But don't stop with hugging The Big Oak. You'll find that Thomasville offers many more things to do.
Stop and smell the roses in Thomasville
The Big Oak isn't Thomasville's sole claim to plant fame. The city is Georgia's official "Rose City" and it lives up to that designation with 86 rose gardens. The Thomasville Rose Garden, 420 Covington Ave., is the biggest. Five acres are packed with more than 1,500 rose bushes. On-site parking is free. Enjoy a picnic lunch.
For the maximum rose experience, visit Thomasville during the annual Thomasville Rose Show & Festival in April. Your eyes and nose will thank you.
Add Taste of Thomasville to your Thomasville things-to-do list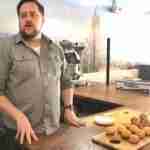 After enjoying the lovely rose fragrances, it's time to tempt your taste buds. They will thank you when you sign up for a Taste of Thomasville food tour.
At your appointed time, meet your guide in the Thomasville Visitors Center Courtyard for a three-hour tour. Come early and take a selfie on the courtyard's surfboard.
Bring your appetite and prepare to enjoy Thomasville's surprisingly eclectic restaurant selection. The tour guides are delightful and knowledgeable. Not only will you eat some delicious food, but you will also enjoy visiting with the restaurants' staff and management.
I'd be hard-pressed to choose a favorite of the six eateries we sampled, but AJ Moonspin Pizza has the ultimate farm-to-table dish. Their sausage comes from a 100-year-old store that makes and smokes its meats. Delectable.
I love Southern cuisine, but with two major exceptions. I don't drink sweet tea and I wouldn't eat grits. My tea preferences are highly unlikely to change, and I thought my distaste for grits was iron-clad.
Until we went to Jonah's Fish and Grits, which is one of the tour stops. My friend Melody of Wherever I May Roam asked me to taste what I thought were mashed potatoes. So creamy. So buttery. And so smooth. I had to force myself to stop. And then she said I had just eaten grits. Well. OK, then. I'm a grits-eater now — at least at Jonah's. If you intend to eat a meal at Jonah's, please note that the restaurant is very popular and does not accept reservations.
Things to know about Taste of Thomasville
Tours are available on Fridays and Saturdays.
Park for free in the Municipal Building Parking Lot.
Special diets can be accommodated.
Tours are held rain or shine.
Please share your photos.
Enjoy specialty shopping in Downtown Thomasville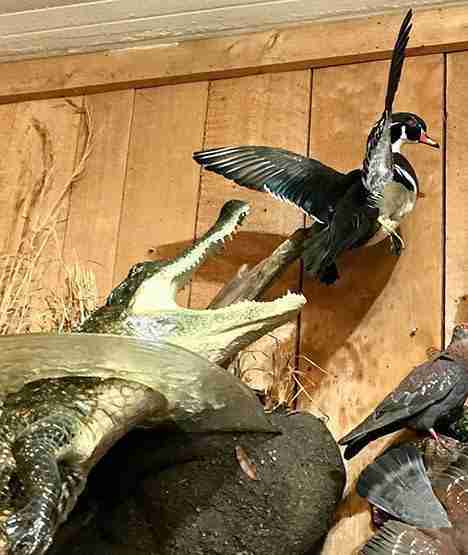 The tour threads its way through Downtown Thomasville. While on tour, notice the shops. Thomasville has wonderful shopping selections. My favorites were Relish, The Bookshelf, and the incredible artistry of Harden's Taxidermy.
Relish
If you love premium kitchen stores, you'll adore Relish. Everything you need to cook, bake, grill, and entertain is in that store. My husband asked me to bring home the tastes of Georgia. I chose the Blackberry Patch Peach Syrup. So delicious. Blackberry Patch is a Thomasville company, so kudos to both companies for helping each other grow.
The Bookshelf
For a book lover, no shopping experience compares to an independent bookstore and Thomasville's bookstore is top-notch. The Bookshelf has gathered rave reviews from Southern Living. Beyond the selection, the shop feels comfortable, like a bookstore should. It's a place where you can curl up with your favorite new read and immerse yourself in the author's world. Plus, turning a real book's pages is a wonderfully tactile experience.
Learn more about books and authors at the store's events. Keep up with the store on the podcast From the Front Porch.
Pro tip: If you're hankering to read your new book with fresh-roasted coffee in hand, head next door to Grassroots Coffee Company. Enliven your book's world with the aromas of coffee. Harden's Taxidermy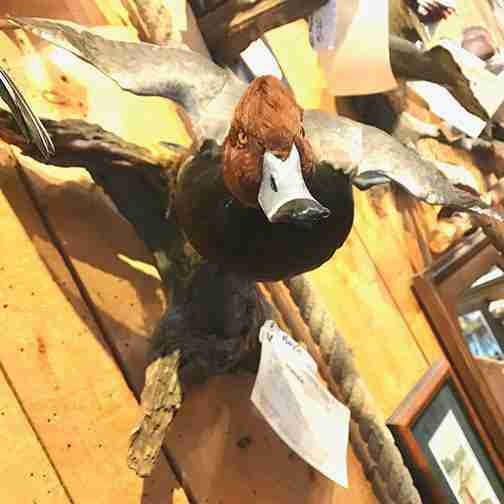 If you think that the taxidermy specimens at the big box outdoor stores are amazing, you haven't seen the artistry on display at Harden's Taxidermy. Feast your eyes on their showroom's fascinating zoo. The precision and meticulous craftsmanship are delightful. The shop also sells leather goods and fur rugs.
You may pet the animals' fur, but please do not touch the birds. Skin oils are hard on feathers. Please be respectful of every item on display.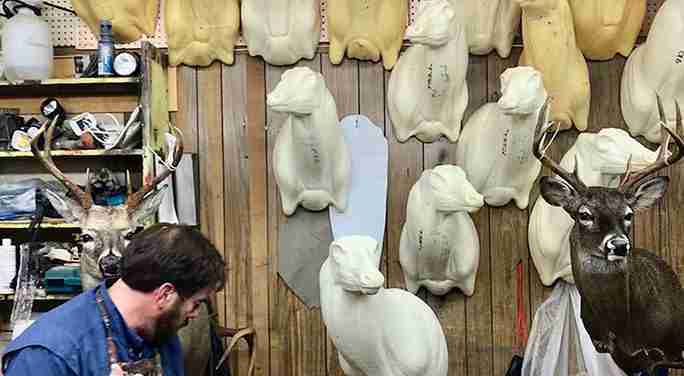 Ask to see the studio behind the showroom and watch the taxidermists at work. Feel free to ask questions about the animals in various preparation stages.
Feast your senses during Thomasville's premier plantation tour
Touring a Southern city without visiting an antebellum plantation home is like eating a German chocolate cake without frosting. In Thomasville, spread frosting on the cake by visiting Pebble Hill Plantation. The original plantation dates from 1825, but the current buildings date from 1934. Tours include the main house, firehouse, and stable complex. The main house is full of architectural and artistic delights, including sporting art, fine china, silver, and exquisite furnishings. It has 16 bedrooms, 19 bathrooms, and 24 fireplaces.
Pebble Hill's final resident, Elizabeth Ireland (Pansy) Poe, was an accomplished horse breeder, shower, and racer. She won so many competitions that she dedicated a closet to displaying her ribbons. Poe excelled in the ultimate horse sport, polo. To tend to her horses, she turned her mother's barn into a world-class stable. The barn is modeled after Thomas Jefferson's designs for the University of Virginia.
The dog hospital is fascinating. At one point, Poe had nearly 100 dogs in her kennels. With all those dogs, they needed a hospital. Imagine the pleasure of a life surrounded by loving dogs and horses.
As an additional sensory treat, view pieces of Pansy's husband Parker Poe's art collection at Pebble Hill. The collection includes works by famous artists such as Pablo Picasso and Henri de Toulouse-Lautrec.
Pebble Hill Plantation has Presidential connections
As a Presidential site collector, I was interested in the plantation's Presidential connections. The Jeffersonian stable is not the only Presidential tie.
William McKinley has the strongest connection. Poe's grandfather, Howard Melville (Mel) Hanna, helped set the trend. Wealthy Northerners were looking for a warm place to spend the winter. Thomasville was at the end of the railroad line, and many wealthy people decamped from bitter winter weather to enjoy Thomasville's warmth.
Mel Hanna's brother Mark was a Senator from Ohio and was influential in helping McKinley's elections. William and Ida McKinley visited Thomasville twice as Mark Hanna's guest, but they visited Mel, too. The visits gave McKinley a chance to sway Southern Republican convention delegates.
McKinley was the third President to be assassinated in less than 40 years. Ironically, Pebble Hill is connected to the second assassinated President, James Abram Garfield. When Pebble Hill's main house burned in the 1930s, Abram Garfield, the President's son, was the architect for the home's rebuilding.
In February 1956, President Dwight Eisenhower stayed at Pebble Hill for a hunting and golf vacation. (The wagon he rode in is displayed in Pebble Hill's stable complex.) Since he had had a heart attack in 1955, he needed to decide whether he would run in 1956. While in Thomasville, he played golf at Glen Arven Country Club. Golfers approached the 18th hole by climbing "Cardiac Hill." After he could walk to the 18th hole without difficulty, he decided he could withstand the rigors of another term.
Related: Walk in Eisenhower's footsteps in his hometown, Abilene, Kansas.
Honor the first Black US Army officer
The Magnolia Cemetery, nicknamed the Flipper Cemetery, houses Lt. Henry Ossian Flipper's final resting place. Flipper was the first Black graduate from the United States Military Academy and the first to command regular Army troops. Sadly, Flipper's commanding officer accused him of embezzlement. The ensuing court-martial convicted him and dismissed him from the Army. In 1976, the Army declared the dishonorable discharge "unduly harsh and unjust." As a result, officers changed his discharge to an honorable one. President Bill Clinton pardoned Flipper for the offenses on February 19, 1999.
Related: Fort Leavenworth's Circle of Firsts honors Flipper. It's one of our top Kansas civil rights siteshttps://roxieontheroad.com/?s=thomasville.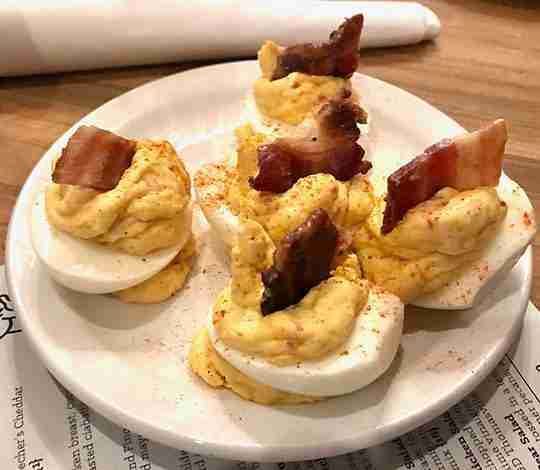 Find more delectable food in Thomasville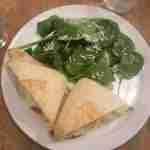 Sweet Grass Dairy and Cheese Shop
Cheese is one of life's great-tasting pleasures. Feed your pleasure by eating at Sweet Grass Dairy and Cheese Shop. You must try the adult grilled cheese sandwich. It tastes like the classic you loved as a child, with a lot of adult kick. It comes with a spinach salad. For an appetizer, choose the deviled eggs, the best you have ever eaten.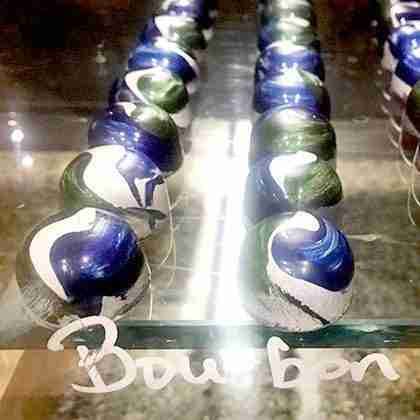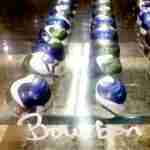 Sweet CaCao Chocolates
Thomasville's chocolatier Sweet CaCao Chocolates brings a new twist to the saying "like a kid in the candy store." This is not your kid's candy store. This candy store is for adults, but kids can eat some, too.
This shop has one major downside. Which confection do you choose? You can't eat them all.
Everything else about the store is an upside, especially watching the chocolatiers make the next batch of tempting sweet creations. The aroma will thrill your nose and make your stomach growl in anticipation.
Farmer's Daughter Vineyards + Tasting Room
North of Thomasville, a farm grows peanuts, cotton — and wine grapes. The Farmer's Daughter was 2 years old when her parents began their wine-making journey at the Farmer's Daughter Vineyards + Tasting Room. What could be more festive for your senses than a wine tasting room?
Starting in 2014, the winery has accumulated a long list of awards. You'll love hanging out in their tasting room. Try every wine, plus enjoy local food.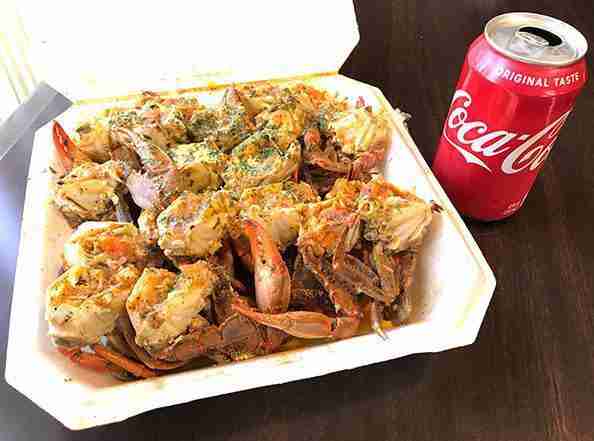 CK Crab House
CK Crab House, 15028 US Highway 19, is right across the street from Hampton Inn. At the take-out-only restaurant, the seafood is on display in glass cases. Your mouth will water as you examine the offerings on display. I ordered the blue crabs and got a huge amount fresh from the Gulf. I couldn't eat it all. One portion feeds two people. Grab as many napkins as you can because this is one messy dish. Ah, finger food!
W.G. Hamil Southern Treats
To provide my husband with the tastes of Georgia, I hunted for a pecan shop. And I found a great one, W.G. Hamil Southern Treats, 289 Commercial Drive. Their store is off the main routes but is definitely worth visiting.
The company purchases pecans from across the Southeast. They have developed a line of gourmet gifts featuring pecans. The shop had pecan everything, including beautiful pecan wood products. I brought home their roasted pecan syrup, amaretto peach pecan preserves, and peach pecan preserves. They were all delicious reminders of Thomasville.
The best time to buy pecan products is in the fall, but I was impressed with their winter selection.
Where to stay in Thomasville
Paxton House Inn
At the Paxton House Inn, 445 Remington Ave., you'll live like the wealthy Northerners who made Thomasville their winter home in the late 1800s. Every guest room in the 1884 mansion is different and every detail is carefully appointed for guests' comfort. The bed and breakfast sources local food for its breakfasts. Downtown Thomasville is an easy walk from the Paxton.
Hampton Inn & Suites
For a comfortable, no-surprises hotel, Thomasville offers Hampton Inn & Suites, 1950 Georgia Highway 122. The staff members were very attentive and I enjoyed the experience.
How to reach Thomasville
Thomasville is at the intersection of US Highways 19 and 84, 41 miles northeast of Tallahassee, Fla. Tallahassee Airport (TLH) is the nearest commercial airport.
Learn more and share
Read more about Southern travel and Georgia travel. If you like this article, please share it to Facebook, Instagram, Twitter, and/or Pinterest. Or any other places you'd like to share. Find me as @RoxieontheRoad on Facebook, Instagram, Twitter, and/or Pinterest. Please use #roxieontheroad when you add hashtags.