11 best things to do in Kansas City Kansas
We honeymooned in Kansas City, and we always return to the Kansas City metro area on milestone anniversaries. We reached our 25th wedding anniversary in 2019, but circumstances prevented us from traveling. But we made up for the lost time in 2020. We enjoyed plenty of things to do in Kansas City, Kansas. The Kansas side of Kansas City offers delicious food, fabulous shopping, and fascinating history. You'll enjoy it. We did.
Disclaimer: Visit Kansas City, Kansas, hosted part of our visit, but our opinions are our own.
Pro tip: The locals refer to the city as KCK.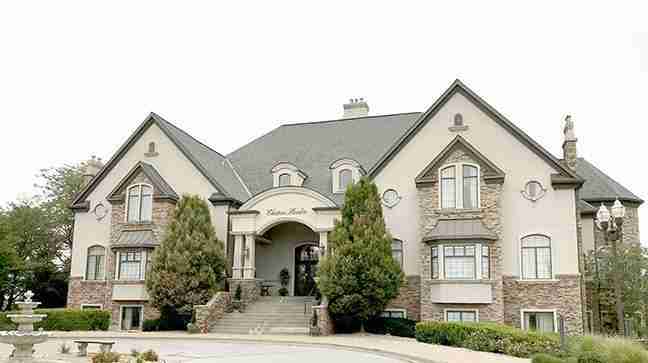 1. Start your KCK visit in a great hotel, Chateau Avalon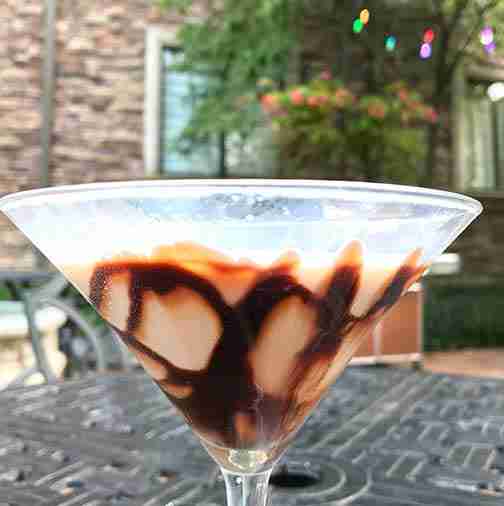 Start your Kansas City visit in a great hotel. We had heard that Chateau Avalon was the most romantic hotel in the Kansas City metro area. The hotel definitely lived up to its reputation. All the rooms have a theme, and include hot tubs.
We chose the Buckingham with its "secret" door between the living room and the bedroom. Oooh, a secret door! How romantic! Plus, I adore turret rooms, and our room happened to be in one of the chateau's turrets. Choose the breakfast-in-bed option. Pick your menu the night before and choose a service time. We felt extremely pampered.
If you want to escape people, you don't even have to leave the hotel. The d'Nile Bar in the basement whisks you to an Egyptian getaway with delicious signature drinks. We hung out on the patio. The weather was far too pleasant to be indoors. Even though the 8-foot-tall statues are the perfect selfie opportunities, we somehow didn't take their pictures. That's on the checklist for next time.
And there will be a next time.
Pro tip: D'Nile's happy hour runs from 4 to 7 p.m. on Wednesdays through Sundays. Chateau Avalon offers a free shuttle service to the Legends Outlets Kansas City area.
Where to stay for RVers
RVers should stay in the Walnut Grove RV Park in Merriam. Enjoy 50 RV sites. Reserve early because this park fills quickly. Rutlader Outpost RV Park near Louisburg offers 72 sites. Stay in your RV or tent, or choose cabins at Kansas City West/Lawrence KOA.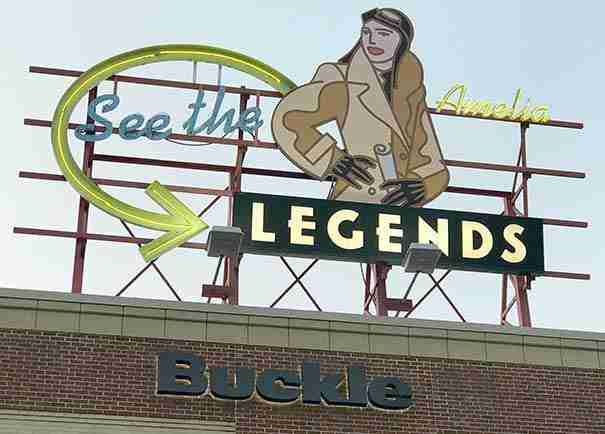 2. Explore Legends Kansas City
The Legends area includes many things to do in Kansas City Kansas. It features terrific shopping, dining, and entertainment. The district includes professional sports, Sporting Kansas City's home pitch at Children's Mercy Park, and the Kansas Speedway. We weren't able to attend events at the pro venues, but we enjoyed the rest of the Legends' offerings.
Find famous Kansans in the scavenger hunt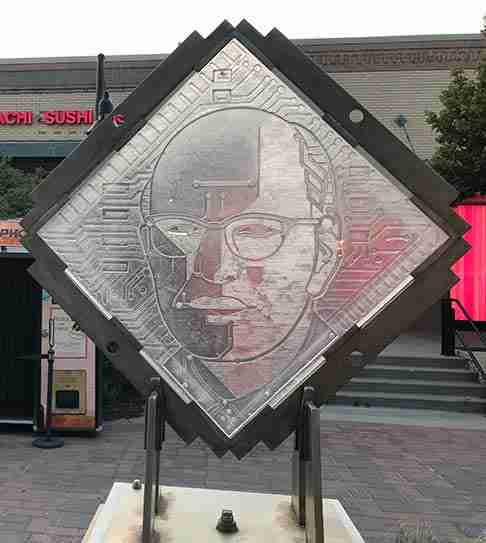 Not only is Legends a fun place to shop and eat, but it also teaches fun history lessons. The area is full of places to enjoy a scavenger hunt. Download the PDF for a guide. You'll be amazed at the number of famous featured Kansans and will marvel at their achievements.
Legendary Kansans include five-star general and president Dwight Eisenhower; Clyde Tombaugh, who discovered Pluto; Nobel Prize winner Jack Kilby; Hattie McDaniel, the first African-American to win an Academy Award; Vivian Vance, who starred with Lucille Ball on "I Love Lucy"; Susanna Madora Salter, the nation's first female mayor, who was nominated as a joke; Aaron Douglas, the "Father of African-American Art"; Charles "Yardbird" Parker, jazz alto saxophonist; Tom Watson, one of the greatest professional golfers; and Olympic milers Jim Ryun, Glenn Cunningham, and Wes Santee.
Three aerospace pioneers are closest to our hearts, William Purvis and Charles Wilson of Goodland, the inventors of America's first patented helicopter; and Ron Evans of St. Francis, Apollo 17's Command Module Pilot, and the lunar orbit record holder.
Fun fact: Tombaugh discovered Pluto while working at Lowell Observatory in New Mexico. After he discovered the then-ninth planet, the University of Kansas offered him a scholarship. (The International Astronomical Union demoted Pluto to dwarf planet status in August 2006.)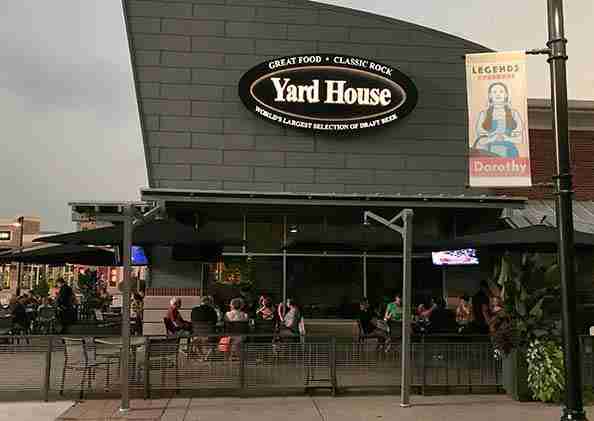 Stylish dining at the Legends is a major one of the things to do in Kansas City Kansas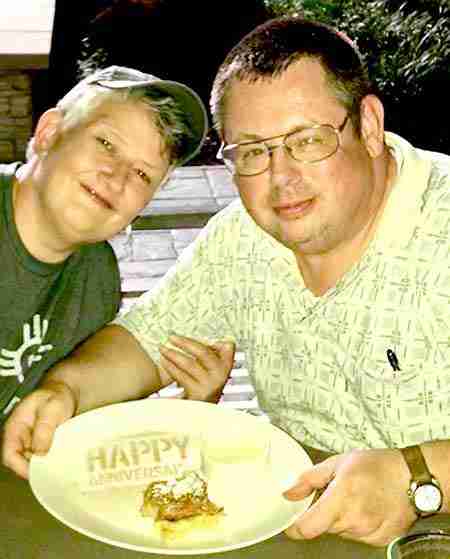 We could have eaten every meal and never tried all of the Legends' wide variety of offerings. So many restaurants, so little time…
However, we chose Louisiana Jazz Kitchen since we adore Louisiana food and the Yard House for their American classics and vast beer collection.
The Yard House
The Yard House's lobster bisque agnolotti was delicious with a smooth, creamy mouthfeel. The Maui pineapple chicken was like eating a Hawai'ian pizza without the crust. The broccoli was cooked to perfection.
Eric told the waiter that we were celebrating our 25th anniversary a year late. A bit later, he brought a complimentary bread pudding with "Happy Anniversary" sprinkled on the plate. The bread pudding was excellent.
Pro tip: Don't stand in line when you don't have to. Join the Yard House's waitlist online and celebrate happy hour twice a day.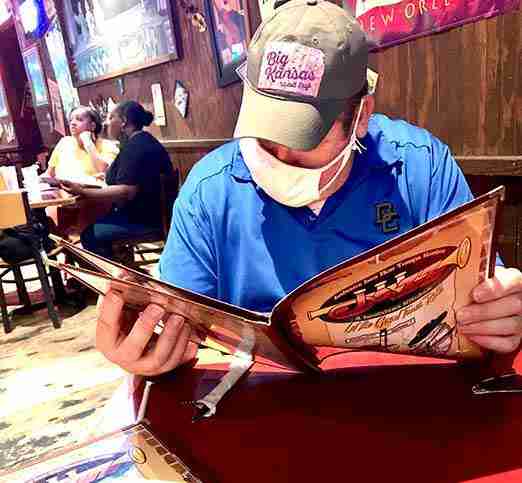 Louisiana Jazz Kitchen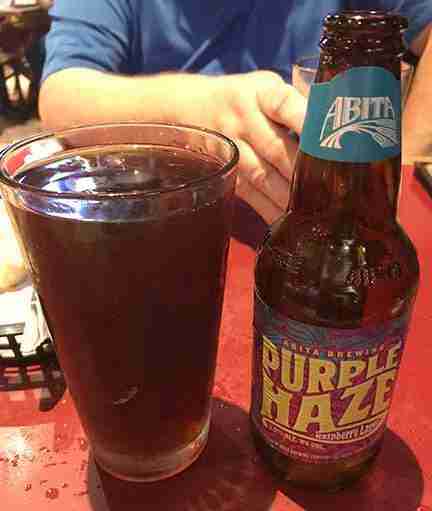 I haven't visited Louisiana since 2018, which is far too long. Even though I've never lived in the Bayou State, I feel homesick when I'm away for too long. Walking into Louisiana Jazz Kitchen eased that feeling. A guitarist played and sang on the balcony. Louisiana-themed art covered the walls. The aroma of Louisiana food permeated the atmosphere. I sighed with contentment.
Crawfish etouffee (AY-too-fay), how I've missed you! Etouffee is a well-seasoned thick stew seasoned with a dark roux (ROO), laden with crawfish, and served over rice. My mouth and stomach thanked me. I even passed up the shrimp and scallops Ponchartrain for the etouffee, and I love scallops.
That means we need to make a return trip.
Pro tip: Jazz Kitchen has Abita (Ah-BEET-ah) beer. Turbo Dog, a dark brown ale, is on tap and Purple Haze, a raspberry-flavored beer, is in bottles. Order both beers and an empty glass. Fill the empty glass half full of Purple Haze and top it off with Turbo Dog for a Purple Pooch. Turbo Dog's caramel and chocolate notes give the drink a flavor like fine chocolate confections.
Before you imbibe, toast the Kansas City outpost of Louisiana.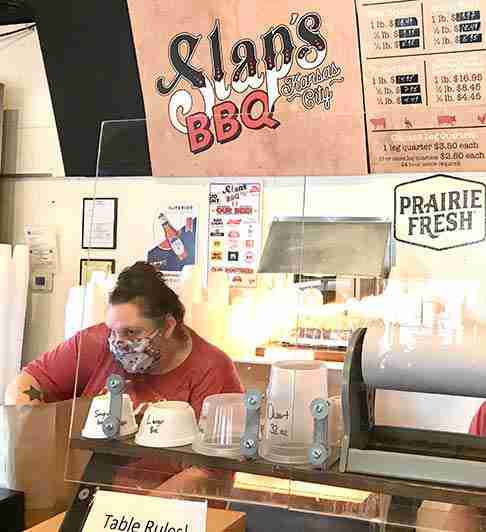 3. Strut with some Kansas City Kansas barbecue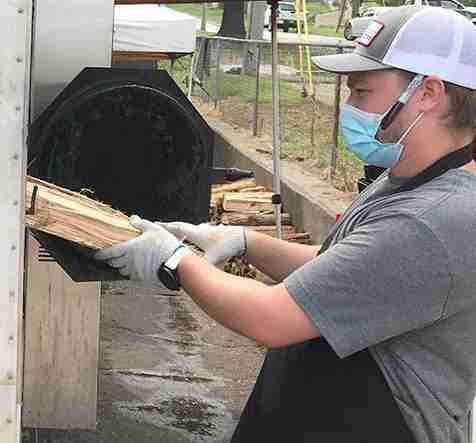 No Kansas City visit is complete without barbecue. And no visit to KCK is complete without a trip to SLAP's BBQ. "SLAP" stands for Squeal Like a Pig." Mike and Joe Pearce competed successfully on the barbecue competition circuit. They placed second in the fifth season of BBQ Pitmasters and have kept right on winning ever since.
When we visited, a long line snaked down the street. While we were waiting, a staff member fed the smoker with another hardwood log. A lovely aroma escaped and hovered in the air. I couldn't decide whether inhaling the aroma made the waiting shorter or longer. It certainly enhanced the anticipation. Pondering the succulent tastes we were about to enjoy shortened the time as I imagined stabbing the meat with my fork and raising it to my mouth, placing the meat into my mouth and savoring the flavor, swallowing, and repeating the process.
Now my mouth is watering.
OK, enough already! I want to EAT this! I want to eat it NOW.
We chose the sampler plate and added the burnt ends. In memory, the sweet and tangy taste still hovers on my taste buds. Everything was done to perfection. DO NOT hurry. Savor each bite. Then bring home a bottle of their sauce.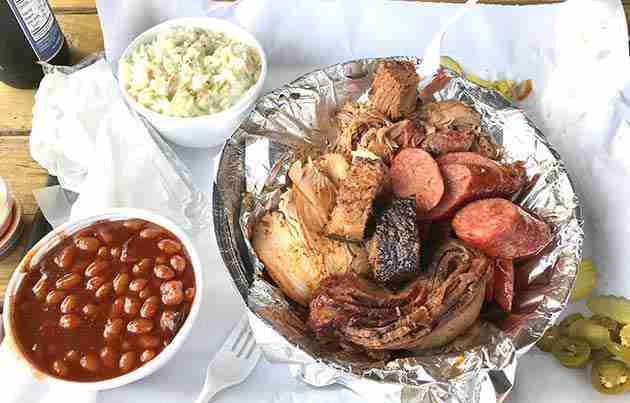 Pro tip: Scroll to the bottom of their menu page for special deals. They're open from 11 a.m. to 7 p.m. daily, but don't wait too long. When they run out of their freshly-smoked meat, the restaurant closes.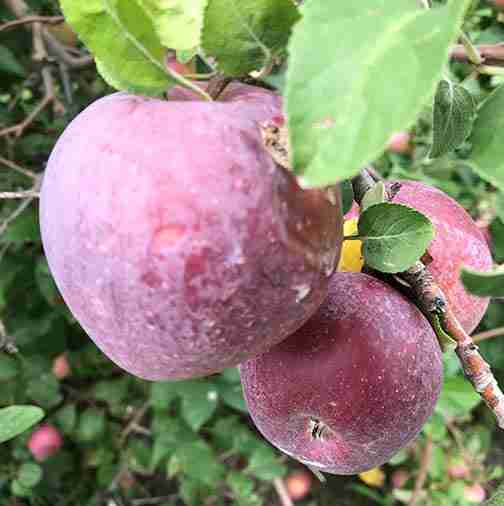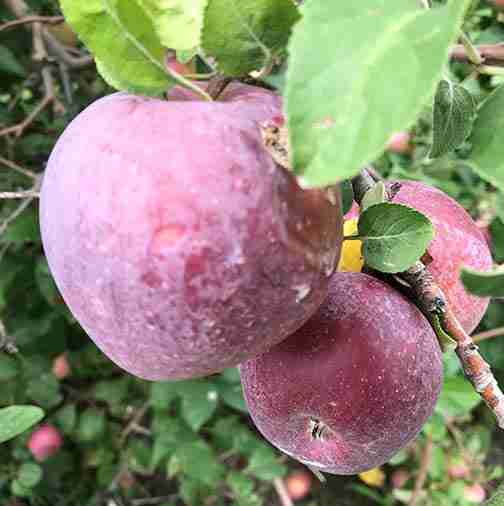 4. A is for apple picking, one of the things to do in Kansas City Kansas
From the first of August until the first of November, people flock to Cider Hill Family Orchard to pick apples. But apples aren't the only fruit available at Cider Hill. Pick asparagus in April and May. In June, pick sweet cherries. Blackberries are ready in July. Sweet corn ripens in July and August, pears in September, and pumpkins in October.
Admission and parking are free. After you park, talk with the staff at the large tree between the barn and the house. Staff members wear red shirts. They will explain what apples are ready to pick and distribute bags. The bag size determines how much you'll pay for the apples. After you pick up your bag, ride the hay wagons to the orchard. If you'd rather walk, ask the staff where to pick.
Fruit picking is only one of the activities available at Cider Hill. Enjoy hayrides, kid's train rides, the fishing pond, and the fire pit. They sell yummy snacks, too. We recommend the cinnamon-cider donuts and the fresh-pressed apple-cider slush. Ummm, goooood!
Pack a picnic and relax beneath the trees.
Pro tip: Only on the weekends, you need to reserve an arrival time at Cider Hill.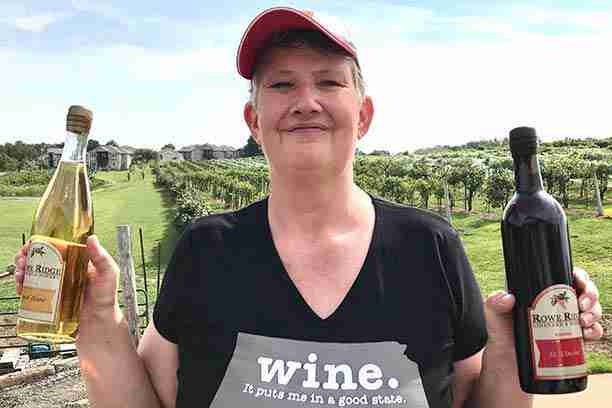 5. Wine puts you into a good state
Marc and Pamela Rowe have planted 3,000 vines in their five-acre vineyard. Rowe Ridge Vineyard & Winery. It's only minutes from Legends, but it feels far away from the shopping center's hustle. Tastings are $8, and you take home the wine glass, which is a nice touch. We bought bottles of the Seyval Blanc and the St. Vincent. We also enjoyed the Concord and the Norton. I was surprised that I liked the Concord. Usually, I don't. Concord wines are usually too sweet for my taste, but Rowe Ridge's was an exception. I enjoy Norton grapes' peppery notes, and their Norton featured the pepper well.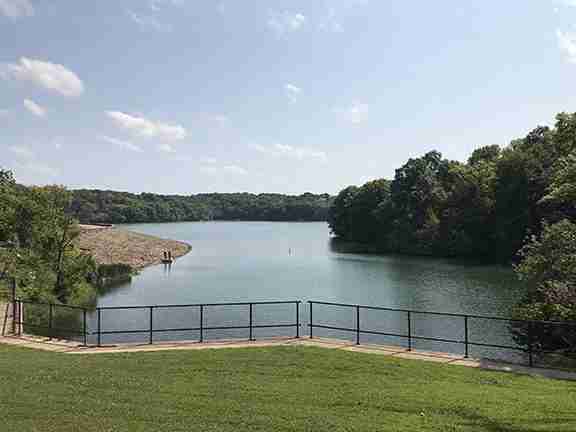 6. Escape at the lake
For fishing, boating, swimming, archery, a playground, and numerous other activities, head to Wyandotte (WHY-ann-dot) County Lake. We enjoyed the scenic drive around the lake, walking to the dam, and the lily pads. Kansas Department of Wildlife, Parks, and Tourism offers a fishing forecast. Download a PDF map. Anglers must have permits for both Wyandotte County and the State of Kansas.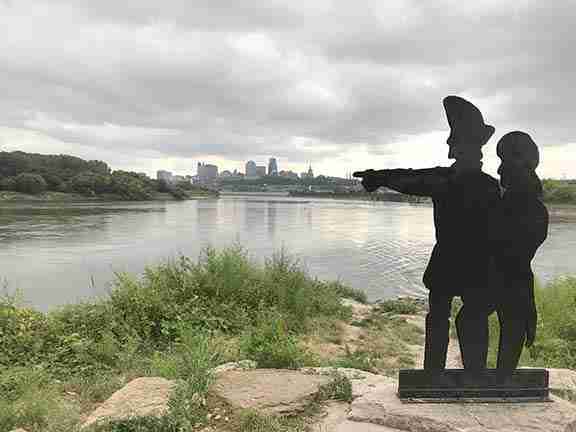 7. Meet Lewis and Clark at Kaw Point
At the end of June 1804, the Corps of Discovery arrived at Kaw Point, where the Kansas (or Kaw) River joins the Missouri River. At that time, the confluence was about a quarter-mile north of its current site. They stayed for three days. While there, Meriwether Lewis weighed the water from each river and determined that the Missouri River was heavier, which meant it was muddier. However, William Clark complained that the Kansas River's water was less than desirable. The stop has a less pleasant distinction. Two privates got drunk while on guard. They were tried and sentenced to floggings, then had to row up the Missouri River the next day.
The boardwalk next to the parking area is accessible. The park offers 600 yards of hiking/biking trails, the Encampment Theater, and the Confluence of Nations Plaza. A boat ramp provides river access.
8. Quindaro and the Underground Railroad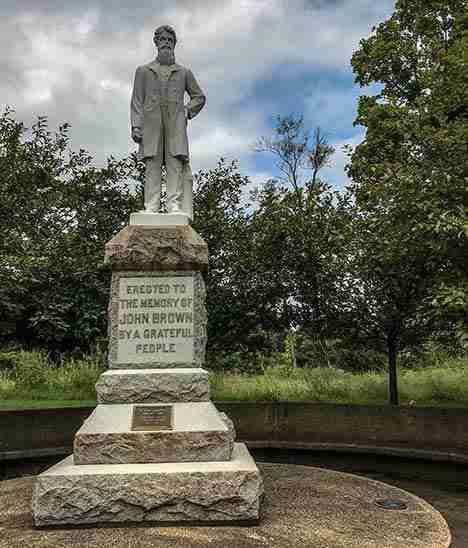 Sadly, little remains of the once-bustling community of Quindaro (Quinn-DARR-oh) on the northeast edge of Kansas City. At its founding, the community welcomed free-state settlers to Kansas. Slave-state supporters were blockading those who wished Kansas to be free. Because of its abolitionist sympathies, it was an active station on the Underground Railroad.
A plaza overlooks the Quindaro Ruins. John Brown's statue stands in a park. The park holds Western University's cornerstones. Brown holds a graduation diploma in his hand, symbolizing Black Americans' faith in education as a means to betterment. Western University's cornerstone surrounds Brown. The state's only historically-Black university featured one of the nation's top music schools. Alumna Eva Jessye traveled the world as a musician and published African-American spirituals, preserving the musical genre.
When visiting, remember the sacrifice and bravery of those who fought slavery and racism with education and dignity.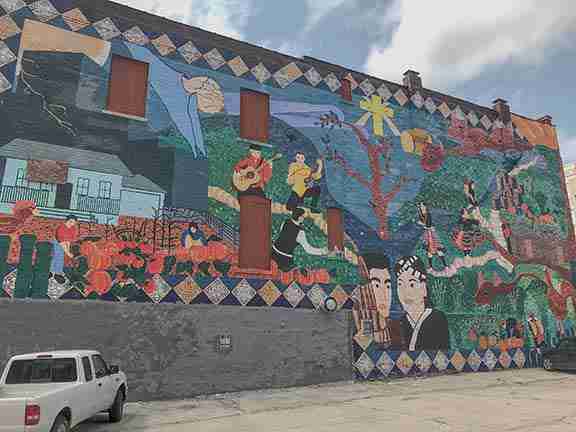 10. Kansas City Kansas, the City of Murals
KCK celebrates its multicultural heritage in its numerous murals. While the city across the river calls itself the "City of Fountains," KCK can proudly claim the title "City of Murals." The artworks are part of the Avenue of Murals project. The project intends to "bring people together, educate the community, and involve students in art." Download the PDF for a map and further details.
11. Honor veterans at Rosedale Memorial Arch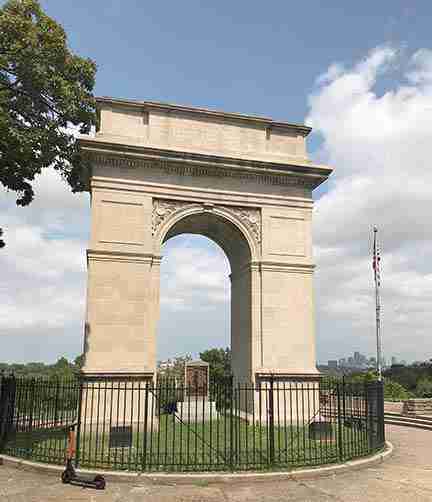 The Kansas National Guard became part of World War I's famous Rainbow Division. The first six companies from Kansas came from Rosedale. When the men returned on May 12, 1919, the streets were decked in rainbows and Hudson Street's name changed to Rainbow Blvd. in their honor. Rosedale citizen John Leroy Marshall used the Arc d'Triomphe in Paris as his design inspiration.
In 1993, the neighborhood added the Memorial Monument, which lists every Rosedale citizen who gave his life in the nation's wars from World War I to Vietnam. Another monument notes that the arch is an official Rainbow Division monument.
The arch stands in Mount Marty Park, which features a beautiful view of the Kansas City, Missouri, skyline.
More to explore
Historic Leavenworth is only 40 minutes north of Kansas City. Wichita's foodie paradise is only three hours from Kansas City via the Kansas Turnpike. Argentine Middle School, the Huron Cemetery, and Quindaro are three of our top 14 Kansas civil rights sites.
We celebrated our 25th dating anniversary in Garden City. Read more about Kansas and the Midwest. Explore more Lewis and Clark sites.