Nine best places to eat in Wichita
Visit Wichita paid the expenses for my visit to the best places to eat, but all the opinions are mine.
Wichita is the largest city in Kansas. As one would expect from the state's largest city, the Air Capital offers many fun food and drink locations to enjoy. These are some of the best places to eat in Wichita. At least some of these places will be in books in the Midwest Travel Anthologies. The first book, Midwest Road Trip Adventures, will be out in mid-November.
The best places to eat in Wichita include wineries, pubs, and farm-to-fork restaurants.
Wineries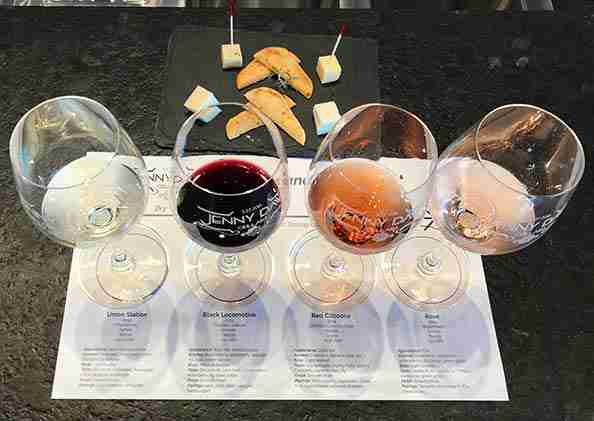 Jenny Dawn Cellars
I'm cautious with red wines, but Jenny Dawn's reds are the smoothest I have ever tried. So often, red wines finish with a slap of tannins. Tannins in wine are like grounds in your coffee. Not at Jenny Dawn Cellars.
I thoroughly enjoyed talking with owner Jennifer McDonald in her lovely, minimalist tasting room. She's the first African-American commercial winemaker in Kansas. Wine and wine-making fascinated her from an early age, and she resolved to set up an urban winery. She bought land in Wichita for her vineyard and orchard, making her Wichita's first urban winery.
Jenny Dawn's tasting room is a beautiful hang-out where you'll enjoy delicious small bites with your wine tasting. Every third Tuesday, she holds her Wineucation sessions. Her lucky guests try six wines from around the world, paired with three appetizers. I hope I'm in Wichita for one of those sessions sometime soon. Her Wineucation line includes a cookbook, memoir, and a Wednesday podcast. Try them here.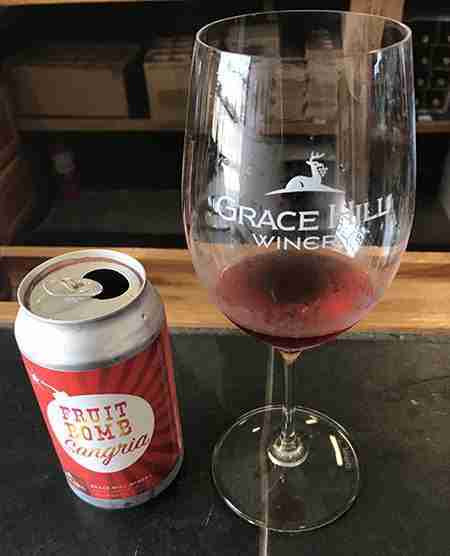 Grace Hill Winery
While Jenny Dawn is right inside Wichita, Grace Hill's location is more traditional. It's in a lovely setting on a gravel road near Whitewater, northeast of Wichita. I enjoy seeing the nuts-and-bolts of production and Grace Hill delivers. You'll see the entire process, from vines to tanks and bottles. For the ultimate winery experience, join Grace Hill for their annual grape harvest. Volunteers receive lunch and wine, plus a 20 percent discount on all purchases. Or attend their pilates and painting classes. (Does wine make a person more flexible? If so, I might get through a pilates session.) Each January, the winery hosts its wine club Release Party.
Our wine tastes run from semi-sweet to semi-dry. Because of that, I was surprised to find how much I enjoyed Grace Hill's Fruit Bomb Sangria. It's a sweet, guilty indulgence. When I arrived home, we made the six-pack disappear. I also appreciated the El Gato Moscato and Chloe's Cuvee, both named for former winery pets. Currently, the winery has a highly pettable bulldog named Georgia (apparently no relation to Uga X, the college mascot). Try their wines here.
Pubs

From John Brown's two-fisted drinking style to Walnut River's Warbeard, the Wichita best places to eat include fabulous pubs.
Wichita Brewing Company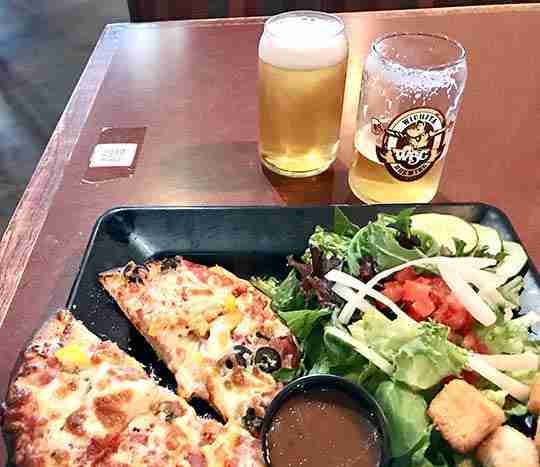 According to the Civil War marching song, "John Brown's body lies a-mold'ring in the grave, but his soul goes marching on." Brown's body is in New York, but his soul has marched to the Wichita Brewing Company. A parody of John Steuart Curry's "Tragic Prelude" greets customers outside the brewery to mark this development. Wichita Brewing's ambiance gives guests the neighborhood bar feel, where everybody knows your name.
Pizza and beer are one of God's great combinations, and Wichita Brewing does it right. And they offered so many delicious choices! Finally, I chose the Capicola Sunshine pizza. Hawai'ian pizza on their artisan crust: good stuff! However, I wasn't daring enough. I should have knocked the ball out of the park with Cooperstown, with its cream cheese, sriracha, and garlic base, chicken, mushrooms, and bacon, plus peppers and red sauce. Hmm, I guess I have to go back!
I drank Between the Rind, a wheat ale infused with watermelon, the perfect summer beer.
Nortons Brewing Company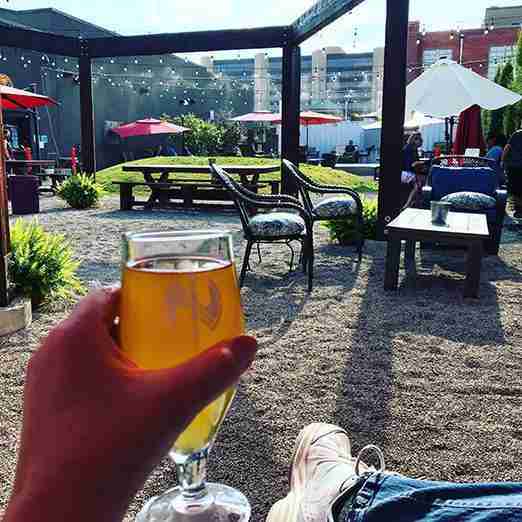 Walk into Norton's patio, order your food and drink, then prop up your feet in your chosen location. Ahhhh. There's no need to move now unless you want something else to satisfy your taste buds. Start with the bacon crack, served with brown sugar honey cream cheese.
To. Die. For.
If it's Tuesday, you must Eat Your Dang Quesadilla. Ranchero kickin' chicken and cilantro lime cream cheese are just the beginning of this signature dish. If it's not Tuesday, eat the Train Wreck sandwich, smoked gouda, grilled onions, dijon mayo, and bacon crack on panini bread.
I drank Kis Kis, a Saison. I wasn't sure what to think about the description: "…fermented on pink guava, and gently spiced with pink peppercorns," but the "tropical notes" sounded promising.
They nailed it.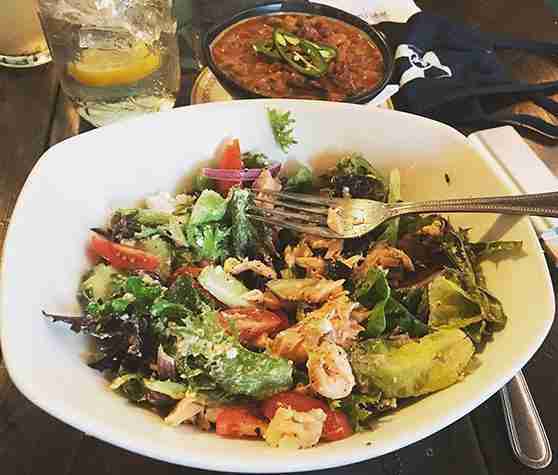 Public at the Brickyard
The Public is right next to Old Town Wichita's largest music venue. While I ate, I got to listen to live music and watch the Royals' game. My Going Greek salad with salmon and Kitchen Sink Beans were an excellent combination.
Eating quietly on the patio, a fan blowing gently on my hair, with music and baseball, made stress drain away. The mismatched tables and chairs made me feel like a welcome guest in someone's home. The peaceful ambiance made me reluctant to leave.
I was there on a weeknight. The restaurant is much busier on weekends, and they recommend reservations.
Pour House by Walnut River Brewing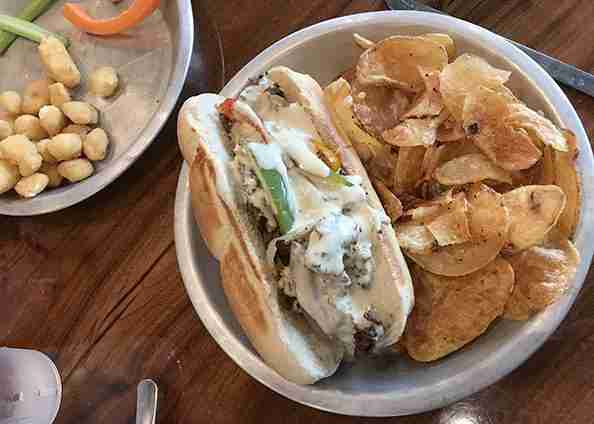 The Pour House is in the former Rock Island Railroad Depot. Restaurants in historic buildings are always a plus. The original brick floor is still present.
I enjoyed a perfect Steak Philly topped with Warbeard Queso. (Warbeard Irish Red is Walnut River Brewing's signature brew.) The outside of the bun was soft, and the inside was well caramelized. We enjoyed a flight of their beers. I liked their High Beam IPA and their Teter Rock Kölsch.
I was lucky and enjoyed a tasting when Walnut River was still preparing to open. Seeing their progress from the beginning was a treat. Our waiter told us about the company's progress while providing attentive service.
Farm-to-fork restaurants
A growing movement wants to know precisely where food came from. These restaurants are the best farm-to-fork places to eat in Wichita.
Homegrown Wichita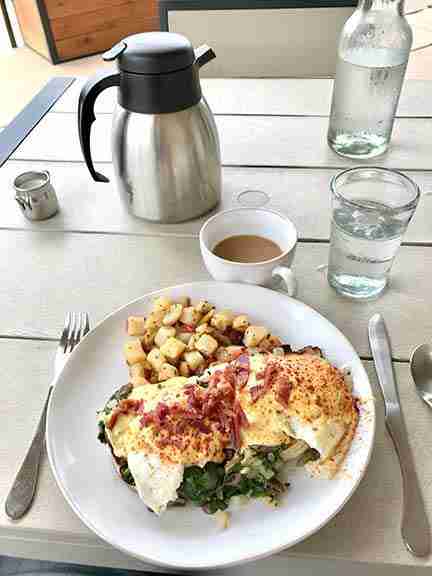 Homegrown's philosophy centers around kindness. They even publish Kindness Doodles. Owners Jon and Lauren Rolph's passion is "to break bread together around a passion for building community with generosity, servant leadership, and shared love for culinary creativity.… We believe that if we help each other start the day right,… we will also awaken a contagious chain of positive acts that cultivate kindness throughout our community."
They serve cage-free eggs with bacon and sausage from Yoder, Kansas. They buy coffee roasted in Wichita. I ate at the Bradley Fair location. Eggs Benedict is one of my breakfast favorites. Eating a twist on the classic dish is even better. Homegrown offers traditional, Florentine, turkey, and avocado versions. I chose the Florentine, sautéed spinach, mushrooms, onion, poached eggs, fresh hollandaise with bacon crumbled on a toasted English muffin. Delicious.
The service was outstanding.
Homegrown is a place that makes you want to get up — and I'm no morning person. Sitting on the patio with good food, hot coffee, and excellent service makes the day start well.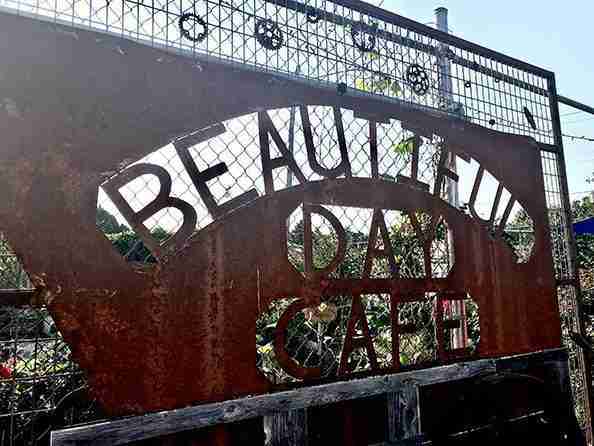 Beautiful Day Cafe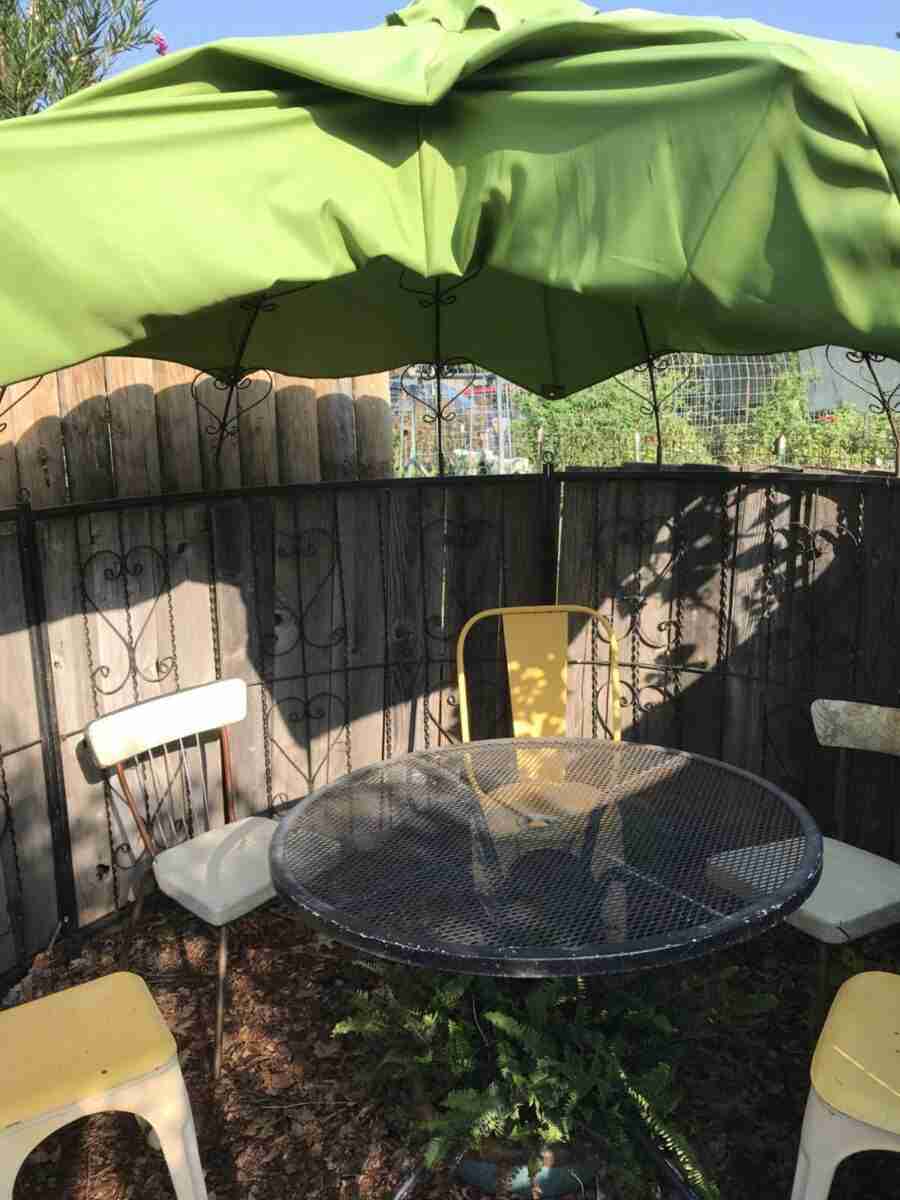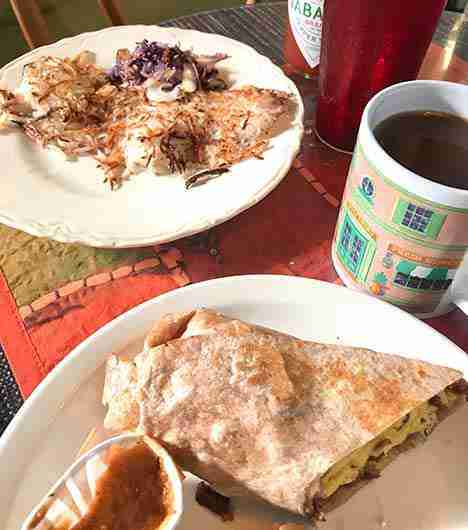 Beautiful Day says they are "equal parts homespun tradition (using the freshest and closest ingredients) and common sense – all mixed up with some fine skills in the kitchen."
I drove past Beautiful Day twice. Bushes partially obscure the sign on the cafe's exterior wall, and I failed to note the banners on the garden fence. Inside, the restaurant looks like a place featured on Diners, Drive-Ins, and Dives. The menu is written on a chalkboard, and you order at the counter. I ate inside. If I had known, I would have eaten in the garden.
I chose a breakfast burrito: egg, greens, black beans, red pepper, onion, mushrooms, and cashew cheese, with a side of red sauce. I wasn't sure what to think about cashew cheese. It's delicious. Yes, the cafe does offer vegetarian, vegan, and gluten-free options.
After you eat, walk around the garden. I enjoyed the lovely nooks where the cafe staff had installed picnic places. Entering a garden in an urban environment is a welcome relief from the concrete and steel of an industrial neighborhood.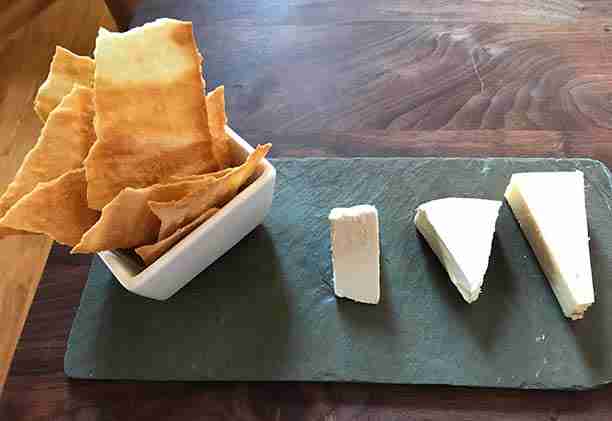 Elderslie Farm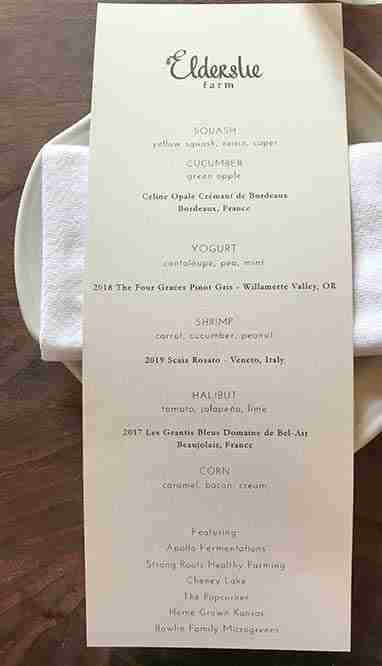 Meticulously prepared. Deliciously tasteful. Where food intersects with art. Luxury. That's what you'll experience during Elderslie Farms' fine dining evenings. Every month, they showcase "a lovely walk through each season's bounty." When I was there, the room was full of people, but the staff was so attentive, I felt I was the only one in the room. The menu at my place listed each course. Just looking at it made me savor the delights to come. When each one arrived, my server explained each one.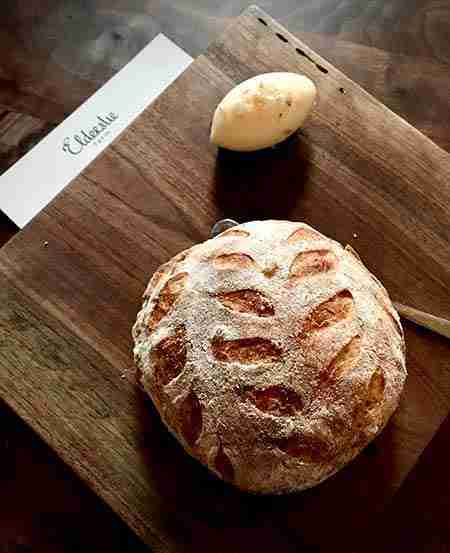 Each course was unique, but two stood out. First, I enjoyed the crackers and goat cheese. Elderslie's goats produce luscious cheese. The crackers were like little sculptures. They reminded me of travertine marble, and they had a nutty flavor.
The bread was also outstanding. The server explained that the bakers had scored the underside to keep from damaging the bread's appearance.
The loaf was so beautiful that I hesitated to eat it. Breaking this artwork felt like sacrilege. After gazing at it for a few moments, I held my breath and broke it.
I described the experience on Instagram: "This bread was so delicious that I had to eat it with my eyes closed. No distraction would prevent me from savoring every morsel of this bread with smoke-salted butter. I need another food vocabulary to describe this beautiful little loaf."
The halibut was also superb. Halibut is often tasteless and dry. Eating Enderslie's halibut was like eating a perfect pat of butter. It was firm but not hard, had a very satisfying mouthfeel and a subtle flavor.
Pro tip: Come early and enjoy walking around the farm. Reservations are required.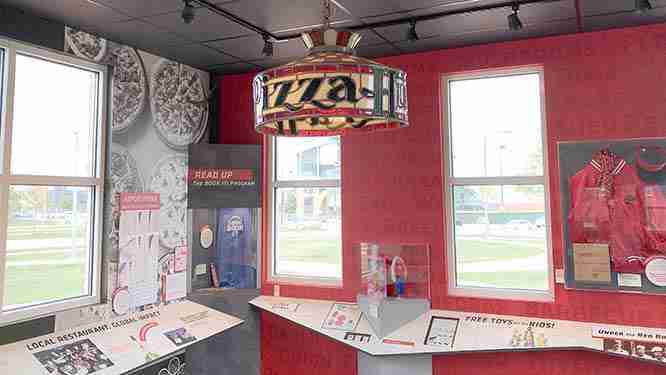 The Original Pizza Hut Museum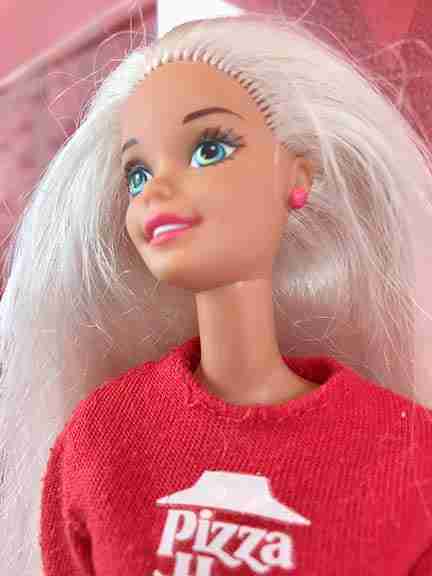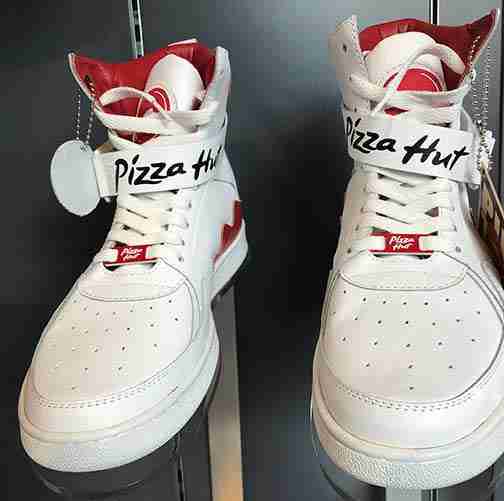 The Pizza Hut Museum doesn't serve food anymore, but the chain that grew out of the little shop is Wichita's greatest food icon. Therefore, it's a fitting closure for the best places to eat in Wichita.
Dan and Frank Carney opened the original Pizza Hut on June 15, 1958, in Wichita. The brothers were Wichita State University students. Fittingly, WSU has installed the first restaurant to its Innovation Campus for the Pizza Hut Museum. The museum includes rare promotional items, vintage decorations, and even a touch wall.
The chain started when the owner of a small beer joint needed a new tenant. She had read the November 1957 Saturday Evening Post. It said that a "pizza craze" had been sweeping the nation. She approached the Carney brothers about opening a pizzeria.
Pizza Hut got its name because the building's sign only allowed nine characters. After "Pizza" and a space, only three characters were left. "Hut" fit. The little restaurant caught fire on opening night, but, undeterred, the brothers continued. Nearly 20 years later, PepsiCo bought the Carneys' restaurant chain for $300 million.
The museum features the original Pizza Hut sauce recipe on a napkin, the inspirational Saturday Evening Post issue, plus many other Pizza Hut-themed items.
Visiting the museum is a must-do slice of Americana. Or is that pizza-cana?
Where To Stay
Holiday Inn Express Wichita Northeast
Northeast Wichita is booming, and Holiday Inn Express Wichita Northeast is where the action is. The staff was exceptionally courteous. If you're in Wichita for the aviation business, the hotel is well located.
More to explore
Wichita is the largest city in Kansas, and the state offers so much for explorers to see. Lindsborg is just an hour north on Interstate 135. Meet noteworthy Kansas women Olive Ann Beech, Hattie McDaniel, Jennifer McDonald, and Carrie Nation at various Wichita sites. The Dockum Sit-In sparked a national movement to integrate lunch counters. It's one of our top 14 Kansas civil rights sites. Learn more about Kansas African-American history at the Kansas African-American Museum.
Enjoy a taste of the Midwest, too.