Enjoy the 6 best things to do in Allamakee County
Allamakee County (pronounced ALL-uh-muh-KEE) in Northeast Iowa is home to incredible views along the Mississippi River, including the Yellow River State Forest. Numerous outdoor experiences await your exploration.
As you would expect from Roxie on the Road, traveling the entire Great River Road is on my bucket list. I have driven from Burlington, Iowa, to the End of the Road in Venice, Louisiana. The rest of the Iowa Great River Road is still waiting for me. Allamakee County is a prime section along Iowa's Great River Road, and I cannot wait to explore it.
This Kansan is looking forward to exploring the state forest, devouring cheese curds (my favorite!), watching eagles from Mount Hosmer, checking off another bucket list item at Effigy Mounds, shopping at Horsfall's, the store with everything, and touring some meat lockers.
Disclaimer: This is a sponsored post, and all of the opinions here are my own.
Explore the Yellow River State Forest in Allamakee County
The Yellow River State Forest is home to more than 8,900 acres in Allamakee County in northeast Iowa. Hiking, camping, biking all year long, and birding are popular activities in this state forest. You can do as little or as much as you want in the Yellow River State Forest. But one thing is for sure.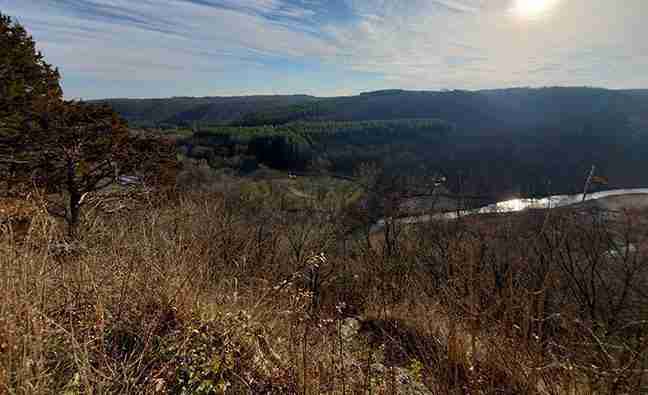 It is easy to connect with nature all year long. Snowshoeing and snowmobiling are popular in the winter, as well as fat tire biking. Learn more about the state forest by engaging with the popular Facebook Group Friends of Yellow River State Forest, Harpers Ferry, IA.
Enjoy cheese curds in Allamakee County
WW Homestead Dairy is known as the "Cheese Curd Capital of Iowa." Fresh cheese curds are made in Waukon, in the heart of Allamakee County. The cheese curds' taste explosion is an experience your taste buds will savor. The squeak of fresh curds will delight your ears. The cheese curd experience will have you craving more. You can also indulge in ice cream, white milk, butter, and chocolate milk. If you think butter from the store tastes great, wait until you try it fresh. Need we say more?
If you want to see the ins and outs of the creamery, schedule a tour. You can see how dairy products are produced through large viewing windows in the facility. Call them at 563-568-4950 to schedule your tour. Tip: Take a selfie in front of the store with one of the famous Steel Cows.
Shop at Horsfall's
Who doesn't love shopping in a store that has everything? Horsfall's on Main Street in Lansing is one of those places. You can find anything and everything in this five and dime style store. From greeting cards to cooking utensils, Horsfall's is home to about anything you could want. This store is fun, and it takes you back in time. The shelves are packed with merchandise from the floor to the ceiling. You may have to "dig" around a little bit, but you will find more than one thing you need in Horsfall's.
Take in the views at Mount Hosmer
The vista at Mount Hosmer offers a panoramic view of the Mississippi River and Lansing, Iowa. You can see for more than 50 miles from 450 feet above the river valley on a clear day. If you have a pair of binoculars, you can get a close-up look at the river and possibly catch a bald eagle in flight. Pack a picnic lunch and enjoy the park grounds for a few hours with an incredible view.
Explore Effigy Mounds National Monument in Allamakee County
We also collect National Park Service (NPS) sites. I've visited every NPS sites in my home state of Kansas, plus many of them nationwide. Every park that we've visited is pinned on our NPS map board. I'm looking forward to adding a pin to Effigy Mounds National Monument. Effigy Mounds preserves more than 200 prehistoric mounds built by Native Americans. Several effigy mounds are shaped like animals, including birds and bears. These mounds are considered sacred ground by many Americans, as several are associated with American Indian tribes. Begin your visit at the visitor center with a short 15-minute film showcasing American Indian moundbuilding culture. Hop on a hiking trail and explore the park because there are miles to explore. The Upper Mississippi River National Wildlife and Fish Refuge is also nearby.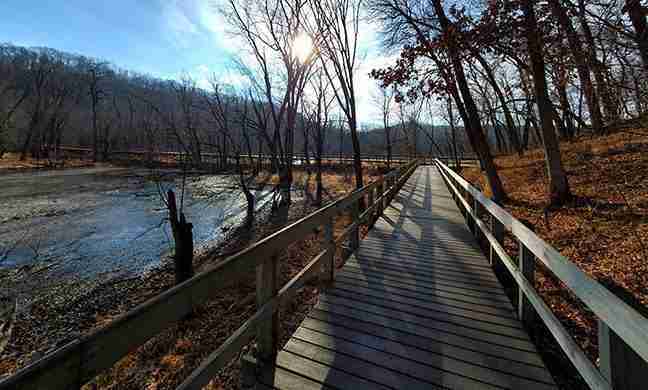 Allamakee County's national monument is free to visit, and you can easily spend one full day exploring the mounds.
Take a meat locker tour
Have you ever visited several meat lockers? Take the Locker Tour in Allamakee County. Experience all of the great tastes while touring and exploring the lockers.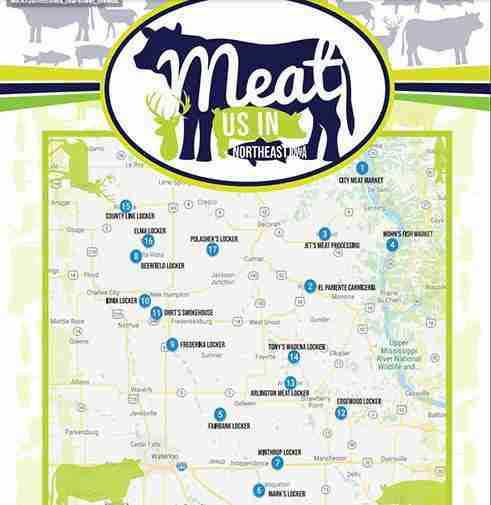 Who knew that touring a meat locker was a thing you can do? We've been to many meat markets that sold products from their meat locker, but those places didn't allow us to tour them. I want to check this out.
All six of these experiences are things that I cannot wait to enjoy in Allamakee County. Northeast Iowa is one of the most beautiful hidden gems in the Midwest. If there is one thing that I do know, it's the fact that I love a destination that is off the beaten path. Whenever I find an opportunity to step into a slower place in time, I'm going.
Be sure to connect with Visit Allamakee County on Facebook to see what's going on in the area.
More to explore
You've seen the movie The Bridges of Madison County. See them in real life on Iowa's Covered Bridges Scenic Byway.
You'll have no trouble when you explore Mason City, Iowa.
Pin this to your favorite Pinterest travel board.